Who's on the Hot Seat for UFC 156?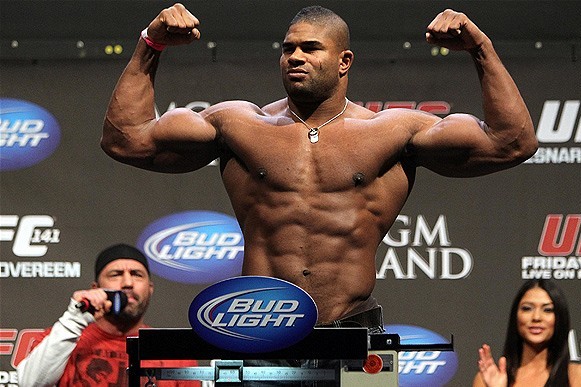 Photo courtesy of Esther Lin for MMAFighting
UFC 156 will unravel this evening from the Mandalay Bay Events Center in Las Vegas. A compelling duel between former lightweight champion Frankie Edgar and reigning featherweight ace Jose Aldo headlines the event, while Rashad Evans and Antonio Rogerio Nogueira will lock horns in the co-main event.

There's plenty to be gained for a few men competing—and even more to lose for a few others.

Can Frankie Edgar further solidify his greatness by capturing a title in a second division within the UFC's ranks? Can Rashad Evans align himself for a potential blockbuster fight with Anderson Silva?

These are solid questions, but there are plenty of solid questions when examining who sits on the hot seat tonight.
Begin Slideshow

»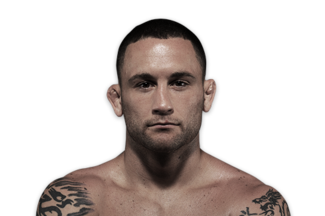 Photo courtesy of UFC
Frankie Edgar sits on the hot seat because he stands to gain the world tonight. Very rarely do we see a man fit to hold two belts simultaneously inside the octagon. But Frankie fits that bill.

Sure he lost the lightweight title to Benson Henderson back at UFC 144. But take a look at the two men's immediate rematch: Henderson was awarded a split decision victory at UFC 150, while the majority of MMA pundits felt Edgar had done enough to exit the cage with gold once more wrapped around his waist.

Take into account the fact that Edgar's first loss to Henderson was a remarkably close fight and realize you're looking at a guy who could easily still be acknowledged as the UFC lightweight champion.

Tonight Edgar collides with the human wrecking machine Jose Aldo. Unlike the majority of Aldo's opponents, Edgar isn't obviously overmatched in any single area of combat.

He's fast enough to strike with Aldo (assuming he manages to avoid a healthy portion of the champ's vicious leg kicks), has the wrestling pedigree to put the champ on his back, and his chest houses arguably the biggest heart in MMA today.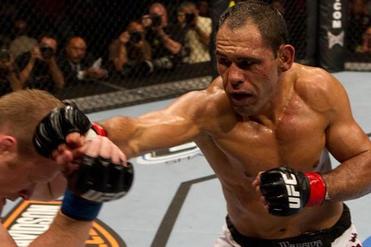 Photo courtesy of UFC
Nogueira can ill-afford a defeat tonight. The man's secured just one victory inside his last three bouts, and his fight with Jason Brilz at UFC 114 was about as close to a "robbery" as you'll see in MMA today.

It's easy to point to Nogueira and say, "This is a guy who should be 1-3 in his last four."

I don't anticipate seeing Nogueira cut from the promotion should he fail to secure a win tonight, but his days as a top-flight light heavyweight will meet a definitive end this evening should Evans handily trounce the former Pride standout.

If "Little Nog" hopes to continue locking marquee matches, he needs a career resurgence and he needs it tonight.

A victory over "Suga" Rashad Evans catapults him back into contention, another defeat likely sees his stock dive dramatically. He won't be co-headlining any events in the future if he cannot get past Evans tonight, you can bet on that.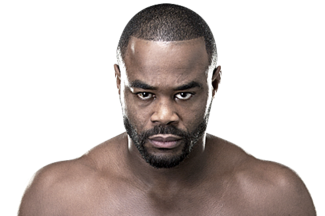 Photo courtesy of UFC
Evans sits in an interesting position in the buildup to UFC 156.

A win over Nogueira will open the door to a potential superfight with the greatest middleweight on the planet, Anderson Silva. A loss however leaves his future in questionable.

If Evans fails to dismantle Antonio, he'll find himself positioned far from title talks at 205. A match with Anderson at 185 will also lose its luster.

That said, if Evans looks explosive this evening, and comes away from the cage with an impressive win, he's got some bargaining chips. Even if he doesn't aim to drop a weight class and challenge Silva, he'll still be right in the mix for talks of another bout with rival, former training partner and current light heavyweight champion, Jon Jones.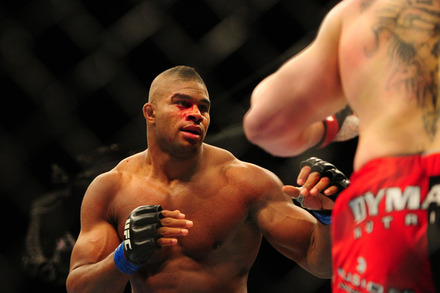 Photo courtesy of Mark J. Rebilas-US PRESSWIRE
Overeem stands to gain quite a bit should he batter "Bigfoot" Silva tonight. Of course, if he finds himself on the losing end of this alluring collision, he's going to squander a five-plus year unbeaten streak, and will see title hopes evaporate in the blink of an eye.

There's also the case of drug testing that should be addressed. Overeem simply cannot afford to fail a urinalysis at this point. If he tests hot, he's on the shelf for another year, and without a doubt will find himself a breathing counter to Dana White's good graces.

Now, if Overeem wins this evening, he'll be riding a career high having taken care of two dangerous foes inside the octagon and aligning himself for a shot at Cain Velasquez's belt.

Overeem needs a perfect performance tonight if he hopes to keep his career trajectory promising.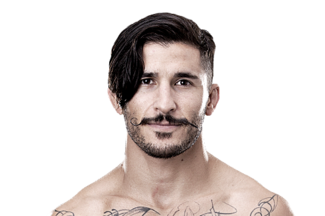 Photo courtesy of UFC
The UFC won't be cutting Ian McCall, even if he loses tonight's bout with Joe Benavidez. The promotion's flyweight division is paper-thin, and the last thing the UFC needs is to drop one of its marquee draws at 125 pounds.

However, let us all be realistic: McCall has yet to earn victory inside the famed octagon, and a failed bid tonight will leave him winless in three outs. That doesn't bode well for any man, regardless of how fascinating his facial hair may be.

Don't expect McCall to earn walking papers if he fails in his attempt to trump the Team Alpha Male standout, but don't expect him to find a home on a main-card again soon either.

"Uncle Creepy" needs a win, desperately.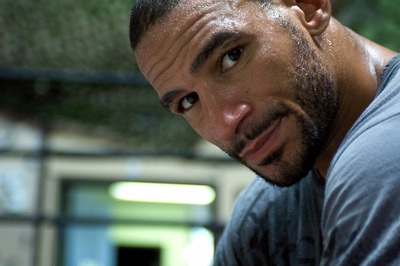 Photo courtesy of MMACarnivale
Jay Heiron might be the best active fighter to never secure a victory inside the octagon. This guy is a well-rounded beast who's happened to run into two separate freight trains in Georges St-Pierre and Jake Ellenberger in both of his trips to the octagon.

There's no shame in losing to either of the aforementioned men, but another loss makes it 0-4 (career) for Jay inside the octagon, and that won't sit well with White.

I expect Hieron's experience and diverse skill set to enable him to march through the relatively one-dimensional Tyron Woodley tonight. If he fails to do so, it might be the last we see of Hieron in the octagon.


Follow me on Twitter.