Soaring Stocks on the NBA Trade Market
Sam Greenwood/Getty Images
With the NBA trade deadline approaching, general managers are finalizing their shopping lists.
Meanwhile, some of the products on the floor are soaring in value. Had these general managers made an offer a few weeks ago, they might have gotten a better deal.
These guys have looked sharp as of late, and their asking prices should be on the rise as a result.
Each player included has been a rumored trade target and/or has a contract expiring in 2013.
Pau Gasol, Los Angeles Lakers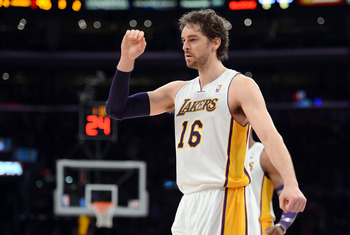 Harry How/Getty Images
Pau Gasol looks like a different player when his confidence is up.
Gasol returned to the starting lineup and willed the L.A. Lakers to victory in a much-needed road win in Minnesota, finishing with 22 points and 12 boards.
He's been much more visible as of late, looking aggressive and less passive. In fact, he's starting to look like the Gasol of old.
Gasol's struggles have been more of a result of the drastic change that surrounded him and his inability to adjust on the fly. This is still the same guy; he just needed his confidence to resurface. It might be tougher to convince the Lakers to give Gasol up now than it was one month ago.
Josh Smith, Atlanta Hawks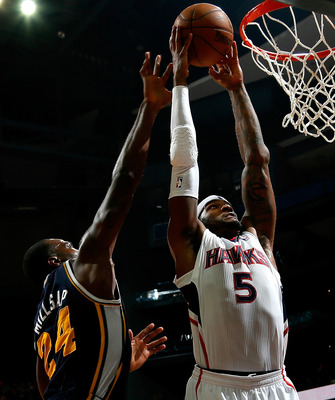 Kevin C. Cox/Getty Images
Josh Smith is putting on quite the audition for potential buyers at the deadline. Over his past four games, Smith is averaging 21.8 points, 10 boards, 5.5 assists and two blocks per contest.
It's just a reminder of how much he brings to the table.
Smith's biggest criticism is his decision-making, but in Atlanta, he's simply being asked to make too many of them. His game is based on natural reactions and making plays off the ball.
Though he's a better fit for a contender, it wouldn't be out of the question to see a lower-echelon lottery team make a push to land his star power.
With the ability to rebound, block shots and play above the rim, teams who need a high-end complementary piece should target Smith's versatile services.
J.J. Redick, Orlando Magic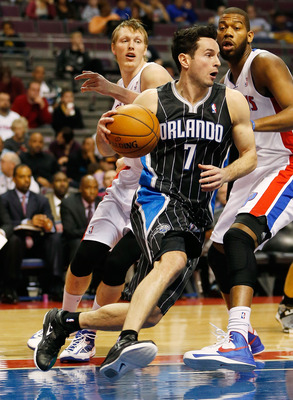 Gregory Shamus/Getty Images
J.J. Redick has been putting up some monster scoring numbers that we weren't sure he had in him, at least not with any consistency or repetition.
Redick scored 26 points or more in four games during the month of January. He's no longer classified in the same category with the specialist three-point shooters like Kyle Korver or Steve Novak. Redick has started to use the dribble in order to free himself up and create better looks at the rim from the perimeter.
He'd be an ideal gap-filler for a team with a breakdown point guard who can drive and dish or a ball-dominant scorer he can play off.
Redick's elite shooting stroke and complementary scoring repertoire will be one of the hottest items on the market in February.
Tyreke Evans, Sacramento Kings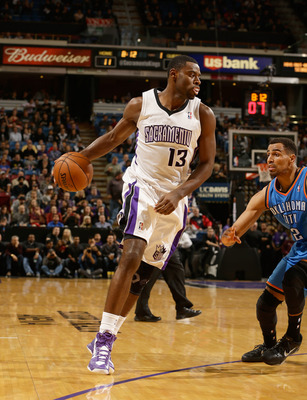 Ezra Shaw/Getty Images
Tyreke Evans returned from injury and has been uncharacteristically consistent. His latest gem was a 29-point performance in a loss to Philadelphia, after going for 19 points and 11 boards in a loss to Boston. Earlier this month, he nearly triple-doubled in a win against Washington, finishing with a 21-8-8 line.
Evans is showing what he's capable of when healthy. He's a guard with great strength and the athleticism to shake defenders right out of their socks.
In the right setting, Evans can be an extremely effective player because of his ability to penetrate from the wing and break down the defense.
Teams that lack punch in the backcourt should at least be inquiring about Evans' availability. He will become a restricted free agent this summer.
Jeff Teague, Atlanta Hawks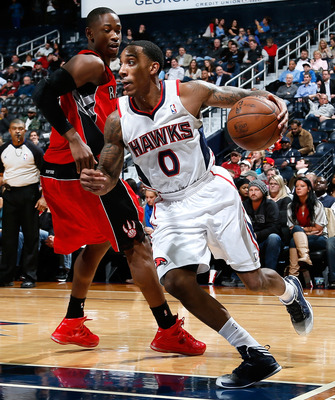 Kevin C. Cox/Getty Images
Jeff Teague hasn't really set a value for himself since he's gotten into the league.
Teague will be a restricted free agent this summer, meaning teams can offer him a contract and Atlanta will have a chance to match. Prior to the season, it was unclear if Teague was a guy you'd want to invest in long-term. If a team extends a substantial offer to Teague, does Atlanta match?
If the Hawks are undecided on how they feel about Teague, gauging his value on the trade market is the move to make.
But as of late, Teague has played like someone you'd want running the offense. He finished with 28 points and 11 assists and 21 points and 10 assists in a home-and-home with Brooklyn earlier this month, and he is recently coming off a brilliant 27-point performance in a tough loss to the Knicks.
Teague is starting to establish himself as a viable starting point guard. It should take a legitimate offer to pry him from Atlanta's grip.
Keep Reading