Dallas Cowboys 2013 NFL Mock Draft 6.0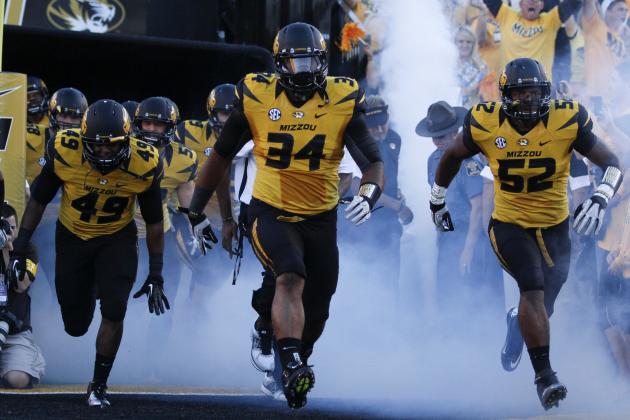 Ed Zurga/Getty Images

The NFL draft is the sole source of acquiring young talent that will allow your team to become annual contenders.
Yes, teams can build through free agency, but at what cost?
Millions of dollars are spent every year in free agency to acquire players who teams believe will continue their current path of success. Consequently, every year teams are disappointed with their decisions.
The Cowboys need starters at a low-risk, high-reward value. Minimal money for maximum production is what the Cowboys are searching for.
Despite the many team needs and glaring holes, the Cowboys could find it in this year's draft.
Begin Slideshow

»
Height: 6'4"
Weight: 295 lbs
There is a legitimate hole at the defense tackle position, especially at 3-technique. The Cowboys need to make this a priority in the 2013 NFL draft.
Enter Sheldon Richardson.
Richardson is a dynamic 3-technique who is explosive off the snap. He is an athletic defensive tackle with an exceptional combination of speed, strength and athleticism. He plays his assignments well and can hold up at the point of attack, stopping gap runners while also being a dangerous pass-rusher.
The Cowboys would be smart to bring in Richardson here. They would likely prefer Chance Warmack or Shariff Floyd, but there is a belief that both players will be gone. Richardson could fit right in and would replace the production they've been missing at the position.
Height: 6'0"
Weight: 209 lbs
Maybe it's a little early here for Cyprien but considering the team's need and his skill set, the pick here is perfect.
Cyprien is a player that really started turning heads at the Senior Bowl with his all-around skill set. What you get out of Cyprien is a rangy safety who projects as a true playmaker. He has tremendous size and still has good speed. He has reliable hands and excellent instincts.
Additionally, Cyprien is a force in the box. He can make big hits and while he could improve his tackling techniques to ensure consistency, he's still a powerhouse against the run. He will be counted on to play aggressively and try to make plays. Something he's sure to do effectively.
As for the Cowboys, they have been missing a franchise-caliber safety since the departure of Darren Woodson. Barry Church and Gerald Sensabaugh have new contracts, but they are cheap enough that Cyprien could still come in and start without any financial regrets or fears.
Height: 6'5"
Weight: 295 lbs
Quessenberry may be a bit of a reach here, but his versatility on the offensive line and his starting potential would be well worth it.
The Cowboys have legitimate needs on the offensive line and since they'll be out of elite offensive-lineman range, they'll do well to draft combination guys who have solid ability.
Quessenberry is a capable tackle but projects as a starting guard in the NFL. He is a very solid blocker who has excellent athleticism and great footwork. He could seriously afford to gain some weight, but he has good strength and has shown excellent game knowledge.
What you get most with Quessenberry is a team-first guy who is dedicated to getting better. The Cowboys might not get an elite guy on the interior line with Quessenberry, but they will get a productive, reliable starter for the foreseeable future.
Height: 6'2"
Weight: 294 lbs
The Cowboys drafted Sheldon Richardson earlier on in the draft, but the value that they'll get with Hill makes the pick a lock.
Hill is another 3-technique that the Cowboys will draft in hopes of building a strong rotation on the interior line.
I view Hill as an explosive pass-rusher who shows promise in developing into a reliable starter in this league. He has good speed and technique and he uses them to make offensive linemen look silly. He could improve his strength, but his all around skill set suggests that he could be a consistent seven-sack player.
I would love this choice for the Cowboys with the potential losses of Jay Ratliff and Josh Brent. This would solidify a dominant, young core on the defensive line that could anchor this team going into the future with the Tampa 2 defense.
Height: 6'2"
Weight: 239 lbs
Bell is seeing his draft stock fall, not because of anything he did, but because of the massive talent at his position this year.
Everyone's loss is the Cowboys' gain.
Bell is a prototype running back with good speed and exceptional power. He is strong between the tackles and isn't phased by contact. While he isn't a blazer, he can still separate but won't break off many huge runs. He is a competent pass-blocker and continually improves in that area.
Overall, what the Cowboys are getting in Bell is an all-around back who can play all three downs. He is consistent and fearless in the run game and also possess great vision to break bigger gains. He would be a great goal-line back and compliment to DeMarco Murray.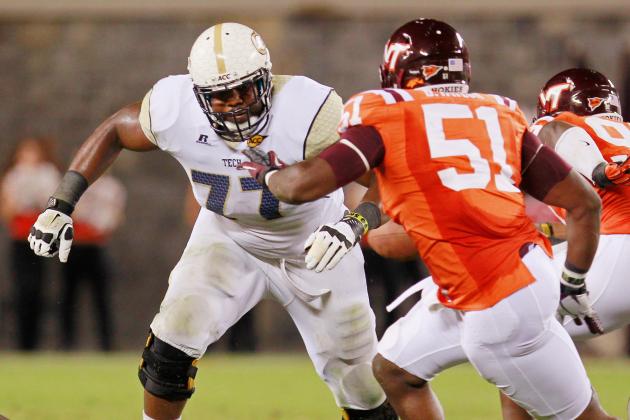 Geoff Burke/Getty Images

Height: 6'3"
Weight: 300 lbs
Besides having an awesome name, Uzzi is actually an underrated prospect in this draft. He is an undersized player who has exceptional athleticism. He has no problem getting to the second level to make impact blocks. He is a great run-blocker but needs to add the strength and technique to hold up in pass-blocking. There is also belief that Uzzi could play center in the NFL.
A great find for the Cowboys this late, Uzzi is another versatile guard/center who can come in and be a factor immediately. Even if he doesn't start, which I don't expect him too at first, he has the positional flexibility to be active on Sundays.
Uzzi fits what the Cowboys are trying to do offensively and could really help the run game with his mobility and ability to make impact blocks. This would be a great choice for the Cowboys in the sixth round.