SEC Football: Every Team's Most Irreplaceable Player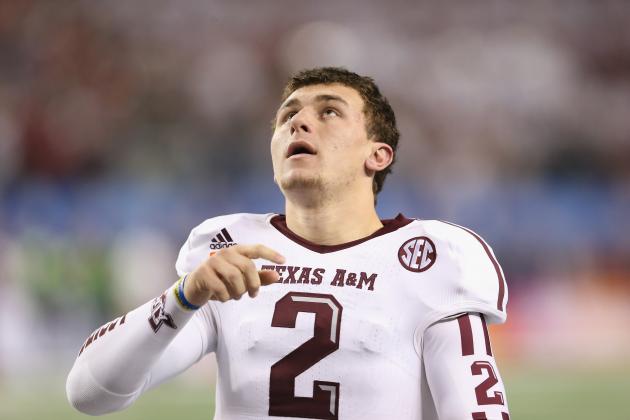 Ronald Martinez/Getty Images

The word irreplaceable means impossible to replace if lost. In terms of SEC football, the word is a symbol for players whose teams would struggle to win without.
You see, the word irreplaceable and playmaker go hand in hand.
A player who makes a key throw, rush or reception in a critical third-down situation is considered irreplaceable. A player who comes up to make an incredible defensive play at a crucial moment of the game can be considered as such as well.
The word simply defines a player who goes above and beyond the call of duty as role player in a scheme.
With that being said, here are every SEC team's most irreplaceable player in 2013.
Begin Slideshow

»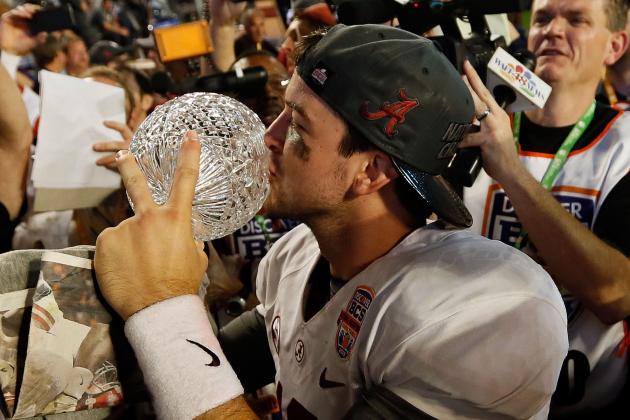 Kevin C. Cox/Getty Images

AJ McCarron is a future Heisman finalist.
Alabama fans know that this is every SEC fan's biggest fear. The most frightening scene for teams not wearing crimson and white in the SEC is an All-American-caliber quarterback leading a team coached by Nick Saban.
Saban will always have his defense clicking, and his running game will always be a weapon. But if you add that extra element of an experienced, capable quarterback to his repertoire, Saban is close to being unbeatable.
McCarron threw for 2,933 yards, 30 touchdowns and three interceptions in 2013. That's right, he threw 10 times as many touchdowns as he did interceptions. If his four touchdown, zero interception performance against Notre Dame in the 2013 BCS National Championship is any indicator of how well he'll play in 2013, McCarron automatically makes Alabama the favorite to win it all again.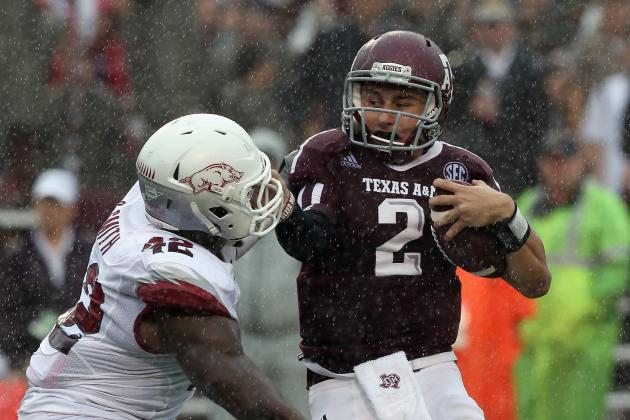 Ronald Martinez/Getty Images

Gloom and doom was the story of the Arkansas Razorbacks in 2012.
Misery was an emotion felt by all diehard Hog fans, but the fanbase may have found new life in new head coach Bret Bielema.
But Bielema can't do it on his own. He needs help from his returning players, and no one on the team is more valuable than Chris Smith.
Smith obtained 9.5 sacks and 13 tackles for loss last season for Arkansas. Come to find out, not every Arkansas player quit on the team. Smith is going to have to be just as good if not better next season if he wants to lead Arkansas back to relevance.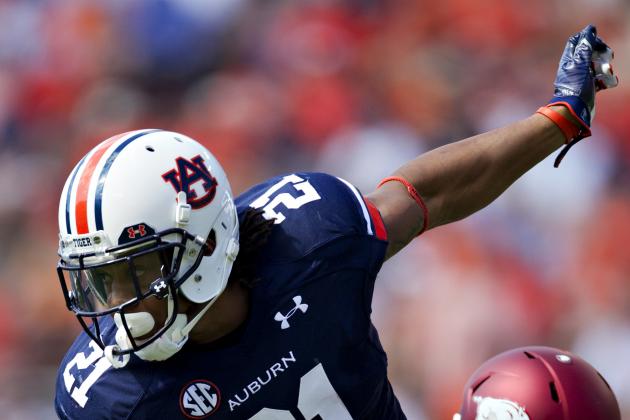 Wesley Hitt/Getty Images

Auburn needs a spark.
The program needs something flashy for fans to really sink their teeth into and allow them to get excited about the 2013 season.
Tre Mason is that spark plug. Mason, who rushed for over 1,000 yards and eight touchdowns last season, presents an admirable running style that is sure to bring the Auburn family enthusiasm.
That family sure could use it after the Tigers went 3-9 and lost Corey Lemonier to the draft. Mason will need help, but right now, he's the glue that's holding this bandaged Auburn team together.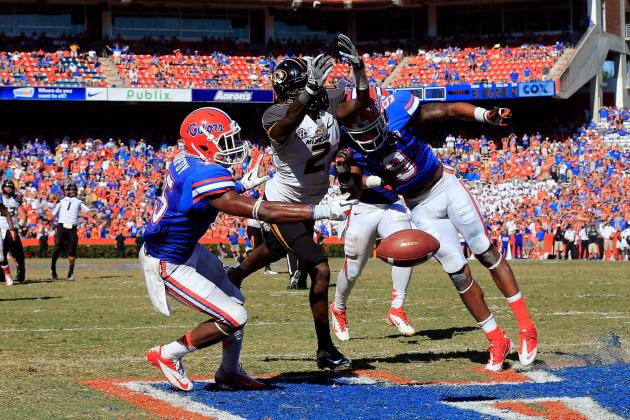 Sam Greenwood/Getty Images

OK, maybe Loucheiz Purifoy didn't have the best of games in the 2013 Sugar Bowl.
Heck, the entire defense for the Florida Gators was a big letdown in that game. But that doesn't take away from the remarkable season Purifoy had with the Gators.
Before getting injured in the Sugar Bowl, Purifoy was getting picked apart by Teddy Bridgewater and Louisville's passing game. It was actually shocking.
You see, Purifoy was a sure thing for Will Muschamp and his defense in 2012. Sure, the team had playmakers like Matt Elam and Jon Bostic making plays, but Purifoy was almost always able to handle his man on the outside and provide great coverage. He has to get back to his shutdown corner-like ways in 2013.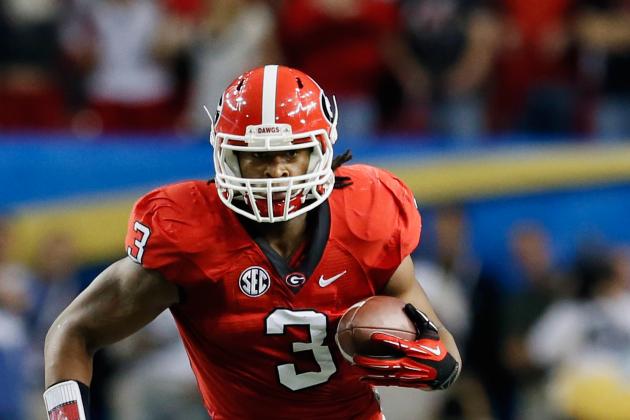 Kevin C. Cox/Getty Images

Rarely is a running back the most irreplaceable player for a powerhouse in college football.
Todd Gurley is an exception. Sure, Georgia has its experienced quarterback in Aaron Murray returning, and obviously, the Bulldogs have depth in the backfield with Keith Marshall backing up Gurley.
But come on, Gurley just might be the best running back in the country next year. Here's a not so bold prediction—he will be.
Gurley rushed for 1,385 yards and 17 touchdowns as a true freshman. As he continues to develop more of his running game in the offseason, expect him to be the fiercest threat in the SEC East.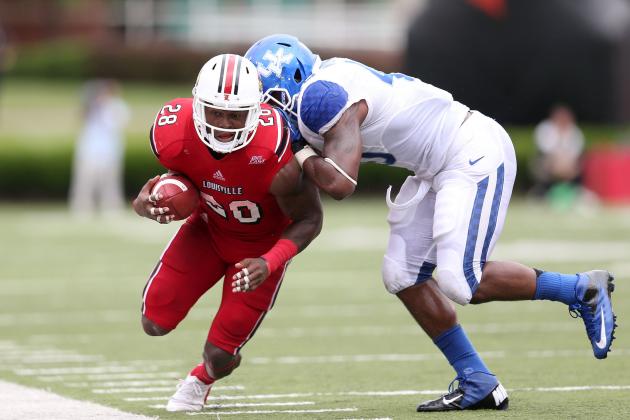 Andy Lyons/Getty Images

Where exactly does Kentucky get these tackling machines?
First, there was Danny Trevathan, who led the SEC in tackles in 2011 and 2010. As he graduated, Kentucky fans wondered who could step up and become the new cornerstone of the Wildcats defense.
That question was answered quickly by Avery Williamson. Williamson was so good last year that he came just three total tackles shy of leading the league in tackles.
With 135 recorded tackles, Williamson was all over the field for Kentucky in 2012. Under new leadership with Mark Stoops assuming the head coach position, defense will be a focal point for Kentucky, and Williamson will be the nucleus.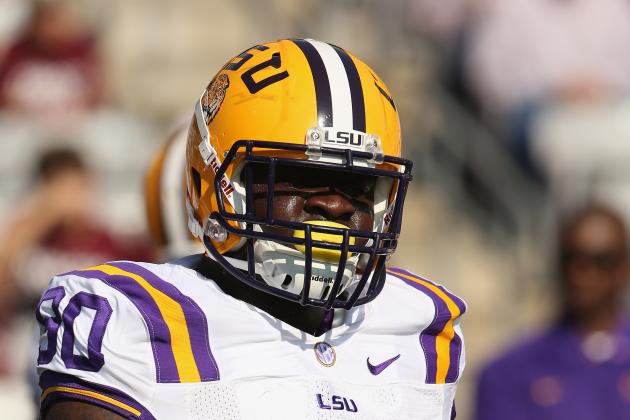 Ronald Martinez/Getty Images

The LSU Tigers were undoubtedly the most difficult team to pick an irreplaceable player from.
Do you go with Zach Mettenberger? Do you go with the freshman sensation Jeremy Hill? Or what about the outstanding Jalen Mills? Or how about one of the returning offensive linemen like La'el Collins?
Each of those players carries merit, but at the end of the day, it has to be Anthony Johnson. LSU has always showcased rich talent on the defensive line, and with the absence of Josh Downs, Bennie Logan, Sam Montgomery and Barkevious Mingo mostly fresh, new faces will become the full-time starters.
The only returning playmaker who has a solid amount of experience is Johnson. Johnson, who had 10 tackles for loss and three sacks last year, will have to carry this young defensive line next season.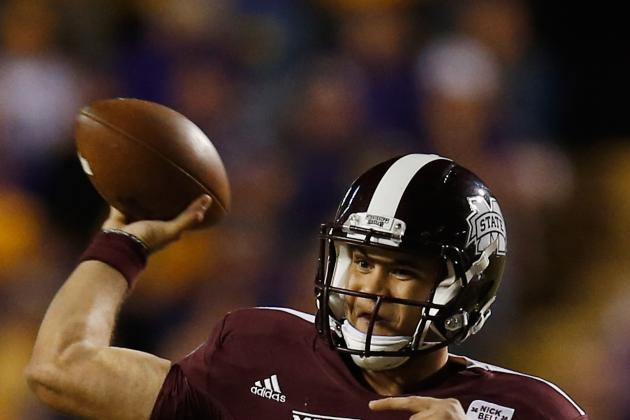 Chris Graythen/Getty Images

It's time to be a superstar, kid.
Mississippi State fans watched Tyler Russell grow up before their eyes. Maturing as a quarterback, Russell was more efficient in 2012 with his passing. However, don't remind State fans about the 2013 TaxSlayer.com Gator Bowl.
Russell had four interceptions in that game, but for most of the season, he took good care of the football and made correct choices. His 24 touchdown-10 interception ratio backs that up.
But Russell needs to be dangerous. He needs to put together all of his God-gifted abilities and give Dan Mullen what Mullen has desired ever since he became head coach at Mississippi State—an elite quarterback.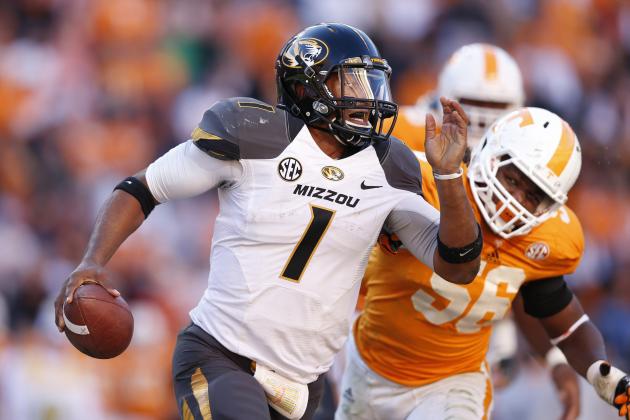 Joe Robbins/Getty Images

The Missouri Tigers without James Franklin are sitting ducks.
But then again, they weren't that much better with him in 2012. Missouri's inaugural season in the SEC didn't go as planned, and a large part of that was due to the nagging injuries suffered by Franklin.
Franklin missed three games and barely played against Vanderbilt and Kentucky. He was virtually a non-factor last season, and a 5-7 record came as a result. It became apparent quickly just how important Franklin is to this squad.
For the Tigers to become a contender in the SEC East, Franklin has to play like he did as a sophomore with 36 total touchdowns, because his 10 total touchdowns as a junior simply didn't cut it.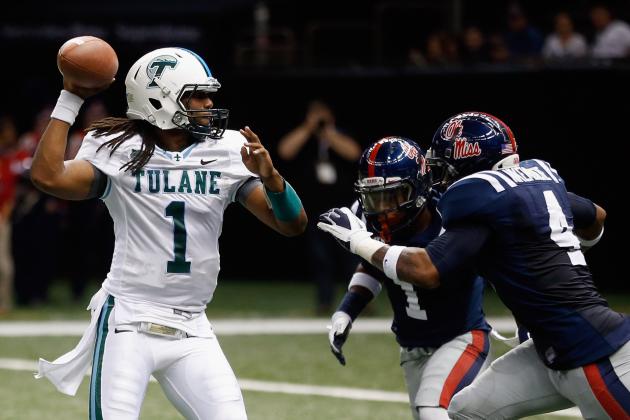 Chris Graythen/Getty Images

Oh come on, you know where this is headed.
Sure, a large reason why Denzel Nkemdiche is Ole Miss' most irreplaceable player revolves around the fact that the Rebels have the inside track to get his little brother, Robert Nkemdiche.
But you're a fool if you think that's the only reason why. Denzel simply doesn't get enough credit. Sure, he may be undersized at linebacker, but he certainly doesn't play like it.
Nkemdiche totaled 13 tackles for loss, 82 tackles and forced four fumbles with the Rebels last season. He did it all with grit and determination, and that's exactly what his team needs to compete in the toughest division in football.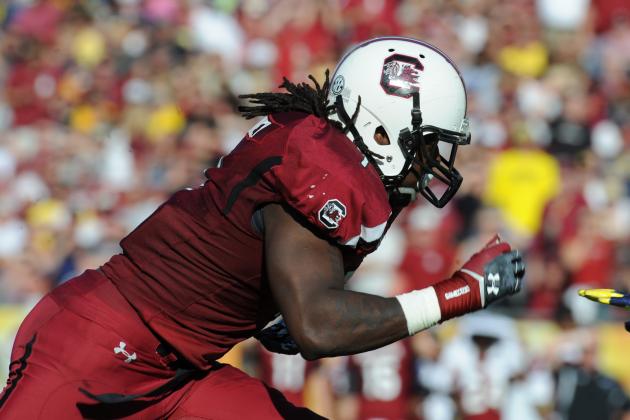 Al Messerschmidt/Getty Images

Yep, this one's a no-brainer.
Jadeveon Clowney is a superstar now. He's still the king of SportsCenter's "best of the best" top plays after his forced-fumble hit on Michigan running back Vincent Smith went viral.
His head coach, Steve Spurrier, said on The Dan Patrick Show that Clowney could have went straight to the NFL out of high school (h/t Michael David Smit of ProFootballTalk.com), and after his 13 sacks and three forced fumbles last year, who can argue against that?
Clowney came in as one of the best freshmen in the country, had his breakout season as a sophomore last year and, in 2013, he'll be the Gamecocks' lifeline to winning an SEC Championship.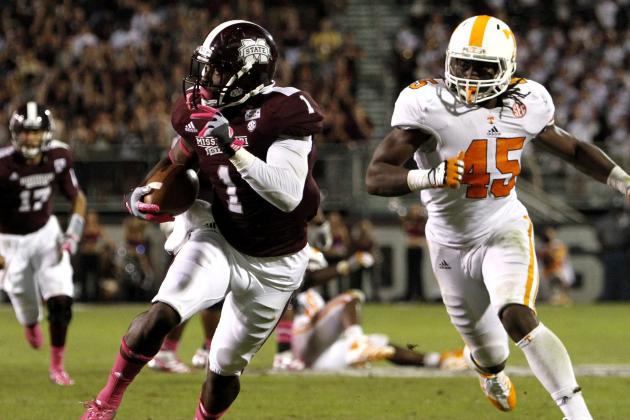 Butch Dill/Getty Images

It feels like nobody every talks about A.J. Johnson.
Is everyone oblivious to the fact that this man was the SEC's leading tackler in 2012?
You can't really blame everyone. After all, Tennessee's defense ranked last or next to last in the conference in every major defensive category. So, Johnson's outstanding tackling abilities understandably flew under the radar.
But as he enters his junior season, Johnson should be and will be viewed as one of the better defenders in the league. Can Johnson get enough help around him to fix the gaping hole in this defense?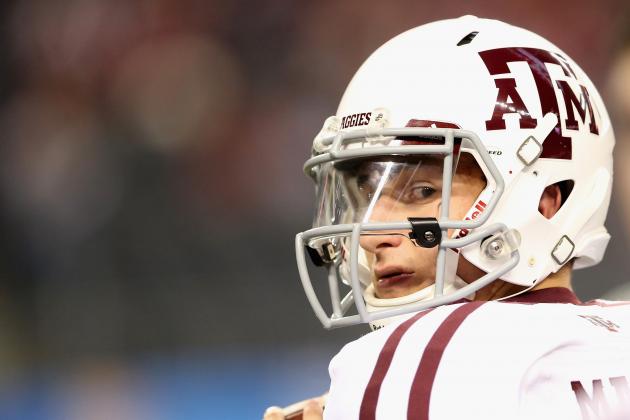 Ronald Martinez/Getty Images

Johnny Manziel gives Nick Saban a run as king of the college football world.
Heck, it's Johnny's world, and we, as spectators, should just be glad we get to witness his greatness. With speed, quickness, athleticism and accuracy, Manziel led Texas A&M to an 11-win season, including a victory against Alabama.
He also won the Heisman, which illustrated that he was the best football player in the country. Yeah, he did all of this as a freshman.
So, entering his sophomore season, the Aggies are leaning on him to take the next step. Texas A&M will be considered a favorite to win the BCS Championship next season, and it's all because Manziel is returning as the Aggies' quarterback.
Joe Robbins/Getty Images

Who's to say Jordan Matthews isn't the best wide receiver in the league right now?
The only argument that can really be made against Matthews is Mike Evans at Texas A&M. But at Vanderbilt, Matthews doesn't have a Johnny Football throwing his way.
Still, Matthews was able to finish second in the conference behind Cobi Hamilton in receiving yards with 1,323, and he had three more touchdown receptions with eight.
Matthews is an explosive receiver with great catching ability. With the absence of Zac Stacy and Jordan Rodgers in 2013, Matthews will have to be the firecracker that lights up the offense.