Three Love/Hate Relationships I Have with ESPN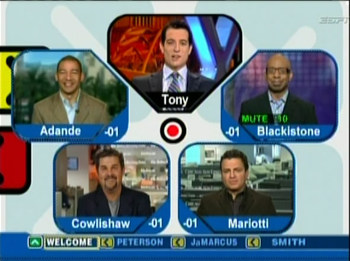 I have a love/hate relationship with ESPN. I have to go to it in order to get my sports updates and, at times, their original programming and sports coverage is excellent. At other times, it's just a loud, meaningless screaming match that only promotes other shows on the network. This list pairs three random love/hate relationships I have with ESPN.
Love: Skip Bayless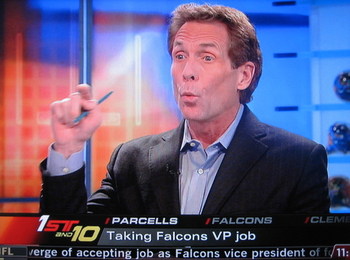 I know, I know—most people hate Skip Bayless, but I actually think that, in the chaotic, feed-the-beast atmosphere that is ESPN, Skip Bayless is the only guy who "gets it".
The entire sports world only generates about four hours worth of actual news a day, which means that ESPN must fill the other 20 hours with fruitless analysis and mindless debates.
And, if that's your biggest challenge, then Skip Bayless becomes your network's Dean Martin—you can ask him to do anything.
I've seen Skip Bayless debate everyone from rappers to Hall of Fame coaches. In a single episode, he will go from saying the Cleveland Cavilers are better without Lebron James, to screaming about which Bond actor is the best—he will argue what ever you need him to do.

This guy is a throw-back to Bob Hope-type acting (cutting five movies a day), and the only guy at ESPN who embraces the absurdity of 24 hours sports reporting.
Hate: Countdowns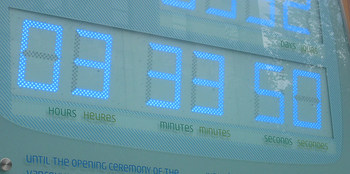 Everything at ESPN is a countdown. The week leading up to the NFL Draft, ESPN will have 10 separate countdowns alone, all running like the national debt clock with blinking numbers on separate parts of the screen.
I have always imagined that if you were to go inside the programming director's office at ESPN, it would be all clocks. But, instead of them being set to different world times (like Tokyo or Berlin), they would be set to random sporting event dates (like the home run derby or the dunk contest).
Love: ESPN Hires Failed Coaches and GMs
If the government is where you go to fail upwardly, ESPN is where you go to fail laterally.
The next move for every franchise-destroying GM or coach is to move to ESPN, where he can receive the same pay and fame, without having to face any of the consequences.
ESPN collects disgraced GMs (Steve Phillips) and .500 level coaches (Bill Raftery), like they are tenured professors, allowing them to make any absurd prediction on the air with total impunity.
I fully expect that ESPN will launch a bidding war against NBC for Matt Millen next year, right after Steve Phillips predicts that the Reds will win the World Series.
Hate: In-studio Re-enactments of Football Plays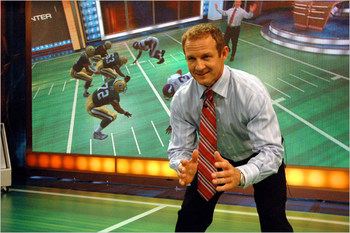 The most accidentally hilarious five minutes of television (each week), is when ESPN Sunday NFL Countdown decides to re-enact a NFL offense with their mixed collection of geeky football reporters and still-hulking, former players.
Invariably, Michael Irvin is sent wide, against Chris Mortenson, who looks like my dad, and I've always hoped Steve Young (or who ever is fake-quarterbacking that day) would say, "OK, to my right I have 6'5" Michael Irvin against Chris Mortenson of the New York Daily News—that's a mismatch and I'm going to exploit it".
Love: ESPN Thinks We Still Care About Todd Marinovich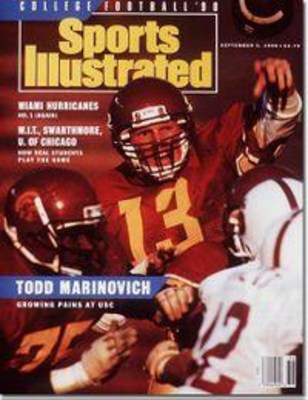 There is nothing funnier than Todd Marinovich—who's now just a 40 year old guy with roommates, having to explain that he was at a cover band show, and just didn't know he was buying drugs off a cop on national TV.
This man has not touched a football in over 20 years, yet he needs to get ready for a press conference every time he fucks up. ESPN hounds these former first round quarterback busts (Ryan Leaf / Todd Marinovich) like the E! Network follows former child actors (Todd Bridges / Macaulay Culkin).
I can not think of a fate worse than world-wide fame with absolutely no money—spending your whole life in low-cost public buildings, with people screaming punchlines at you.
Hate: ESPN Thinks We Do Not Care About Boxing
Boxing is, by far, the best sport to watch on TV, yet ESPN reports it like it's happening in Europe.
ESPN recently moved the heavy weight championship fight off both networks and, instead, showed it on tape delay on ESPN Classic, so it could show college wrestling live.
First of all, ESPN Classic should be nothing more than 24 hours of old Mike Tyson knock-outs and interviews—let's get that out of the way...I can accidentally stumble into Mike Tyson knock outs on YouTube and, the next thing I know, it's 8 PM and I haven't accomplished a thing.
Secondly, HBO's Hard Knocks showed that Floyd Mayweather's family alone can carry an entire network. Boxing, beyond just being a great sport to watch, is also the last sport that still makes NO attempt to prepare their athletes for obscene wealth and, as such, it is the last sport with legitimately cool people.
Lebron James, as fun as he is to watch, is as prepared and calculated as The Michelin Man in his public speeches.
Mayweather, by contrast, will talk about betting his house on a basketball game, while the cameras are rolling. Boxers are infinitely more entertaining, cool, and real than all other professional athletes (potential exception—hockey players), and should at least be getting live coverage.
Keep Reading