5 Biggest Reasons for Washington Wizards' Recent Upswing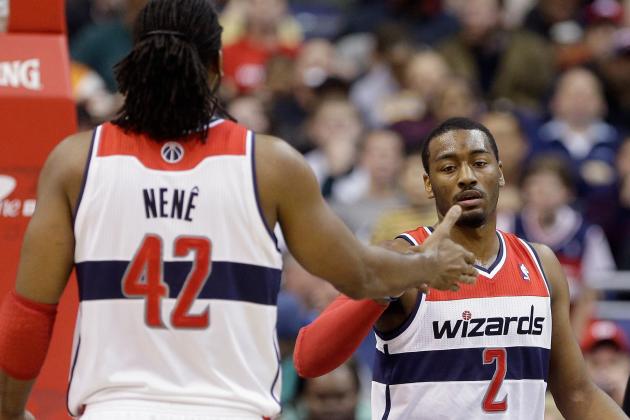 Rob Carr/Getty Images
John Wall and others are among the reasons the Wizards have looked better as of late.
Being at the bottom of the barrel isn't a good feeling.
The Washington Wizards are at the bottom of the barrel. Just how far down, you ask?
Try 23 games below .500 far. With an 11-34 record, and tied for the Charlotte Bobcats for two dubious honors— worst records in the Eastern Conference and worst record in the NBA, the Washington Wizards are having a rough 2012-13 campaign.
Recently, however, the Wiz have picked it up a bit and played their best ball all season. They've won four of their last 10 games, and they have notched a win against one of the league's best squads, the Oklahoma City Thunder.
Sure, John Wall is finally back in the line-up, but who else deserves some credit for trying to stop the bleeding?
Begin Slideshow

»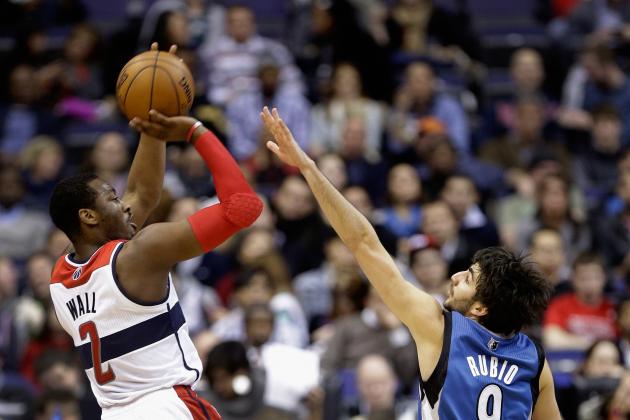 Rob Carr/Getty Images

It's certainly no coincidence that the Wizards started playing some of their best ball as soon as John Wall returned. After finally coming back to the line-up after pervasive knee trouble, Wall has brought some new life to the Wiz.
Just his presence on the court enhances the line-up. His dribble penetration, his speed, his improved shooting form are among the reasons they've missed him. While you might scoff at the thought of the Wizards being a dangerous team, Wall has shown flashes of what he's capable of doing.
In their recent win over the Denver Nuggets, John Wall flexed his inner floor general. He only attempted nine field goals, and instead opted to facilitate, something the Wiz have missed in his absence. In their win on the road against Denver, John wall notched a solid double-double—14 points and 12 assists, exactly what you want from your point guard.
Wall has among the best handles in the game, and the fact he has looked a lot more refined in his role shows what he's capable of down the road. Rather than all flash and nothing else, we're finally seeing Wall put together some solid performances, and one of the most impressive was undoubtedly that win in the Mile High City.
As long as Wall stays focused and can shake injuries, there's no telling how great he could become.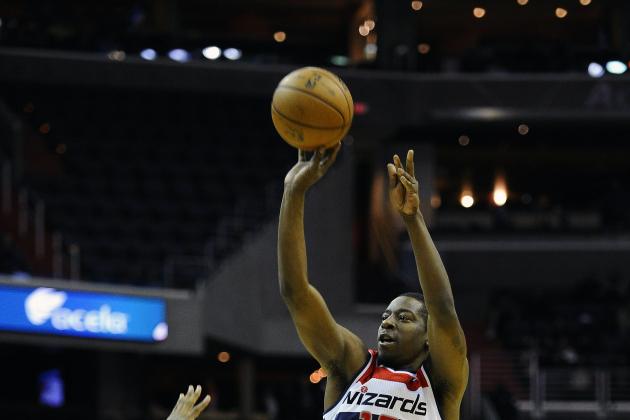 USA TODAY Sports

Jordan Crawford is still a work in progress, but lately, he, like Wall, has settled in a bit more in his role as a scorer. The high arcing, one-on-one shot maker nailed a huge shot in a thrilling buzzer-beater win against Portland recently, and that one shot encapsulated much of his improvement over their stretch.
When Crawford becomes the main focal point on offense, it becomes a bit like live or die by offense. Crawford is not shy at all about shooting; he is in the top 25 has far as shots attempted per 48 minutes. That one stat says a lot about how Crawford plays the game—a fearless shot-taker who loves the opportunity to score.
Now of course, that attitude doesn't come without its drawbacks. Crawford definitely overshoots a lot, and it is part of why he's shot sub-40-percent in recent seasons. In 2012-13, however, Crawford is shooting 42-percent from the field, a career high field goal percentage-wise.
By simply knocking down shots when he needs to, and also recognizing when he should pass, Crawford is showing progress. The buzzer beater in Portland definitely proves he is absolutely fearless, so despite the poor shooting in his past two seasons, Crawford is maturing as a scorer and as a teammate.
The Wizards could certainly use a big-time shotmaker, and it seems they've found one in Jordan Crawford.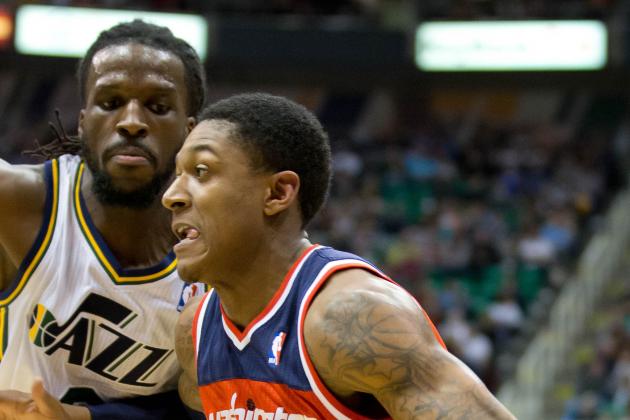 USA TODAY Sports

Despite inconsistency, Beal has balled out on numerous occasions. Similar to Jordan Crawford's huge shot against the Portland Trail Blazers, Beal hit a huge shot against Oklahoma City. With .3 seconds left on the clock, Beal knocked down a shot to give the Washington Wizards a win over the Oklahoma City Thunder.
Believe it or not, this wasn't a game of 2K, the Wizards actually beat the Thunder in real life, and part of the reason why is Beal's hot shooting during their stretch of better play.
Using the Thunder game as an example of his solid output, that game really showcased a lot of what Beal is capable of doing once he refines his game. Despite shooting 7-of-17 from the field, Beal knocked down five three-pointers, taking the initiative as far as shooting the ball even if it meant overshooting a tad.
While a lot of critics of Beal and Crawford certainly point to their poor field-goal percentages as a knock against their fearlessness in shooting, a lot of credit has to be given to the rook for knocking down the big shot. Beal is shooting sub 40-percent, but a similar trend is evident in Crawford's early years.
Now this isn't to say that Beal or Crawford are incredible scorers just yet, they both certainly have a ways to go, but similar to Crawford, Beal has emerged as a guy they can count on to make big shots.
Beal has definitely shown glimpses of becoming an elite scorer, and while it's still early, Beal will further adjust to the pro game and get better as time progresses.
As long as he can stay healthy, the Wiz need to ride Beal's hot streaks as long as they can, and if the Thunder game proved anything, it was that Beal is another guy they can count on to make big shots.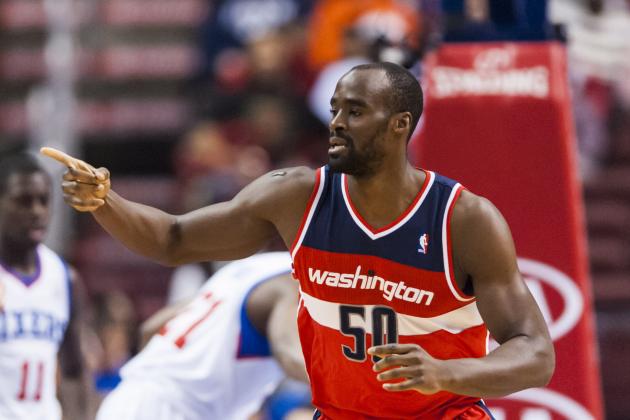 USA TODAY Sports

While Wall is certainly more famous and Beal and Crawford both have big highlights, Emeka Okafor is relegated to relative anonymity on the Wizards. Okafor has always had a reputation for being a solid rebounder, and he's brought his same ability to snatch boards to the Wiz.
Offensively, Okafor is limited, but his grit and hustle has given the Wiz a solid presence in the middle. Okafor in the Wiz win against the Hawks, blowout at home vs. the Magic and thriller against OKC, managed to drop double-doubles.
With two shooters like Beal and Crawford on the same team, it's fair to say a lot of bricks will be thrown up. Emeka has done a great job giving the Wizards extra possessions on misses, and that ensures they'll be able to survive times of stagnancy from the perimeter.
All three of those games were great examples of Emeka either sustaining the offense's rhythm, or denying the other squad second-chance points.
If the Wizards are to keep playing as well as they have shown as of late, they need Emeka to keep doing what he's doing on the boards. He isn't going to drop 30 on anybody, but Emeka just needs to be Emeka and show up and do what he does best—finish putbacks, control the boards, be a physical presence.
He's a nice piece to have, and his solid play in particular showings has demonstrated his worth is undeniable.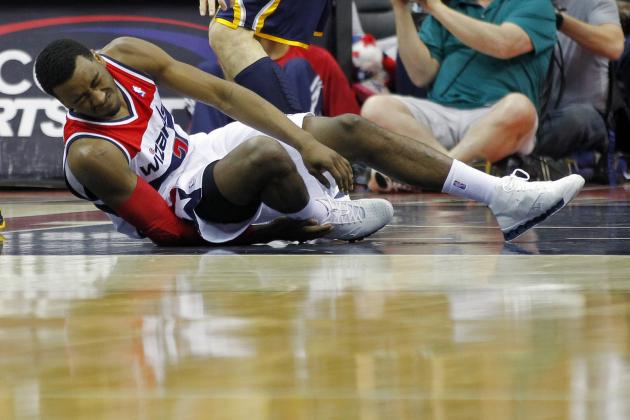 Geoff Burke-USA TODAY Sports

Among the most significant obstacles aside from opponents or fatigue is the inevitability of injuries. They are unfortunately a part of the fabric of the NBA, and when they happen in bunches on one team, they can show. Over stretches this season and last, the Wizards have at times been unable to put their entire unit on the floor.
Whether it was Nene, John Wall or others, losing players from injuries hurts teams on more than the lack of talent front. Aside from having to use reserves instead of your best talent, you're also preventing your team from getting into a good rhythm and establishing chemistry.
The Wizards a team that still need to better familiarize themselves with one another, and it can only happen once their best players can stick together on the floor as a collective.
As evidenced by their big time win against OKC, despite not having John Wall or Nene—two of their best players, they still edged their way to a win. This is a team that, despite their abysmal record, actually wants to win.
Even with two of their best players out, Bradley Beal and others stepped up and got the job done, and that type of grit and fight is what will be necessary to work their way towards improving.
While there's no telling what a completely healthy Wizards team could do, there is no question that their ability to overcome the mounting injuries deserves credit, and with another disappointing injury to star guard John Wall, and wrist issue with Beal, the Wizards will have to overcome yet another obstacle.
Despite being without some of their talent yet again, the Wizards will certainly show some resilience and pull out a few more under-handed victories just as they have against the likes of the Thunder.