Granada 1-0 Real Madrid: Ronaldo Own Goal Enough for Historic Win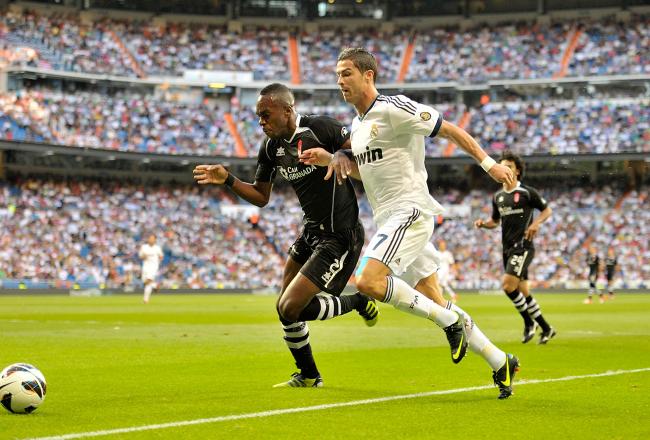 Gonzalo Arroyo Moreno/Getty Images
Granada get their first win against Real Madrid in 41 years and may have kept themselves in the first division for one more season.
Cristiano Ronaldo's own goal proves to be the winner and Los Merengues will now struggle to just catch Atletico Madrid in second place.
Final Score
Granada 1-0 Real Madrid (Ronaldo OG 22')
Starting XIs
Granada: Toño; Nyom, Mainz, Íñigo López, Siqueira; Mikel Rico, Recio, Torje, Nolito; Aranda, Ighalo
Real Madrid: Diego López, Varane, Ramos, Coentrao, Khedira, Ronaldo, Alonso, Arbeloa, Modric, Higuaín, Di María
Adios
That's it for me. Thank you for joining the live coverage of this La Liga match.
Real Madrid were very poor here and I leave you with this interesting point about Los Merengues' record in Andalusia this season.
Real Madrid have not won in #LaLiga this sesson in Andalusia. Lost to Sevilla, Betis, Malaga and now Granada

— Jay Veron (@Jay_Veron) February 2, 2013
Fulltime
That's it! Granada might have just saved their season with an epic win.
92'—Ighalo goes down in the Madrid box after a challenge from Arbeloa, but the ref does not give a penalty in the end.
90'—Nothing but added time left here and three minutes are put up on the clock.
Madrid will lose a good chance to make up space on Atleti here, but Granada's win will be huge.
88'—Juanam Ortiz comes on for Torje here to add a bit more defense from midfield for Granada.
Granada are about five minutes away from a big win that could keep them in the first division.
I am shaking, this would mean everything for Granada, especially this season and all they've been through!

— Tom Conn (@TomConnISF) February 2, 2013
84'—Wow, what a save from Tono and what a miss from Benzema!
Tono makes a huge, huge save against Callejon after Mainz leaves his man wide open, but then Benzema misses very badly with the rebound.
81'—Di Maria is dispossessed twice in about 60 seconds by Mainz and stays down after the second tackle.
Mourinho yells at him to get up and looks visibly frustrated with his winger's poor play.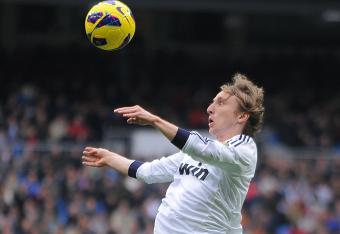 78'—Modric takes a corner for Madrid, but Ighalo sends it right back out of play from the near post.
The second effort from the Croatian isn't any better as it is far too low and short to be of any real threat.
77'—Madrid get a decent chance to score after a cross from Benzema is tipped by Callejon for Ronaldo, but the winger then loses the ball and stays down with an apparent groin injury.
CR7 looks in pain and would come off if Mourinho had any subs left.
75'—Big moment for Diego Buonanotte as the former Malaga man comes on with 15 minutes to play.
Aranda comes off for the midfielder.
75'—Jose Callejon receives a fine ball from Di Maria—who finally makes a positive impact—but his received through ball is caught from an offside position.
This week sort of sums up the season for #RealMadrid - brilliant versus Barcelona and then awful against a lower-league team. Inconsistent.

— Ben Hayward (@bghayward) February 2, 2013
How did Modric not get sent off there? I like Modric, but come on, a little consistency with handball calls would be nice.

— Sidonie Blaugrana (@SidonieM10) February 2, 2013
70'—Granada nearly makes it two after Ighalo beats Marcelo with relative ease and has loads of space on the right side.
Nolito receives a long cross, but gets the ball stuck at his feet before being dispossessed.
68'—Well Granada are going wild in unison with the crowd here as Luka Modric is very lucky not to earn a second yellow.
The Croatian lifts his arm very high to control the ball and probably should have been carded and sent off, but the referee does not give the card out.
65'—Mourinho is now out of subs as he brings Marcelo on for Fabio Coentrao with less than 30 minutes to play.
No rest will come for Ronaldo or Alonso after all, it turns out.
62'—Mikel Rico executes a very nice counter and embarrasses Xabi Alonso a bit with some nice passing, but Nolito's early ball is just long and ends the attack.
60'—Ighalo sends a cheeky back heel at Diego Lopez and actually beats the former Villarreal keeper.
Unfortunately for him and Granada, the shot also misses the goal.
Great turn and shoot from Cristiano provokes a fine save diving to his left from Toño. Nothing comes from the corner.

— AS English (@English_AS) February 2, 2013
58'—It took nearly an hour, but Ronaldo finally gets Madrid's first shot on goal.
The long-ranged effort was easily saved by Tono, but at least he was tested.
56'—Ronaldo makes a great run to get in position from the right side and sends a cross in, but it does not connect and fals to Di Maria who wastes a couple of shots.
Moments later, the South America attacks the left flank and loses the ball instead of putting it in.
54'—Angel di Maria is on the pitch after all!
The Argentinian has been pretty absent in this one so far, but he just earned a goal kick for Madrid to remind us that he was in this match.
51'—Ronaldo is upset because he appeared to have earned a corner kick, but the linesman gave a goal kick instead.
Upon viewing the replay, the Madrid captain was right and it was his opposite skipper, Mainz, who had the last touch.
This article is
What is the duplicate article?
Why is this article offensive?
Where is this article plagiarized from?
Why is this article poorly edited?

Real Madrid: Like this team?