NHL Power Rankings: Where Does Your Team Stand?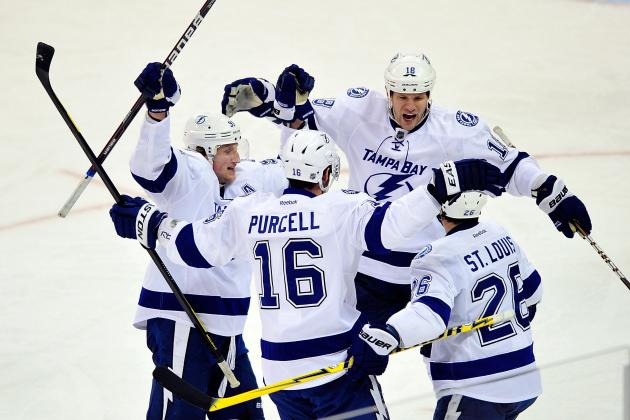 Grant Halverson/Getty Images

It's time for my first release of the 2013 NHL power rankings.
Two weeks of the shortened 2013 NHL season are just about in the books. Some teams are playing really well, while others are certainly suffering the effects of a brief training camp.
We are about one-sixth of the way through the 48-game campaign. Where does your squad stand in the power rankings up to this point?
All stats courtesy of NHL.com.
Begin Slideshow

»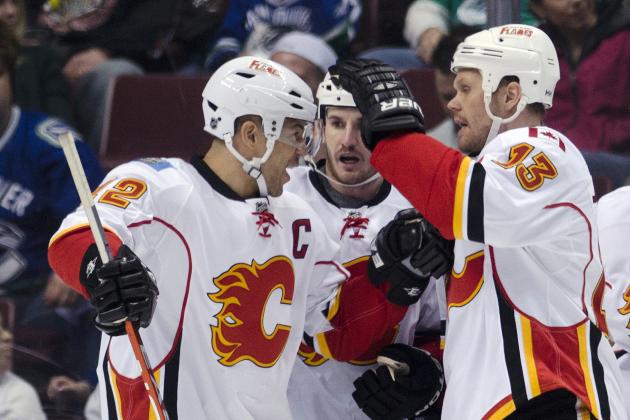 Rich Lam/Getty Images

Record: 1-3-1 (3 points)
Jarome Iginla should just retire. He doesn't have enough of a supporting cast to help get the Flames to the playoffs.
This team doesn't seem to be going anywhere near a celebration in the near future.
Actually, I take that back. The Flames actually may get a chance to celebrate winning the draft lottery and take the No. 1 pick in the 2013 NHL draft.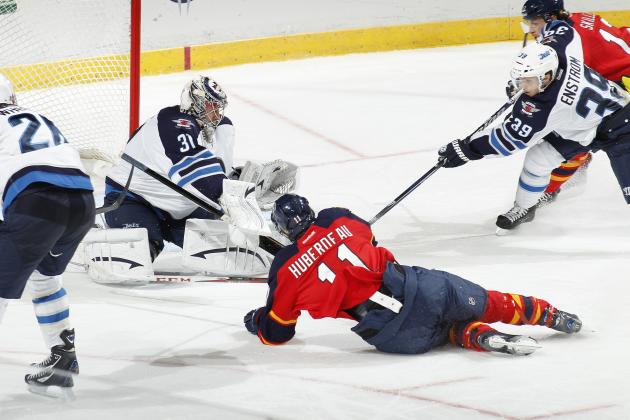 Joel Auerbach/Getty Images

Record: 2-5-0 (4 points)
I am surprised the Panthers are playing so poorly after the hot start they got off to on opening night.
Since netting five goals on opening night, the Panthers have only managed to score 11 goals in their last six games. Last time I checked, that's not a recipe for success, especially in a shortened season where teams need every point they can get.
The only bright side is young rising star Jonathan Huberdeau.
Jose Theodore is not the answer in net, and with Ed Jovanovski and Brian Campbell running the blue line, the team doesn't seem to be getting much younger.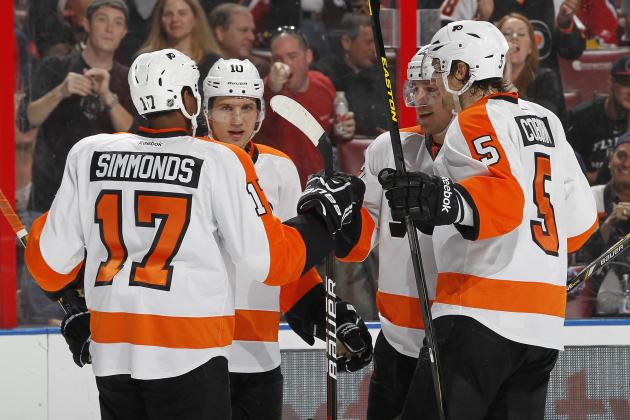 Joel Auerbach/Getty Images

Record: 2-6-0 (4 points)
When I take a look at the Flyers' roster, I don't see a name aside from Claude Giroux that really sticks out to me. Scotty Hartnell is a good role guy to have on your team, but he's out for at least another month.
Danny Briere seems to be aging more and more by the game. Their best defenseman is Braydon Coburn.
Ilya Bryzgalov is the most overpaid goalie in the league. The Flyers won't make the playoffs this year if they don't figure something out quickly.
The most recent 3-2 loss in Washington could've been much worse.
Kirk Irwin/Getty Images

Record: 2-4-1 (5 points)
The Stars could really use Mike Ribeiro right now. Only one team in the league has less goals then the 13 the Stars have managed to put up through seven games.
Three losses in a row has Dallas sitting in a tie for last place in the Pacific division with the Phoenix Coyotes.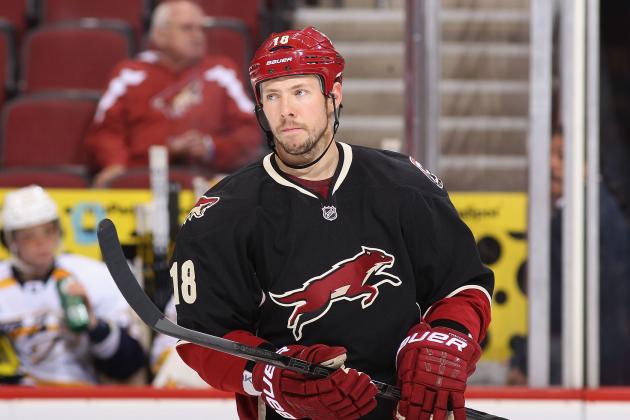 Christian Petersen/Getty Images

Record: 2-4-1 (5 points)
Speaking of the Coyotes, they don't look like the same team I saw last season.
Maybe the fact that there is a chance the team won't be playing in Phoenix anymore is lingering in the players' minds.
Mike Smith being hurt certainly isn't helping.
Either way, there is no excuse for the way that they are playing right now. The 'Yotes need to step it up.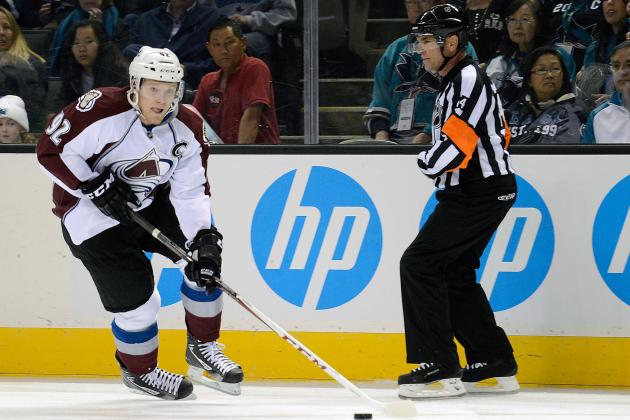 Thearon W. Henderson/Getty Images

Record: 3-4-0 (6 points)
At least the Avs are 2-0-0 on home ice. Aside from that, there aren't too many bright spots.
According to Mike Chambers of the Denver Post, team captain Gabriel Landeskog has been placed on injured reserve and is out indefinitely.
That won't help their case either.
Let's just hope for a speedy and healthy recovery for the young guy.
The Avalanche will likely have to continue their long rebuilding process.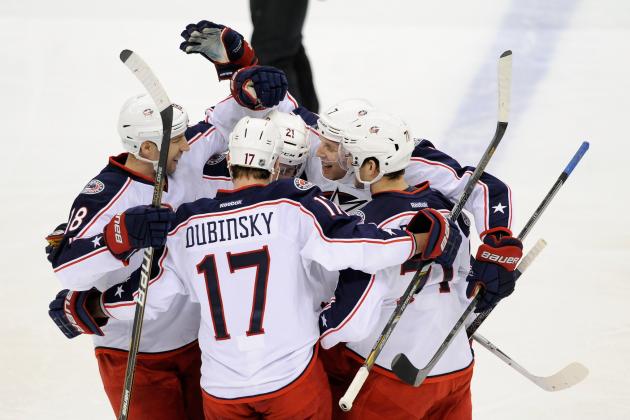 Hannah Foslien/Getty Images

Record: 2-5-1 (5 points)
Hey, the Blue Jackets aren't the worst team in the league! That's a start, right?
It's odd that they stand where they do, because the team they traded star Rick Nash to, the Rangers, has just one point more than the Blue Jackets do in the standings.
But let's not get too ahead of ourselves. Columbus is only two points from being the league's worst team.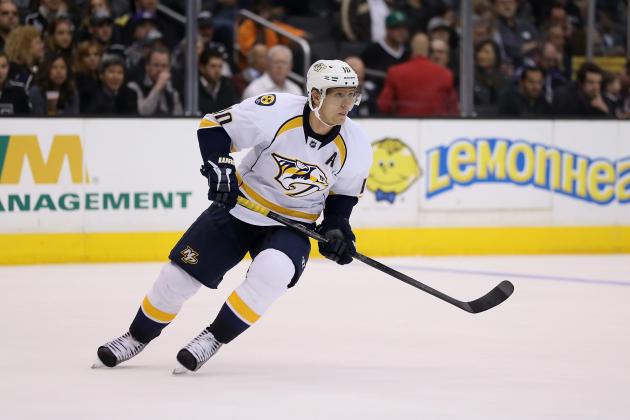 Jeff Gross/Getty Images

Record: 2-2-3 (7 points)
Are the Predators really missing Ryan Suter that much? They don't look like the same team at all.
Pekka Rinne doesn't look like the same goalie. Their crowd doesn't even seem as energetic in the yellow-out.
Lucky enough for them, the season is still very young. I just don't think this team is as good as people make it out to be. I see the Predators missing the playoffs this year due to a strong Western Conference.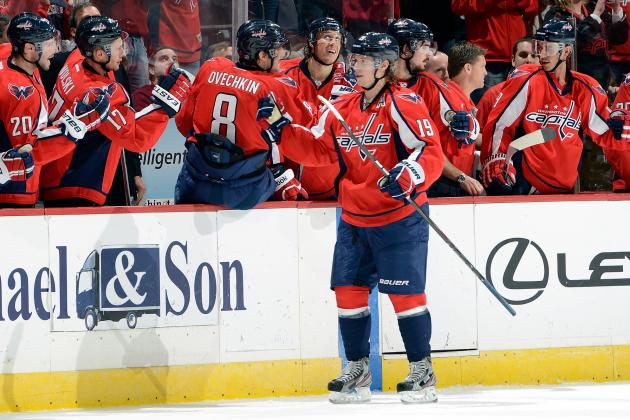 Greg Fiume/Getty Images

Record: 2-5-1 (5 points)
Okay, you may look at this and think 22 is way too high for the Washington Ovechkins.
It's not.
The Capitals got off to a rough start under new coach Adam Oates.
They are missing one of their best players in Brooks Laich, but they have still managed to keep it close in most games. If it weren't for two blown third-period leads against the Maple Leafs and Senators this week, the Capitals would have nine points and would be sitting pretty.
Nick Backstrom and Mike Ribeiro are playing great hockey. Backstrom is more valuable to the team than Ovechkin.
I guarantee the Capitals turn it around quick and sneak into the playoffs. They will also make a sneaky run.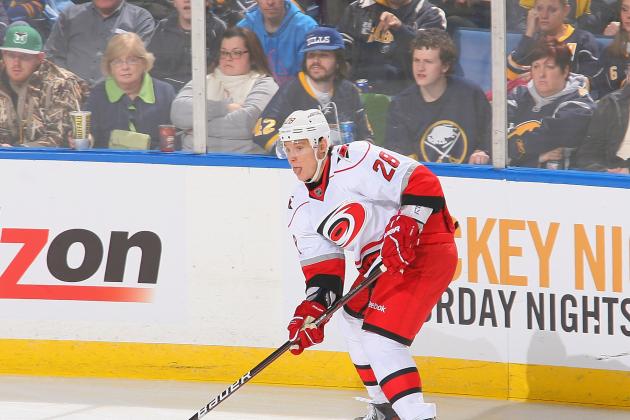 Rick Stewart/Getty Images

Record: 3-3-0 (6 points)
The Hurricanes are clearly adjusting to their new-look lineup.
The Staal brothers and Alexander Semin will get to the top of the Southeast division soon enough. They just need some time to build some chemistry with one another.
In a division that is weak this year, the Hurricanes will likely just be chasing the Lightning all year for the top spot.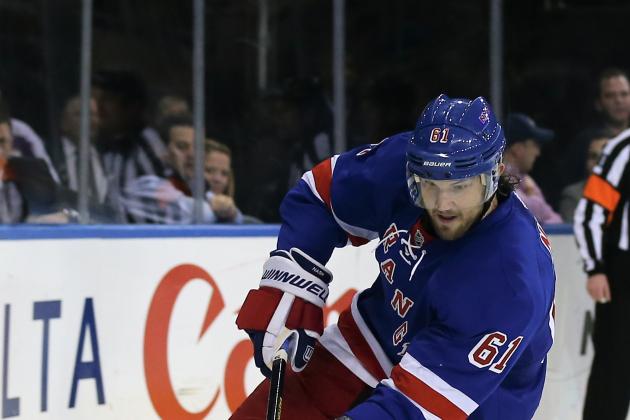 Elsa/Getty Images

Record: 3-4-0 (6 points)
I am starting to think that more stars included in a lineup makes the team worse. Something like the law of diminishing marginal utility in economics.
The Rangers are worse than they were last year, and they have Rick Nash added to the team. I don't think the Rangers have the defensive depth to go further than they did last year in the playoffs.
Not to mention, they are going to have to fight for the best record in their state with the Islanders and the Sabres.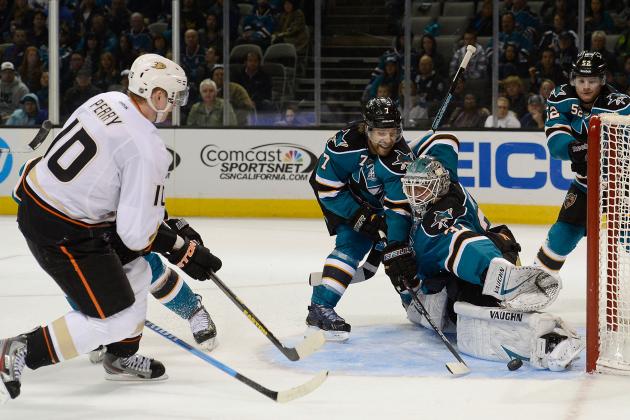 Thearon W. Henderson/Getty Images

Record: 3-1-1 (7 points)
Well, with seven points, the Ducks are only seven points behind the first-place Sharks. That's good for second place in the division.
And hey, they have given up just as many goals, 17, as they have scored. That's better than giving up more than they have scored.
Anyhow, the Ducks have only played five games and have only lost two of them, one of which came in overtime. I need to see more.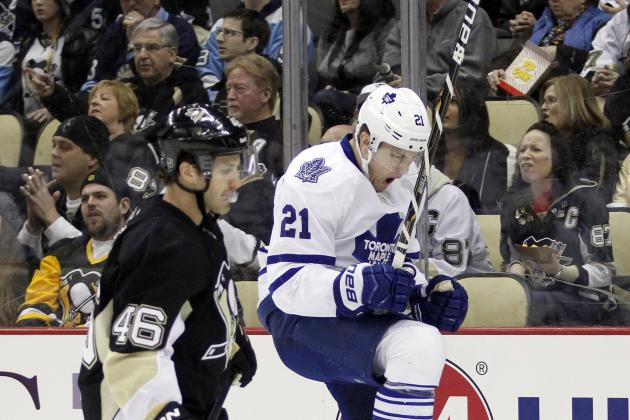 Justin K. Aller/Getty Images

Record: 4-3-0 (8 points)
Adding James van Riemsdyk has been working out nicely. The former Flyer and No. 2 overall pick has four goals in seven games with his new club.
The rest of the team has been rallying to put together wins. The Maple Leafs' most recent victory came against a Capitals team that they Toronto trailed heading into the third period.
They also noticeably dominated the Pittsburgh Penguins in Pittsburgh.
Could the Maple Leafs actually make it to the playoffs this year?
Richard Wolowicz/Getty Images

Record: 3-4-1 (7 points)
Alright, so the Jets aren't too bad. They have the smallest arena in the league,, but probably the loudest crowd.
Winnipeg is a tough place to play. Evander Kane is good, isn't he? How about Toby Enstrom?
This team can make noise, but it needs to get a little louder. How about some defense boys? Giving up eight goals to the Lightning Friday night isn't going to cut it.
It's simply unacceptable.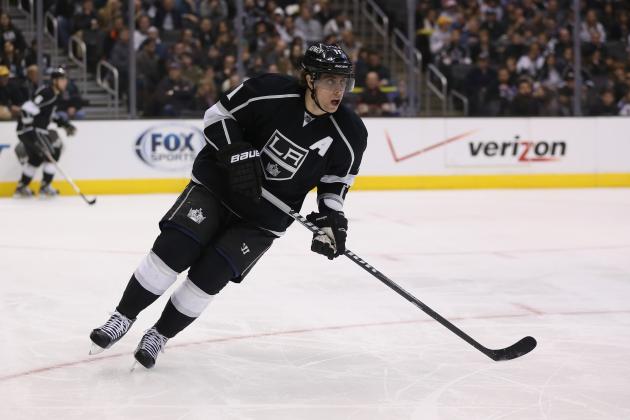 Jeff Gross/Getty Images

Record: 2-2-2 (6 points)
The Kings don't look like the team that won the Stanley Cup last season. But I just can't rank them too far down with all the talent they possess.
I can't help but to think they will turn it around soon. 2-2-2 through six games isn't that bad.
Although, Jonathan Quick just hasn't been on his game. The Kings are clearly suffering the effects of the lockout. Time will tell if they can sneak in to the playoffs and make a run in the same fashion they did last year.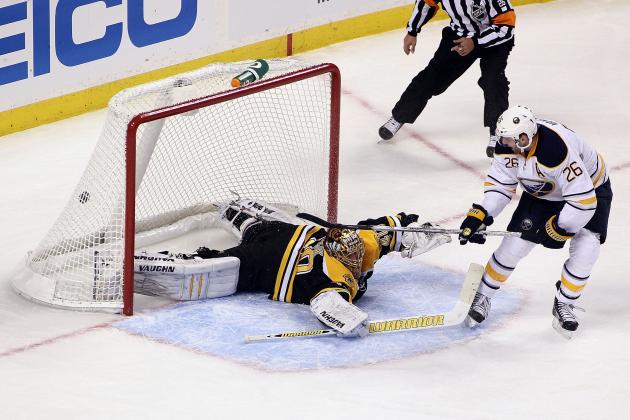 Alex Trautwig/Getty Images

Record: 3-3-1 (7 points)
Thomas Vanek is unbelievable. His second five-point game of the season came on Thursday night.
Ryan Miller looks good, which is key, because the team is going to run through him.
I like the Sabres to make a surprise run towards a division crown, beating out the Senators and the Bruins.
Again, it's all going to depend on Miller. Key guys such as Tyler Ennis and Tyler Myers will need to elevate their games a bit as well. The addition of Steve Ott is certainly going to work in their favor.
Rich Lam/Getty Images

Record: 3-2-2 (8 points)
What are the Canucks doing with Roberto Luongo? If you ask me, he looks better than Cory Schneider.
The thing is, Luongo is older and might not have as much left in the tank, so it may be wise for the Canucks front office to try and get an asset for him while they can.
Aside from the goaltending controversy, the Canucks need to step it up as a team.
They are going to need to elevate their game if they want to win the President's Trophy for the third straight year.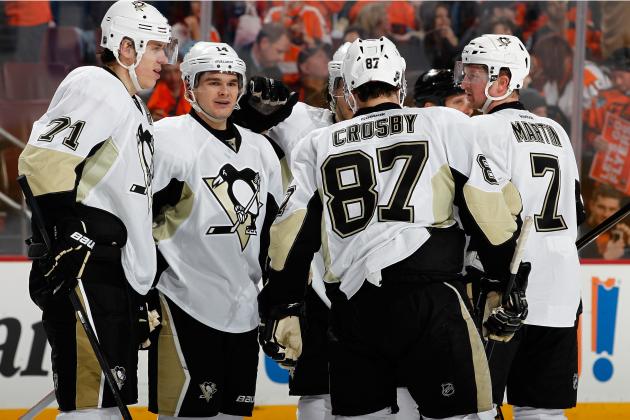 Jeff Zelevansky/Getty Images

Record: 4-3-0 (8 points)
You would think a healthy Evgeni Malkin and Sydney Crosby would lead to a better record than 4-3 through seven games. The Pittsburgh Penguins were embarrassed by the Islanders on their own ice on Tuesday, and you even heard a roar of boos from the hometown faithful.
Are they really missing Jordan Staal that much?
I think so. The Penguins obviously have talent in their top three guys, Sidney Crosby, Evgeni Malkin and James Neal. Matt Niskanen and Kris Letang are good on defense. Marc-André Fleury is great in net.
Who else do you have? I really don't think Pascal Dupuis and Tyler Kennedy are that good. I guess when you have fat contracts in guys like Crosby and Malkin, it doesn't leave you much room to stack up the rest of your team.
I obviously think the Penguins are elite, but I don't think they will win it all. There are way better teams in the East right now that they need to get through. I mean, they couldn't even get past the Flyers last year, and look what's happening in Philly!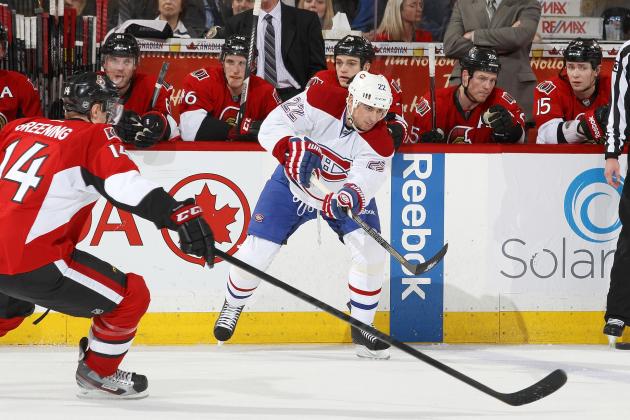 Jana Chytilova/Freestyle Photo/Getty Images

Record: 4-2-0 (8 points)
The Canadiens have been a surprise this year. They look much better than the team that finished last in the Eastern Conference just a year ago.
Good thing they finally reached a deal with P.K. Subban. It would have been a shame to see him go. Still, the season is young, and I am not sold on them just yet.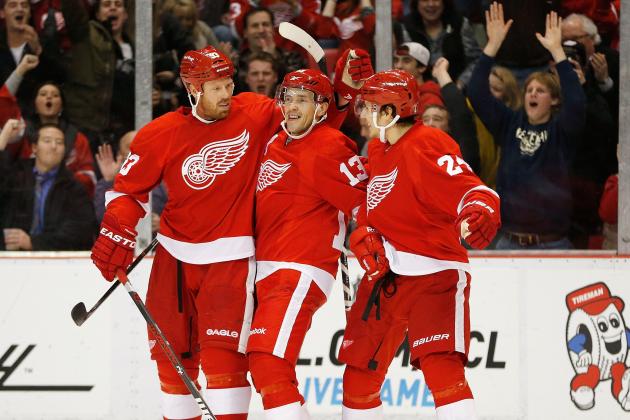 Gregory Shamus/Getty Images

Record: 4-2-1 (9 points)
Something just tells me that Detroit will never be the same without Nick Lidstrom. Still, somehow, Mike Babcock has his guys winning games.
Damien Brunner is pretty good too. His dangle in the shootout in the opening week of the season was very Pavel Datsyuk-esque.
Still, this team is not the same. I can't guarantee that it will even make the playoffs. But it is playing well right now and is under the radar.
I truly think there are eight teams in the West that will play better than Detroit as the season moves along.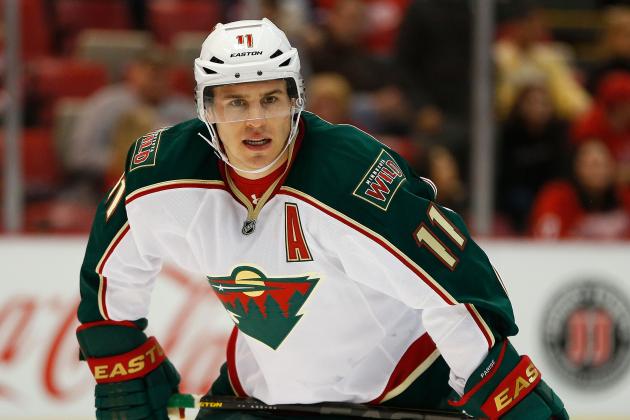 Gregory Shamus/Getty Images

Record: 4-2-1 (9 points)
I picked the Wild to make it to the Stanley Cup before the season started after their offseason acquisitions.
They don't look like a team that would make the Cup right now. Not in a Western Conference dominated by teams like San Jose and Chicago.
Although, Zach Parise does seem to be fitting in nicely. In seven games, the former Devil has tallied five goals and four assists.
This star-studded lineup can potentially make a run this year if the chemistry building continues to improve as the season progresses.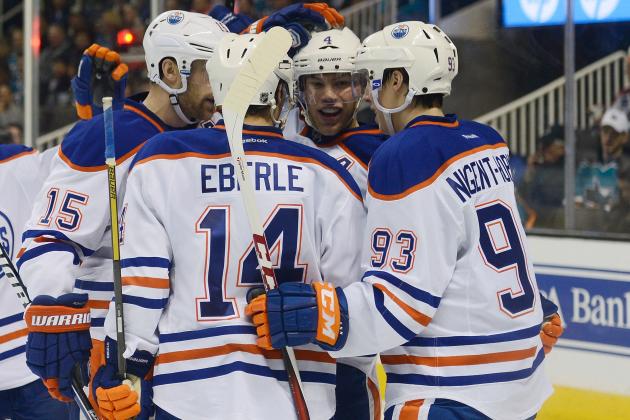 Thearon W. Henderson/Getty Images

Record: 4-2-1 (9 points)
The Oilers have become my favorite team to watch these days. You have to love the young talent in Edmonton. New head coach Ralph Krueger is doing a terrific job thus far in a short amount of time, and Jordan Eberle is slowly becoming one of my favorite players in the league.
I guess you would expect this team to be solid after it obtained the No. 1 pick in the draft for three straight years.
Justin Schultz made the right decision to play with the young guys.
And how about Nail Yakupov? Looks like the rookie is molding his way comfortably into the NHL. The Oilers are going to be scary good for the next decade.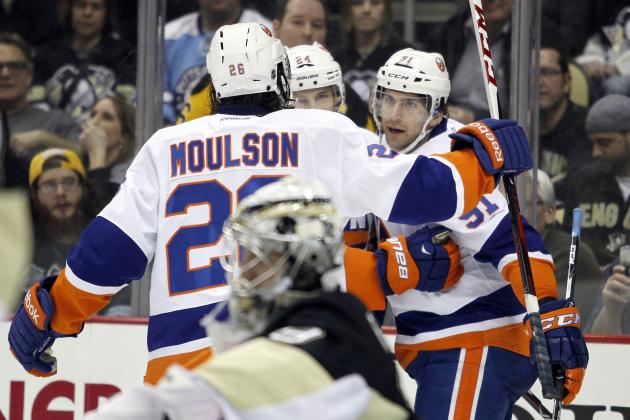 Justin K. Aller/Getty Images

Record: 4-2-1 (9 points)
The Islanders are the most surprising team in the league thus far. They are tied for first in the Atlantic division with the New Jersey Devils.
Funny enough, with teams like New Jersey, New York (Rangers) and Pittsburgh in the division, the Islanders are the only team to have put up 20 goals thus far in 2013. In fact, they have put up eight more goals than any team in the division.
I would love to know if anyone predicted that before the season started.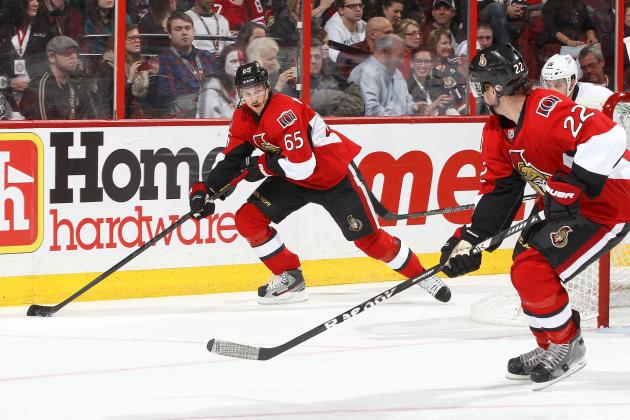 Jana Chytilova/Freestyle Photo/Getty Images

Record: 5-2-1 (11 points)
The Senators have started out the 2013 season very hot. The only issue is that they don't know what the deal is with Jason Spezza. If they want to continue their success, Spezza needs to stay healthy.
Let's hope he's okay.
With three goals and four assists through just seven games, defenseman Erik Karlsson is well on his way to a second consecutive Norris Trophy.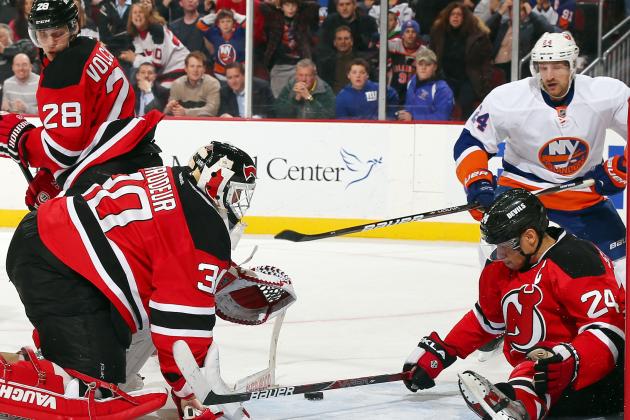 Elsa/Getty Images

Record: 3-0-3 (9 points)
I am shocked, to say the least, that the Devils are playing this well. I thought that without Zach Parise they'd be doomed.
Well, Martin Brodeur isn't playing like a 40-year old. And Ilya Kovalchuk is more valuable than Ovechkin these days.
The Devils are playing some great hockey. They have tallied a point in every game this season. Things are on the up-and-up.
Since they got to the Stanley Cup last year, anything less than a Stanley Cup victory would be a disappointment in New Jersey.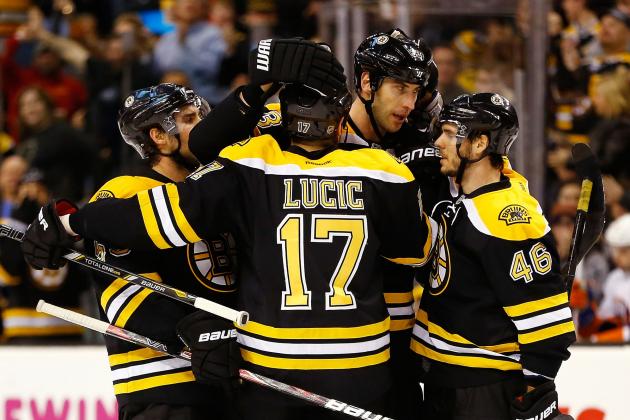 Jared Wickerham/Getty Images

Record: 5-1-1 (11 points)
The Bruins can be really scary. Scary as in really good. When the Bruins are hot, the league doesn't stand much of a chance against them.
They look like the team that won the Cup less than two years ago.
They currently are in a tie with the Senators for their division, but are much more of a postseason threat.
Practically their whole team knows what it feels like to win it all. Their team hasn't changed much since 2011.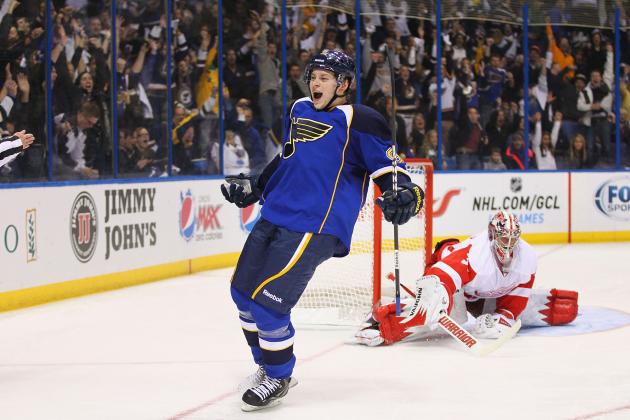 Dilip Vishwanat/Getty Images

Record: 6-2-0 (12 points)
Two words: Vladimir Tarasenko.
This guy is a stud and is by far the favorite for early season Rookie of Year.
The 21-year old has tallied five goals and five assists through the first eight games of the season. The Blues are just a point back of the division-leading Blackhawks.
With Tarasenko in the lineup, the Blues are even better than they were last year.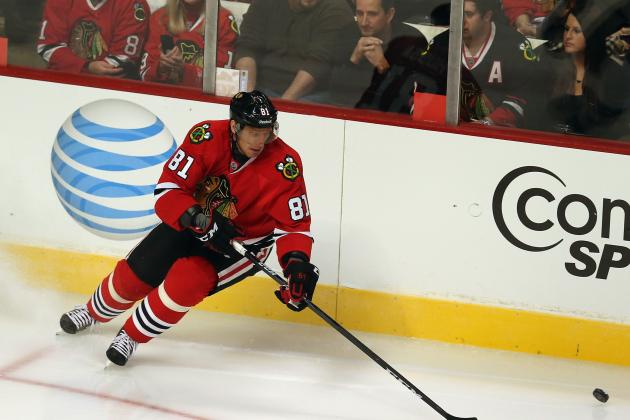 Jonathan Daniel/Getty Images

Record: 6-0-1 (13 points)
The Blackhawks are about as close to being undefeated as it gets. If it weren't for a shootout loss, they'd be 7-0-0.
Either way, they look great up in Chicago. Patrick Kane, Patrick Sharp, Jonathan Toews, Marian Hossa and Duncan Keith look untouchable.
They are all firing away on all cylinders.
Many might have thought that the 'Hawks were doomed when the league set them up with 10 of their first 12 games of the season on the road. But they are handling it quite well.
Five more road games and then the Hawks are home for seven in a row.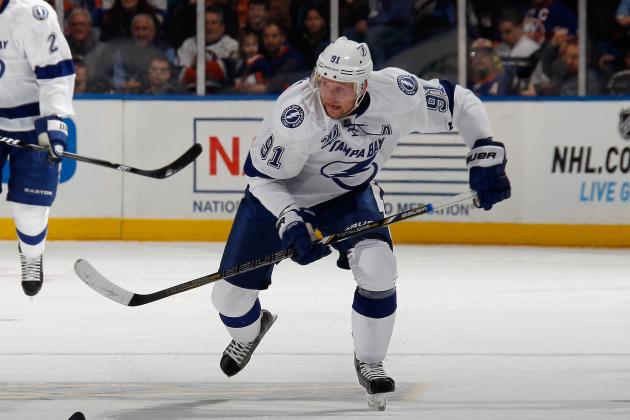 Bruce Bennett/Getty Images

Record: 6-1-0 (12 points)
The Lightning are scoring goals out of their minds. I was tempted to put them at No. 1.
In fact, in seven games this season, they have put up 37 goals. Not to mention, they have only surrendered 18. Do the math—that's a plus-19 differential.
They have outscored the second-highest scoring team, St. Louis, by six goals. Not to mention, they have played a game less than the Blues.
The only loss the Lightning suffered this year was against the Islanders, and they nearly came back from a 4-0 deficit against.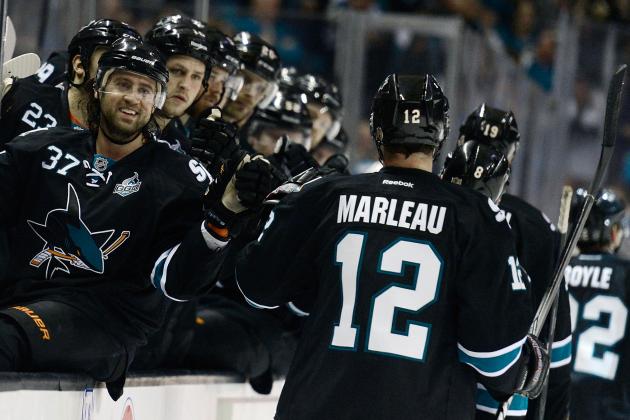 Thearon W. Henderson/Getty Images

Record: 7-0-0 (14 points)
The Sharks are the lone undefeated team remaining in the NHL. They are outscoring their opponents 29-12.
They make teams pay for their mistakes, as evidenced by the two goals off of turnovers against the Oilers on Thursday night, less than a minute apart from one another.
Patrick Marleau has nine goals and is on pace for about 80 of them. Joe Thornton is one of the purest skaters in the league. Antti Niemi is playing better than he did when he led the Blackhawks to a Cup victory back in 2010.
The question still remains, can the Sharks break the postseason threshold?