Players with the Most at Stake in Super Bowl XLVII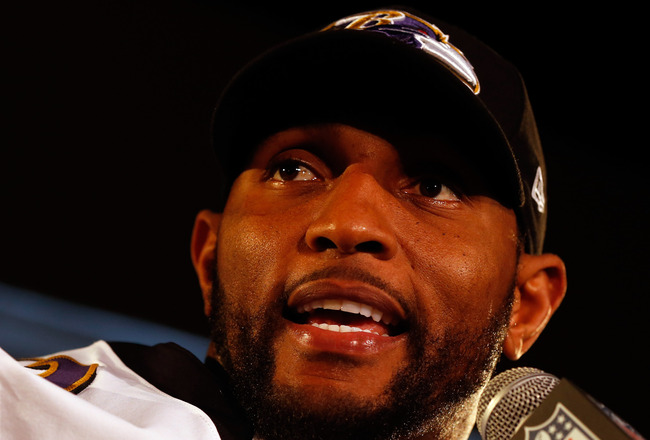 Legacies will change at Super Bowl XLVII.
Scott Halleran/Getty Images
I've been in New Orleans since last Sunday, producing the SiriusXM Blitz live on site at radio row.
During the week I've talked to players from both the 49ers and Ravens. I've drank a few hurricanes. I've caroused on Bourbon Street. I've eaten enough gumbo to last a lifetime.
Now, it's time to get serious. Super Bowl XLVII is mere hours away. The history of the game will be rewritten, regardless of which team triumphs.
These are the players who have the most at stake for a variety of reasons.
Let's examine:
Frank Gore: To Become the Best RB in 49ers History
The vastly underrated Frank Gore.
Scott Halleran/Getty Images
Quite frankly, I'm sick of Frank Gore not receiving the credit that he deserves.
He's the leading rusher in 49ers history, and has been a tremendous running back since being selected in the third round of the 2005 draft.
Because the 49ers have rarely been good during his tenure, he's never been recognized as being the best back in 49ers history. That title has long belonged to Roger Craig.
Now, I'm not discounting Craig's career. I believe he's a borderline hall-of-famer and was an incredible hybrid of rushing and receiving. But, there's no question that his status in the eyes of 49ers fans has been buoyed by the success of the teams he played on.
It wasn't until Jim Harbaugh took over in San Francisco that Gore was surrounded with a team capable of making a run deep into the postseason.
I believe Gore will play well on Sunday, win or lose. If Gore runs as expected, and helps the 49ers win their sixth Super Bowl championship, I believe he'll be viewed as the best back in team history.
Terrell Suggs: A Potential Bust in Canton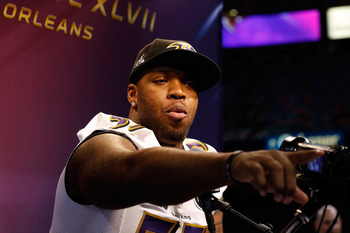 Will TSizzle make the Hall of Fame?
Scott Halleran/Getty Images
Take a look at Terrell Suggs' career statistics.
84.5 sacks, 25 forced fumbles and a Defensive Player of the Year award in 2011.
Next year will be his 11th in the NFL. Let's assume he plays another three seasons, averaging five sacks and two forced fumbles per season. That would leave him with 99.5 sacks and 31 forced fumbles.
If T-Sizzle has a sizzling performance on Sunday and helps lead the Ravens to victory, will that be enough to earn him a place in the Hall of Fame?
I say it would.
The stakes are incredibly high for Suggs.
Paul Kruger: A Massive Free-Agent Payday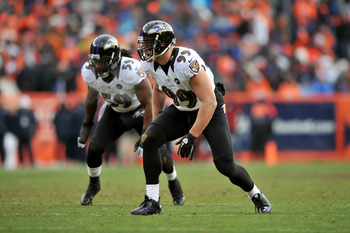 Kruger could be headed for a monster contract.
Dustin Bradford/Getty Images
With the Ravens set to hand Joe Flacco an incredibly large contract, it's extremely unlikely they'll be able to retain the services of pass-rushing defensive end Paul Kruger.
What remains to be seen is just how much Kruger is set to land on the free-agent market. That will largely be dictated by his performance in Super Bowl XLVII.
It's a well-known fact that free agents from Super Bowl-winning teams cash in on their next contract. Look at Larry Brown after Super Bowl XXX, Dexter Jackson after Super Bowl XXXVII.
Kruger had an excellent season, accumulating nine sacks and spearheading the Ravens pass-rush in the absence of Terrell Suggs. There's no question he's going to be paid in the offseason.
An excellent performance in the Super Bowl will only serve to make Kruger a very, very rich man.
NaVorro Bowman: Move out of Patrick Willis' Shadow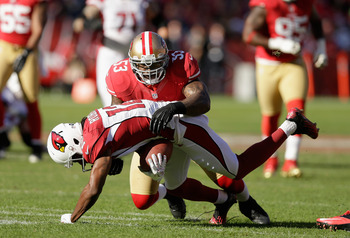 NaVorro Bowman doing what NaVorro Bowman does.
Ezra Shaw/Getty Images
The title of this slide isn't intended to be disrespectful to Patrick Willis. In fact, I believe Willis is the best linebacker in the NFL.
But, his battery mate, NaVorro Bowman, is so good that he just might be the second best. It's a shame he doesn't receive the credit he deserves, and much of that has to do with just how good Willis has been.
A dominant effort in the Super Bowl will change the perception of Bowman. A 12-tackle performance on the game's biggest stage in a winning effort would catapult Bowman into rarefied air, as he'd certainly be on anyone's shortlist of the best linebackers in the NFL.
David Akers: Can He Rewrite the History of His Career?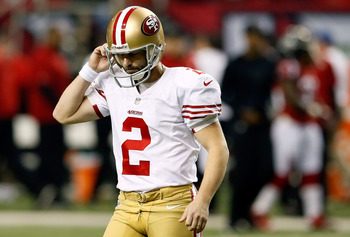 I'm nervous for David Akers.
Kevin C. Cox/Getty Images
Over the balance of his career, David Akers has been one of the best kickers in the NFL. Throughout his time with the Philadelphia Eagles, Akers was money, and in San Francisco last year, he had one of the best seasons in league history.
This year has been a different story. To be more specific, a horror story.
Akers was the worst kicker in the NFL this year, missing a league-high 13 kicks. He doinked a field goal off the upright in the NFC title game, nearly costing the 49ers a berth in Super Bowl XLVII.
If Akers misses a field goal in Scott Norwood fashion, people will remember Akers for his recent failures, not for the spectacular career he's authored to this point.
Conversely, If Akers makes an important kick, he'll be remembered as one of the most clutch and talented kickers in league history.
A significant amount rides on the right leg of Akers: both for the 49ers, and his legacy.
Torrey Smith and Michael Crabtree: To Become the NFL's Next Great Receiver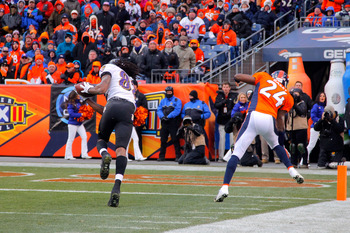 Torrey Smith taking Champ Bailey behind the woodshed.
Doug Pensinger/Getty Images
Both Torrey Smith and Michael Crabtree have had monster postseasons. Both are on the cusp of cracking into the elite level of receiver in the NFL.
Think about your list of the best receivers in football. It obviously starts with Calvin Johnson, and certainly includes A.J. Green, Larry Fitzgerald and Brandon Marshall. There are others that you can make the argument for, but I can't imagine many people would include Smith or Crabtree on that list.
Yet.
If either receiver turns in a sparkling performance on Super Bowl Sunday, it will send them into the stratosphere of NFL receivers. Personally, I believe both are capable, but Smith has the better chance to shine.
Randy Moss: Will He Ever Win a Title?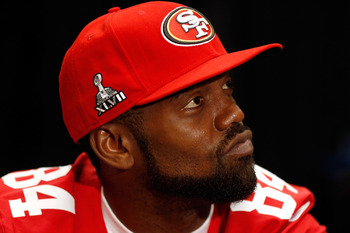 Moss has tasted Super Bowl disappointment once before.
Scott Halleran/Getty Images
Although he's not the greatest wide receiver of all time, as he erroneously claimed this week, Randy Moss is one of the best, and, in my opinion, a first-ballot hall-of-famer.
With that being said, the one thing missing from his resume is a Super Bowl championship.
Remember: Moss caught the go-ahead touchdown in Super Bowl XLII. If the Patriots had made one last defensive stand against the Giants, they'd have completed an undefeated season, and the outlook on Moss' career would be significantly different.
Now, he has the chance to win the Super Bowl, and do it without being the No. 1 option.
By all accounts, he's been a model teammate. He hasn't grumbled about a lack of touches. This week, he's consistently spoken to the level of talent on the offense.
If Moss makes a critical catch or two in a 49ers victory, he will have accomplished everything in the NFL, and will have done it his way.
Ed Reed: To Become the Greatest Safety of All-Time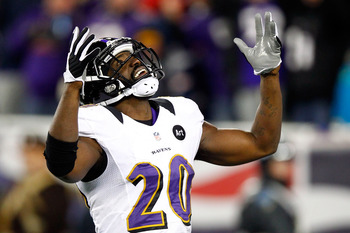 Will be become the GOAT?
Jared Wickerham/Getty Images
Ed Reed is going into the Hall of Fame on the first ballot. Period. The result of the Super Bowl won't change that fact.
However, if Reed is his game-changing self and the Ravens claim the Lombardi Trophy, I believe he becomes the greatest safety of all time.
His career statistics are mind-boggling: 61 interceptions, 10 touchdowns, 1,541 yards on interception returns.
All that's missing is a Super Bowl title.
If the Ravens get it, I believe Reed becomes the GOAT at the safety position.
Joe Flacco: Ascend into the Elite Level of QBs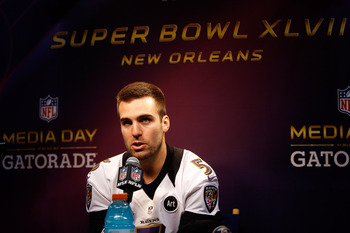 #WackoForFlacco
Chris Graythen/Getty Images
Joe Flacco is getting paid regardless of whether the Ravens win or lose. Money won't be a factor on Super Bowl Sunday for Flacco.
However, Flacco's standing among football fans and media types alike will be on the line.
I believe Flacco is elite, but many don't yet share that opinion. He's in the midst of one of the greatest postseasons by a quarterback in league history, with eight touchdowns against zero interceptions. He has more postseason victories in his career (eight) than 10 NFL teams do in their entire history.
If the Ravens win the Super Bowl on the strength of an incredible performance from Flacco, and he wins the MVP, will anyone be able to say he's not elite? Will anyone be able to say that Flacco isn't on the level of Aaron Rodgers, Tom Brady, Peyton Manning or Drew Brees?
Flacco will get his money. It's his reputation as an elite quarterback that's at stake.
Ray Lewis: Become the Best Ever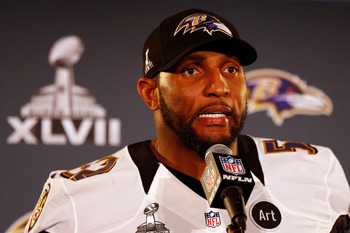 A truly special player.
Scott Halleran/Getty Images
Somewhere along path of his legendary career, Ray Lewis transcended the linebacker position. He transcended football. He became a mythical figure, except for the fact that he was still playing.
His pregame speeches and motivational talks are the stuff of legend. Having been here during Super Bowl week, I've heard countless teammates testify to the greatness of the man many refer to as "Pastor Ray."
Lewis will go into the Hall of Fame on the first ballot. He is one of the best linebackers ever, win or lose.
Another Super Bowl championship will, in my opinion, make Lewis, when you consider his play and leadership, the greatest defensive player in league history.
Nick Kostos is the executive producer of the "SiriusXM Blitz", hosted by Rich Gannon and Adam Schein, on SiriusXM NFL Radio. You can follow Nick on Twitter.
Keep Reading