Miami Heat vs. Indiana Pacers: Postgame Grades and Analysis for Miami Heat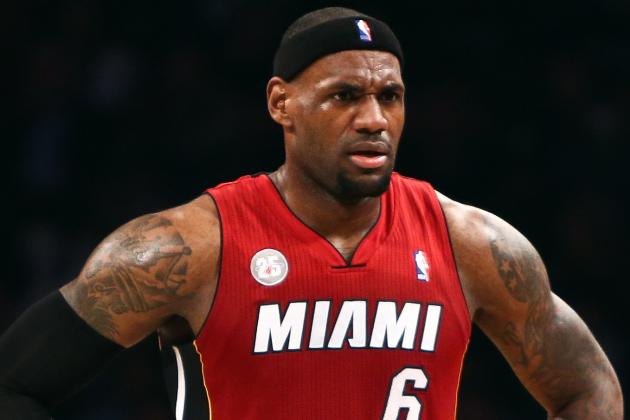 USA TODAY Sports

The Miami Heat's performance against the Indiana Pacers in a 102-89 loss was absolutely atrocious.
Sure, a 13-point loss doesn't sound horrible, but if you watched it, you know what I'm talking about.
LeBron James, Dwyane Wade and Chris Bosh seemed out of sync, and the entire Heat roster, aside from Chris Andersen, played devoid of any emotion.
LeBron accounted for 28 points but failed to record a single assist until the midway point of the third quarter. Wade had the most balanced performance with 17 points, six rebounds and five assists. But he was missing in action during most of the third quarter when the Heat desperately needed him.
To say that the Heat didn't have an interior presence against the Pacers would be a vast understatement.
Udonis Haslem and Bosh decided to play their worst games of the year at the same time. They both got pushed around under the glass, leading to a nine-rebound advantage for the Pacers.
It was just an ugly night for the Heat in every facet of the game.
It's amazing that LeBron could have a "bad game" with 28 points, but he just wasn't himself. This loss should show the NBA just how important LeBron's dominance is to the Heat's success.
Without consistent play from him or anyone in the Heat's frontcourt, the Heat are an average team and the Pacers exposed that tonight.
Begin Slideshow

»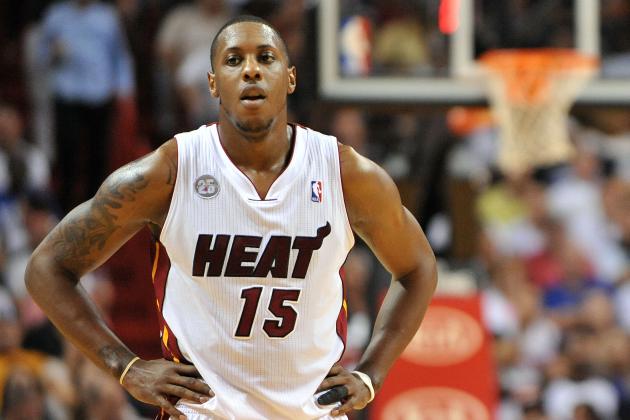 USA TODAY Sports

Mario Chalmers wasn't awful, but he wasn't great, either. That's exactly what's been the problem for Chalmers this season.
He's just "meh," and that's not who the Heat need him to be.
Chalmers wasn't aggressive on offense, and on defense, he let George Hill get into the paint, which collapsed the Heat's defense more often than not.
As the season continues, it's going to be important for Chalmers to decide what kind of player he is. If he's going to shoot, then he needs to be aggressive and shoot. If he's going to facilitate, he needs to create opportunities for his teammates.
The Heat won't survive with Chalmers being the slightly below-average player he's been for the majority of the season thus far.
Right now, Chalmers is nothing more than a player filling space on the floor, and that's awful. It's time for him to either step up or he'll find himself on the trade block, because slightly below average isn't going to cut it for the Heat.
First-Half Stats: 2 points, 4 assists, 0 rebounds, 50.0 FG%
Overall Stats: 7 points, 4 assists, 0 rebounds, 40.0 FG%
Overall Grade: D-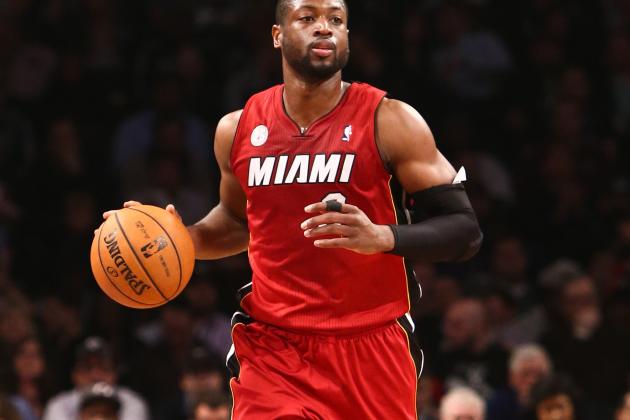 USA TODAY Sports

Dwyane Wade was the only player wearing a sweet retro Heat jersey who seemed like he wanted to win.
Sure, Wade vanished during the third quarter and the first part of the fourth quarter. But in the second quarter, Wade was the sole reason why this one didn't get out of hand until the second half.
With 11 first-half points, Wade kept the game somewhat close, or at least within single digits.
He was able to get into the paint and finish with some polish while also keeping his teammates involved, even though the teammates seemed more interested in the Super Bowl than their game against the Pacers.
The Heat needed more consistency from Wade, but that was hard for him to do when LeBron was controlling the offensive flow for the majority of the second half.
If we learned anything about the Heat after this one, it's that they need a balanced attack by LeBron and Wade when Bosh plays like an eighth grader in the paint.
Impressively enough, Wade kept his cool for the majority of the game, especially when other guys like Bosh, Erik Spoelstra and Udonis Haslem were picking up untimely technicals.
Wade scores the highest grade for the Heat only because he had a balanced attack and a somewhat efficient approach to the game.
It was a rough night for the Heat, but Wade brought a few glimpses of hope. While that didn't help them win, it certainly kept it from getting ridiculously out of hand.
First-Half Stats: 11 points, 3 assists, 3 rebounds, 1 block, 1 steal 50.0 FG%
Overall Stats: 17 points, 6 rebounds, 5 assists, 2 blocks, 2 steals, 43.8 FG%
Overall Grade: C+
USA TODAY Sports

LeBron James wasn't himself against the Pacers.
Sure, he went off for 28 points while shooting better than 50 percent from the field. But watching him throughout the game was a bit depressing.
He didn't attack the basket like he usually does, and he didn't account for a single assist until the midpoint of the third quarter.
Defensively speaking, LeBron was lazy on help-side defense, and he didn't switch to keep David West from dropping 30 points.
The usual intensity that we see from the reigning NBA MVP was missing, and that's shocking because proving that the Pacers can't push the Heat around was a primary goal heading into this one.
It's hard to put all the blame on LeBron because his teammates, aside from Dwyane Wade, didn't seem interested in winning. Most shots that LeBron created for his teammates were missed, and the movement away from the ball was certainly lacking.
The Heat needed leadership and LeBron failed to bring that to the court. He was arguing with refs and feeling bad for himself on missed calls instead of hustling back and trying to actually win the game on the court instead of in the referees' ears.
It's absolutely clear that the Heat can't win when LeBron is just a scorer, and that's the kind of player the Pacers made him be.
First-Half Stats: 16 points, 3 rebounds, 0 assists, 1 block, 1 steal 55.0 FG%
Overall Stats: 28 points, 6 rebounds, 3 assists, 1 block, 1 steal, 52.9 FG%
Overall Grade: C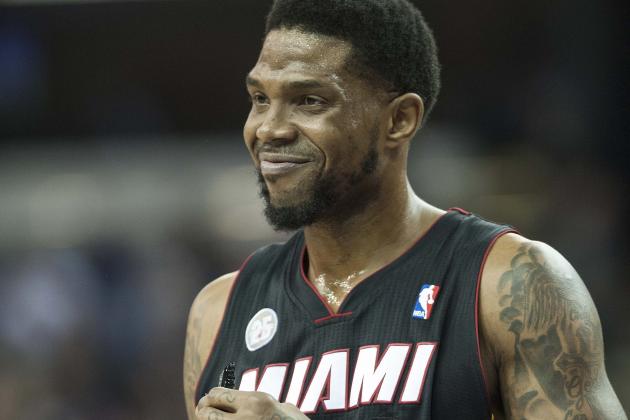 Ed Szczepanski-USA TODAY Sports

Udonis Haslem got absolutely abused all night long by David West everywhere he went.
West looked like the NBA's best player, and he has Haslem's inexcusably weak defense to thank for that.
Haslem let West impose his will. He over-defended when he was front-guarding West, and he gave him enough space in the post to do whatever he wanted.
The Heat aren't going to beat any NBA team with any type of a frontcourt presence if Haslem plays like he did against the Pacers.
I'll use three words to sum up his performance: weak, uninspired and lazy.
Haslem should be ashamed of himself for letting the Heat's interior look like a massive piece of Swiss cheese.
As you can see by his stats below, all Haslem did in the second half was lower his shooting percentage. Yep, that's definitely worthy of a failing grade. If there was something lower than failing, I'd give it to him because he was that awful.
First-Half Stats: 4 points, 3 rebounds, 2 assists, 66.7 FG%
Overall Stats: 4 points, 3 rebounds, 2 assists, 50.0 FG%
Overall Grade: F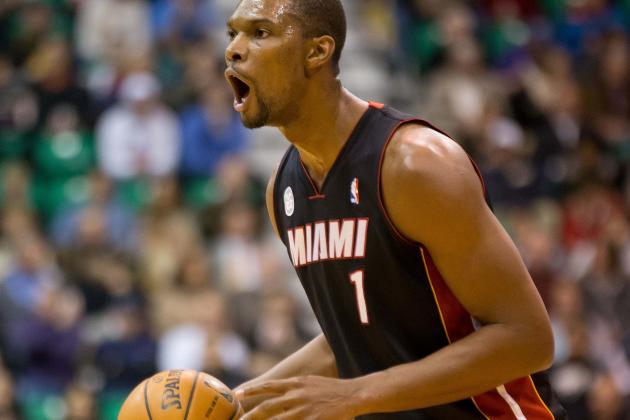 USA TODAY Sports

Chris Bosh's stat line may not be atrocious, but his overall play certainly was.
Not only did he get called for a technical foul, which is very unlike him, but he also got abused with a capital "A" in the paint against whomever he went up against.
Bosh consistently let Roy Hibbert and Ian Mahinmi get to the glass and finish inches away from the rim. Finishing the game with two rebounds is inexcusable for any player in the starting lineup, but it's even more inexcusable for a player of Bosh's size and stature.
The Heat's biggest weakness was majorly exposed against the Pacers, and that is Bosh's softness on both sides of the ball. Bosh needs to go to the opposite of anger management because he's as soft as a melted ice cream sandwich on a hot summer day.
I'm not saying this needs to happen, but the Heat absolutely must at least consider putting Bosh on the trade block.
There's no way they are going to compete with teams like the Pacers and New York Knicks with the lineup they have.
Either Bosh needs to stop being so soft, or the Heat need to figure out a player who can replace him. A soft big man at the center position will equal disaster for the Heat in the playoffs, and Bosh's performance Friday night proved just that.
Ending the game with only two rebounds is worse than abysmal; it's downright atrocious. There's no excuse for Bosh's performance other than more physical and more aggressive players outperformed him.
I feel like Bosh's showing is more deserving of an "incomplete," but an "F" will have to suffice.
First-Half Stats: 4 points, 0 rebounds, 0 assists, 50.0 FG%
Overall Stats: 13 points, 2 rebounds, 0 assists, 45.5 FG%
Overall Grade: F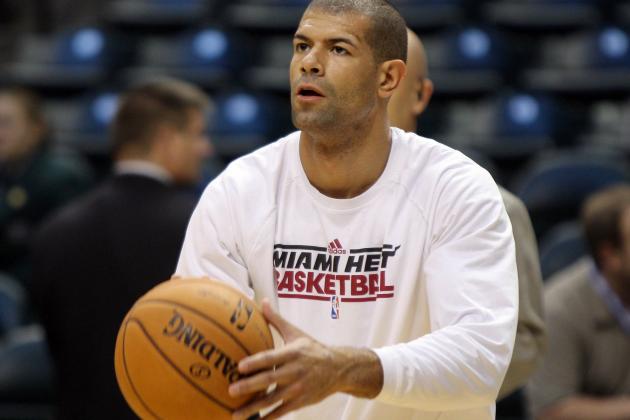 USA TODAY Sports

Shane Battier was horrendous in the first half. He shot 1-of-5 from beyond the arc, and his help defense on David West was as good as Miley Cyrus going up against Justin Bieber on the hardwood.
Luckily, he salvaged his performance in the second half with some timely three-pointers.
If it weren't for some corner three-balls that he made, his grade would be a lot lower because the man usually known for his intelligent defense was nowhere to be found.
Battier seemed a step behind everyone on the court, and even on offense, he seemed to doubt his own stroke.
Instead of stepping in to take charges, Battier was playing defense with his hands and letting everyone blow past him.
Every time Battier seemed to make an important shot that gave the Heat an ounce of momentum, the Pacers responded and killed it. All in all, Battier's performance was underwhelming on both ends of the court.
First-Half Stats: 5 points, 2 rebounds, 1 assist, 1 block, 33.3 FG%
Overall Stats: 11 points, 2 rebounds, 1 block, 44.4 FG%
Overall Grade: C-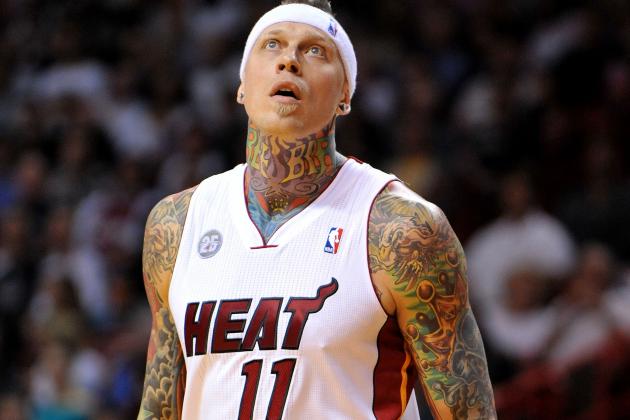 USA TODAY Sports

Chris Andersen was the lone bright spot for the Heat, with nine points, three rebounds, a block and a steal while shooting a perfect 4-of-4 from the floor.
Unfortunately, he couldn't keep himself out of foul trouble long enough to have a bigger impact.
Ray Allen accounted for five assists, which is great, but his inability to score a single point hurt on a lot of levels.
Norris Cole logged 11 minutes and did absolutely nothing aside from committing a turnover and grabbing one rebound.
The Heat's bench isn't very deep, and while Andersen and Battier brought production, the rest of the second unit failed to deliver. That's not going to fly for the Heat as the season rages on.
First-Half Stats: 8 points, 5 rebounds, 2 assists, 33.3 FG%
Overall Stats: 20 points, 8 rebounds, 7 assists, 4 steals, 47.1 FG%
Overall Grade: C