New Jersey Devils vs. Pittsburgh Penguins: Live Score, Updates and Analysis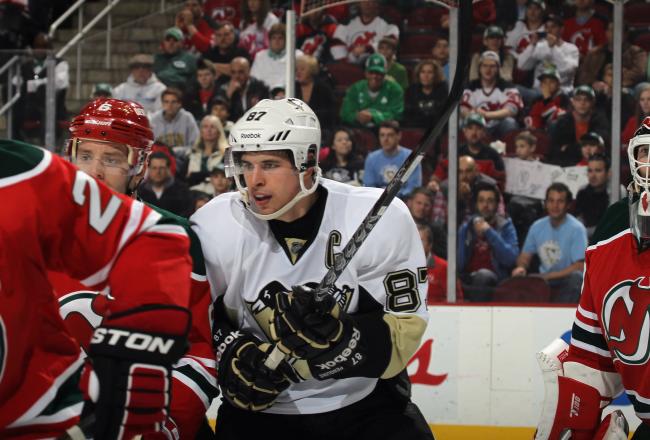 Bruce Bennett/Getty Images
Final Score: Penguins 5 Devils 1
The Pittsburgh Penguins played a dominating game as they recorded their first home win of the season, beating the New Jersey Devils 5-1 in a Saturday matinee at CONSOL Energy Center.
The game was scoreless after one period, but the Penguins started to take over in the second on goals from Brandon Sutter and Chris Kunitz. Andy Greene replied with a shorthanded marker for the Devils.
In the third, Sidney Crosby showed signs that he's returning to the dominant force he was before being sidelined with concussion problems two years ago. Crosby finished the game with one goal, two assists and four minutes in penalties, staying involved all over the ice.
Pittsburgh's other goals came from Kris Letang and Robert Bortuzzo. Sutter's goal was his first as a Penguin, and Bortuzzo's was his first in the NHL.
For the Devils, the effort was disappointing as they logged their first regulation loss of the year following three straight defeats in overtime or shootout.
The win leapfrogs the Penguins over the Devils and Islanders into first place in the Atlantic Division, with a record of 5-3-0 for 10 points. New Jersey drops to 3-1-3 for nine points.
These two teams will meet again for back-to-back contests next weekend—Saturday in New Jersey, then on Sunday back in Pittsburgh.
Penguins kill the penalty, and the clock runs down to zero.
Final score: Pittsburgh 5 New Jersey 1
Post-whistle scrums are starting to ensue as time winds down. New Jersey's best plan of attack right now is to try to send a message. These two teams meet twice next week.
Crosby takes the tripping penalty with 2:06 to go.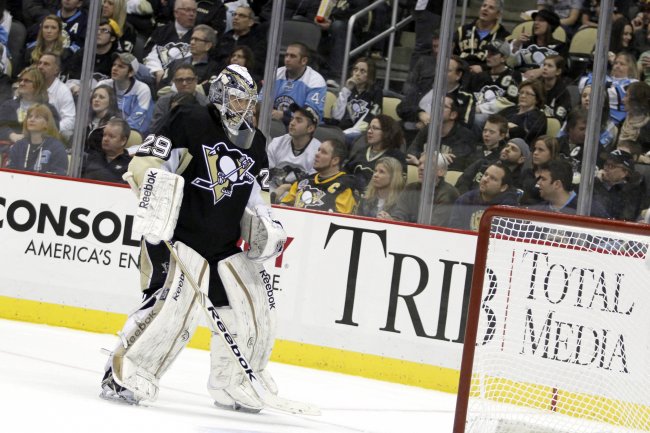 Justin K. Aller/Getty Images
A "Fleury" chant erupts at CONSOL as the goaltender steers away a couple of Devils chances.
Fleury hasn't been busy today, but has been solid after being pulled in his last start.
Penguins 5 Devils 1 4:24 remaining in third period
Shots are now 30-13 Pittsburgh. Not even a penalty kill could spark the Devils' offense!
The situation goes from bad to worse for the Devils, as Ryan Carter takes a tripping penalty at 13:20 of the third period.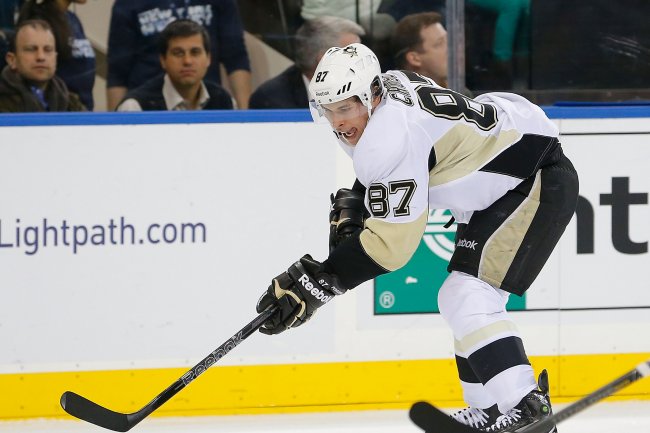 Paul Bereswill/Getty Images
Penguins 5 Devils 1 7:01 remaining in third period
Three point day for Crosby and Kunitz so far, who are both plus-four for the afternoon.
Crosby has been a force since the beginning of the second period, dominating like he did before his concussion problems.
Dupuis and Malkin each have a pair of assists.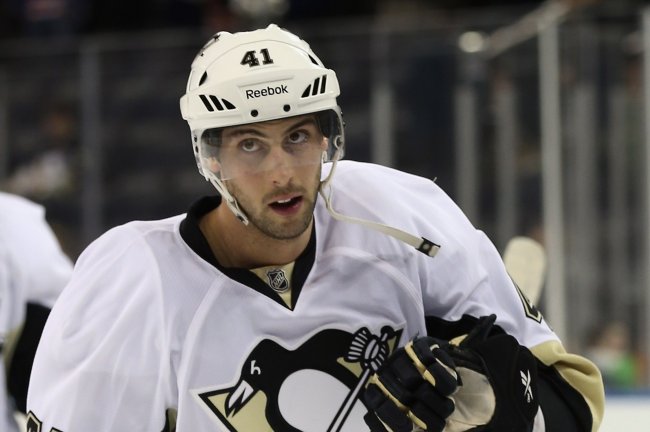 Bruce Bennett/Getty Images
GOAL!
Penguins 5 Devils 1 at 9:31 of the second. Assists to Crosby and Dupuis.

Robert Bortuzzo gets his first NHL goal as the Devils are caught running around in their own zone.
Crosby digs the puck out of the corner, and Bortuzzo fires a big slapper from the blueline that's deflected en route to the goal.
Scoring play: Crosby from Kunitz and Dupuis at 7:17 of the third.
Pittsburgh is well on its way to handing New Jersey its first regulation loss of 2013.
Justin K. Aller/Getty Images
GOAL!
Penguins 4 Devils 1 12:43 remaining in third period
Pittsburgh has taken over in the third, as Sidney Crosby finally gets rewarded for his strong effort throughout the game.
Big shift for Crosby. Pens continue to press.
Penguins 3 Devils 1 15:30 remaining in third period
Scoring play: Letang from Kunitz and Malkin at 17:29 of the third.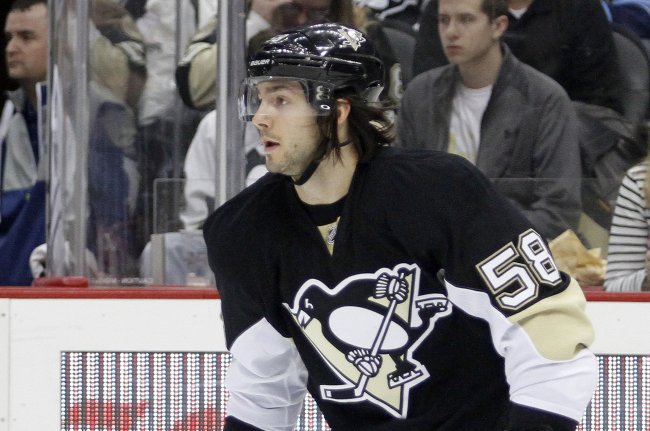 Justin K. Aller/Getty Images
GOAL!
Penguins 3 Devils 1
Kris Letang rips a shot through traffic from the slot.
James Neal continues to play a physical game for Pittsburgh. He leads all players with four hits so far in the game.
Third period underway at CONSOL.
Pens have surrendered just 10 shots but are up by only one goal.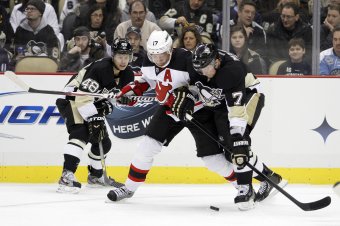 Justin K. Aller/Getty Images
Ice time leaders after two periods:
Devils Defense: Bryce Salvador 14:41
Devils Forwards: Ilya Kovalchuk 17:34
Penguins Defense: Paul Martin 18:22
Penguins Forwards: Sidney Crosby 14:35
Penguins 2 Devils 1 End of Second Period
Three goals in the second, as the Penguins dominated early. Pittsburgh's scorers were Sutter and Kunitz. The Devils stayed in the game on a shorthanded marker from Andy Greene, originating from a Chris Letang giveaway.
Pittsburgh dominates in all statistical categories after two periods (including giveaways):
Shots 19-10 Penguins
Hits 14-9 Penguins
Giveaways 7-3 Penguins
Blocks 11-9 Penguins
Faceoffs 63% Penguins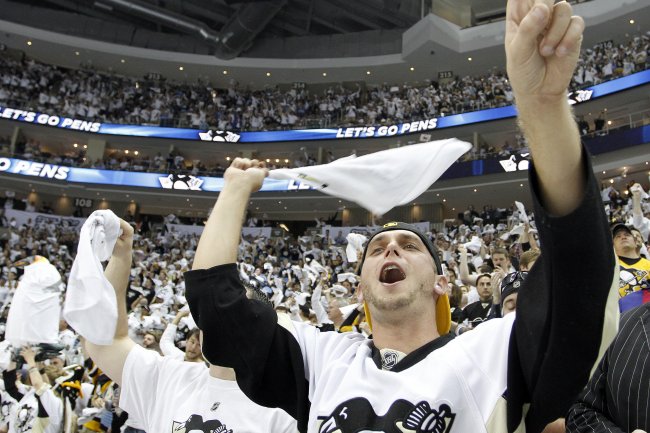 Justin K. Aller/Getty Images
From Tom Chere at nj.com:
Game is a sellout of 18,635, the Penguins' 257th consecutive home sellout.
Penguins 2 Devils 1 2:00 remaining in second period
Pittsburgh has doubled New Jersey on the scoreboard and the shot clock so far, at 18-9.
Greene's SHG was Devils' 2nd of season -- most in NHL. They led NHL with 15 last season.

— Tom Gulitti (@TGfireandice) February 2, 2013
From Tom Gulitti, on Greene's first career shorthanded goal:
Zubrus and Carter assist on Andy Greene's shorthanded goal, at 12:23 of the second period.
The Devils have just three shots in nearly 15 minutes of the second.
Elsa/Getty Images
GOAL!
Penguins 2 Devils 1
This penalty kill is the best New Jersey has looked in the second period.
Defenseman Andy Greene breaks right in front of the net to put the Devils on the board.
Penguins 2 Devils 0
9:16 remaining in second period
Kunitz's goal is unassisted, straight off the defensive gaffe from Volchenkov.
Elias takes a holding penalty on Crosby, sending the Pens to the power play.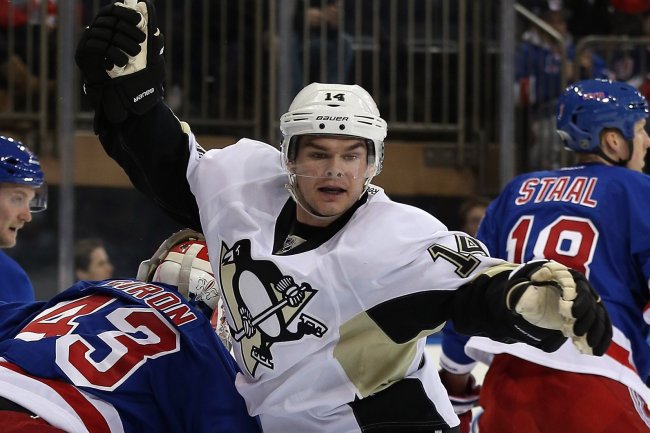 Bruce Bennett/Getty Images
GOAL!
Penguins 2 Devils 0
Chris Kunitz gives the Pens a two-goal lead, capitalizing on a giveaway from Volchenkov.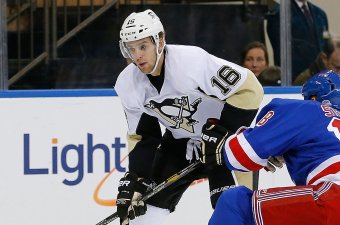 Paul Bereswill/Getty Images
Goal change has been made. Brandon Sutter gets his first as a Penguin, from Crosby and Malkin.
This article is
What is the duplicate article?
Why is this article offensive?
Where is this article plagiarized from?
Why is this article poorly edited?