Flyers vs. Capitals: Live Score, Updates and Analysis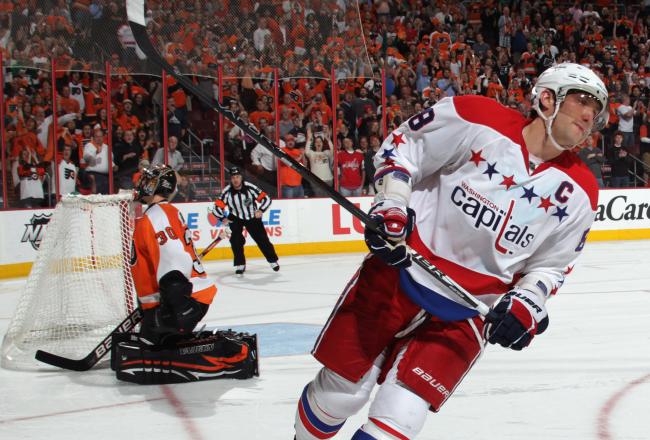 Bruce Bennett/Getty Images
Tonight, two of the NHL's most disappointing teams went head to head in our nation's capital, as the Washington Capitals took on their hated opponents from the north in the Philadelphia Flyers.
Despite sitting last in the conference heading into the game, the Caps exceeded expectations and took control of the contest during the third period after getting goals from Troy Brouwer and Wojtek Wolski.
Thanks for tuning in for updates, running commentary and assorted random musings surrounding the Capitals-Flyers clash in Washington.
Final Score- Washington 3, Philadelphia 2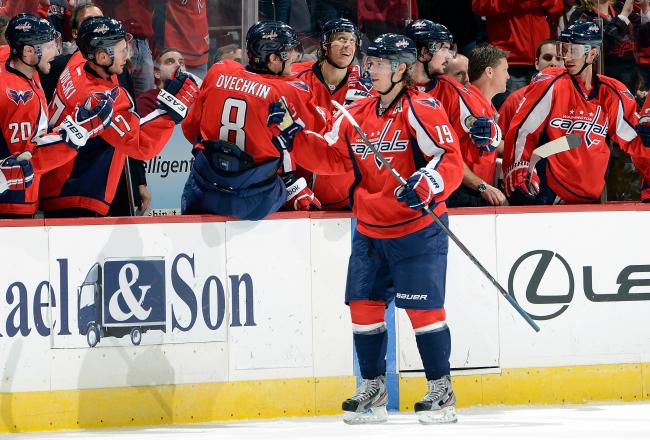 Final- Washington 3, Philadelphia 2:
Did Ovechkin beat the buzzer? Doesn't matter. The Caps secured a big win over a slumping opponent, but more importantly, their big boys played like they're supposed to.
1:00 3rd Period- Washington 3, Philadelphia 2:
Timeout...meaning the Flyers are trying to diagram a play for Giroux.
Talbot isn't a Penguin anymore, but that doesn't mean we can't go over what he said about Washington's adopted Russian son (via Dan Steinberg's D.C. Sports Bog):
"I just hate the guy," Max Talbot told 105.9 The X on Tuesday as part of some Winter Classic press tours, when asked about Alex Ovechkin. "I can't lie. Sorry. Even moreso for a guy like Ovechkin. Like, seriously. Ok. Yeah. I don't like him."
That's coming from a dude who left the only team he'd known for their cross-state rival. Really?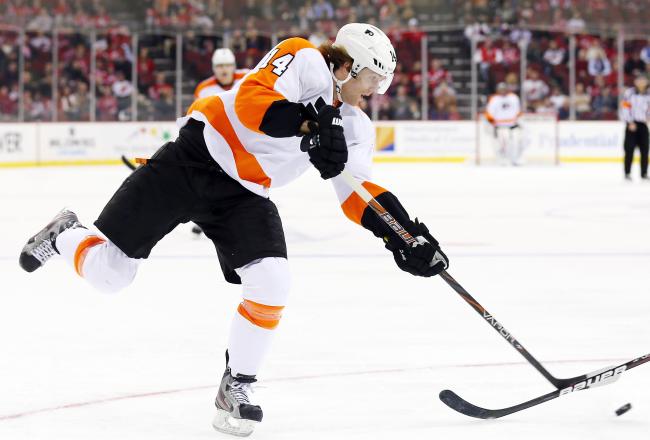 Steal of the 2012 NHL Draft: Sean Couturier.
He's a Mike Fisher meets Jordan Staal-sort of player. He's got good size and speed, solid hands and hockey sense that's wise beyond his years. He'll be a top-six pivot for the next decade in Philly.
9:30 3rd Period- Washington 3, Philadelphia 2:
Schenn buries a loose puck into a gaping cage, putting an end to the Caps' run. For Washingtonians, this must sound like a broken record.
13:13 3rd Period- Washington 3, Philadelphia 1:
Wolski finds twine on a workmanlike rush, putting the Caps up by two midway through the third. He's been better than expected thus far.
If you want to see a subtle yet fantastic breakaway move, watch Backstrom's first of the season.
16:03 3rd Period- Washington 2, Philadelphia 1:
Brouwer gets up after getting dumped from behind, and goes top cheese on Bryzgalov to put the Caps on top. He's the one guy that can make up for Laich's absence...and that's why he has a ring.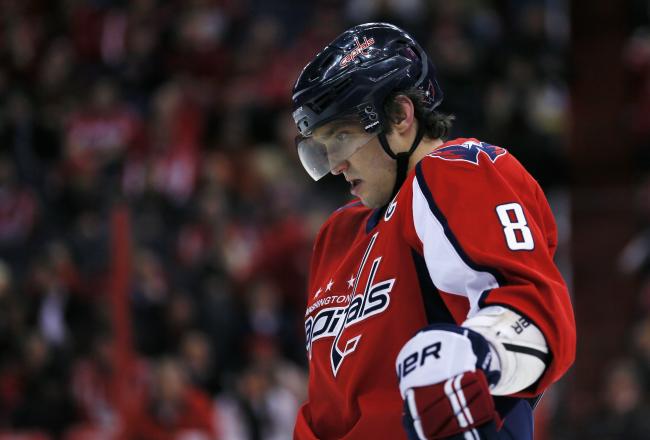 My girlfriend just asked me why Ovechkin isn't scoring despite getting a bunch of quality chances...guess I didn't realize the Caps' biggest issue was that obvious.
19:18 3rd Period- Washington 1, Philadelphia 1:
Bogus offsides call. Ovechkin got good wood on that one-timer...Bryzgalov's got to be hurting.
Quick note on the Flyers: Mike Richards was Philly's first captain since Eric Lindros to lead the franchise to a Cup final, but was dealt to L.A. with Rob Bordson for Wayne Simmonds, Brayden Schenn and a 2nd-rounder. If you're the Flyers today, do you regret that trade? I do, and here's why: Richards is the type of guy that every championship team needs. He scores in the clutch, makes defensemen look over their shoulders when heading into the corners, but most importantly, he's a fearless competitor. Schenn and Simmonds will both be very reliable secondary scorers, but neither will ever game-breakers the way 'Richie was.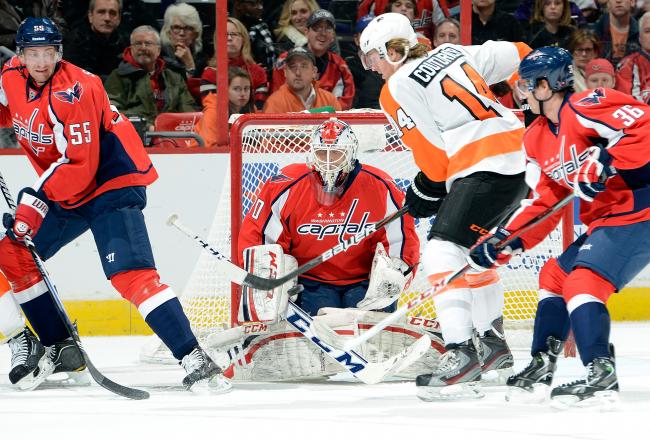 The Caps' goaltending carousel has to be a major storyline for the team during the next 41 games, because while the team has been bad as a whole, Holtby and, to a lesser degree, Neuvirth haven't exactly been making strong Vezina cases for themselves so far.
End of 2nd Period- Washington 1, Philadelphia 1:
The Caps draw a penalty in the dying seconds of the second period, setting themselves up for a handy man advantage once play resumes. If they score during those two minutes, they'll win the game.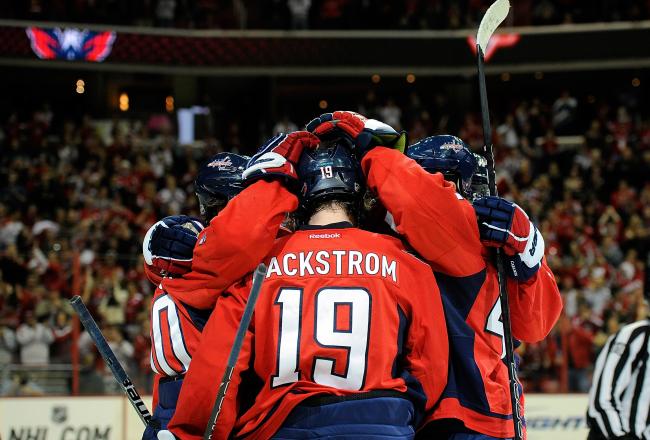 2:14 2nd Period- Washington 1, Philadelphia 1:
Seconds after I wrote about how Backstrom needs to pick up his game, he corals a regroup pass from Carlson and puts the Caps on the board with a nifty breakaway deke to the backhand. This is one of the few times that I am more than happy to be wrong.
Backstrom had over 100 points in 2009-10, but hasn't cracked 70 since (although he would've if he hadn't been injured last year). If Backstrom is only good for 60-70 points a season, is Washington a contender?
No.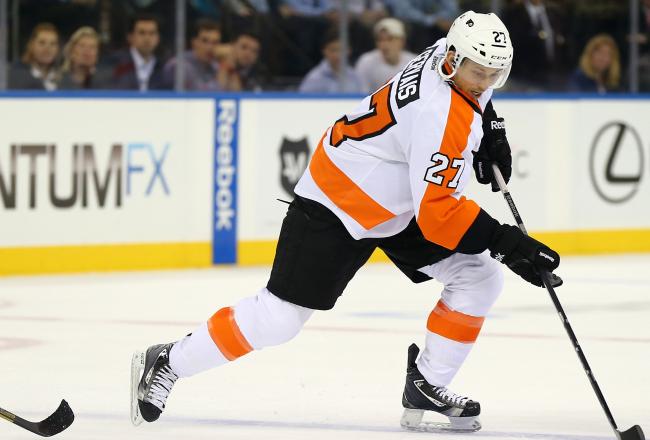 8:17 2nd Period- Philadelphia 1, Washington 0:
Brune Gervais jumps on a loose puck in front and makes the Caps pay. Really unfortunate considering how well Washington's played tonight, but such has been life for DC fans since RGIII went under the knife.
10:00 2nd Period- Washington 0, Philadelphia 0:
The Caps are generating pressure, but Bryzgalov's been great. Hopefully Mr. Universe starts star-gazing during the second half of the game.
It's encouraging to see that the Caps are finding ways to get the puck to Ovechkin on the power play in one-timer situations. If nothing else, Ovechkin can still wire the puck if the pass is in his wheelhouse.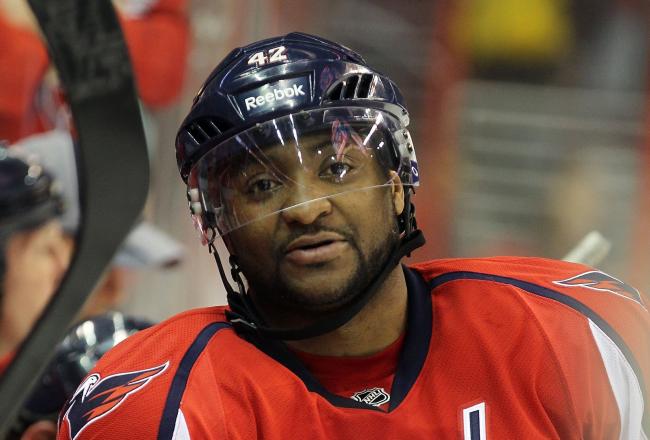 What is more surprising: Washington's 1-5-1 record or the fact that Joel Ward is leading the team in goals?
Random thought: Oates has continued to use basically the same personnel despite dropping the last two games. Isn't there something wrong with that practice when one has two former All-Star defensemen (Tom Poti & Roman Hamrlik) in the press box?
Is Philadelphia missing Jagr more than we expected they would?
Alex Ovechkin has done many endorsements over the years, but this season he seems to only be a candidate to have his face on a milk carton.

— Adam Proteau (@Proteautype) February 1, 2013
According to Adam Proteau of The Hockey News, Alex Ovechkin is...a missing child?
The shots on goal were 7-2 in favor of the Caps at one point...but now stand at 11-11. Pretty remarkable given how much of the play was controlled by Washington.
End of the 1st Period- Washington 0, Philadelphia 0
Honestly, I feel like Philadelphia is lucky to be tied at the end of the period...but the Caps definitely faded a bit as the period wore on.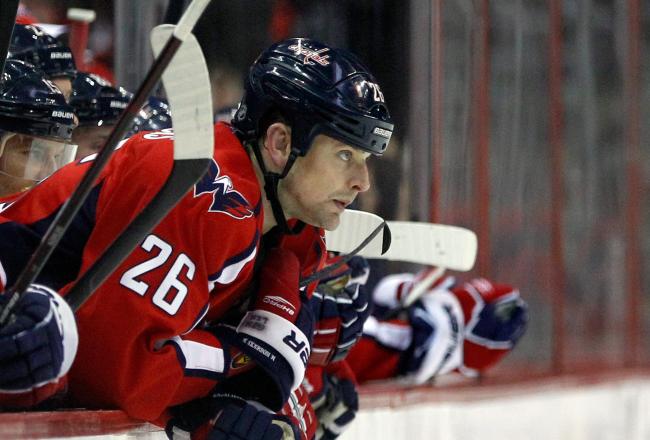 Good tilt...Rinaldo is a tough customer, so one has to tip their cap to Matt Hendricks, who continues to answer the bell in every way possible for his teammates.
This article is
What is the duplicate article?
Why is this article offensive?
Where is this article plagiarized from?
Why is this article poorly edited?

Washington Capitals: Like this team?