What to Expect from Lions' 2012 Rookie Class in 2013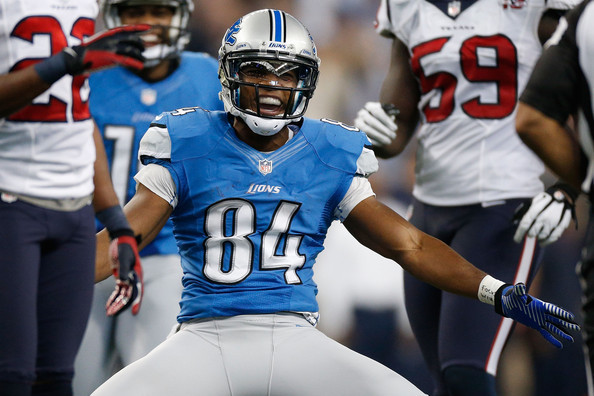 Ryan Broyles/zimbio.com
If there is a silver lining to the Detroit Lions' miserable 2012 season, it might be that last year's draft class cannot be blamed for the failure. No one can say any of them were bad picks because the Lions returned nearly every starter from the year before.
The rookies barely played.
Dwight Bentley was the only one to begin the season as a starter, and he was lost in Week 4 after injuring his shoulder. Riley Reiff and Ryan Broyles showed promise—but not consistently.
Following last year's draft, ESPN's draft guru Mel Kiper gave the Lions a B grade for their efforts. One could argue that should be downgraded now simply because none of their rookies had much of an impact at all.
In 2013, that will change. The Lions roster will be overhauled due to free agency. Starting spots will open up, and last year's rookies will have an opportunity to make an impact on Sundays.
Here are realistic expectations for the Lions' 2012 rookie class next season.
Begin Slideshow

»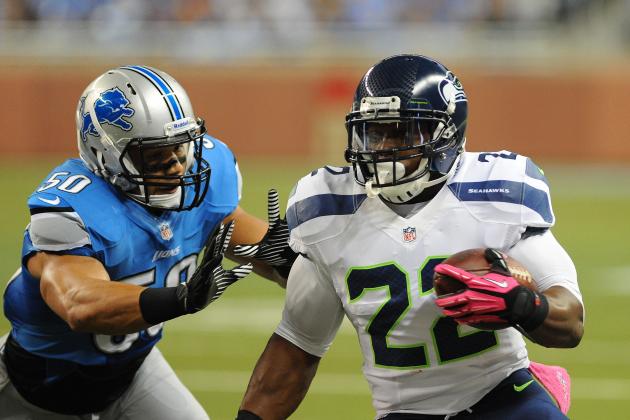 Al Messerschmidt/Getty Images

ESPN says that Travis Lewis appeared in 13 games last season, but any Lions fans with a pair of eyes and a television will find that number surprising. Lewis was an invisible man.
He might have appeared in 13 games, but it was all on special teams where his impact was minimal (evidenced by his three tackles on the season).
It's no knock against Lewis. He was a seventh-round pick who entered a stacked Lions linebacking unit. Even with his versatility to play inside and out, he was going to be third on the depth chart—at least—for both positions.
Unfortunately for him, his outlook for 2013 isn't much better. The Lions will do their best to retain both DeAndre Levy and Justin Durant, who are both free agents, and return their entire linebacking corps intact.
If that happens, then Lewis will remain a special teamer. If it doesn't, he will still be a long shot to see any time at linebacker.
With that said, Lions general manager Martin Mayhew has predicated that Lewis will "compete for playing time next year" (per Tim Twentyman of Lions Insider).
Won't everyone?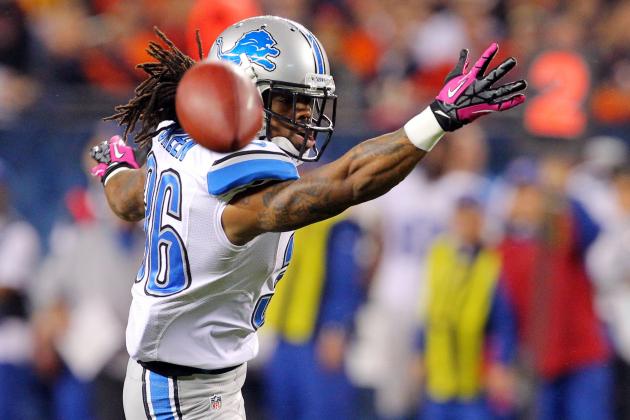 USA TODAY Sports
Green celebrating after notching his first NFL interception.
Drafted in the sixth round, Jonte Green came to the Lions with promise but little expectations. His rawness was evident in training camp, and he quickly fell on the depth chart.
However, because of injuries, he was pressed into duty. He started off slow but got better each week and ended up being a very consistent performer.
Says Mayhew about Green's development (per Tim Twentyman):
He's got some size and he's physical enough. He made a couple plays on the ball. He's really strong and he"s gotten stronger since he got here. He's gained about 10 pounds since he got here. He's got some upside for next year. I think he's going to be in the mix next year.
Being "in the mix" is the best Green can hope for. Bill Bentley and Chris Greenwood will both return from injury, and the Lions will make re-signing Chris Houston a priority. They also must make a decision on Jacob Lacey.
Despite the crowded secondary, Green got valuable experience last season that his fellow rookies did not. That will serve him well in the competition for playing time and should give him an edge over Greenwood.
If he continues his development, there's no reason to think he can't challenge Bentley for the starting job.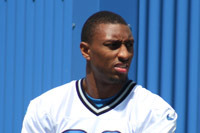 albion.edu
Chris Greenwood was out the entire year due to injury, so it's difficult to gauge where he's at physically and how much impact he'll make in 2013.
It will essentially be his rookie year.
A big question everyone had after the draft was how well Greenwood adjust to the NFL coming from Division III Albion College. With no sample size, that question still needs to be answered.
The Lions have four cornerbacks scheduled to become free agents this offseason, so regardless if Jonte Green passes him on the depth chart, Greenwood might still have an opportunity to play.
He's got the measurables that have people excited. Says Tim Twentyman:
All I can say is there are some lofty expectations being floated around for Greenwood next season.
Needless to say, his development will be a major storyline this summer.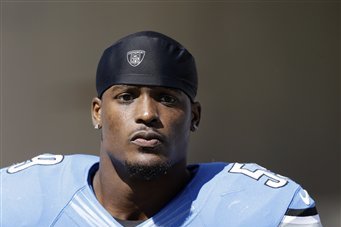 bigstory.ap.org
Like Travis Lewis, Tahir Whitehead was primarily a special teams player in 2013. Despite a rough start to the year, he showed some growth and ended the year as a solid player, totaling seven tackles and two forced fumbles.
That progress means he will compete for more playing time as a linebacker this season. He drew rave reviews from Gunther Cunningham last summer, and after another year, he'll be ready to take the next step.
A lot depends on whether the Lions keep their free-agent linebackers—Levy and Durant. Both will remain ahead of Whitehead if they stay, but there's a good possibility of at least one vacant spot.
If there's an opening, he would stand to gain the most from it. For that reason, expect Whitehead to see some time in the four-man rotation.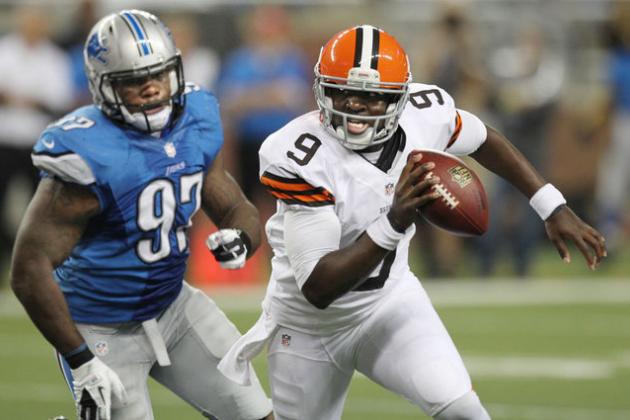 Lewis rushing the passer last preseason/photos.cleveland.com
Ronnell Lewis was injured for half the season and therefore had no impact in those games he missed. Unfortunately, in the eight games he appeared in, his impact was only slightly better.
According to Rotoworld.com, he only played on one defensive snap as a rookie, which might explain why he only totaled two tackles on the season.
Lewis saw the majority of action on special teams, but obviously didn't make a big impact there either.
If he's going to have any impact on the Lions, he obviously needs to stay healthy. He would also need several of the players ahead of him to leave, which might actually happen.
Cliff Avril and Lawrence Jackson are free agents who could find themselves on other teams next year. Kyle Vanden Bosch's future with the team is up in the air as well. If any of those players leave, and Lewis is healthy, he's got a shot to break the rotation.
Says Martin Mayhew courtesy of Detroit Free Press' Dave Birkett:
I think he's going to be a factor going forward...I think he'll be a good rotational defensive end/special-teams player for us. He's got ability, without question. He's good on special teams -- he just didn't have quite enough impact to make one of those other guys inactive (this year).
Tim Fuller-USA TODAY Sports

To start the year, Bill Bentley seemed poised to have the biggest impact of the entire rookie class. He quickly secured the starting cornerback position vacated by Eric Wright and picked off his first NFL pass during the preseason.
Expectations were high, but his season was over before it actually started. He injured his shoulder during the preseason and was never the same, eventually opting for season-ending surgery after Week 4.
Regardless of his shoulder, expectations will be high again. He won the starter job last year, and there's no reason he can't win it again in 2013. The competition will be wide open, especially if the Lions don't re-sign Chris Houston.
Since Jonte Green proved to be such a solid player the last half of the year, expect him to duke it out with Bentley for the starting job.
He might be a smaller player, but Bentley has more big-play potential and will win that battle.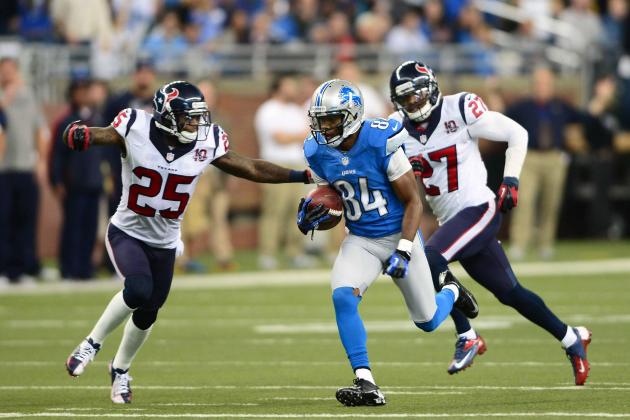 Andrew Weber-USA TODAY Sports

It's no coincidence that the Lions were at their best when Ryan Broyles was active and contributing on offense. When he emerged, Detroit won two games in a row against Seattle and Jacksonville.
His performance against Houston was evidence that Broyles was the Lions' slot receiver of the future. He totaled six catches for 126 yards, including 25- and 40-yard receptions. Unfortunately, his great performance didn't result in a win because of Jim Schwartz's errant flag.
One week later, he tore the ACL in his knee and was lost for the season.
Broyles will spend his second straight offseason recovering from the same injury, albeit in the other knee, but his prognosis is good. Earlier this week, he tweeted this picture of himself in a running pool at Lions headquarters (via Josh Alper of Profootballtalk.com) just two months after surgery.
He's shooting for Week 1, and if he's healthy, he'll begin the season right were he left off—even if Nate Burleson returns. Broyles was more effective—particularly in gaining yards after the catch—because he's quicker and just as adept at finding open zones in the defense.
The fact that the Lions decided to cut ties with Titus Young also bodes well for Broyles to have a major role in the offense this season.
Of course, that all hinges on the status of his knee.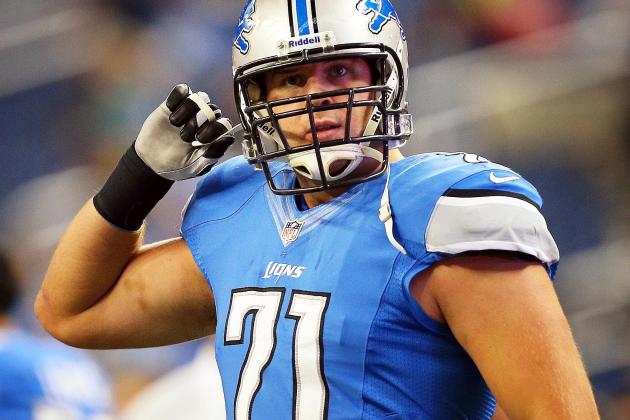 Mike Carter-USA TODAY Sports

No one knows how this offseason will impact the Lions offensive line, but one thing is for sure: Riley Reiff will play more consistently than last year.
Regardless of the position, he'll be on the field more often than not. That's because he's capable of playing all four-guard and tackle positions. Honestly, the only position that's safe is Rob Sims' left-guard spot.
Every other spot could be vacated. According to Justin Rogers of MLive.com, Jim Schwartz admitted as much last Friday when he said:
We're prepared for a lot of different ways...It didn't show this year because Riley (Reiff) had to play one game at left tackle, Jason Fox was an inactive for all but one game, Corey Hilliard was an inactive just about every game, but we have developed some pretty good players there. We have some pretty good players in the pipeline. If we think the best course of action is to go there, then we're prepared for that.
Translation: If the offensive line gets blown up, the Lions have enough young guys to effectively replace the departed veterans.
Gosder Cherilus, Stephen Peterman, Dominic Raiola and Jeff Backus could all be gone for one reason or another.
Reiff will either take over for Backus, if he retires; or Cherilus, if he leaves via free agency; or Peterman, if he's released.
A new era is upon us in the Lions trenches, and Reiff will be a big part of it in 2013 and for years to come.