Gonzaga Basketball: 5 Signs Bulldogs Are Ready for Deep Run in March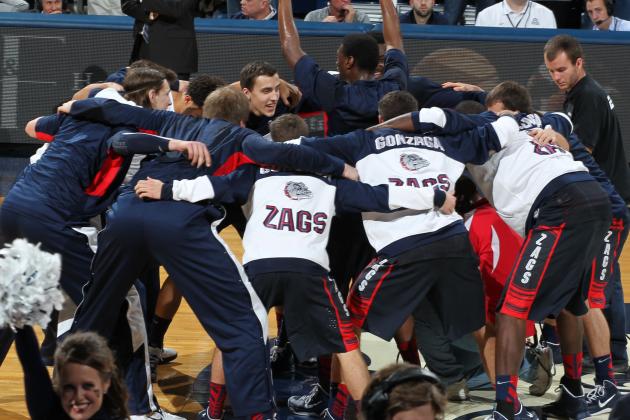 Brian Spurlock-USA TODAY Sports

Gonzaga basketball rebounded well from their loss to Butler with two consecutive wins over conference foes BYU and San Francisco.
Much of what we saw in Gonzaga's recent wins is demonstrative of what has made them one of the top teams in the nation all season.
With very little separating the top five teams with the top 15 teams, this could be the season that Gonzaga reaches their first Final Four.
The way this tournament is shaping up, it is not impossible to think this talented Gonzaga team could cut down the nets when it is all said and done.
Begin Slideshow

»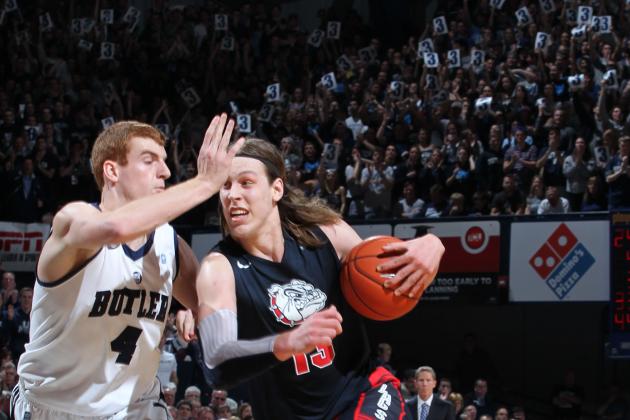 Brian Spurlock-USA TODAY Sports

Senior forward Elias Harris and junior center Kelly Olynyk have solidified their position as one of the best frontcourts in the nation.
Harris, a one-time projected lottery pick, has recently broken through to reach the talent level that so many in Spokane believed he was capable of attaining. Now a complete player, Harris can score in a variety of ways, averaging 15.3 PPG and 7.3 RPG.
I've said it before, and I will say it again: Kelly Olynyk is one of the most fascinating players in all of college basketball.
Olynyk recently shot a rare perfect game from both the field, 9-for-9, and from the free throw line, 8-for-8. He can post smaller defenders, face up slower defenders and has a rare shooting touch out to the three-point line.
These two big men thrive in a high-low system. Since both can shoot the ball out to the perimeter, defenders are easily drawn away from the basket.
Through this system, Harris or Olynyk are given one-on-one positioning with an isolated defender in the post. The two Bulldog big men shoot over 50 percent from the field because of it.
In March, mid-majors often suffer when they are faced with elite frontcourt play, but Gonzaga surely has the frontcourt to match any in the nation.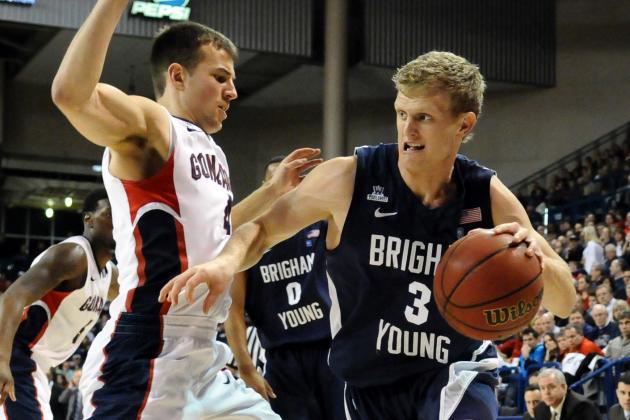 James Snook-USA TODAY Sports
Tyler Haws, a dynamic scorer, was held to just one point against the Zags.
If Gonzaga has had one weakness this season, it has been their team defense.
While the Zags boast some great individual defenders such as Gary Bell Jr. and Mike Hart, they have struggled to defend as a cohesive unit at times this season.
Illinois torched Gonzaga from beyond the arc, shooting a blistering 42.3 percent. Butler similarly shot well from downtown, 42.1 percent.
In Gonzaga's recent win over BYU, the Bulldogs held the Cougars to just 23.5 percent shooting from downtown.
The other area that Gonzaga has improved on defensively is shutting down an opposition's top scoring option.
What do Brandon Paul, Marcus Smart, Pierre Jackson, Kevin Foster and Kellen Dunham all have in common? They are all bigger guards who were able to bully Gonzaga's undersized defenders en route to scoring 127 combined points.
Scoring well over 20 PPG when he arrived in Spokane, BYU's Tyler Haws was heralded as the next coming of Jimmer Fredette. Many considered him a lock to abuse Gonzaga's poor defense as many had already this season, but, instead, he was held to just one point in 33 minutes of play.
Gonzaga has shored up their defense, and with their ability to score the basketball, this should scare potential matchups in March.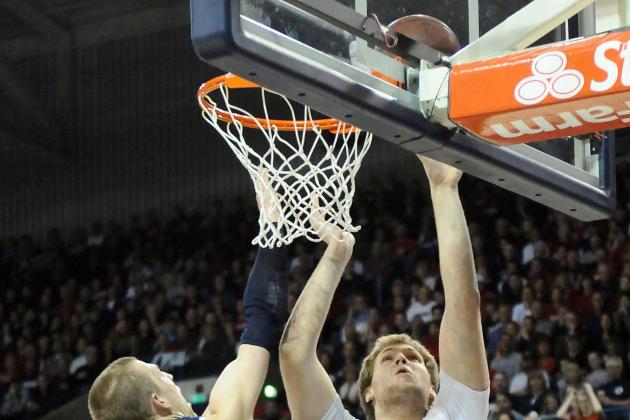 James Snook-USA TODAY Sports
Przemek Karnowski has provided solid depth off the bench.
Gonzaga's greatest strength lies in their depth.
With 10 players who average double-digit minutes, Gonzaga has the ability to run teams to exhaustion and provide several different looks.
The Bulldogs look to push the ball in transition as much as any team in the nation, and they are incredibly successful for it.
Kelly Olynyk and Elias Harris run the floor better than most big men in the country. Their ability to establish themselves in the post early in the shot clock leads to a lot of easy baskets.
Towards the end of the game, opposing teams look to slow the pace because they simply do not have the depth to keep pace with the quick Gonzaga offense.
With a bevy of different role players, each specializing in something uniquely different, Mark Few is able to put a lot of different looks on the floor.
Gonzaga often goes with a three-guard set that has David Stockton run the point guard in a setup that lends itself to picking a half-court defense apart.
The Zags have also been known to play around with their frontcourt as each player brings a different skill set.
Kelly Olynyk and Elias Harris thrive in the face-up game, and they play their best when they have space to attack the basket.
Sam Dower and Przemek Karnowski, on the other hand, are great back to the basket players.
Mark Few has done an excellent job providing several different looks to exploit opposing defenses by mixing and matching which pair of big men he wants on the floor.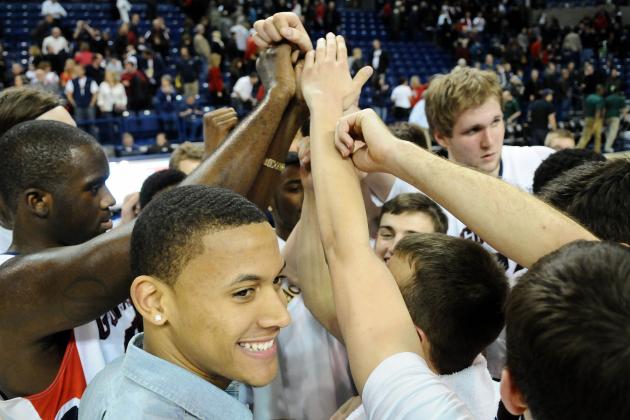 James Snook-USA TODAY Sports

Losing a heartbreaker at the buzzer takes a toll on a team, and such an event can derail an entire season.
Gonzaga's ability to rebound from their last-second loss at Butler to lay a hurt on BYU just a couple days later speaks to their mental toughness.
The Zags played an incredibly tough nonconference schedule, but week in and week out, this Gonzaga team showed resilience to win on basketball's biggest stages.
The Zags have registered some impressive wins over Oklahoma State and Washington State on the road. With Gonzaga clearly being the cream of the WCC crop, they always draw the largest opposing crowds. This added pressure to win in a hostile environment will help the Zags perform in March.
Some say that this might be Mark Few's greatest Gonzaga team. While that has yet to be seen, one thing we do know about this GU basketball team is that they are incredibly close.
Mark Few spoke to this when he said, "There's a legitimate chemistry on this team that you could see if you hung out with us for a day or two. I know a lot of coaches say that, but with this group it's really, really strong."
One great example of the great team chemistry came after the loss to Butler. While many were quick to blame David Stockton for throwing an errant inbound pass, his teammates were quick to come to his defense.
We lost this game as a TEAM, not ONE person. We all in this together and this game will be a good learning experience for us. #ontothenext

— Samuel Dower Jr. (@DoloDower) January 20, 2013
I'm not a huge twitter guy, but if anybody blames my bro David for the loss is a big disappointment in my eyes. On to the next one! #ZagUp

— Elias Harris (@E20Harris) January 20, 2013
Also, if you have not seen Gonzaga's trick shot video yet, do yourself a favor and check it out. It is a great example of how teammates can come together to do some truly amazing things.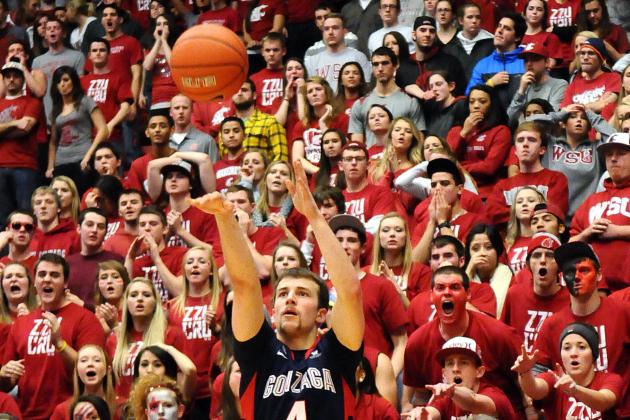 James Snook-USA TODAY Sports

Both Kevin Pangos and Gary Bell Jr. suffered cold streaks in their shooting this season.
Both sharpshooters are capable of burying multiple three-pointers each game, and they demand a lot of respect on the perimeter.
Pangos suffered his shooting slump early in the season, but rebounded well with a 31-point performance that included seven three-pointers
Gary Bell Jr. just broke out of his slump last night when he made five three-pointers in the first half against Loyola Marymount.
Beyond these two shooters, a bevy of other backcourt players have began to shoot with great proficiency.
Nine players shoot over 30 percent from beyond the arc, and Pangos, Bell, Drew Barham and Guy Landry Edi have all shot over 40 percent from distance.
In Gonzaga's most recent win over Loyola Marymount, the Zags buried 13 three-pointers and shot 61.9 percent from beyond the arc.
Gonzaga's ability to shoot the ball will open up opportunities for their big men, which will give them a distinct advantage in March.