Ryback: Why He Should Be the United States Champion Before He Is WWE Champion?
Use your ← → (arrow) keys to browse more stories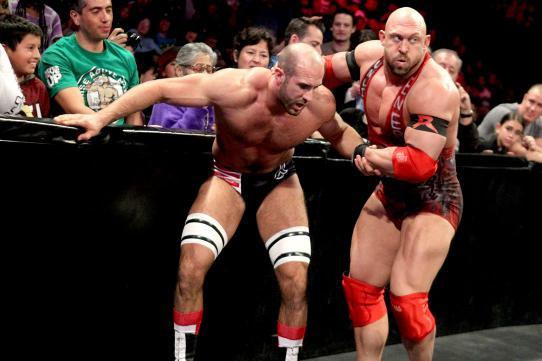 wwe.com
Backtracking and rethinking your steps is never a bad thing if the ensuing result is a better one. In the case of the WWE and its push for Ryback to become the WWE champion, taking a few steps back and rebuilding him through the rank and file of the WWE could prove to be a better option than allowing him to waste away in wrestling purgatory.
When John Cena was injured and the "Big Hungry" became the leading contender for CM Punk's title at Hell in a Cell, it was done so as a stop-gap move. It was also a move I personally hated and thought could have been more thought-out.
This is the WWE, however, and decisions are made in haste and the consequences are realized later. Yes, I just said that.
In days gone by, the wrestling promotions for the most part took their main attractions and built them up, letting them win titles and "climb the ladder" to achieve greatness. The WWE did this with the likes of Shawn Michaels, Steve Austin, The Rock, The Miz and others. In the NWA, Ric Flair, Barry Windham, Dusty Rhodes and Harley Race all captured regional titles before becoming the lead dogs of the promotion.
Now, in this era of wrestling, the Intercontinental title and the United States title, which are held by two great superstars in Wade Barrett and Antonio Cesaro, are levels of purgatory in and of themselves.
The WWE has done better to form more competition for these titles, but I do not see either one of these worthy champions becoming a world champion any time soon.
Great planning, WWE creative team. Two great stars who deserve a better lot.
This might be a great place to insert Ryback.
The current state of the WWE is such that The Rock, CM Punk and John Cena all figure to be part of the shenanigans of Elimination Chamber and anything else related to the "Road to WrestleMania," which puts a fly in the ointment of having Ryback compete for the WWE title. That is, unless he turns heel, moves over to SmackDown or challenges John Cena, should he beat The Rock at WrestleMania 29 in New Jersey.
Putting the United States title, as an example, around the waist of Ryback would do a few things.
First, it would continue what seems to be a decent rivalry and would help it mature. Both superstars are the future of this company. Second, it would make Cesaro an even bigger heel. Third, it would show that very powerful wrestlers can battle each other like they do and, in the process, win over more fans. Fourth, it would show that Ryback is not as superhuman as everyone thinks.
The same could be said for Ryback and Wade Barrett locking horns, but Cesaro would appear to be a more logical choice. The battle between the two has already begun and looks like it could have some legs.
Cesaro said there is no American wrestler on the WWE roster who could beat him. Maybe he should rethink that some. Ryback is more than capable and having the beast, much like Bill Goldberg, capture the U.S. title on his way to world gold may be a solution to a very crowded top of the WWE summit.
The secondary titles of the WWE should be just as viable and equally important in building superstars. Cesaro, Barrett, Big Show, The Miz. The list goes on and on. This is another way to define Ryback not only as a true force and not a flash in the pan (like Goldberg or Ahmed Johnson).
And it would give the WWE universe a chance to really root for Ryback as a champion—no matter which title is around his waist.