Projecting the Pac-12's Top Defensive Breakout Players for 2013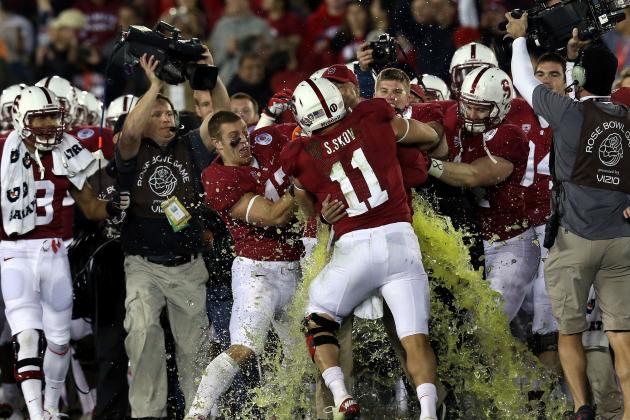 Stephen Dunn/Getty Images

Which defensive players in the Pac-12 will have a breakout year?
There are actually several schools that could have more than one defensive breakout player this season—both USC and UCLA have some real potential stars who started to make some noise mid-season last year.
Organizing by school, we've highlighted some defensive players to keep your eyes on. If they're underclassmen, they may have such an outstanding season that they're potential early defectors for the 2014 NFL draft.
Begin Slideshow

»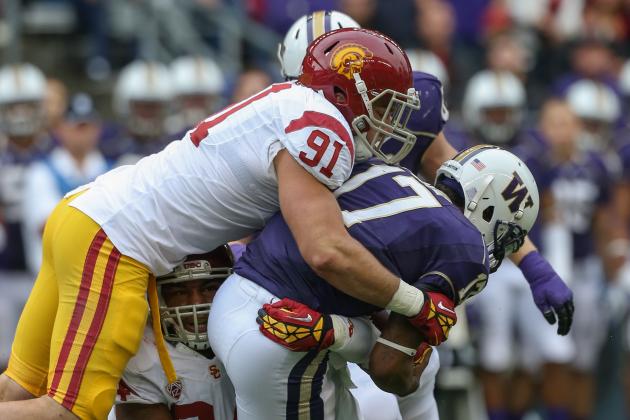 Otto Greule Jr/Getty Images
Morgan Breslin
The USC Trojans have several top defensive players who could break away from the pack and hog the spotlight this year. Newly hired defensive coordinator Clancy Pendergast has typically relied on a 3-4 scheme (three down linemen, four linebackers), so the linebackers will have more production this year.
Sophomore linebacker Scott Starr was a reserve middle linebacker in 2011 but was sidelined after playing in only three games after suffering problems with his neck. If he moves to the outside he could become another pass-rusher option. The kid is a stud, and if he's 100 percent this season, he will really ignite the defense.
Senior defensive end Morgan Breslin was selected as All-Pac-12 Second Team and was named as one of the six finalists for the Ted Hendricks Defensive End of the Year award. But Breslin's potential still was not realized under former defensive coordinator Monte Kiffin's schemes. Pendergast could make him the designated pass-rusher and give him the potential to be a first-rounder in next year's draft.
Junior linebacker Lamar Dawson wears jersey number 55. Trojan fans understand the significance of this number, and this season he could finally live up to its legacy.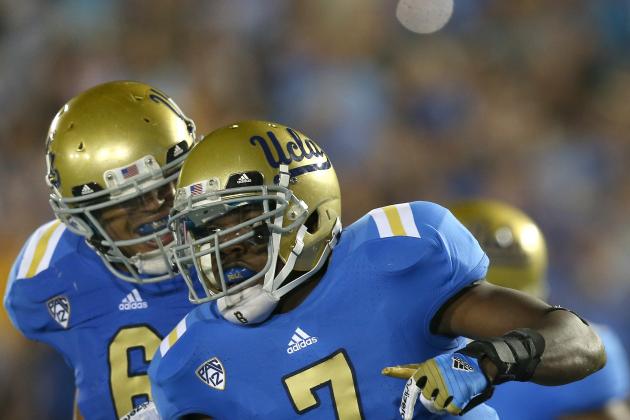 Stephen Dunn/Getty Images
Tevin McDonald
Defensive end Ellis McCarthy played as a reserve behind Datone Jones, but now that Jones is off to the NFL, McCarthy will start—you can count on that. McCarthy is special and with one year of learning the defense under his belt, he will be a threat to every Pac-12 quarterback standing in the pocket. He's a beast.
Safety Tevin McDonald has had to live with his older brother (T.J. McDonald, USC) grabbing attention from the LA media, but T.J. is now entered in the NFL draft. I actually think Tevin shows more promise and maturity than T.J., so this could be the year where Tevin not only breaks out as a defensive leader but breaks away from his older brother's shadow.
Corner Priest Willis has made a verbal commitment to UCLA and if that holds—and it will—and he doesn't burn a redshirt, which I don't think will happen, then the Bruins' secondary will improve drastically. UCLA loses both of its starting corners (Aaron Hester, Sheldon Price) so the battle for the starting spots could be very interesting in August. According to this video interview, Willis, a 5-star prospect, sounds like he's ready to start at corner this fall.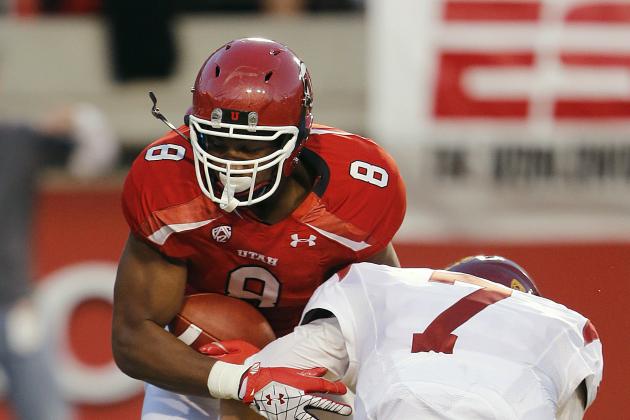 George Frey/Getty Images
Nate Fakahafua
Utah's defensive line is decimated after Star Lotulelei, Dave Kruger and Joe Kruger (early defection) are all gone to play on Sundays. Somebody has to step up on the Utes' defense, so we're putting all of our marbles on defensive end Nate Fakahafua.
Fakahafua is extremely fast for a lineman (4.74 speed), so it'll be fun to watch him harass quarterbacks this season.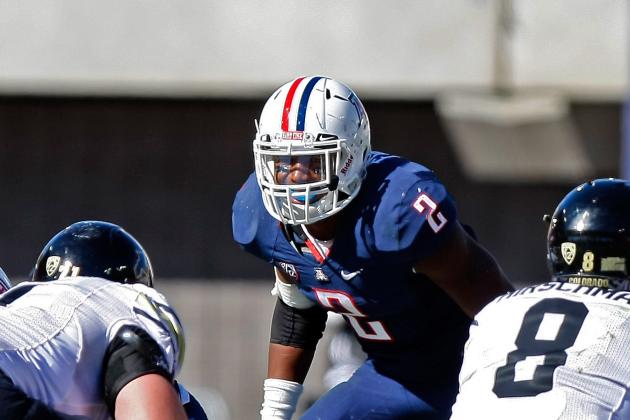 Rick Scuteri-USA TODAY Sports

With the Wildcats returning all 11 defensive starters this season, the opportunity has come to really shine.
Marquis Flowers was the starting free safety two years ago but last year moved to linebacker. With one year of experience in that position, Flowers should be a huge impact in 2013.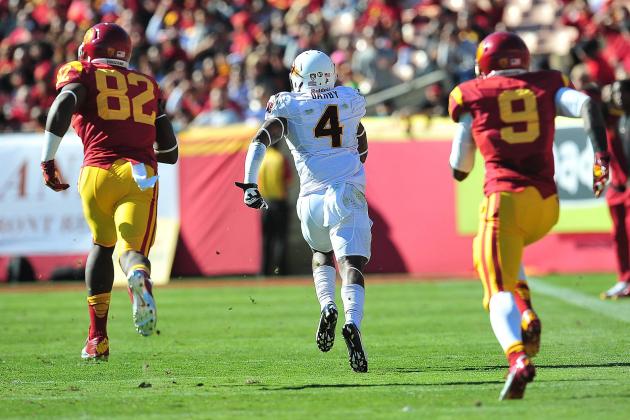 Gary A. Vasquez-USA TODAY Sports
Alden Darby's pick six vs USC
Defensive tackle Will Sutton already had his breakout season in 2011; Sutton was named the Pac-12's 2012 Pat Tillman Defensive Player of the Year. With Sutton returning this year, who else will get a chance to have that breakout season?
Safety Alden Darby was named All-Pac-12 Second Team in 2012, but he only had three interceptions—one of those a 70-yard pick six against USC.
Look for him to increase those stats this year.
Stephen Dunn/Getty Images
Mike MacIntyre
George Frazier is a class-of-2013 prospect who has given a verbal commitment to Colorado. Frazier was a two-time All-CIF Southern Section linebacker and hails from Monrovia High School—a school that is coincidentally located on Colorado Boulevard and has produced some famous (and infamous) alumni.
Frazier has a shot at starting this year—assuming he doesn't redshirt—since linebacker Doug Rippy is completing his senior year, and new head coach Mike MacIntyre will be looking at every player in spring and fall camps.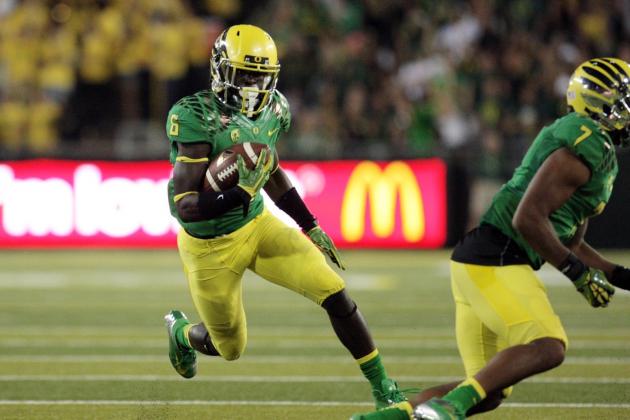 Scott Olmos-USA TODAY Sports

Now that running back Kenjon Barner is off to the NFL, the Pac-12 can brace itself for the onslaught of DAT man.
De'Anthony Thomas will get most of the carries this season.
De'Anthony Thomas will score a lot of touchdowns.
De'Anthony Thomas will be a YouTube sensation.
Center Hroniss Grasu will also have major improvement this season. According to OregonLive, Grasu had a few problems last season:
Well, there were those "yips" early in the season, when Grasu drew criticism for some errant snaps. It was a frustrating issue for Grasu, who after studying film of his technique realized he "got lazy" with his snaps.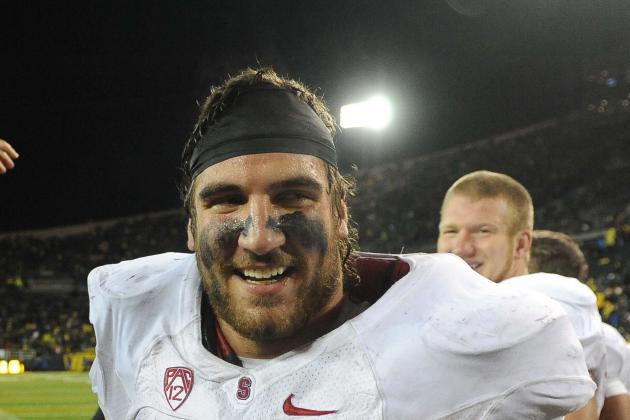 Steve Dykes/Getty Images
Ben Gardner
Reserve corner Alex Carter played behind Terrence Brown last season but interestingly, both Carter and Brown were named All-Pac-12, honorable mention.
Carter, however, is a freshman.
We're keeping our eyes on him as well as defensive end Ben Gardner who was named All-Pac-12 Second Team.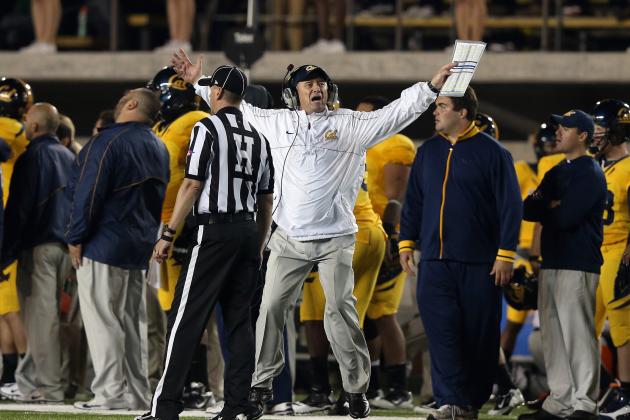 Ezra Shaw/Getty Images

Not one Cal player was named to the All-Pac-12 as first or second team—that's a big concern.
Linebacker Chris McCain is 6'6", 230 pounds and should be a bigger impact for the Bears this season as he was named All-Pac-12, honorable mention.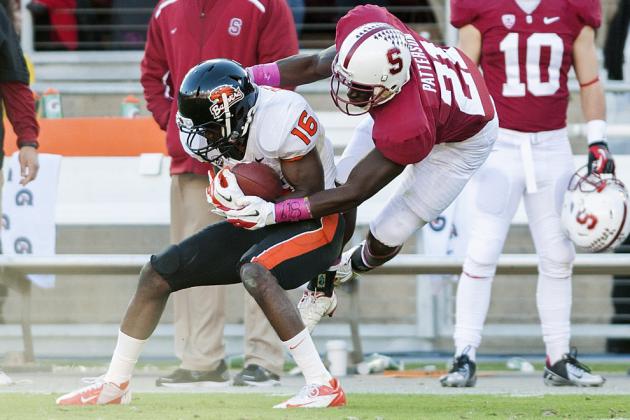 Ed Szczepanski-USA TODAY Sports
Rashaad Reynold's interception vs Stanford
Cornerback Rashaad Reynolds had three interceptions last season including a 42-yard pick six against BYU.
For his efforts, he was named All-Pac-12, honorable mention, but this year I expect him to have a breakout season and be a lot busier in the secondary now that corner Jordan Poyer is off to the NFL.
Also keep your eyes on linebacker Joel Skotte—he was a reserve but should be a starter this season.
Kirby Lee-USA TODAY Sports

If Daeshon Hall's soft verbal commitment to Washington doesn't change, the 4-star defensive end could challenge for Talia Crichton's spot since Crichton has exhausted his eligibility.
We're looking forward to this young man having a breakout freshman season.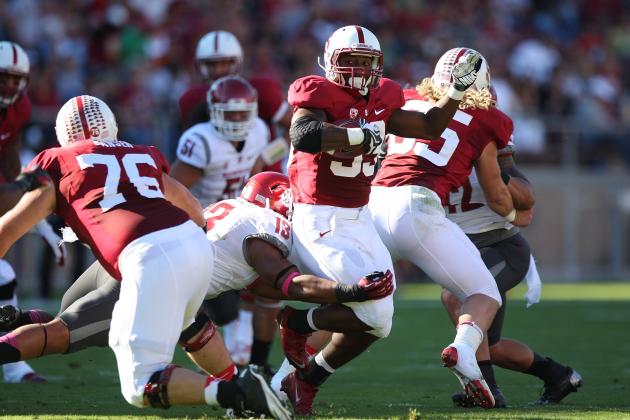 Tony Medina/Getty Images
Darryl Monroe makes a tackle vs Stanford
Inside linebacker Darryl Monroe needs to give the Cougars' defense some identity since that unit hasn't been known to be very stingy over the past few years. In 2010, the Cougars defense was ranked No. 6 in the Pac-12 but last season regressed to No. 9.
Monroe will be a redshirt sophomore this season and needs to have more games like his 10-tackle effort against UNLV last season.