Miami Heat: Assessing Chris Bosh's Best Methods of Scoring Thus Far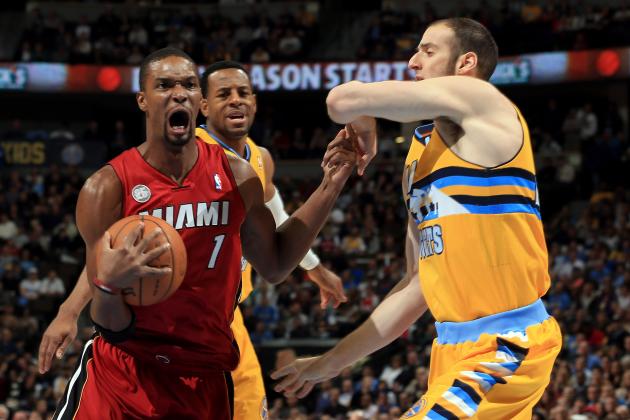 Doug Pensinger/Getty Images

The Miami Heat currently sport the best record in the Eastern Conference and are leading the charge to defend their championship. They have a top-10 offense and defense, and the majority of the credit is given to LeBron James and Dwyane Wade.
However, Chris Bosh is right there with them in terms of keeping the Heat successful.
His offensive style perfectly suits James and Wade, as he has a plethora of moves to score with. Bosh is currently averaging 17.2 points and 7.4 rebounds on 54.2 percent shooting. Let's take a closer look on how Bosh is putting the ball in the basket so far.
Begin Slideshow

»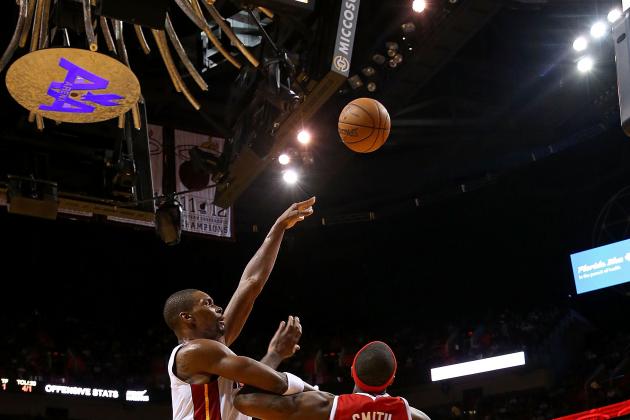 Mike Ehrmann/Getty Images

Post-up: 15.9 percent usage, 36-of-87 field goals, 41.4 percent shooting
A knock on Bosh's overall game has not only been his light frame and nonchalant commitment to rebounding, but his lack of a true post-up game as well. He does have a few moves down low, in particular a face-up jab-step and pump fake. After doing so, Bosh often drives to the rim with a hook shot or dunk, or has a solid step-back jump shot.
However, Bosh's 41.4 percent on post-ups is indicative of his need to add some moves. While he doesn't exactly need to, as Bosh isn't used in such a role often, the development of more go-to moves in the post would help the Heat.
Al Bello/Getty Images

Offensive rebounding: 7.7 percent usage, 19-of-39 field goals, 48.7 percent shooting
Bosh is currently averaging 7.4 rebounds for the Heat, with 2.1 coming on the offensive end. It's his highest total since joining the Heat, snatching 1.8 and 1.7 in his first two seasons in South Beach. Considering Bosh is playing just 33.9 minutes a game thus far, his increased production on the offensive glass shows his commitment to improving that aspect of his game.
All compliments aside, Bosh is converting well when he does pull down an offensive rebound. His shooting from the restricted area (69 percent) points to his success there. While the majority of Bosh's field goals inside come from the pick-and-roll or cutting to the rim, he is still doing so on putbacks.
Christian Petersen/Getty Images

Isolation: 5.4 percent usage, 12-of-24 field goals, 50 percent shooting
Bosh is very effective in isolation play, which makes it disappointing how rarely the Heat run such a play. Their All-Star is unique in that he has a knock-down mid-range jumper to shoot over shorter defenders, in addition to the quickness and ball-handling he employs to maneuver past taller opponents.
The vast majority of isolations go to Dwyane Wade and LeBron James, and rightly so. The duo are two of the best one-on-one scorers in the league, yet Bosh is right there. Not many frontcourt players are even capable of doing so, and need to receive the ball in the post to score.
Bosh is just as capable as his two All-Star teammates, and the Heat must realize this. However, Miami has a very team-orientated offensive system. Breaking up sets to increase isolation play could make the off-ball movement halt, which is one of the Heat's strengths.
Regardless, should the occasion rise in which Miami can run Bosh on an isolation, it needs to jump at the opportunity. He was stellar in Toronto doing so, he can certainly do the same in South Beach.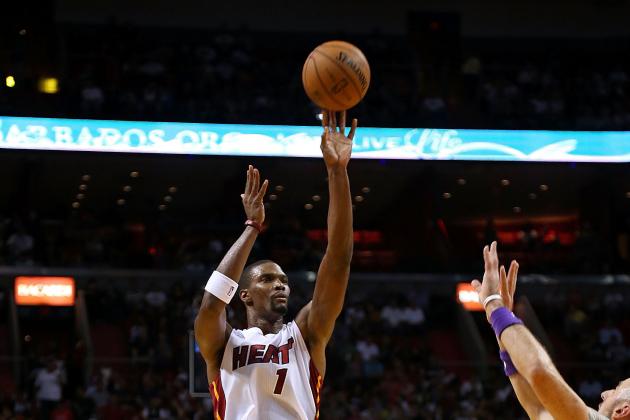 Mike Ehrmann/Getty Images

Spot-Up: 26.8 percent usage, 77-of-153 field goals, 50.3 percent shooting.
If the Heat's 6'11" center is renowned for anything, it's his jump shooting. Bosh has been one of the league's best mid-range shooters for most of his career, and continues to profess much skill in this area.
Many called for Amar'e Stoudemire to join the Heat in 2010, but Pat Riley knew exactly how the team would work, and that their trio would click.
Without Bosh's shooting, it's not outrageous to suggest the Heat wouldn't have won a championship last season. Having his mid-range expertise keeps the floor spaced, whereas LeBron and Wade would not have as much success driving with Stoudemire down low.
More than a quarter of Bosh's offense has come from spotting up this season. His mid-range shooting boasts a 52 percent success rate, which is very high. He converted on 43 percent of his shots the last two seasons and was still considered efficient, so it goes to show just how deadly Bosh has become from that area this season.
Bosh's ability as a spot-up shooter is his most valuable asset, especially to the Heat. He keeps the floor spaced well and gives defenders no choice but to leave him open when helping on drives. More often that not, and much to their dismay, Bosh raises up and drills it with extreme proficiency.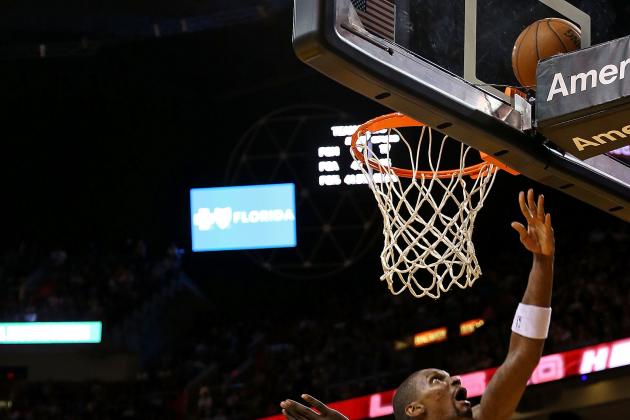 Mike Ehrmann/Getty Images

Pick-and-roll man: 17.1 percent usage, 47-of-80 field goals, 58.8 percent shooting
The mere thought of LeBron James or Dwyane Wade in a pick-and-roll is downright intimidating. Their ability to handle the ball through defenders, distribute or score is second to none. Add Bosh as the pick; forget about it.
Bosh is shooting almost 60 percent on the pick-and-roll and, as aforementioned, has the ability to shoot or drive depending on how the defense plays him. While some credit must be given to the roller, the ball-handler is often the reason for the play being successful.
Bosh's teammates always hit him with timely passes, creating the opportunity to convert at a high rate. While the same premise applies with most offensive sets, the pick-and-roll calls such division of credit equally.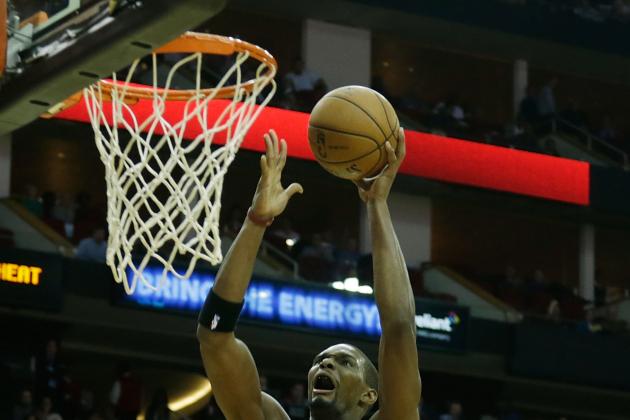 Scott Halleran/Getty Images

Cuts: 12.8 percent usage, 48-of-66 field goals, 72.7 percent shooting
Much like the pick-and-roll, Bosh's scoring on cuts to the basket won't transpire without his teammates setting it up. Of his shots from close range, 72.5 percent are assisted on, thereby shedding light on the team aspect.
That isn't to discredit his excellence converting, yet more so to point toward the simplicity of the possession. Wade and James are often double-teamed, leaving someone open. Whether it's a three-pointer by one of the plethora of shooters the Heat have, or a cutting teammate, Miami excels doing so distributing out of such defensive traps.
Again, Bosh's versatility is called upon as his means of success. His ball-handling makes his drives much easier, as evidenced by his 72.7 percent shooting. There is a 17.6 percent foul rate on Bosh's cuts, which comes as no surprise.
Bosh converts his free throws at 81.9 percent this season, making defenders second-guess fouling. As per the 19.3 percent foul rate on the pick-and-roll, the very same situation on cuts gives Bosh a 71.8 percent chance to score.
Be it on free throws or a drive, Bosh is highly efficient. Similar to the pick-and-roll, it's a "pick your poison" situation for opponents with Bosh and Co. on cuts. Leave Wade or LeBron single coverage and apprehend Bosh, or double-team the aforementioned and leave their big man to score at will.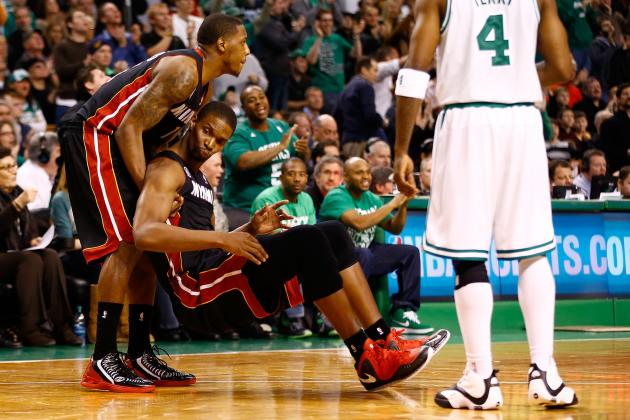 Jared Wickerham/Getty Images

In total, Bosh is a very efficient offensive player for the Heat. He has a selection of go-to moves at his disposal, be it an automatic jump shot or maneuvers in the paint. Teams are able to contain the soon-to-be eight-time All-Star at times, but then leave his teammates to do whatever they please.
The big man receives more criticism than he deserves, yet he remains a consistent, accurate contributor for Miami. Bosh is essential to the team's success, and he should never be thought of otherwise.
All statistics sourced from Synergy Sports Technology, NBA.com/stats and 82games.com