3-Step Plan to Right Struggling Powerhouses in NCAA Basketball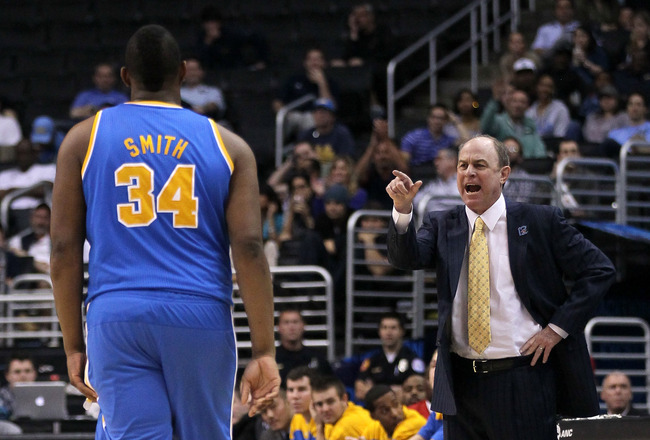 Stephen Dunn/Getty Images
When was the last time that Kentucky, North Carolina and UCLA were all out of the Top 25 at the same time?
All three of these powerhouse programs started the season ranked, but after some early season struggles, found themselves out of the polls and trying to figure it all out.
Now, as the college basketball season enters the month of February and Selection Sunday is only six weeks away, these teams need to work out their issues in a hurry before it's too late.
Let's take a look at three-step plans for each of these teams so that they can make exciting stretch runs and get themselves into this year's NCAA Tournament.
Kentucky Wildcats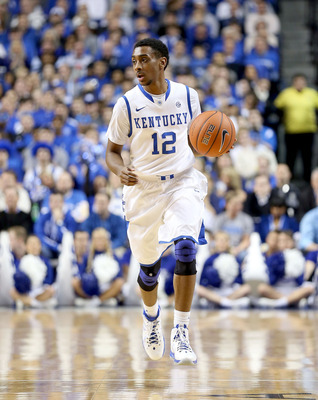 Andy Lyons/Getty Images
Kentucky is on track for their worst season under John Calipari.
With a 14-6 record, the Wildcats will have to win 15 more games just to equal Coach Cal's lowest win total in his time at UK.
The defending champs' current RPI (46) puts them right behind Western Athletic Conference wonder, Louisiana Tech. No disrespect intended, Bulldogs.
To get UK back on track for a stretch drive, the Cats need to take the following three steps:
Improve their FT Shooting
Right now, Kentucky is a bad free throw shooting team.
On the year, the Wildcats are hitting 64.3 percent (295 of 459), which means that they are not even connecting on two of every three freebies. Talk about giving away points. This level of FT ineptness puts UK at No. 300 in the nation. Brutal.
The two worst brick layers among the starting five are Nerlens Noel (54.1 percent) and Ryan Harrow (pictured; 61 percent).
How the heck does a starting guard on a Division One team only shoot 61 percent from the line? Will teams start employing a Hack-a-Harrow strategy?
Time to put up some extra shots after practice, guys!
Push the Tempo
In the Wildcats' six losses, Kentucky has averaged 62.6 points per game, almost 14 below their season average.
Calipari has the horses. Even UK's bigs can get out and fill the lanes. Archie Goodwin and Alex Poythress are both lethal slashers.
Make 'em run, Coach Cal!
Keep Wiltjer in the Flow
In the last five games (which the Cats have gone 4-1), Kyle Wiltjer is averaging over 16 points per game, and has been the team's leading scorer in four of these five outings.
This is no coincidence.
Rather than just playing every-Cat-for-himself ball, Kentucky is more effective and efficient when the team looks for the 6'10" sophomore from Portland, OR.

North Carolina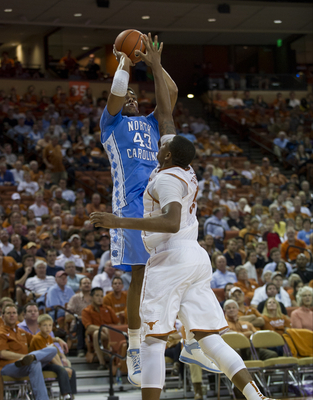 Cooper Neill/Getty Images
North Carolina's 2012-13 season has had more ups and downs than the Intimidator roller coaster at Carowinds.
The Tar Heels have never won more than four games in a row this year.
UNC has the exact same unexceptional record as Kentucky: 14-6.
To prevent a Selection Sunday setback, Carolina need to carry out the following three steps:
Get to the Rim
One of the flaws of this year's North Carolina Tar Heels' team is their willingness to settle for jump shots.
They are more than happy to pass the ball once or twice on the perimeter and then put up a jumper.
Fortunately for Roy Williams, the Heels are a pretty good shooting team (44.8 percent from the floor).
Get to the Line
UNC is one of the worst teams in Division One hoops in free throw point percentage. They only get 14.9 percent of their points off of free throws (No. 341 in the nation).
Part of this is that the Tar Heels are a bunch of bricklayers from the line (64.7 percent). But, this low FT point percentage comes from the fact that they only go to the line 18 times per game.
The double-edged sword of not getting to the line more often is that Carolina is not only giving away points but they are also failing to get the other team in foul trouble.
Get out and Defend the Arc
The Tar Heels are allowing their opponents to shoot 35 percent from beyond the arc. That's No. 243 in the nation.
Roy Williams has the athletes who can shadow their matchups and challenge their shots from distance.
If UNC is going to get on a roll in the last stage of the regular season, they need to shoot for not allowing their opponents to less than 30 percent for their remaining games.
UCLA Bruins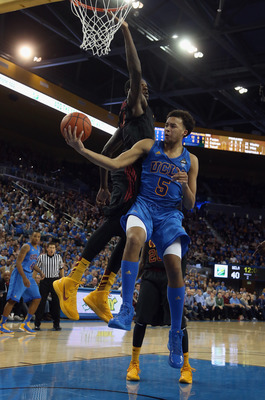 Jeff Gross/Getty Images
Unlike the other two struggling powerhouses, UCLA is in the middle of a mixed up mess.
The Bruins have lost three of their last four games. The strange part about this stretch is that they beat Arizona on the road and then lost to Arizona State and, then, USC.
There's plenty of talent on Ben Howland's roster. But talent alone won't get it done.
To prevent UCLA's fall from becoming a free fall, the Bruins need to execute the following three steps:
Find Some Focus
Half the time, UCLA plays like they care and half the time like they don't give a rip about what happens in the game in which they are playing.
The Bruins lack of concentration and care at times is mind-blowing.
With the players they have, they should not be losing to teams like Cal Poly and, now as of last night, USC.
Keep the Ball in Shabazz's Hands
Shabazz Muhammad is not only UCLA's leading scorer, but also one of the most dangerous offensive players in the nation.
UCLA is 8-1 when Muhammad scores at least 20 points.
The 6'6" freshman SG doesn't need help getting his own shots, but if I were coaching the Bruins, I would be looking to make sure that Muhammad gets plenty of touches and that one of the Wear twins set a bunch of picks for him.
Discover "Ben Howland" D
Most of UCLA's success under Ben Howland has been driven by defense.
The teams that made it to three straight Final Fours (2005-2008) could put the ball in the hole, but their trademark was shutting other teams down.
If this year's team begins to use their athleticism to lock down their opponents, look out.
If they focus more on trying to outscore their opponents, the Bruins could end up losing a handful of games and miss this year's March Madness.
Keep Reading

UCLA Basketball: Like this team?