Mapping out a Blueprint for a New York Giants Super Bowl Run in 2013-2014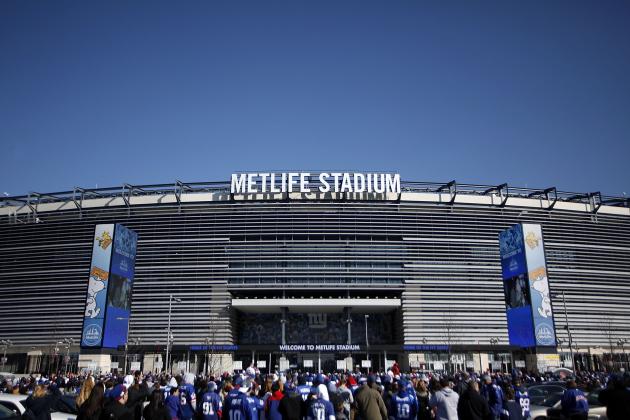 Jeff Zelevansky/Getty Images

The New York Giants hit the offseason hard this year, crashing down to Earth from their dreamy defense of the previous season's Super Bowl championship. If the Giants want to return to the big stage in 2013-2014, then they'll have plenty of work to do.
With a 9-7 record, the Giants were only a slightly above average squad in 2012. The underachievers may have been only a game away from claiming the NFC East crown, but realistically, they were a middle of the pack team that failed to catch fire when it mattered most.
There are plenty of potential moves to be made in the offseason—signing a proven free agent linebacker, drafting a brick wall offensive lineman—that may help New York win a few games next year. However, in simplest terms, the Giants need to become a better team in 2013. Click through the slideshow to find out how they'll do it.
Begin Slideshow

»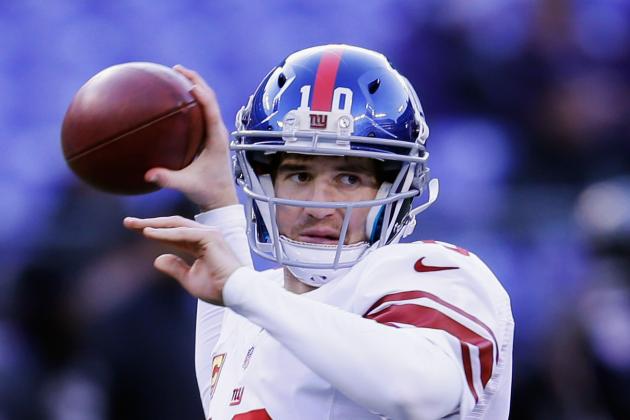 Rob Carr/Getty Images

This past season, every week when I'd turn on the Giants game, I was never quite sure which team was going to show up. It didn't matter what the pre-game pundits had to say, the Giants were the NFL's most unpredictable team in 2012.
Remember the game against the San Francisco 49ers in Week 6? The Giants won decisively 26-3, and after the game, wide receiver Victor Cruz claimed that the team had finally found its identity.
"I think we're slowly starting to form our identity," Cruz told 660 WFAN on Oct. 16. "We're a solid defensive team that likes to stop people, and you're not just going to sit back and throw the ball around on us."
Well, that clearly wasn't the case, as New York continued to get pummeled by the passing game, ultimately culminating in a blowout loss to the Cincinnati Bengals in Week 11.
Then, after an impressive 38-10 win over the Green Bay Packers in Week 12 and a 52-27 thrashing of the New Orleans Saints in Week 14, all seemed to be right again. Until, of course, safety Antrel Rolle completely misjudged the team's identity much like Cruz did eight weeks earlier.
"We're a fighting team," Rolle told the New York Post on Dec. 10. "We're going to fight until the end, and we're going to be the last team standing."
The Giants proceeded to fall flat on their faces in back-to-back weeks, losing to the Atlanta Falcons and Baltimore Ravens by a combined score of 67-14.
New York needs to develop an identity early next season. In Week 3 of the 2007 season, it was forged on their own goal-line against the Washington Redskins; in Week 4 of the 2011 season, it was established by Manning's arm against the Arizona Cardinals.
If the Giants are wandering through the season in Weeks 8 through 11 next year, still wondering who they really are, then making a Super Bowl run will be about as likely as it was this past year.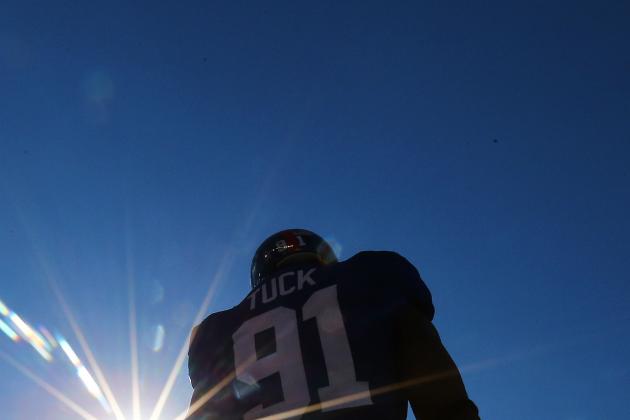 Al Bello/Getty Images

Accountability encompasses a lot, but in general, each player needs to do his job. Whether it's making a tackle, sealing a block, securing the ball, avoiding a penalty or staying healthy, every Giant needs to go the extra yard to help the team win.
It's too easy to blame the coaching staff. While offensive coordinator Kevin Gilbride and defensive coordinator Perry Fewell haven't done much to fend off the criticism they so often receive, at some point the players need to step up and perform.
And that goes for anyone who steps onto the field. The Giants could have done without the injuries to wide receiver Hakeem Nicks and safety Kenny Phillips in 2012, as the team suffered mightily without them in the lineup.
As Nicks started to wear down late in the season, battered from a full season of running routes on a bum knee, so did the Giants' passing game. It had an effect on the entire offense, and no one—not even the miraculous Eli Manning—was able to pull the team out of the seemingly endless funks it'd fall into.
Phillips, usually a dominant centerfielder, was a ghost in 2012, playing in just seven games but recording a statistic in only five. In his absence, safety Stevie Brown enjoyed a career season, hauling in a team-leading eight interceptions (second most in NFL).
Although Brown showed a degree of accountability, the secondary was terrible in 2012, conceding over 4,000 yards through the air and allowing 60 pass plays of 20 yards or more.
The Giants "value" linebackers and offensive linemen were anything but valuable last season. Versatility may have been what landed starting jobs for players like left guard Kevin Boothe, right tackle David Diehl and linebackers Mathias Kiwanuka and Michael Boley, but it ended up holding the team back in 2012. None of the four excelled at his respective position this past season.
Super Bowl caliber teams find ways to win even when they're forced to field reserves or less-than-ideal talent.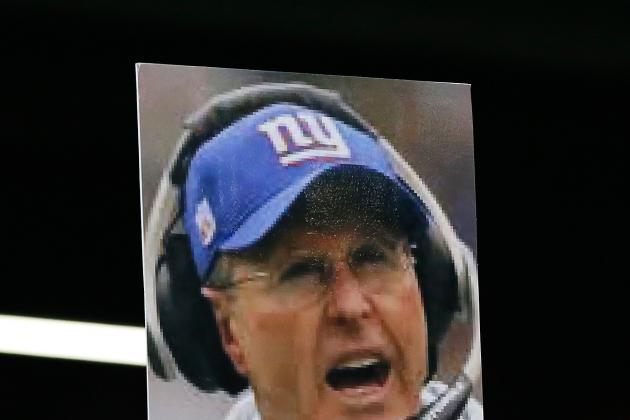 Kevin C. Cox/Getty Images

The Giants showed all the worst symptoms of a Super Bowl hangover in 2012: underwhelming superstars, a record not indicative of the team's talent and a crippling dependency on the previous year's success.
Seemingly every standout from the Giants 2011 Super Bowl cast took a step back this past season. New York's dominant core of defensive ends—Jason Pierre-Paul, Osi Umenyiora and Justin Tuck—suffered the biggest drop off. Cornerback Corey Webster was right up there with them.
Even players that had a particularly strong showing in 2012 still fell short of the bars they set the season before. Quarterback Eli Manning threw for under 4,000 yards for the first time since the 2008 season, and wide receiver Victor Cruz came up almost 500 yards shy of his record-setting 2011 season total.
When the Giants played their best ball, they looked unstoppable; they won six games in which they scored 35 or more points. There were also six games, however, that the Giants completely fell apart, scoring fewer than 18 points.
The Giants' inconsistent performances yielded only nine wins, a mark that would surely be higher had they been able to reach their full potential more often in 2012.
What hurt New York most though, was the team's mentality down the stretch. The Giants weren't able to play with a sense of urgency as the lead in the division slowly slipped from their grasp in the season's final weeks.
Officially putting the Giants' Super Bowl victories in the rear-view mirror will only help the Giants in 2013. The further the team is separated from that type of success, the deeper the hunger will be to replicate it.