UFC 156 Weigh-in Results for Jose Aldo vs. Frankie Edgar Fight Card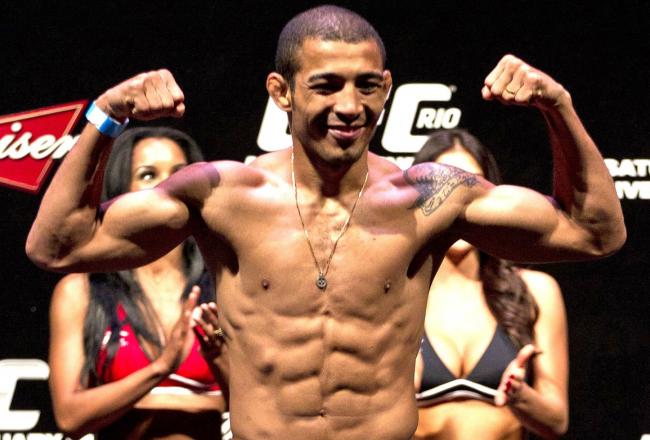 The UFC heads back to Las Vegas this weekend for its annual Super Bowl weekend event. Headlining the bout, which will take place on Saturday, Feb. 2 from the Mandalay Bay Events Center in Las Vegas, will be a featherweight title bout. Jose Aldo will put his 145-pound crown on the line against former UFC lightweight champion Frankie Edgar.
Full weigh-in results:
Jose Aldo (145) vs. Frankie Edgar (144)
Rashad Evans (206) vs. Antonio Rogerio Nogueira (206)
Alistair Overeem (264) vs. Antonio Silva (262)
Jon Fitch (171) vs. Demian Maia (170)
Joseph Benavidez (126) vs. Ian McCall (125)
Evan Dunham (155) vs. Gleison Tibau (155)
Jay Hieron (168) vs. Tyron Woodley (170)
Bobby Green (155) vs. Jacob Volkmann (156)
Yves Edwards (155) vs. Isaac Vallie-Flagg (156)
Chico Camus (134) vs. Dustin Kimura (139.5)*
Edwin Figueroa (137.5)* vs. Francisco Rivera (137)*
*will have extra time to make weight
On to the main event, Jose Aldo vs Frankie Edgar in a featherweight title fight. Frankie Edgar runs to the stage and hits the scale at 144, the champion also runs to the stage and he weighs in at 145.
Next up is the co-main event. Antonio Rogerio Nogueira comes in at 206, while Rashad Evans comes in at 206 as well.
On to the heavyweight division. First to the scale is Antonio Silva and he takes his time getting to the scale, but once he does he comes in at 262. Alistair Overeem sports a "Haters Gonna Hate" shirt and he comes in at 264.
Dana White gets right between these two, but no fireworks.
On to the welterweights, first up is Demain Maia and he's in at 170, while Jon Fitch comes in at 171.
On to the main card and the first fight will be a flyweight contest. Ian McCall comes to the scale first and he's in at 125, while Joseph Benavidez comes in at 126.
On to the lightweights. First up we have Evan Dunham, who weighs in at 155. His opponent Gleison Tibau comes in at the same weight, 155.
Next up we have welterweights Jay Hieron and Tyron Woodley. Hieron hits the scale first and he comes in at 168, while Woodley comes in at 170.
Another lightweight scrap up next. First to the scale is Bobby Green, who comes in at 155, while his opponent Jacob Volkmann comes in at 156.
Next up we have Isaac Vallie-Flagg versus Yves Edwards. Vallie-Flagg comes in at 156, while Edwards is in at 155.
So maybe Burt's scale wasn't off after all.
Next up we have Chico Camus versus Dustin Kimura and Kimura comes in at 139.5. Camus comes to the scale and he's in at 134.
Well, one out of four have made weight so far.
First fighters to hit the stage are the bantamweights Edwin Figueroa and Francisco Rivera. Rivera steps to the scale and he is 137, and we go right to the towel and he remains at 137. Figueroa steps to the scale and the weight rockets to the top and he is 137.5.
"Maybe your scale was off Burt" can be heard.
No surprise that Jose Aldo looks kind of miserable walking to the weigh ins, while Frankie Edgar seems fine.
This article is
What is the duplicate article?
Why is this article offensive?
Where is this article plagiarized from?
Why is this article poorly edited?