Tennessee Volunteers: Top Stories to Follow Entering Spring Practice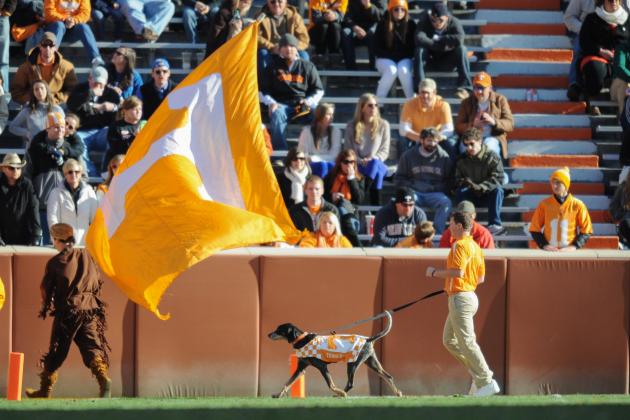 Randy Sartin-USA TODAY Sports

The Tennessee Volunteers will officially begin the Butch Jones era as they enter their first spring practice with their new head coach on March 9th, 2013.
The Vols ended the 2012 season with a 5-7 (1-7 SEC) record and are looking to finally restore their dominance in the SEC after years of rebuilding. As spring practice approaches, there are many stories Vols fans will look to follow leading up to the team's official kickoff to the 2013 season in August.
Begin Slideshow

»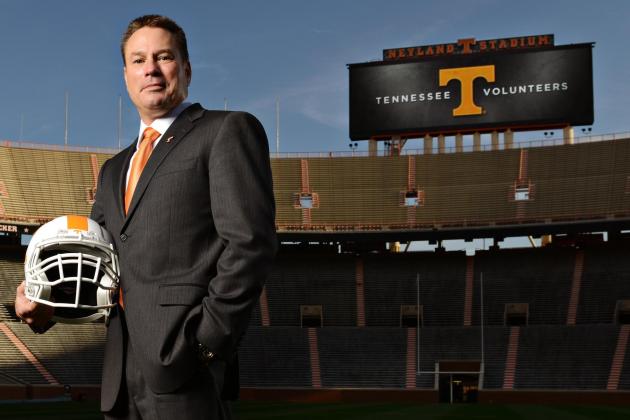 Butch Jones enters his first season in Knoxville with an overall coaching record of 77-50 during his previous stints with Central Michigan and Cincinnati. Jones inherits a Tennessee Volunteer team that ranked 107th in total defense and is without its entire starting passing attack.
Jones' offensive style can best be described as a hybrid of many schemes. Jones claims to have a no-huddle pro style offense.
Tennessee's staff includes many of Jones' former assistants from Cincinnati, which brings familiarity to the scheme.
The Vols lone returning coach is Jay Graham, a former UT running back who excelled in coaching in 2012 at his old position. Graham contributed to improvements from returning senior Rajon Neal. Tennessee also adds former Auburn assistants Willie Martinez and Tommy Thigpen on defense, as well as former Wisconsin wide receivers coach Zach Azzanni for the same position.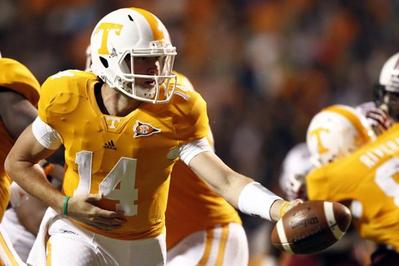 When Tyler Bray decided to forego his senior season at Tennessee and declare for the 2013 NFL draft, the stage seemed to be set for junior quarterback Justin Worley to take the reins. Worley, a former Gatorade National High School Player of the Year, has seen little playing time since enrolling at UT, spending the majority of snaps behind Bray on the depth chart.
However, Worley will be challenged by redshirt freshman Nathan Peterman. Peterman, who was recruited heavily by Butch Jones while at Cincinnati, could be a better fit for Tennessee's new high-paced offense.
Peterman brings a mobile ability to the Tennessee Vols' offense that Worley lacks. It will be interesting to see if Jones and staff chose the playmaker over the pocket passer.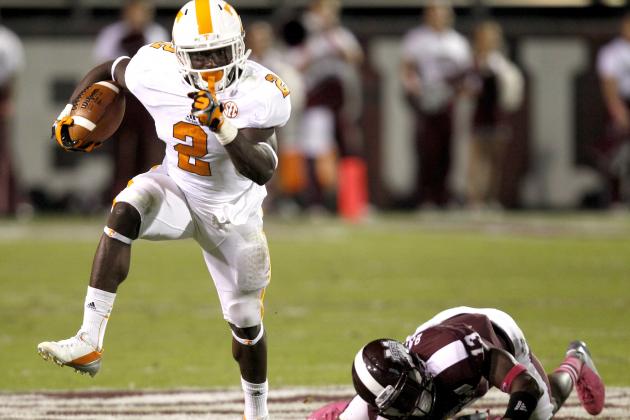 Butch Dill/Getty Images

The Tennessee Volunteers will be without their top three wide receivers and tight end from 2012. The Vols' wide receiving corps is young and lacks experience.
Vincent Dallas and Alton "Pig" Howard both saw limited playing time last season. Dallas has a career total of 12 catches for 186 yards and a touchdown. Howard, who saw the majority of snaps from the wildcat formation, had a total of 98 yards as a freshman with one receiving touchdown.
Incoming freshmen Marquez North and Paul Harris will also compete for playing time. According to Rivals.com, North and Harris are both 4-star wide receivers that can make an immediate impact. One, if not both freshmen wideouts, may emerge as the top target for the Vols this season.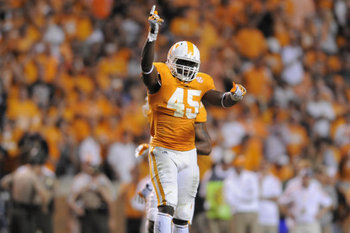 Sal Sunseri is gone. Tennessee fans are extremely pleased to hear that news.
Under Sunseri, known comically by many Tennessee Vols fans as "Swiss Cheese Sal", Tennessee was 107th in total defense, while allowing 40-plus points in five games.
A.J. Johnson was one of the few bright spots for the Tennessee defense. Johnson led the Vols with 138 total tackles.
When healthy, fellow linebacker Curt Maggitt showed signs of potential for the Vols.
The two linebackers return for their junior season and could be an impressive tandem with another year of experience under their belt, especially considering the depth the Vols have lacked over the past few seasons at the linebacker positions.
Byron Moore was also a bright spot for the lackluster Tennessee defense. Moore was second amongst all Vols in total tackles with 86 and first in interceptions with five. If fellow safety Brian Randolph can return to full strength following his ACL tear, the duo may be one of the better safety tandems in the SEC.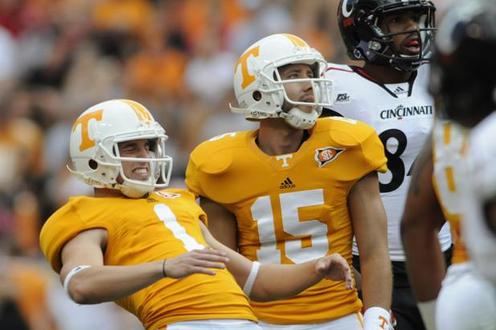 Since 2008, the Tennessee Vols have been a consistently bad team for different reasons. The most consistent factor contributing to Tennessee's lack of success has been kicking.
First, it was Daniel Lincoln. Lincoln not only missed game deciding field goals, but he was, at times, in-capable of connecting on PATs.
The Vols then recruited the No. 1 overall high school kicker in the country, St. Thomas Aquinas' Michael Palardy. Since joining the Vols, Palardy has done little to avoid negative comparisons to Lincoln.
In fact, Palardy's kicking has been so bad that the Vols took Derrick Brodus literally off of a fraternity house couch and decided to start him at kicker hours before a game in 2011. Not that Brodus has been very consistent either, but enough so to gain a scholarship from the team.
Andrew Gantz, the No. 8 overall high school kicker according to 247sports.com, has agreed to take a preferred walk-on offer to join the Vols. Gantz may be the frontrunner in this competition, unless Palardy can prove to Butch Jones something he has yet to prove to Tennessee fans and former coaches.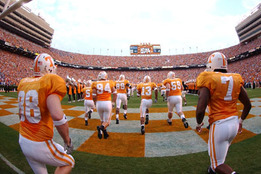 It's a new era in Tennessee football. A new coach brings a fresh start and many unanswered questions.
Tennessee fans will have plenty to follow as they countdown to kickoff this season.