25 Best Fighters Outside the UFC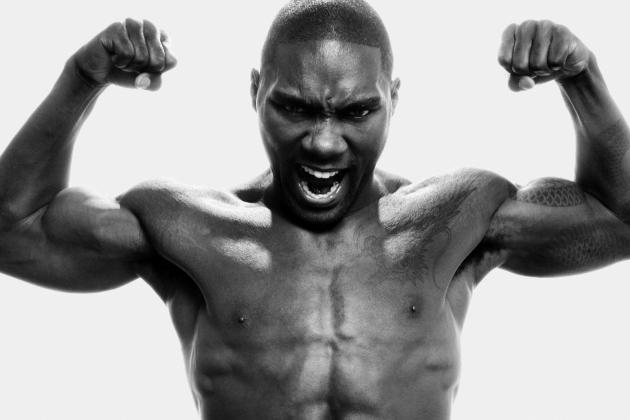 Photo courtesy of MMA Diehards
UFC parent-company Zuffa has made it a practice of purchasing any promotion to hold a noteworthy roster of fighters. Over the years Zuffa's purchased and collapsed some powerhouse promotions in Pride Fighting Championships and the World Extreme Cagefighting to name just a few.
While they don't appear poised to stop the run of Bellator anytime soon, they're already eyeing some of the promotion's top talent.

But as powerful as Zuffa may be, there will always be other existing promotions, and if they aim to exist for any significant period of time, they've likely signed a few recognizable names and upper-echelon talents.

Believe it or not, the UFC isn't host to every elite fighter in the business. Here and there you'll find a memorable prospect or seasoned veteran of high regard competing in smaller shows. This is a look at 25 of the best combatants still waging war beneath a banner that reads something other than 'UFC.'
Begin Slideshow

»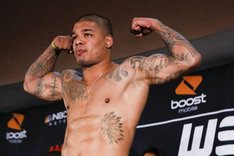 Photo courtesy of MMAFighting
Too early? Perhaps. That doesn't matter, Spong has all the tools to be a superstar in this business.

A warm personality supports his explosive striking skills, and while we've yet to see what kind of ground game Spong possesses, it's almost irrelevant with a fighter as unique as Tyrone.

Spong is one of the few guys with a dynamic enough striking arsenal to warrant looking beyond his ground pedigree, to an extent.

Eventually Spong's grappling will be put to the test, but he's already agile, fast and explosive enough to stuff plenty of shots and pick up plenty of W's with his four extremities.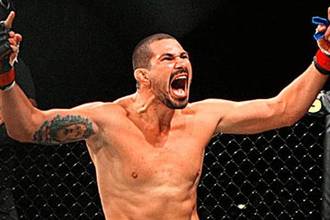 Photo courtesy of Knuxx
Vegh may end up being a far better fighter than anyone imagined.

A virtual unknown prior to his Bellator 66 debut, Attila has put together an impressive resume that includes 28 victories against just four defeats and two draws.

"Pumukli" currently rides a nine-fight unbeaten streak and has tasted nothing but victory inside the Bellator cage, piecing together four straight wins, including first-round stoppages of Zelg Galesic and Travis Wiuff.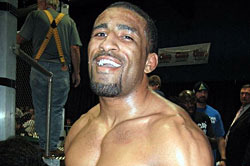 Photo courtesy of MMAweekly
Who is Jerrod Sanders? He's an interesting prospect who has managed to fly under the radar for a number of years now.

Sanders has dropped a single bout in his 12-fight career, and while he hasn't exactly been mowing through top-flight competition, his work ethic and record are indicative of a man with serious career designs and major promise.

Jerrod went 4-0 in 2012, with only one of those matches making it into the judges' hands.

If Jerrod can snag an early career-defining win on the regional circuit, he may earn himself a chance on the big stage. That said, a big win is in dire need: nearly every single man Jerrod's beaten sports a losing record.
Photo courtesy of MMA Diehards
"Rumble" has turned his career around despite being exiled from the UFC last January.

With a 4-0 record since parting ways with Dana White and Co., Johnson's enjoying a professional resurgence at 205 pounds.

Light heavyweight appears to be a comfortable weight class for this heavy-handed wrestler. Johnson looks crisp, quick and as powerful as ever, proving that draining the body in order to compete at a lighter weight class isn't an automatic ticket to success.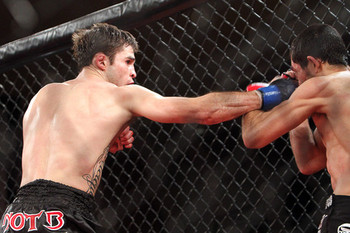 Photo courtesy of Examiner
"The Mongoose" is one of the world's better 125-pounders, and with the UFC looking to beef up its lower weight classes, we may soon see this youngster get his chance to compete with the top dogs at flyweight.

Montague sports an impressive 12-2 record, and he holds wins over quality opposition like Mamoru Yamaguchi and Ulysses Gomez. At only 25, he's also got plenty of time to develop and a few more years before he likely starts to flirt with physical prime.

Montague won't remain an unknown commodity for long.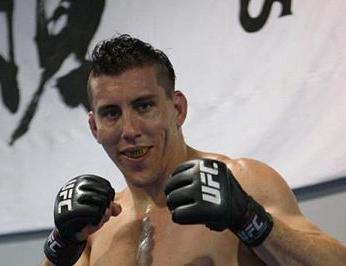 Photo courtesy of MMABay
"JT Money" is one of the few TUF castaways that really deserves another shot in the UFC. When Taylor performs at his best, he turns in solid showings.

Taylor boasts a solid record of 24-9 (18 of those wins via stoppage, for those champing at the bit to brand him a point-fighting wrassler) and unlike some of the men on this list, he's already beaten some very tough guys in his time away from the octagon.

Victories over Denis Kang, Tom Watson, Murilo Bustamante, Jason Day and Chris Camozzi look pretty impressive for a man once completely written off by UFC brass. It may be time to give Taylor another shot on the big stage.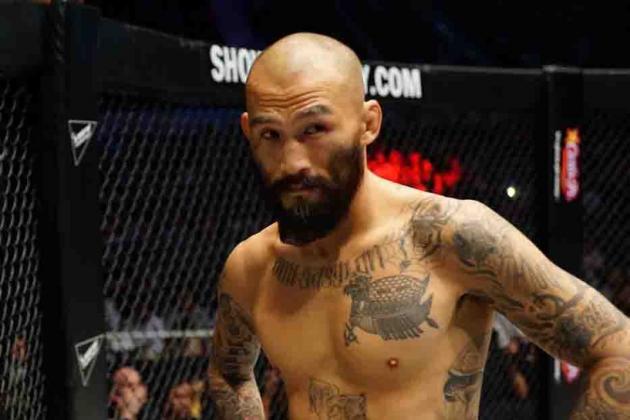 Photo courtesy of Combat-Asia
Boku's never gotten the respect he deserves stateside despite turning in a few thrilling performances and earning some respectable wins.

A JMMA mainstay, Boku's proven his willingness to fight tough guys, and he's shown himself capable of beating respectable opposition in the process. W's over Yoshihiro Koyama, Hermes Franca and Yutaka Ueda are certainly nothing to scoff at.

I'd love to see Boku make a permanent stateside jump and compete at 145 pounds. Even at 35, Boku looks to have a few good years left in him, why not spend them here in America competing amongst the best?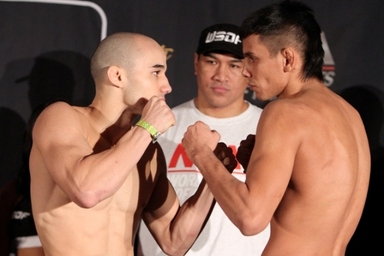 Photo courtesy of The MMA Corner
Moraes made a huge statement in November when he bullied former WEC champ Miguel Torres for three rounds inside the World Series Of Fighting cage.

After a rocky career stretch from 2008 to 2011, Moraes seems to have found himself as a professional fighter.

He's currently riding a three-fight win streak in which he's looked like a fighter who finally "gets it." Let's get him inside the octagon soon, as he's a star on the rise.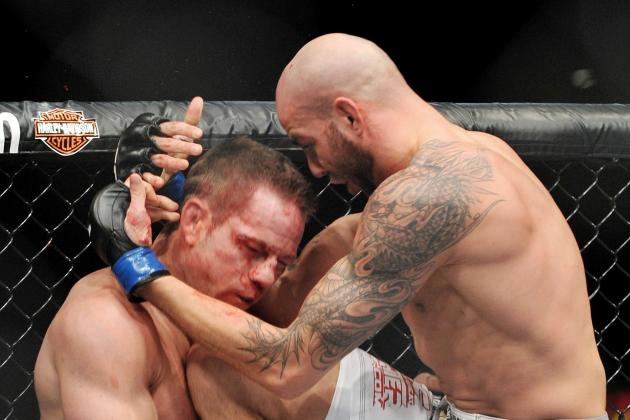 Jon Kopaloff/Getty Images

No pretending here: Ben Saunders probably isn't UFC champion material. However, he is always dangerous, loves to engage in violent striking contests and carries a fan-friendly charm.

His penchant for savage beatdowns earns him a vote from me.

The man is capable of competing inside the UFC, he's already proven it. Bring him back, I say!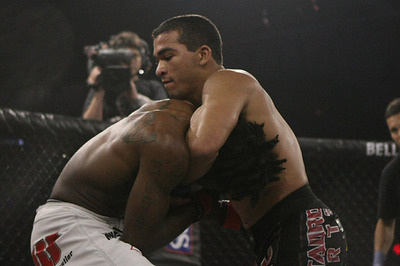 Photo courtesy of Sherdog
"Pitbull" fights like every match might be his last. He's an exciting kid and it's tough to watch the man compete and not be entertained. He always brings his A-game, plain and simple.

Sporting a gaudy 17-2 record, Patricio has only come up short against two champions in Joe Warren and Pat Curran, and both of those fights were razor-thin split-decision losses.

He's ready for the big leagues, and that's all there is to it.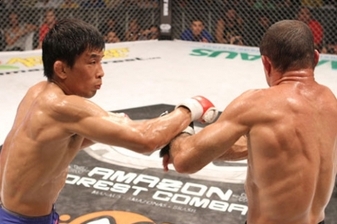 Photo courtesy of portal do vale tudo
After nearly eight years as a professional, Ueda remains one of the top dogs of the Japanese MMA circuit.

This guy is impressive everywhere the fight goes, and while that pretty record may take on quite a few blemishes should Ueda be afforded the chance to compete in the octagon, he's a well-rounded enough fighter to earn victory within the octagon.

His offense may not be the most fan-friendly thing you'll spot inside a cage, but his fight IQ is surprisingly high, and he knows how to win convincingly.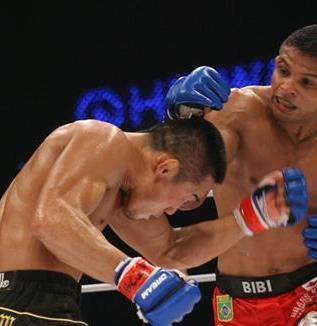 Photo courtesy of USA Today
Fernandes does a pretty good job of living up to his nickname of "The Flash." The man's quick, and more importantly, his awareness in the heat of the moment has begun to illustrate a capable finisher.

At 13-3, with five consecutive wins under his belt, Bibiano is peaking as a professional fighter.

The man's expressed displeasure with the UFC's contract structuring and detail in the past, so I'm not banking on this man making it over to join the Ultimate Fighting Championship's ranks anytime soon, but he'd make for a fun addition to the bantamweight division all the same.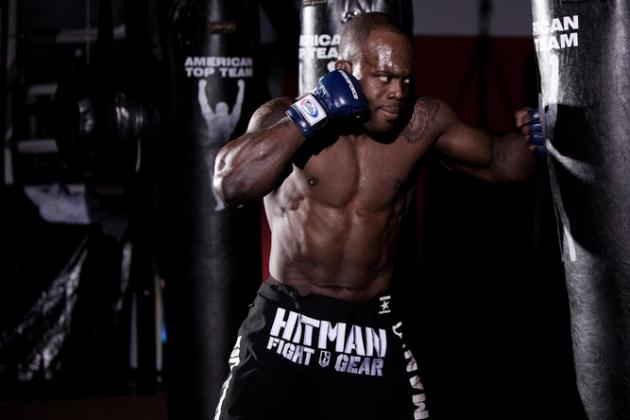 Photo courtesy of The Fight Nation
At 36 years old, with nearly 40 bouts on his ledger already, Melvin Manhoef is running out of time. It isn't likely we'll see "No Mercy" still competing in another five years, and that's a shame: a prime Manhoef inside the UFC's octagon sounds like a recipe for memorable brutality.

A finisher though and through, Melvin's secured 25 of his 27 victories by way of knockout, and he's managed to put away some dangerous dudes, including one of MMA's most durable men, Mark Hunt.

Do I really need to say more?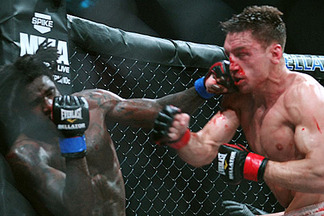 Photo courtesy of ESPN
Straus isn't yanking down the attention of the MMA masses, but he probably should be. This dude is ferocious in the cage, comfortable under fire and tenacious as they come.

A fantastic wrestler who's proven surprisingly savvy in scrambles, Straus already has the tools to compete inside the octagon. Perhaps we'll see him take his impressive 21-4 record to the top of the mountain soon.
Momentum is clearly on the man's side!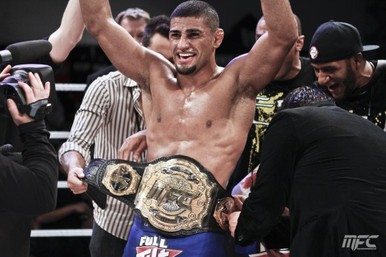 Photo courtesy of The MMA News
Lima is a killer in the cage. This dude has mastered counter striking, and he's got serious power that accompanies his pitch-perfect timing. You can't just rush Lima and hope for good things.

But many have tried, and that's enabled "The Phenom" to pick up nine stoppages via strikes. Lima's gone to a decision just six times in 28 fights. He's finished 20 of 23 foes.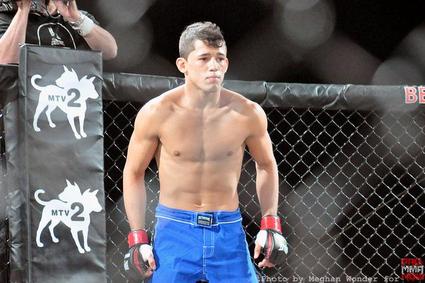 Photo courtesy of Meghan Wonder
Bellator bantamweight ace Eduardo Dantas is precisely the kind of fighter a promotion hopes to wrangle early. The kid's all of 23 years old, and he's already got 17 fights bagged as a professional.

With 14 of those fights yielding successful results, it's impossible to deny Dantas' talent.

The young Brazilian is a very well-rounded competitor who turns in aesthetically pleasing fights and knows how to finish. The fact that he already holds a Bellator title at 23 speaks volumes.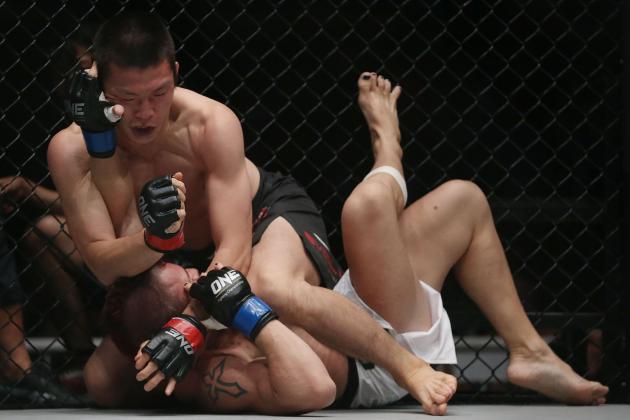 Chris McGrath/Getty Images

It's hard to gauge how much time Shinya Aoki has left as a professional. He's pretty much the prototypical hot/cold fighter. Sometimes Aoki looks like a Terminator with a mission to submit, and sometimes it looks as though he believed he was safe phoning in a performance.

When the "Tobikan Judan" performs at his best, he's a fighter's nightmare and a doctor's job security. Shinya's a submission wizard with a taste for the sadistic: seeing the man hold a submission beyond the breaking point isn't unheard of.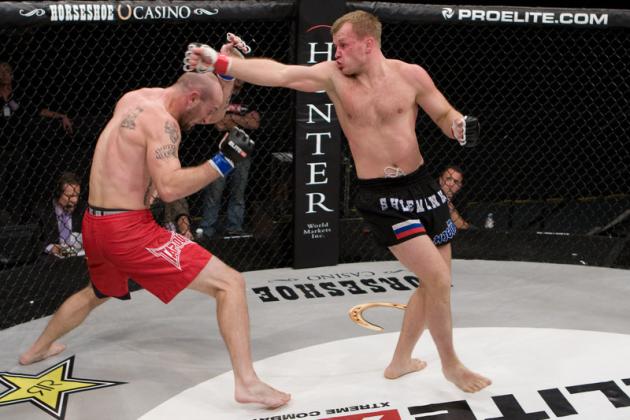 Photo courtesy of CoolMMAVideos
Hardcore fans are likely more than familiar with Shlemenko. The guy's style is absolutely amazing, as he always shows up to finish, and those who crave MMA on all platforms have known this for years.

Alexander is never part of a boring fight, and he's one of the few middleweights floating around outside of the UFC ranks who could likely find substantial success inside the octagon.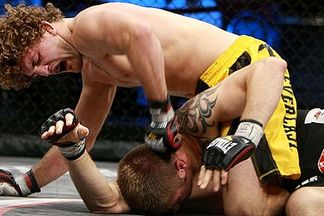 Photo courtesy of Vigilante MMA
Ben Askren may not stir the belly butterflies when implementing his grind 'em down style, but he's easily one of the most effective and unique wrestlers competing today.

This dude's nickname is "Funky", and he really embodies the word. Askren's movement looks a bit awkward, which enables him to bring a little unpredictability to the table. Opponents know the takedown awaits, but it's tough to read Ben's body, and that puts guys on their toes.

The best body lock takedown in the business is owned by Ben Askren. It's very easy to argue that he also possesses the greatest top control at 170 pounds sans UFC welterweight champion Georges St-Pierre.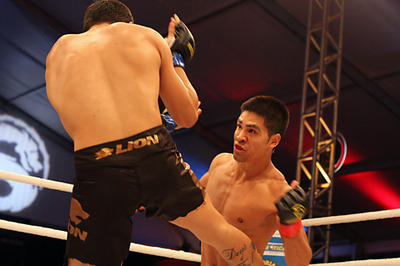 Photo courtesy of Sherdog
Tyson Nam has long been praised in the MMA community. However, a marquee victory eluded Nam's grasp up until August of last year when he knocked out Bellator champ Eduardo Dantas in under 90 seconds.

Since that moment at Shooto Brazil 33, Tyson's been a guy pundits are talking about. At 29, he hovers around his physical prime and it shows in his performances as of late.

Nam rides a four fight win-streak and is rumored to be meeting Marlon Moraes in the near future. Barring a terrible fight, the winner emerges a certified rising star.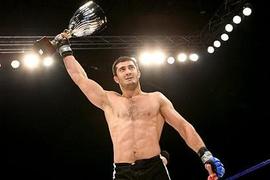 Photo courtesy of Ranking MMA
Now that Strikeforce has been absorbed by the UFC, Khalidov is the best middleweight competing outside of the UFC.

With 26 victories under his belt, Khalidov has failed to finish a winning fight just once. The guy finishes, and he does so in diverse fashion. Eleven (T)KOs, and 14 submissions loiter on the man's resume, and he's already taken out quite a few UFC send-offs.

In Khalidov's last 10 outings, Mamed has beaten Jorge Santiago, Yuki Sasaki, James Irvin, Matt Lindland, Jesse Taylor, Rodney Wallace and Kendall Grove, all of whom are former UFC fighters.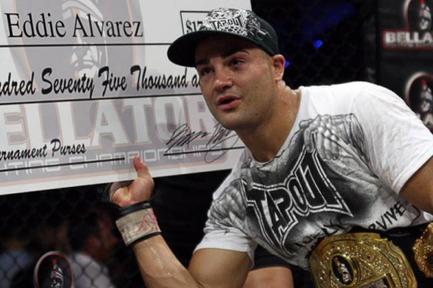 Photo courtesy of Bellator
Eddie's current contract dispute with Bellator has been an extremely well-publicized affair. Alvarez clearly aspires to make the trip to the UFC, but Bellator's doing everything in their power to ensure that doesn't happen.

For the time being, Eddie's not a Zuffa employee. That could change, and soon, but it's likely going to take more court time and frustration before Alvarez escapes the grip of Bjorn Rebney.

For now, we'll consider Eddie Alvarez a big fish in the Bellator lake (I think the promotion has successfully elevated above the "pond" level at this point).
A rematch with Michael Chandler looks to be the only match-up of genuine intrigue for him inside the Bellator cage, but we'll see how the promotion fares in the way of roster expansion in the light of the move from MTV2 to Spike.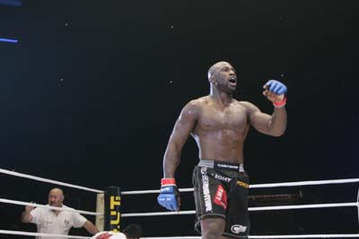 Photo courtesy of MMABay
"King" Mo Lawal might be the best wrestler in the game at 205 pounds. He's definitely the best wrestler not signed with the UFC at this moment.

Fortunately for Mo, he's also working on developing some quality striking, possesses natural knock out power, and brings big charisma to the microphone. The guy's not only one hell of a fighter, he's also marketable.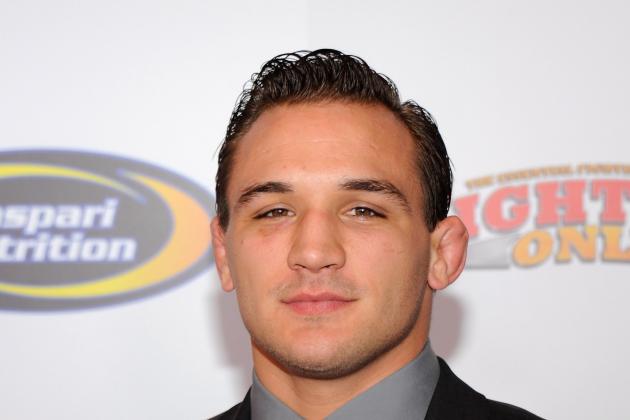 Ethan Miller/Getty Images

Michael Chandler looks like he could find himself the next one toeing the line with Bjorn Rebney over contract issues.

We haven't heard much in regards to a move from Bellator to the UFC for Chandler, but he's a guy the UFC is likely to pursue in the near future.

Chandler's a dynamic wrestler with a proven killer instinct. His win over Eddie Alvarez at Bellator 58 really put him on the map, and if he continues to dismantle foes under the Bellator banner convincingly, it won't be long before Chandler has nowhere to go but the UFC if he aims to test himself against the best in the world.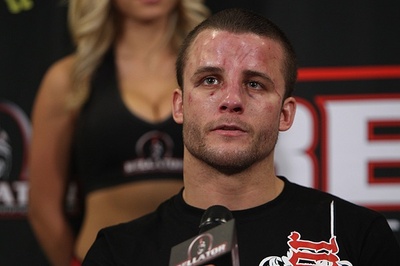 Photo courtesy of Cage Religion
Pat's spent the last few years carving his way through the Bellator ranks. His hard work and unrelenting persistence has paid major dividends, as Curran is the reigning featherweight champion with a thrilling title defense already under his belt.

Curran brings everything a MMA enthusiast desires to the table: refined striking, a willingness to engage in kick-boxing matches and effective defensive wrestling that prevents him from getting stuck beneath the division's best wrestlers.

Did I mention he's a wicked finisher? Just take a look at Curran's bout with Joe Warren for proof that he's the best guy competing outside of the octagon today.

Interesting that nearly half of this list is comprised of Bellator fighters, eh? Anyone who believes Bellator holds no chance of one day rivaling the UFC as a promotional entity should probably reevaluate their opinion.


Follow me on Twitter.