Michigan Football: Brady Hoke's 5 Biggest Offseason Concerns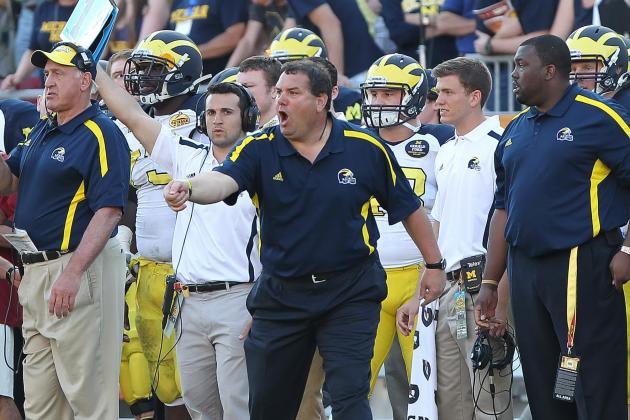 Kim Klement-USA TODAY Sports

With the two-year honeymoon behind him, it's now time for Brady Hoke to produce the championship caliber team he promised.
Gone are the ghosts of Rich Rodriguez, as another crop of Hoke's players will arrive this spring and over the summer.
Michigan's offense will finally take on the personalities of Hoke and offensive coordinator Al Borges.
On defense, coordinator Greg Mattison will continue to fine-tune the unit that has actually been better than expected.
That's not to say Michigan doesn't have several concerns. Addressing them successfully will make the difference between a repeat of the disappointing 2012 campaign, and a legitimate run at the Big Ten title.
Let's take a look at some of them.
Begin Slideshow

»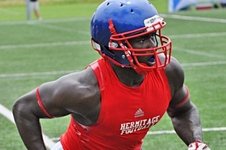 Derrick Green (via 247Sports)
From the time Hoke first arrived on campus in 2011, he often spoke of the transition from Rich Rodriguez' read-option offense to an I-formation, "smash-mouth" attack. But with dual-threat quarterback Denard Robinson at the helm, Hoke elected to place the new offense on hold.
Now that Robinson is headed to the NFL, Hoke can dust off the playbook, which was used by Michigan for 35 of the last 40 seasons.
The Wolverines will feature an explosive tailback who will run effectively between the tackles and a quarterback who will be comfortable in the pocket.
Devin Gardner, who subbed for the injured Robinson late in the 2012 season, proved he has the ability to be successful in the new system.
The chief concern is at tailback, where incumbent Fitzgerald Toussaint's availability may be in doubt since he suffered a season-ending leg injury during the Iowa game. In addition, pundits question his ability as a power runner, even though he ran for over 1,000 yards as a read-option tailback in 2011.
Spring practice might not supply the answer, either. Power runner Thomas Rawls, who showed signs of becoming a solid contributor during the season, was surprisingly kept out of the Outback Bowl, while 5'10", 183-pound Justice Hayes is more about speed than power.
Dennis Norfleet is similar in stature to Hayes, but redshirt freshman Drake Johnson could be a pleasant surprise. The 6'0", 209-pounder ran for 2,805 yards his senior year at nearby Ann Arbor Pioneer, while also earning All-American honors as a 110-meter hurdler.
Seriously, Michigan fans see the real battle occurring this fall when the nation's No. 1 rated tailback Derrick Green arrives along with DeVeon Smith, the No. 1 back from Ohio.
Also, keep an eye out for incoming freshman Wyatt Shallman from Detroit Catholic Central. At 6'3", 245 pounds, Shallman has mentioned playing tailback at Michigan, but will most likely end up at fullback or defensive end.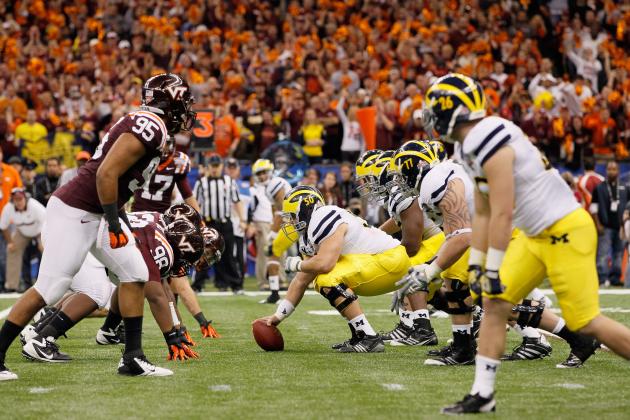 Kevin C. Cox/Getty Images

Michigan fans received great news when offensive tackle Taylor Lewan decided to return for his redshirt senior season.
His decision means that Michigan will have to replace only three starters on the offensive line—the center and both guards.
Here's where the youth movement begins. And thanks to 11 outstanding offensive line recruits in the last two recruiting classes, Michigan will have plenty of options.
In the 2013 class alone, Michigan has four of the nation's top 20 offensive linemen.
Redshirt freshman Kyle Kalis, a Scout.com 5-star recruit, has a good shot at winning the left guard slot.
Redshirt sophomore Jack Miller is penciled in at center, but incoming freshman Patrick Kugler could compete if he recovers from an offseason shoulder surgery.
And Chris Bryant, a 6'4", 318-pound redshirt sophomore, should win the right guard slot.
With all the new recruits, Michigan has enough solid linemen to create an all-freshman unit. Kugler could play center, Chris Fox and David Dawson could play guard and Kyle Bosch and Logan Tuley-Tillman could play tackle.
Talk about depth.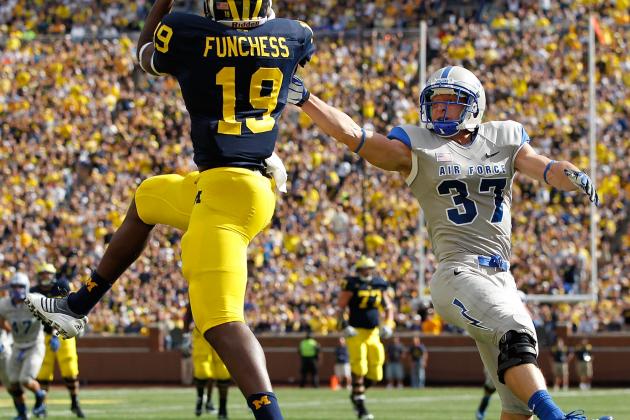 Gregory Shamus/Getty Images
Devin Funchess (19)
Beginning in 2013, the passing game will once again be an integral part of the Michigan offense.
With Devin Gardner at quarterback now and Shane Morris in the future, Ann Arbor will be a popular destination for outstanding receivers.
Over the years, Michigan produced some great ones: Anthony Carter, Desmond Howard, David Terrell, Braylon Edwards, Mario Manningham and Adrian Arrington all went on to the National Football League.
Michigan's go-to receiver this fall will most likely be Jeremy Gallon, who finished the season with 40 catches and lots of praise. Drew Dileo, who has the best shot at earning the other starting spot, is the perfect example of a possession receiver.
Lacking, of course, is the true speedster who can stretch the defense. Dennis Norfleet has plenty of speed, but at 5'7" is not what you would call a jump-ball artist.
There's always the possibility of using 6'5" tight end Devin Funchess as a wide receiver in the red zone, but a pair of sophomores (Amarah Darboh, Jehu Chesson) and a trio of freshmen (Da'Mario Jones, Csont'e York, Jaron Dukes) will have plenty of chances to display their skills.
Darboh and Jones have posted 40 times of 4.4 with Rivals.com.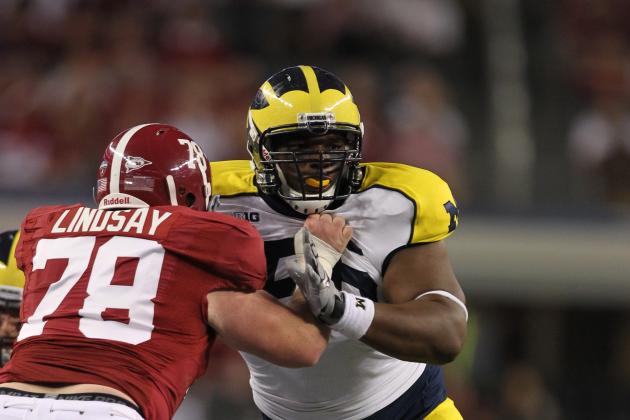 Matthew Emmons-USA TODAY Sports
Ondre Pipkins
It's a good thing defensive coordinator Greg Mattison brought a sizable group of blitz packages from the Baltimore Ravens.
Without them, the Wolverines could never pressure the quarterback. Actually, the 2012 defensive front was even worse than the one from 2011.
If Michigan plans on challenging for a Big Ten crown, the Wolverines must register a few sacks from the front four. Not having to blitz that often makes a tremendous difference to the secondary.
The Wolverines are hoping that sophomore Ondre Pipkins can evolve into a quality nose guard and Quinton Washington can pressure the quarterback from the 3-tec defensive tackle slot. That would allow Jibreel Black to move back to strong-side defensive end.
If that idea doesn't pan out, redshirt freshman Willie Henry and incoming freshman Maurice Hurst could push Pipkins and Washington.
At weak-side defensive end, look for a five-way battle featuring redshirt freshman Tom Strobel and early enrollee Taco Charlton.
Let's also not forget Henry Poggi, a 4-star defensive line commit from Baltimore, who may be on the fence due to his recent visit to Alabama.
Michigan might also consider a move from the 4-3 base defense to the 3-4. Making that move would place another linebacker on the field (Michigan's strength), while sending a lineman (Michigan's weakness) to the bench.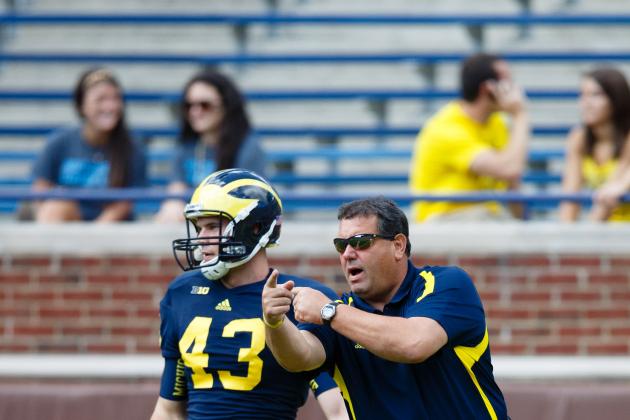 Rick Osentoski-USA TODAY Sports
Will Hagerup with Brady Hoke
Punter Will Hagerup was suspended for the third time in his career just prior to the Outback Bowl.
Hagerup, who led the Big Ten with a 45.0 average, is unsure if he will return for his senior year.
"I truthfully don't know the plans for next year," Hagerup told The Detroit News. "There's no bad blood. (Hoke) takes his football hat off, and he cares about the well-being of his players."
Matt Wile, who already handles kickoffs, long field goals and pooch punts, many acquire more work in 2013.