Pittsburgh Penguins Defeat New York Rangers 3-0 in Atlantic Division Showdown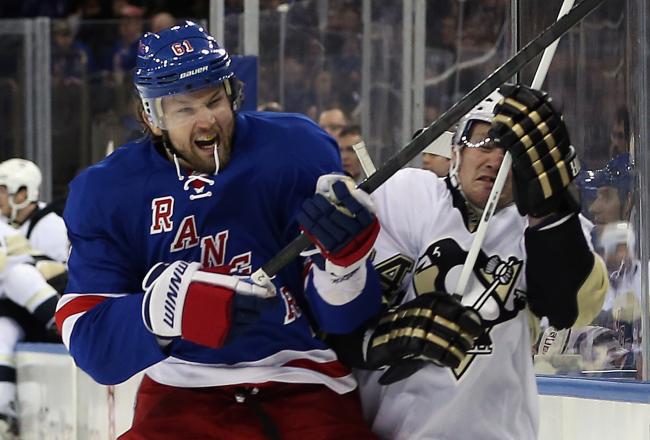 Bruce Bennett/Getty Images
The Pittsburgh Penguins defeated Atlantic Division rival New York Rangers 3-0 at Madison Square Garden on Thursday night.
Pittsburgh took a quick one goal lead early in the first period when Evgeni Malkin scored off a bad-angle shot.
Both teams played well defensively until the third period—Pittsburgh would score two goals and take away all of the Rangers' momentum.
Special teams hardly made a difference in this game as both teams failed to put the puck in on the power play.
Goaltending was superb on both sides, though, Tomas Vokoun got the best of the Rangers by netting his 49th career shutout.
Both teams will get the day off tomorrow before heading out to play again on February 2.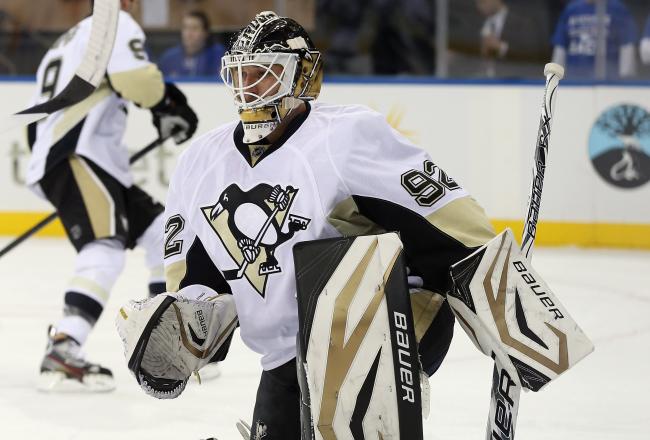 Vokoun with his 49th career shutout!
Penguins 3, Rangers 0 (1:30 3rd Period)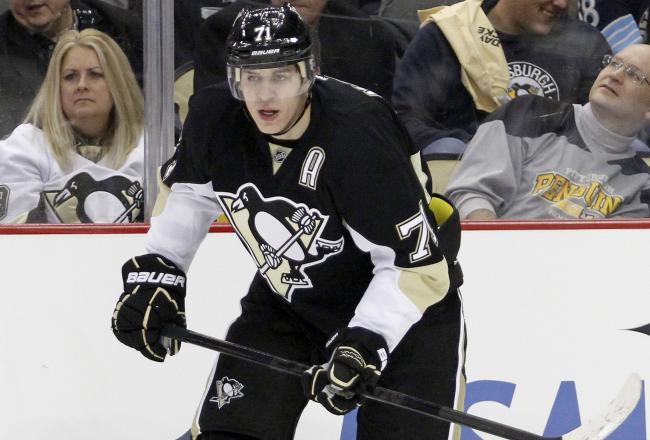 Evgeni Malkin with a goal and assist tonight.
Two more points for fantasy owners everywhere. Be happy, unless you have the New York Rangers.
Penguins 3, Rangers 0 (4:20 3rd Period)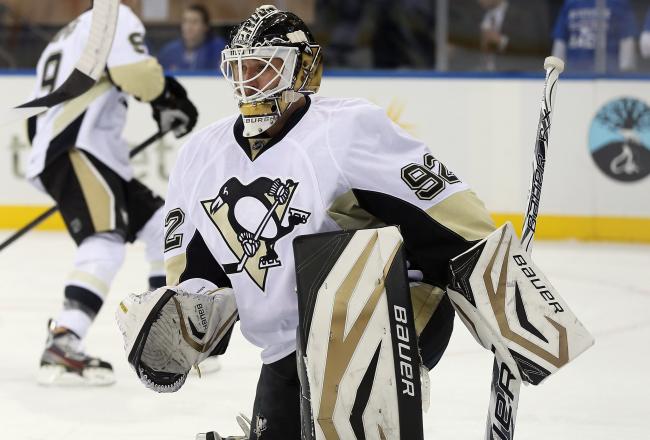 Penguins 3, Rangers 0 (5:49 3rd Period)
Will Vokoun finish off this game and get the shutout?
Rather not jinx the guy, but looks unlikely with the way he's been seeing the puck tonight.
Oh, by the way, Penguins on yet another power play.
Tortorella looks happy about it—really he does.
Penguins 3, Rangers 0 (6:50 3rd Period)
It's been a really tight defensive game but the 3-0 Penguins lead says otherwise.
Really tough night for the Rangers—need to regroup and focus on their next game.
A fight or two wouldn't hurt either for their momentum heading into their next matchup.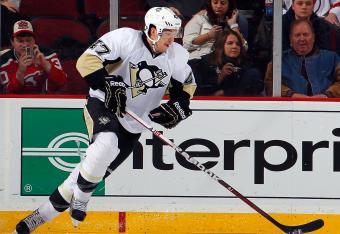 Simon Despres with the goal, unassisted at 10:23 in the third period.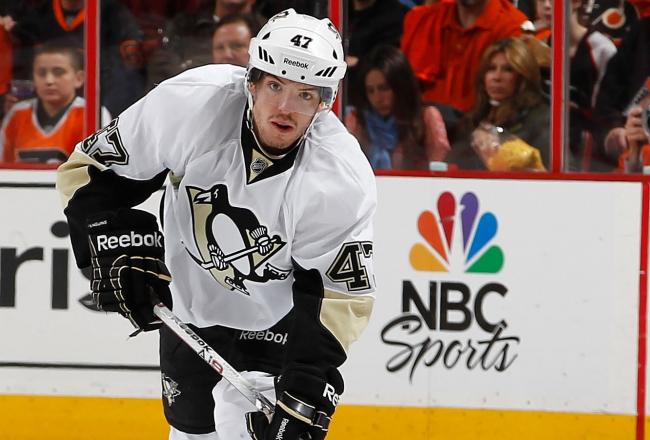 GOAL!
Two posts for the Rangers and the Penguins' Simon Despres fresh from the penalty box scores on a breakaway.
Penguins 2, Rangers 0 (10:00 3rd Period)
Same story all night, the Rangers failing to put any offensive pressure on the Penguins.
These power-plays are really deflating to the home team and the crowd.
Penguins 2, Rangers 0 (11:46 3rd Period)
Penalty to the Penguins, Rangers back to the power-play.
Rangers' top offensive line out on the ice—crowd roaring once again for a goal.
Beautiful Rangers' play ends with one-too-many passes and a post. So close to a goal, yet so far.
The crowd is getting anxious.
Rangers showing a few defensive holes, much to John Tortorella's dismay.
Penguins 2, Rangers 0 (13:12 3rd Period)
Lundqvist looks stellar in net tonight; just not as good as Vokoun does right now.
Credit to the Penguins' defense as well, taking away a lot of Rangers' opportunities before they can even set up a play.
Penguins 2, Rangers 0 (14:03 3rd Period)
Even the Rangers' first line looks deflated. Penguins doing a good job of making this game as boring as possible.
Looking for a fight to happen really soon—Rangers need gain some momentum back before it's too late.
Penguins 2, Rangers 0 (16:00 3rd Period)
That goal really killed the Rangers crowd at MSG. Really need another power-play to generate some of that momentum back.
But so far, Vokoun looks stellar in net, hard to get anything past him at the moment.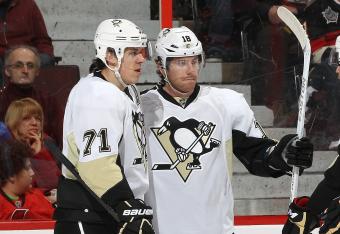 James Neal puts home the goal, assisted by Sidney Crosby and Evgeni Malkin at 28 seconds in the third period.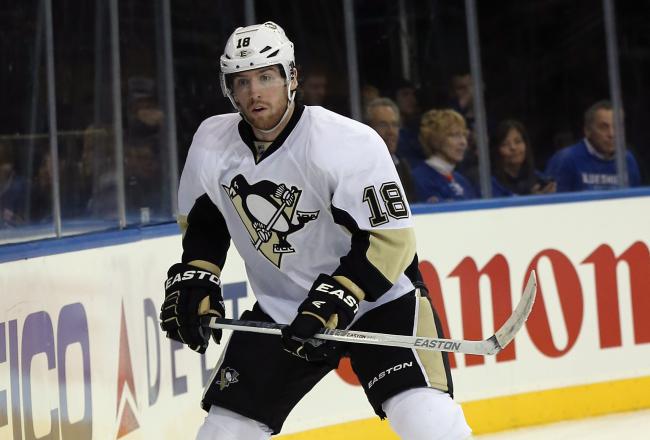 GOAL!
Finally one gets in, James Neal score off a defection on Sidney Crosby's pass.
Penguins 2, Rangers 0 (19:13 3rd Period)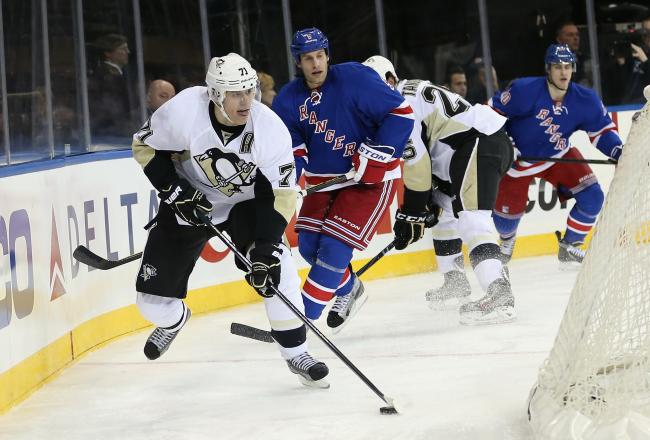 Penguins 1, Rangers 0 (2nd Period Intermission)
Good old-fashioned playoff hockey on the ice tonight.
The Penguins and Rangers fighting for every inch along the boards while the goaltending has been superb.
Looking for a few more opportunities in the third period, from both teams.
Rick Nash getting some great looks tonight as well. Wouldn't be surprised if he cashes in on one of them soon.
Sidney Crosby has had his moments, both on the boards and on a breakaway. So far, Crosby remains pointless for the night, much to the dislike of fantasy team owners everywhere.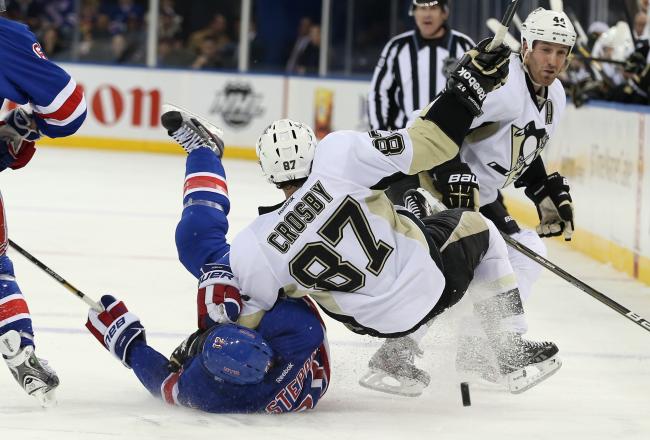 Penguins 1, Rangers 0 (2nd Period Intermission)
Notable Stats from 2nd Period
Shots: Tied at 19-19
Faceoffs: Rangers lead 27-23
Power-play: Rangers 0-3, Penguins 0-4
Penguins 1, Rangers 0 (2nd Period Intermission)
Rangers take another penalty (too many men on the ice), and John Tortorella does not look happy.
Penguins to the power-play when the third period starts.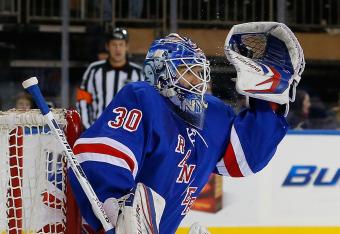 Penguins 1, Rangers 0 (41.1 seconds 2nd Period)
Big save by Lundqvist!
Crosby with the breakaway and Lundqvist denies him with the glove!
This article is
What is the duplicate article?
Why is this article offensive?
Where is this article plagiarized from?
Why is this article poorly edited?