Ranking the Safest Super Bowl XLVII Prop Bets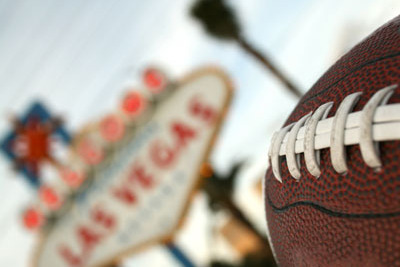 Nick M. Doo/iStock
Oh, how the dynamic of sports betting has changed.
While "prop bets" have been around for awhile, their popularity seems to have grown exponentially over the past few years.
Nowadays, instead of betting the spread like some moth-eaten schmuck, you can wager your life savings on what color Gatorade the winning coach will be doused with, or what the Dow Jones will do following the game.
Some things are just more important, and more predictable, than picking winners, so stop trying to decide who has the schematic advantage and pull out the raw Alicia Keys National Anthem footage.
But seriously, I'm here to help.
Prop bets are a great way for non-sports fans, as well as neutral sports lovers, to enjoy the game, and they certainly make betting on it more exciting.
That being said, I'm going to rank the 10 safest prop bets based on research and instinct, neither of which is very reliable in the world of prop bets. Oh well. Here goes nothing.
The full list of prop bets can be found here.
Begin Slideshow

»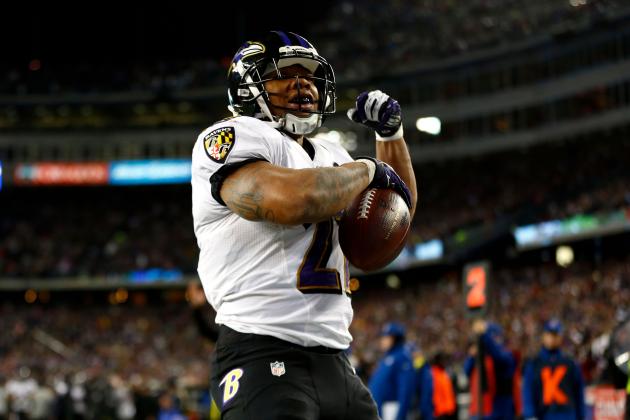 Jared Wickerham/Getty Images

With Bernard Pierce in the fold leading the Ravens in rushing two of past three weeks, I've got to go with the under.
Ray Rice is an elite-caliber back with the potential to run all over any defense in the NFL, but the numbers simply don't favor him in this matchup.
Aside from the fact he ran for only 59 yards against the Niners last season without Pierce stealing carries, San Francisco has only allowed three lone rushers to surpass 70 yards this season (Adrian Peterson and Marshawn Lynch twice).
Go with the under and root for Bernard Pierce and Vontae Leach to vulture carries.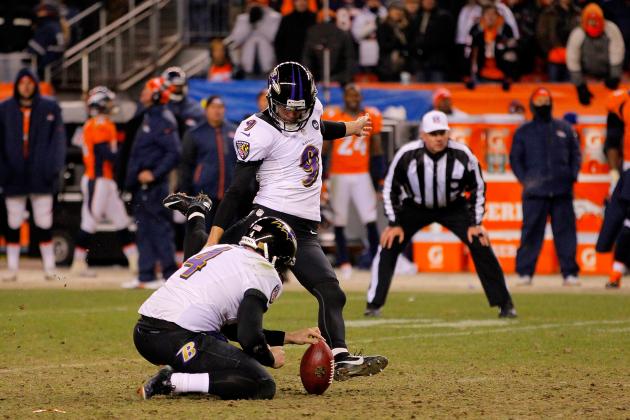 Doug Pensinger/Getty Images

I'm picking the over, and I actually like this bet a lot.
Ravens kicker Justin Tucker has connected on 12 field goals of 45 yards or more this season, with a long of 56. He's also knocking through 90 percent of his attempts, good for sixth in the league.
On the other side of the field, 49ers kicker David Akers has struggled this season, connecting on just 69 percent of his kicks. That being said, he connected on a career-long 63-yard attempt in Week 1 against Green Bay and has connected on 3 kicks of over 45 yards this season.
With this information, in conjunction with the fact Baltimore and San Francisco have two of the most tenacious defenses in the league, I fully expect a couple of attempts over 45 yards, with at least one flying through the uprights.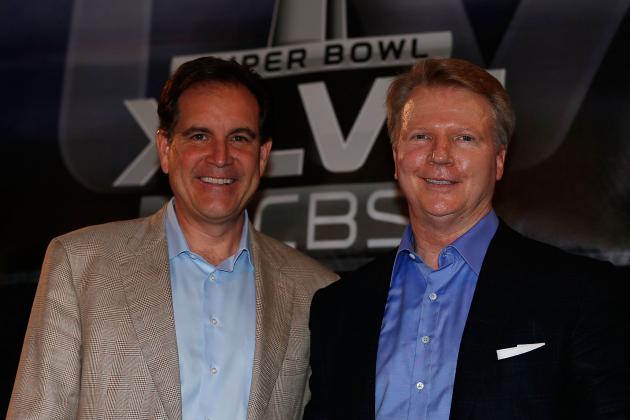 Scott Halleran/Getty Images

While I hate asking people to listen closely to what Phil Simms and Jim Nantz say, that's a requirement if you want to keep up with this prop bet.
Listen, betting on how many times a couple of long-winded broadcasters are going to say something may seem like a horrible proposition, and it probably is, but 20.5 just seems really high.
I mean, that's nearly seven times an hour. Surely they'll just switch to first names at some point...right?
It's going to get pretty confusing or pretty stodgy. Roll with the under.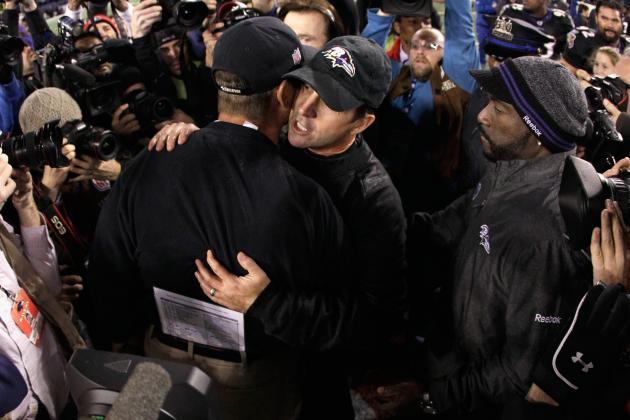 Rob Carr/Getty Images
1... 2... 3... 4... 5... 6... 7... 8... 9... 10... 11... OH, COME ON!
Extensive research didn't net me any results on the length of the first postgame "Harbaugh handshake," but I'm taking the over anyway.
For one, these guys seem really close. I mean, even for brothers they seem close, "typically [calling each other] every few days," either "to talk football" or just "to catch up" (via The Guardian).
Secondly, anything under eight seconds just seems too short for a bro to congratulate another bro on an epic accomplishment.
While it's fair to say they'll have plenty of time for congratulations later (you know, considering they're brothers), I just can't imagine they'll leave the postgame hug/handshake with a, "Hey man, great game. Seeya at the BBQ next Sunday." I'm not even sure you can say that in 7.5 seconds.
Despite all the nonsensical statements regarding making the game about the players, the postgame hug is going to be all about brotherly love.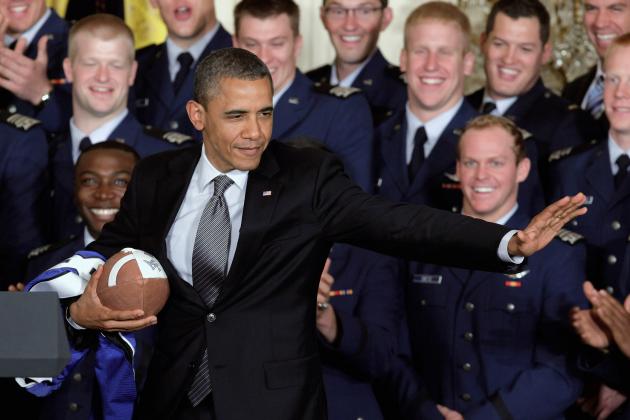 Chip Somodevilla/Getty Images

While it's no sure bet considering one team is from a loyal blue state, while the other is located about 40 miles from the White House, I think the Ravens hold the edge in garnering the President's endorsement due to location, Ray Lewis and the fact they are the underdog (+4, according to Bovada.lv).
First of all, as I stated, Baltimore is only about 40 miles from Washington, D.C., so one can only imagine there will be a lot of angry people very close to the president if he selects the 49ers. Regardless of the likelihood of a threat to the president, I doubt it's something the Secret Service wants to worry about.
Furthermore, in 2009, when Pittsburgh played Arizona in Super Bowl XLV, Obama was quoted in Time, saying, "I wish the Cardinals the best, Kurt Warner...[is] closer to my age than anyone on the field" (via Time.com).
Well, Ray Lewis is closer to Barack's age than anyone on the field and, frankly, the Ravens just seem old in general, despite their obvious youth at the skill positions.
Lastly, in conjunction with the other factors, you've got to think the leader of the free world will root for the underdog, right?
Go with Baltimore.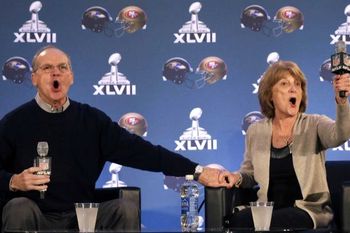 Gerald Herbert/AP
Uh-uh. No way.
Jack and Jackie Harbaugh are the epitome of class, so why would they show up one of their sons by wearing a particular team logo?
I just can't see it happening.
While they could show up sporting this, I venture to guess they'll be wearing something closer to what you see in the picture above.
When asked about their gameday attire by NFL.com during a conference call between Jack, Jackie and their daughter, Joani, Jackie answered, "neutral colors," Joani said, "black," and Jack failed to respond.
Grandpa Harbaugh obviously didn't know the implications of his silence, but I would still go with "no" for this one.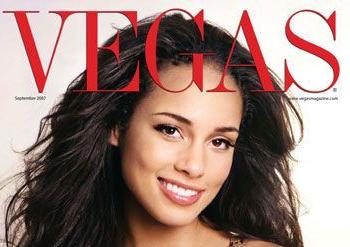 Seemed appropriate
Despite telling MTV News, "[Singing the National Anthem is] a historical moment...so I'm looking forward to really doing it my style and my way, and I'm looking forward to really making it great," there should be very little doubt that Alicia Keys stays under 2:10.
The last rendition of the Star Spangled Banner to top 2:10 was Jennifer Hudson's lip-synced anthem in 2009, running 2 minutes and 13 seconds.
In other words, an eternity.
While some vocalists can stretch a song beyond imagination, the Star-Spangled Banner can be sung completely in around a minute and a half. Even if Alicia adds words and extends every note, it will be a tall task to surpass 2:10.
Kelly Clarkson, Christina Aguilera and Faith Hill all finished in 1:45 or less. Count on Alicia to finish around the same mark.
Under is the pick.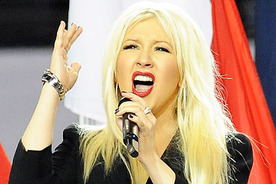 Christina Aguilera Butchering the National Anthem via Jeff Kravitz/FilmMagic
I'm pretty sure the only legitimate performer to ever butcher the words to the Star-Spangled Banner on America's biggest stage is the not quite Latino, not quite Caucasian Christina Aguilera.
Does any major celebrity legitimately sing these things anymore?
With all the lip-syncing controversy that has been swirling, your guess is as good as mine. 'Tina might have been the last.
Still, this is huge, and if anything can be taken from Christina's botched attempt, it's that you really don't want to screw up the National Anthem at the Super Bowl. There's just something sacrilegious about it.
Count on Alicia to come through beautifully with every word of our country's beloved melody, answering this prop bet with a resounding "no."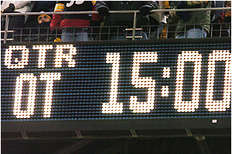 No. There's never an overtime.
Literally. In the history of the Super Bowl there has never been an overtime.
While that seems kind of fishy, you should play the odds on this one.
Only 23 of 266, or just under 9 percent, of games were decided in overtime this season, including the playoffs.
Despite that being the highest overtime total since 25 games ran long in 2003, as well as the fact that both the Niners and Ravens played in overtime contests this year, don't take it as an indication that this is the year for a Super Bowl first. That's exactly what Vegas wants you to think.
Is it possible? Of course, but Vegas only gives it about a 10 percent chance of happening.
You may have have to bet big to win big, but you know what they say...
"You gotta bet big to win big."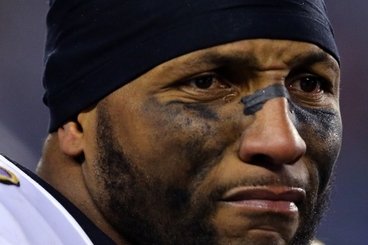 Al Bello/Getty Images
With an over/under of three, the over is the lock of all locks.
It's quite possible that this is not only the safest prop bet of all time, but the safest bet in sports history.
If you've ever watched a Ray Lewis postgame interview, you know he mentions his lord and savior more than T.D. Jakes during a Sunday sermon.
From what I could decipher, Ray mentioned "God" at least twice in his postgame interview with Solomon Wilcots after defeating the Broncos, and despite uttering only one praise to a higher being after defeating the Patriots in the AFC Championship, one has to imagine Ray will use the Super Bowl as the ultimate pedestal to preach to the people.
Please, for the love of God, bet the over. To do otherwise would be preposterous.