Denver Broncos: Positions That Need to Be Addressed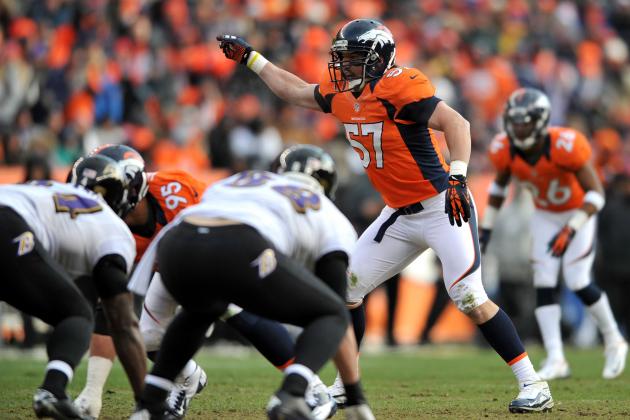 Dustin Bradford/Getty Images

The 2012 Denver Broncos entered the postseason as the Super Bowl favorites and ended it with a whimper—losing 38-35 in double overtime to the fourth-seeded Baltimore Ravens in the divisional round of the playoffs.
Although the Broncos led the game 35-28 and seemed to have the game locked up with under 40 seconds to go before Jacoby Jones' miraculous 79-yard touchdown catch that tied the game, there were some flaws revealed in the Broncos arsenal.
Denver was a well-balanced team throughout the 2012 season, ranking second in the NFL in points scored and fourth in the NFL in points allowed. They were the only team in the NFL to rank in the top five in both categories.
However, in going 13-3, the Broncos did face an easy schedule in facing their AFC West rivals in six out of their 16 games. All three teams in the AFC West finished with a losing record in 2012.
Through over 75 minutes of grueling football with a tough team in the Ravens, it showed the Broncos weren't as complete of a team as we thought and maybe not as dominant as we expected them to be entering the postseason.
What are some positions on the field that should be addressed through free agency or the draft entering 2013?
Begin Slideshow

»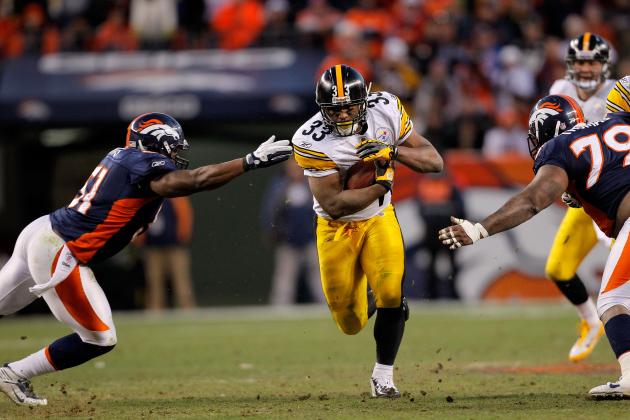 Justin Edmonds/Getty Images

The Broncos started out the season with Joe Mays at middle linebacker and ended the season with 37-year-old Keith Brooking as the starting linebacker over the middle.
You see the problem here?
Mays was expected to be the guy manning the middle in Mile High after signing a three-year contract before the season started, but quickly fell out of favor.
In a disastrous 2012 season for Mays, the fifth-year veteran was suspended for a game and fined for taking off Texans quarterback Matt Schaub's earlobe on a hit.
After he returned to the field two weeks later versus the Patriots, he was benched in favor of the 15-year NFL veteran Keith Brooking.
Brooking was solid, but do you really feel comfortable with a soon-to-be 38-year-old linebacker holding the starting middle linebacker position?
Mays has fallen out of favor in Denver, and his play on the field was not spectacular with his inability to wrap up offensive players.
The Broncos need to address this position in the offseason before it bites them in 2013.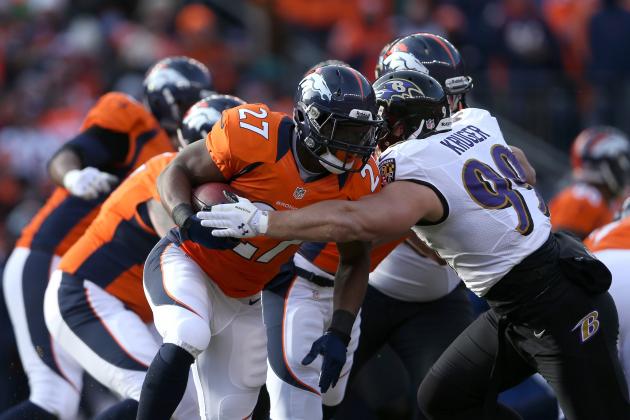 Jeff Gross/Getty Images

The Broncos have three running backs under contract entering next season, and those running backs are Willis McGahee, Knowshon Moreno and Ronnie Hillman.
The Broncos have a solid set of running backs when you consider their skill sets. McGahee had one of the finest seasons of his career in 2011 when he ran for 1,200 yards on 4.8 yards a carry. Unfortunately, after starting during the first 10 games of the 2012 season, McGahee suffered a torn medial collateral ligament in his right knee. He wouldn't play for the rest of the season.
Moreno filled in well after Willis's injury, even being named AFC Offensive Player of the Week in the Broncos' 34-17 victory over the Ravens. However, he did just run for 3.8 yards a carry.
Hillman is a young, speedy back who can be used as a change-of-pace back. As the youngest player in the NFL, having turned 21 in September of the 2012 NFL season, Hillman ran for 327 yards for 3.9 yards a carry.
Here's the thing with this group—it's full of question marks.
McGahee will be 32 years of age this season, and he has gone through numerous knee injuries throughout his career. That is not a good sign.
Moreno is a versatile back but he is not a feature back in this league. Hillman is also a back that can make contributions in the running game, but more or less, he's not going to be a feature back anytime soon in the NFL at just 5'9" and 196 pounds.
The Broncos ranked 25th in the NFL averaging just 3.8 yards a carry.
Denver needs to improve this position through the draft with some fresh legs. It would help by drafting a running back who can be the guy for years to come.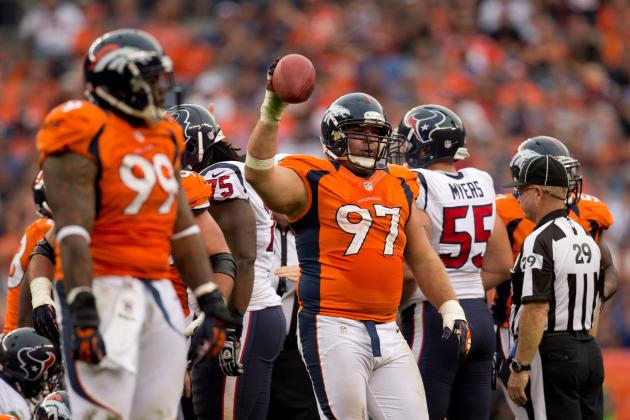 Justin Edmonds/Getty Images

The Broncos' starting duo of defensive tackles—Justin Bannan and Kevin Vickerson—played so well last season that Denver held opposing running backs to just 3.6 yards a carry. That was second-best in the NFL and an improvement over the 2011 defense that held opposing runners to 4.1 yards a carry.
However, both are free agents, and both may leave Denver with contracts elsewhere after their great play in 2012.
Even if Denver is to retain Bannan and/or Vickerson, Justin will be 34 years of age, and before this past season, Vickerson had been a full-time starter just one season in the eight years that he had been in the league.
Does anybody really expect Bannan and Vickerson to overachieve as they did in 2012? Remember, these two guys were starting on the defensive line in 2010 when the defense ranked dead last in the league.
Any way you look at it, the Broncos need to get younger and add more of a playmaking zest to the interior of the defensive line.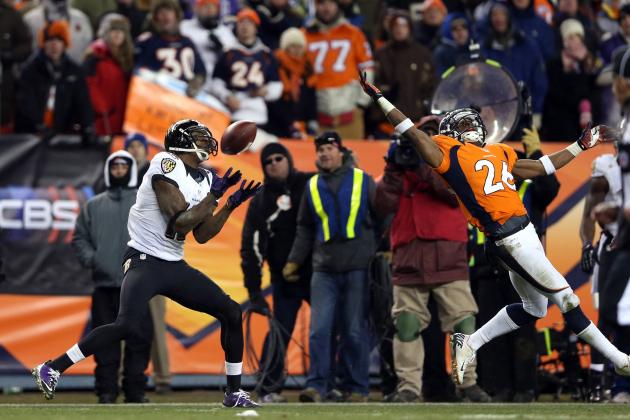 Jeff Gross/Getty Images

No, I'm not saying Rahim Moore should be cut.
And no, I'm not saying he should be benched.
Moore should remain the starting free safety. He made great strides in his sophomore season despite one of the dumbest plays in NFL history during the divisional round playoff game versus Baltimore.
Mike Adams also had a solid season at strong safety, providing a hard-hitting and intimidating presence on the last line of defense.
Having said that, the Broncos can always improve with depth at this position. Adams will be 32 years of age during the 2013 season, and he has always been at best a "solid hand" to have in your lineup, but never a playmaker or difference maker by any means.
Quinton Carter is coming off of an injury-riddled season that saw him find his way onto injured reserve.
The Broncos can't get complacent with Adams starting at strong safety. Add in the fact that Adams is aging and has a lot of wear and tear on that body—he's been starting on-and-off for the past eight seasons—and Denver would do themselves a service by adding a young body at the safety position through the NFL draft.