UFC 156 Predictions: Complete Win-Loss Projections for Each Fight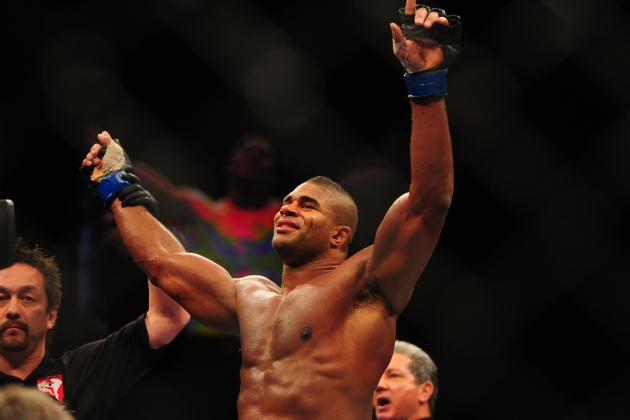 Mark J. Rebilas-USA TODAY Sports

The battle for the UFC featherweight title will take place on Feb. 2 when champion Jose Aldo defends against the dangerous Frankie Edgar. That's just one of the potentially exciting fights lined up for UFC 156.
UFC fans will finally get another opportunity to see Alistair Overeem in action. The most physically intimidating man in the sport will take on Antonio "Big Foot" Silva as he attempts to earn a shot at the heavyweight title.
Light heavyweights Rashad Evans and Antonio Rogerio Noguiera will also do battle. This could be a night filled with memorable fights.
Here are my predictions for all 11 confirmed bouts.
Begin Slideshow

»
The Facebook bouts feature aspiring bantamweights looking to start their ascension from the preliminary ranks to an appearance on a main card.
Chico Camus (12-3) vs. Dustin Kimura (9-0)
Both fighters are early in their UFC careers, even though they have competed in other promotions. This will be the second UFC appearance for Camus, and it'll be the UFC debut for Kimura.
I've been impressed with what I've seen from Kimura online. He has a few full fights available on YouTube, and his sharp boxing skills stand out.
Of course, a guy named Kimura must have a solid submission game. Although he doesn't have any recorded finishes with the arm lock, he has made six of his opponents say uncle with a variety of holds.
A submission win over Camus is my prediction for him at UFC 156.
Bantamweight: Edwin Figueroa (9-1) vs. Francisco Rivera (8-2)
Rivera looked good in his last bout as he stopped Roland Delorme in the first round. However, the decision was ultimately overturned after Rivera failed a post-fight drug test per MMA Junkie.
He has some work to do to validate his standing in the UFC.
Rivera is explosive, aggressive and always looking to attack, but Figueroa is more balanced. Look for a counter right hand to put Rivera in trouble early in this fight.
I predict Figueroa wins by KO or TKO.
The FX segment has two especially intriguing bouts. The lightweight division will get the majority of the attention during this portion of the event. Bobby Green has star potential, and Yves Edwards looks to follow up his exciting win over Jeremy Stephens with another victory.
Gleison Tibau (26-8) vs. Evan Dunham (13-3)
Tibau has always been overrated in my eyes. He's been fighting in the UFC since 2006, but he hasn't scored many victories over top competition.
He's facing the type of fighter whom he normally walks through in Dunham. The latter has lost three of his last five fights, and Tibau will run that total to four defeats in his last six tries.
In a fight I expect to bore me, Tibau will win a unanimous decision.
Tyron Woodley (10-1) vs. Jay Hieron (23-6)
Woodley suffered his first defeat in his last fight against Nate Marquardt in Strikeforce. This is his UFC debut, and he'll be looking to make a statement. Hieron is a veteran, but he's on the downside of his career at 36 years old.
Woodley will be focused on making a good first impression with UFC fans. He'll stop Hieron in the second round in a rare move away from his normal submission-based attack.
Jacob Volkmann (15-3) vs. Bobby Green (19-5)
Green is as tough as they come, and he was on quite a roll in Strikeforce. He won his last four fights before the promotion shut down.
Volkmann is a submission specialist, and Green has had some issues in the past with guys like this.
To his credit, he has improved his submission defense, and he has Volkmann outclassed as a striker. The King will make a splash in his UFC debut by knocking out Volkmann.
Yves Edwards (42-18) vs. Isaac Vallie-Flagg (13-3-1)
The 36-year-old nicknamed the "Thugjitsu Master" scored an exciting KO win over Jeremy "Lil Heathen" Stephens at UFC on Fox 5 (video above).
It was the battle of men with incredibly inventive aliases, but ultimately, the Master regulated the Heathen.
Edwards' 60 fights is an impressive amount of experience, and he's finished 33 of his opponents by KO/TKO or submission.
Vallie-Flagg is nearly the same age at 34, but he has just a fraction of the experience. He's making his UFC debut, but handling Edwards' quickness and potentially dynamic striking will be an issue for him.
Mark down a second straight KO win for Edwards.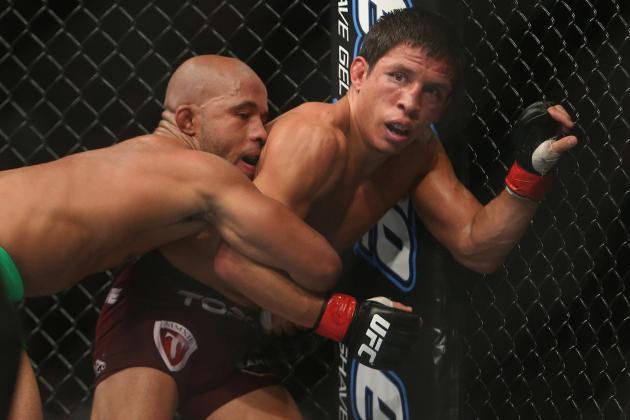 Tom Szczerbowski-USA TODAY Sports

Joseph Benavidez made a good account of himself in losing to UFC flyweight champion Demetrious "Mighty Mouse" Johnson at UFC 152. He takes on another flyweight contender who has also battled the champ to a close loss and a draw in Ian "Uncle Creepy" McCall.
I'm going to start a petition to get that nickname changed; it just sounds wrong.
Speed was the issue for Benavidez against Johnson, but McCall is a more favorable matchup for him in that department. This should be the rare flyweight bout that features more striking than grappling.
That type of fight favors Benavidez who is the more accurate and efficient striker. He'll knock off Uncle Creepy by decision.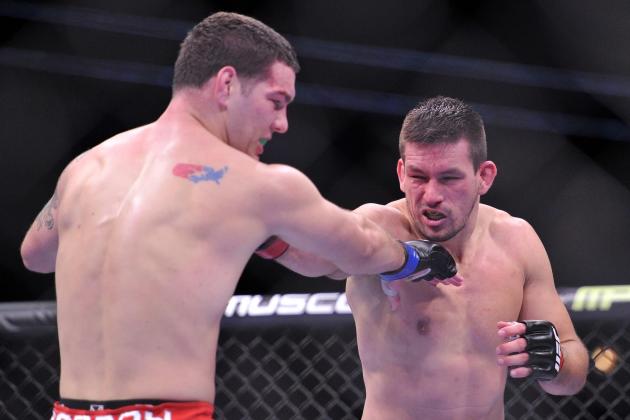 Mike Dinovo-USA TODAY Sports

As submission artist go, there are few held in higher esteem than Demian Maia. More than half of his 17 wins have come by way of tapout, and I'm predicting he adds another arm to the trophy.
Jon Fitch is not usually a target for submissions, he's only been tapped out once in his MMA career, but he hasn't faced a man quite like this in his career.
Maia's submission approach is like Tim Duncan's patented bank shot off the glass. It may not excite you, but at the end of the day, it gets the job done.
The more effective he becomes at striking, the better he becomes at setting up his ground game. He won't do well to stand with Fitch for an extended period of time, but he can defend himself long enough to get Fitch to the ground.
Maia will score the most impressive submission victory of the night by making Fitch tap.
Alistair Overeem is, perhaps, the most powerful striker in the world. He's dangerous with his fists, knees and feet, and I don't see Antonio Silva having much of a chance in this one.
Silva won't be intimidated, but he will be made to respect the power of the "Reem." "Big Foot" simply isn't quick enough to avoid his opponent's onslaught, and Overeem's takedown defense is vastly improved.
This one could get Eric Koch—ugly. I'm taking Overeem by KO.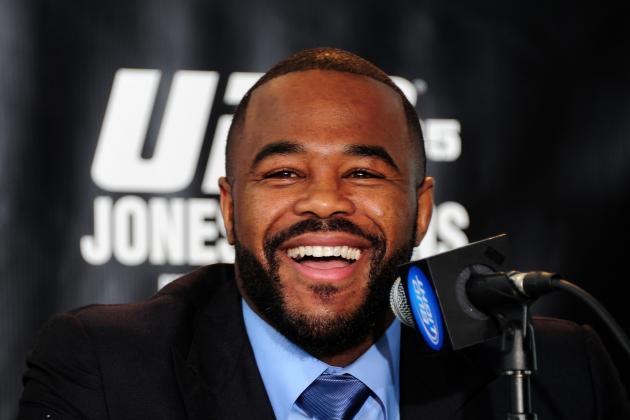 Scott Cunningham/Getty Images

This is an interesting fight as Antonio Rogerio Nogueira is one of the few men who can handle Rashad Evans on the ground. The major difference-maker in this matchup is speed.
The swift hands and feet of Evans is a test "Little Nog" can't solve. We've seen Evans' dramatic KO of Chuck Liddell, so we know he can be explosive.
I doubt he'll KO Nogueira, but he will pick him apart in the stand-up game. This advantage should lead to a rather easy unanimous-decision victory for "Suga."
Rarely will you see an athlete so brilliant in his own sport that it makes you visualize him or her excelling in a variety of others; Jose Aldo is one of those special athletes.
I think Frankie Edgar is amazing. He has tons of heart, good speed and a solid chin, but Aldo is on another level.
I'm not sure there is a fighter in the world—Anderson Silva and Jon Jones included—who has a more deadly complement of weapons in the stand-up.
His knees, feet and fists form an unpredictable and vicious symphony. When he battles Edgar on Saturday night, he'll record yet another masterful composition.
I've got Aldo by third- or fourth-round KO/TKO.
Follow Brian Mazique and Franchiseplay on YouTube and Twitter for reactions, analysis and news from the world of sports and sports video games