Jackie Robinson's Top 5 Career Highlights in MLB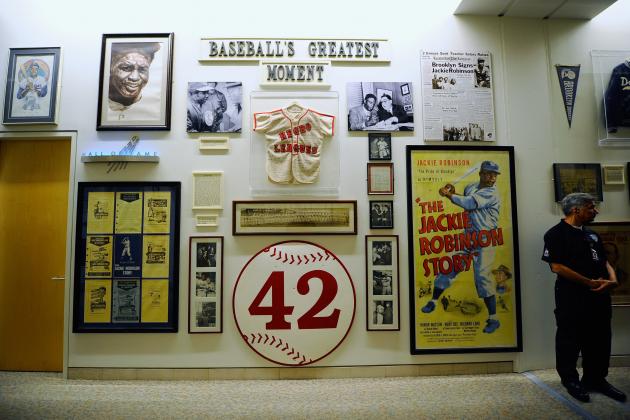 Kevork Djansezian/Getty Images
A montage highlighting the MLB career of Brooklyn Dodgers great Jackie Robinson.
Former Brooklyn Dodgers great Jackie Robinson would have been 94 years old today, so what better time to celebrate some of his career highlights.
The Hall of Fame second baseman and MLB pioneer debuted for the Dodgers in 1947, becoming the first African-American player in major league history. During Robinson's 10-year career, he appeared in six consecutive All-Star games, played in six World Series and had a big enough impact on the game to have his number, 42, retired by MLB in 1997.
As we recognize the life of one of America's great sports heroes, here are the top five highlights of Jackie Robinson's illustrious career.
Begin Slideshow

»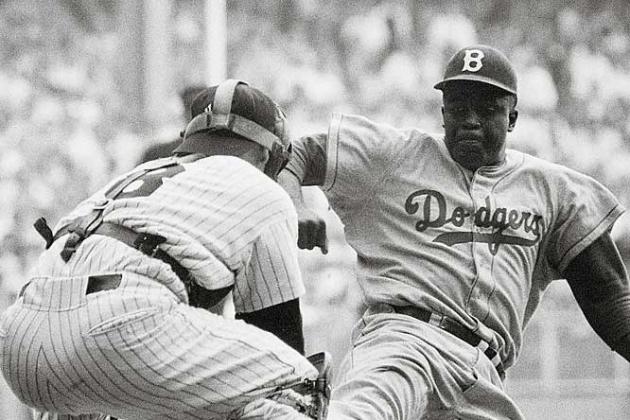 Jackie Robinson scores a run in his first MLB game (image courtesy of www.toptenz.net).
Robinson was called up to join the Dodgers less than a week before the start of the 1947 MLB season. On Tuesday, April 15, he made his major league debut against the Boston Braves.
Although he played the majority of his career at second base, Robinson's started the first game of his career at first base.
In a 5-3 Dodgers victory, Robinson went 0-for-3 with a run scored, officially becoming the first black player to appear in the majors.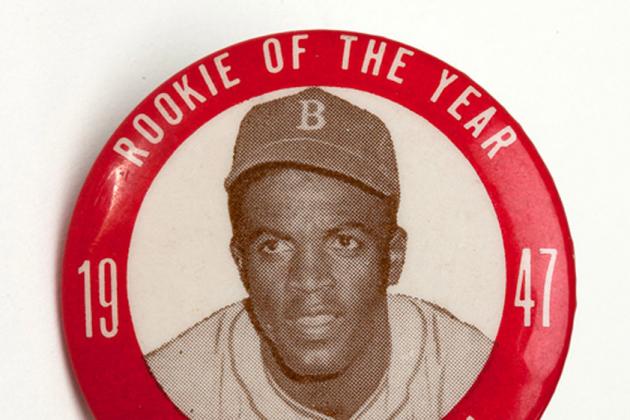 Jackie Robinson won MLB's first Rookie of the Year award in 1947 (image courtesy of monthly.scpauctions.com).
Robinson went on to win MLB Rookie of the Year honors in 1947, the first year the award was given out. In 151 games, he hit .297 with 12 home runs, 29 stolen bases and 125 runs scored.
He also managed to finish fifth in the National League MVP voting that year.
In 1987, Major League Baseball officially changed the name of its Rookie of the Year awards to honor Robinson. Sixteen Dodgers, including Robinson, have gone on to earn ROY honors.
Todd Hollandsworth was the last Los Angeles player to do so, winning the NL award in 1996.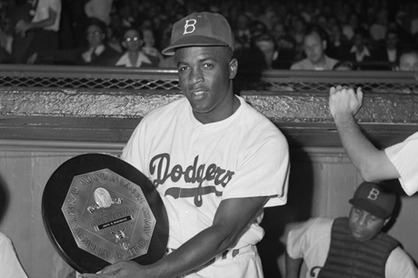 Jackie Robinson displays his NL MVP award for the 1949 season (image courtesy of www.biography.com).
If the decision to make Robinson the first black player in MLB history was not validated by then, he made it official by winning the NL MVP award for the 1949 season. That year, Robinson set career highs in batting average (.342), hits (203), stolen bases (37) and triples (12).
Along with winning the MVP, he was also named to the first of his six straight All-Star teams.
Robinson led the Dodgers to the National League Pennant that year for the second time in his first three seasons. However, Brooklyn lost to the New York Yankees again, this time in seven games.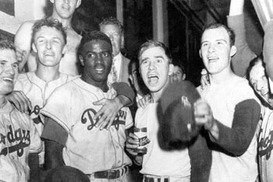 Jackie Robinson helped the Dodgers finaly defeat the Yankees to win the 1955 World Series (image courtesy of www.sandomenico.org). .
1955 was easily the worst year of Robinson's career statistically, but he did earn his first and only World Series title. Despite setting career lows in average (.256), hits (81), doubles (6) and games played (105), he and the Dodgers finally beat the Yankees in six games to become world champions.
This was the fifth time in Robinson's first nine years that the Dodgers won the National League Pennant. And each time, they wound up facing the Yankees in the World Series.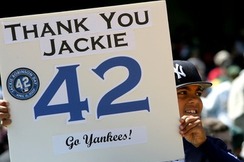 Even a young Yankees fan appreciates Robinson's contributions to MLB more than 50 years after his retirement.
By 1956, age and diabetes had begun to take their toll on Robinson's playing career. While his numbers improved across the board from his disastrous 1955 season, this would be Robinson's final season playing for the Dodgers.
Though he hit just .275 in 117 games, he helped Brooklyn win one last NL Pennant. Robinson's career ended the same way that it began, with a heartbreaking, Game 7 loss to the Yankees in the World Series.
For his career, Robinson hit .311 with 947 runs scored and 197 stolen bases in 1382 games played. While those numbers may appear to be pedestrian in this era of performance-enhanced statistics, Robinson is widely recognized as one of the best players in MLB history.
ESPN.com's recent Hall of 100 ranking of the top MLB players of all time has Robinson ranked No. 52 on the list. A 1998 Sporting News piece has him listed at No. 44 and baseball writer Bill James' book, The New Bill James Historical Baseball Abstract, recognizes Robinson as the 32nd-best player ever.
Regardless of where you rank his accomplishments statistically, Robinson's historical impact on Major League Baseball is undeniable. All players and fans, not just African-Americans, should be grateful for his career and what he meant to the game.