Pac-12 Football Winners and Losers for the Month of January 2013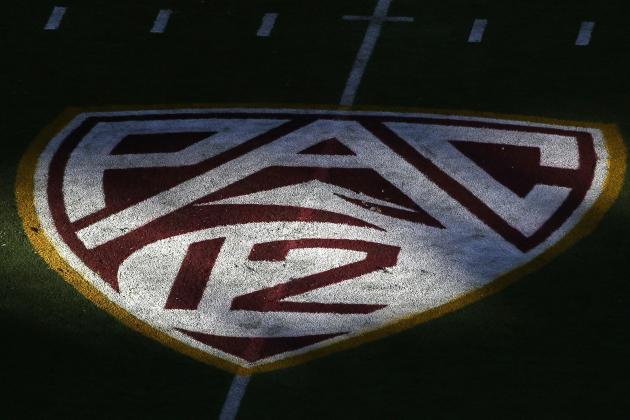 Christian Petersen/Getty Images

January is normally considered a boring month in college football—except for the BCS bowls, of course—but this month has seen considerable action in regards to noteworthy events.
Sure, recruiting is a big part of college football with signing day one week away, but there has been some changing of the guard as well.
Pac-12 football as a whole looks to be a major contender for the BCS Championship since the teams have so many outstanding players returning—Arizona actually returns all 11 defensive starters this year.
So while we gleefully anticipate spring camps, here's what the Pac-12 has done for the month of January.
We give you our Pac-12 football winners and losers for the month of January.
Begin Slideshow

»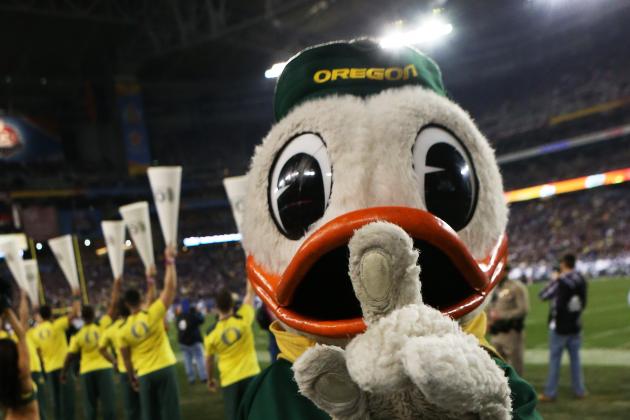 Stephen Dunn/Getty Images

Yes, Oregon beat Kansas State 35-17 in the 2013 Tostitos Fiesta Bowl on January 3, so technically that should be enough to put Oregon down as a winner in January.
But it also lost head coach Chip Kelly to the NFL's Philadelphia Eagles after some speculation that 2012 was going to be his last year as the Ducks' head coach.
Instead of having total upheaval right before signing day, Oregon has not really seen a drop-off. Twins Tyrell and Tyree Robinson are both committed, albeit as soft verbals. So is running back Dontre Wilson, also a soft verbal.
Thomas Tyner, a 5-star running back, is a solid verbal commitment to Oregon.
What could have been a total disaster—and Oregon helped itself by hiring Mark Helfrich from within—has been somehow averted. So far.
February 6 is when we'll know for sure.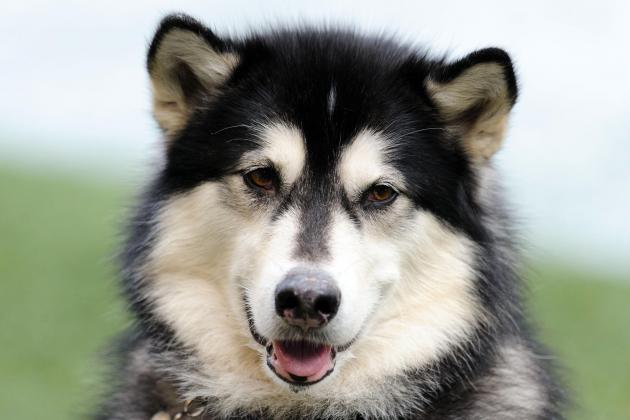 Steven Bisig-USA TODAY Sports

The Washington Huskies are sitting at No. 11 on Scout.com's list of team rankings. No one should be shocked, especially with recruiting guru Tosh Lupoi reeling in big fish.
But landing three top-100 prospects is something to celebrate. Daeshon Hall, a 5-star defensive end, committed to Washington a while ago, but the fact that he's still committed is a little shocking.
Both TCU and Texas A&M are pushing hard for him and he recently took visits to both schools—but he hasn't flipped yet.
The Husky staff should be given high marks for keeping him committed—albeit a soft verbal—when so many schools would love to have his signature on their scholarship offers.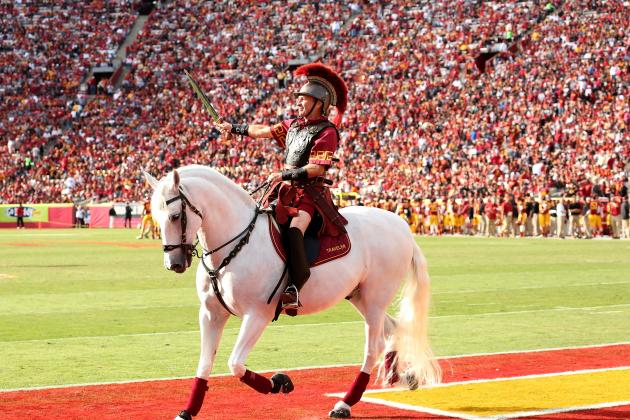 Stephen Dunn/Getty Images

It's not a good look when a current player calls out your team's head coach, but that's exactly what happened.
A current USC football player spoke on condition of anonymity to ESPN and said head coach Lane Kiffin "lost" the locker room after a humiliating loss to Georgia Tech in the Hyundai Sun Bowl.
For Trojan fans, hopefully that's all Kiffin will have lost—signing day may signify a reason to celebrate or a time to tally the losses.
These distractions keep popping up under Kiffin's watch, and the publicity in January didn't do him any favors.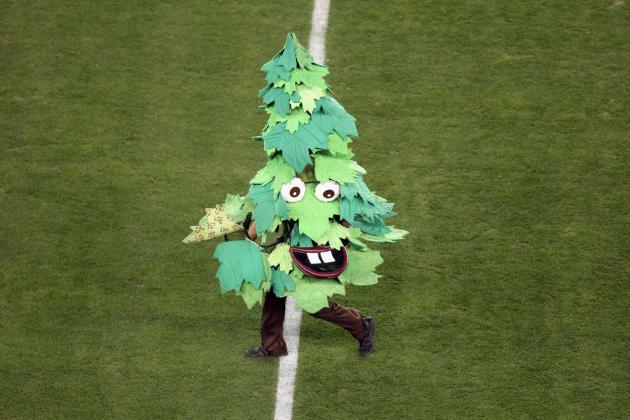 Christian Petersen/Getty Images

As it stands right now, Stanford has 12 commits. According to one report, it's by design, but I'm not so sure about that. A school can average 21 signed commits a class for four years and not exceed the 85 scholarship cap.
But USC, a school that is saddled with an NCAA-imposed 15-scholarship maximum per year for the next two years, has more commits than Stanford. When a school has fewer commits than a sanctioned school, something may be up.
Stanford is known for some signing day surprises and I'm sure we'll see one, but Scout.com's No. 53-ranked class only has three 4-stars—last year's No. 7-ranked class had nine 4-stars and two 5-stars.
Is that really by design?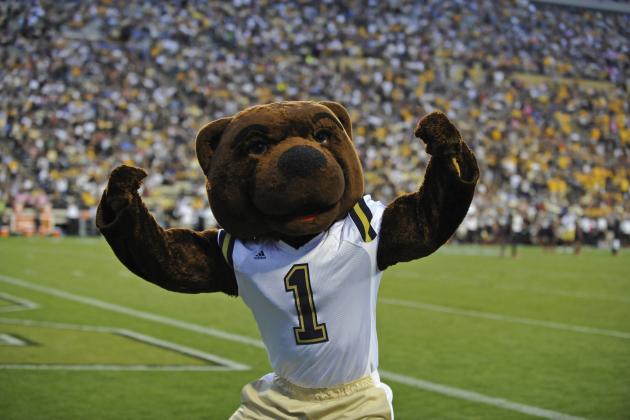 Ron Chenoy-USA TODAY Sports

There are no words for UCLA's 2013 recruiting class.
A gasp of air, clutching of chest and a rapid pulse will pretty much sum up this No. 6 UCLA class.
Wow.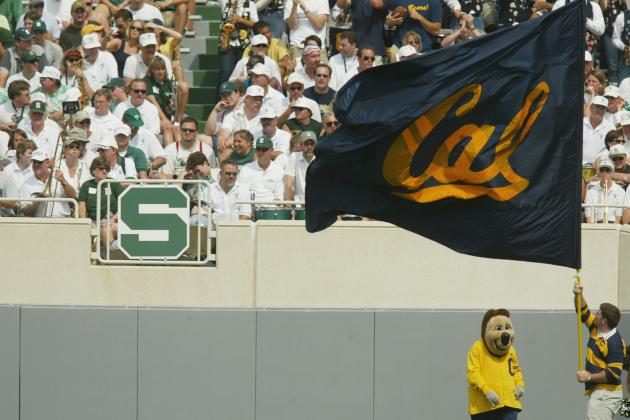 Danny Moloshok/Getty Images

After spending 11 years building a program up, Jeff Tedford was dismissed by Cal—Tedford was well-liked by his peers and media members alike. Unfortunately, nice guys don't pay the bills and open up donors' wallets, and more than anything else, the program was going in the wrong direction.
Last year the Golden Bears went 3-9 and receiver Keenan Allen declared early for the 2013 NFL draft.
It looked pretty dismal for the Bears in December, but they did get what should turn out to be a great hire in Louisiana Tech's Sonny Dykes.
Dykes has coached under Hal Mumme and Mike Leach and was a 2009 Broyles Award nominee at Arizona. As head coach at Louisiana Tech, Dykes' Bulldogs won the 2011 WAC crown.
With Dykes' innovative offensive schemes, Cal's offense will be as much fun to watch as Oregon's.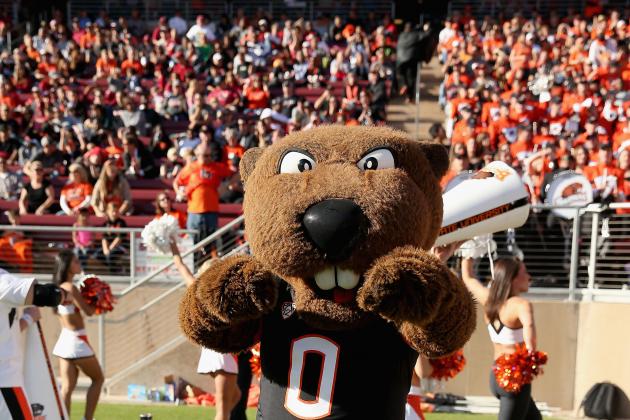 Ezra Shaw/Getty Images

The Oregon State Beavers finished the 2012 season on a low note getting beat 31-27 by the Texas Longhorns in the Valero Alamo Bowl. Seven months from now, this is what Beaver fans can look forward to (schedule-wise) after a spring and summer hibernation:
August 31: Eastern Washington
September 7: Hawai'i
September 14: at Utah
September 21: at San Diego State
September 28: Colorado
October 5: bye
October 12: at Washington State
October 19: at Cal
As much as I love college football, not one of these games sparks any interest for me, but check back with me in July—I'll probably be stir crazy and starved for college football by then.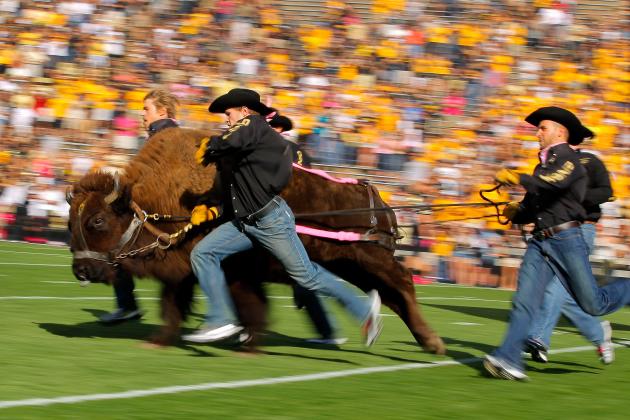 Doug Pensinger/Getty Images

Former head coach Jon Embree was a nice guy and tried real hard in his two years at Colorado, but Buffalo football (1-11) was simply not watchable last season. Embree was in over his head.
Fortunately, the folks in Boulder appeared to have been a little more diligent in their head coach hiring this time around, and they actually hired a guy with head coaching experience. Hooray. Maybe the consecutive seven-year losing season streak will end.
Actually, that's not a far-fetched thought—new head coach Mike MacIntyre did exactly that while he was the head coach at San Jose State. The Spartans had only three winning seasons in 17 years before MacIntyre took the job at San Jose State.
In his three years at San Jose State, the Spartans went from 1-12 to 5-7 to 11-2.
Colorado, we actually look forward to watching you play football again.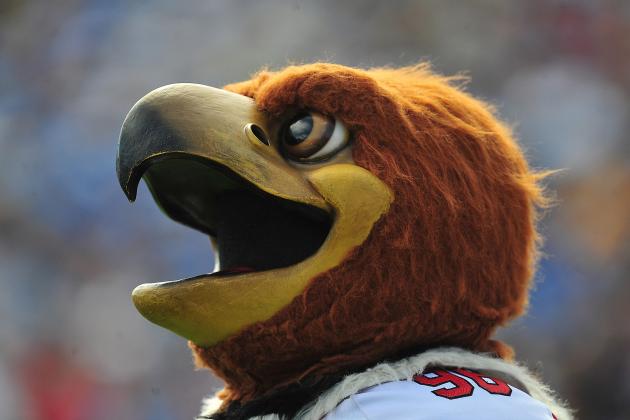 Gary A. Vasquez-USA TODAY Sports

Utah currently has 29 commits. Of those 29, four have already signed their letters of intent, which means they are early enrollees—the class of 2013 looks to be maxed out right now.
For a Pac-12 team, this class looks light on star power. There are no 4- or 5-star commits and 10 of the commits are 2-stars. Maybe it doesn't matter because defensive lineman Star Lotulelei was only given a 3-star rating during his recruitment and look at him now.
Still, with a prospect's average rating of only 2.66, developing talent may take longer at Utah, and that may be what's preventing the Utes from taking the next step up. Just for comparison, even Kentucky's class of 2013 has a higher average star rating (2.85) than Utah's.
Kyle Whittingham is a fantastic coach, but the recruiting at Utah needs to improve.
Note—on the bright side, at least Utah is outrecruiting rival BYU.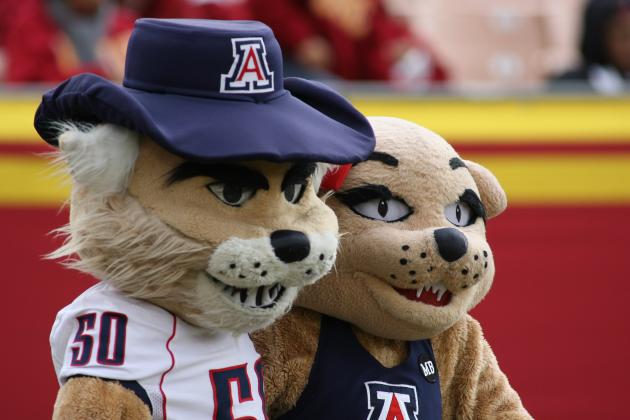 Jeff Golden/Getty Images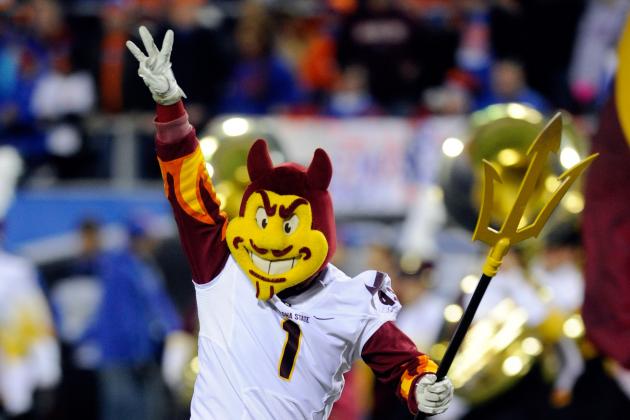 Ethan Miller/Getty Images

Todd Graham plucked a kid out of SEC country and has had his verbal commitment since last summer. But 4-star quarterback Joshua Dobbs is a soft verbal commitment and he took a trip to Tennessee last week.
Mississippi State is also interested in Dobbs, who hails from Georgia.
So far, Dobbs is committed, so Graham gets a "win" for the month of January.