Ronaiah Tuiasosopo Interview: Twitter Erupts as Hoaxer Tells Story to Dr. Phil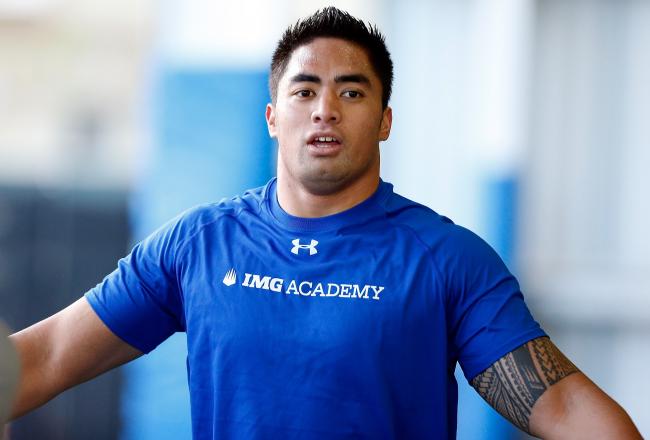 Manti Te'o was the victim of a hoax perpetrated by Ronaiah Tuiasosopo, who attempted to explain himself in a Dr. Phil interview.
J. Meric/Getty Images
The Twitter world erupted on Thursday as CBS aired Dr. Phil McGraw's sit-down interview with Ronaiah Tuiasosopo, the person behind the online girlfriend hoax surrounding former Notre Dame Fighting Irish football star Manti Te'o.
In one of the most bizarre and confusing sports stories of all time, Tuiasosopo's admissions to Dr. Phil contributed even more to the madness. In the interview, Tuiasosopo said (via Huffington Post) that he dragged the hoax out for so long because he was in love with the All-American linebacker.
Tuiasosopo also asserted that he was the voice of Lennay Kekua, the fake girlfriend of Te'o's, who allegedly died of leukemia. However, he declined to recreate the voice when pressed.
Here's what some prominent personalities had to say as the exclusive one-on-one interview unfolded.
Buzz Feed Sports got things kicked off with the initial explanation that Tuiasosopo offered:
Tuiasosopo made up the name "Lennay" by mashing together the names of his grandmother and mother.

— BuzzFeed Sports (@BuzzFeedSports) January 31, 2013
WDNU NewsCenter 16 reporter Barbara Harrington documented the motivation behind the hoax, which apparently wasn't financially motivated:
Ronaiah Tuiasosopo tells Dr. Phil deception was never about getting any financial or professional gain in return.

— Barbara Harrington (@bharringtonwndu) January 31, 2013
HuffPost Sports noted the timing of Tuiasosopo's confession to Te'o himself, and the resulting ramifications:
Ronaiah Tuiasosopo tells Dr. Phil that he contemplated telling Te'o the truth before the Notre Dame-USC game

— HuffPost Sports (@HuffPostSports) January 31, 2013
That was then followed by Tuiasosopo's nonsensical rationale for playing along for so long:
"I just wanted to help him become better." - Ronaiah Tuiasosopo

— HuffPost Sports (@HuffPostSports) January 31, 2013
Buzz Feed Sports noted the very misguided description that Tuiasosopo gave concerning his sexual orientation:
Tuiasosopo had romantic feelings for Te'o. "You've heard of recovering drug addicts. It takes a lot of courage to recover from homosexuality

— BuzzFeed Sports (@BuzzFeedSports) January 31, 2013
NBC Latino's Adrian Carrasquillo was looking on, and focused particularly on how hard Dr. Phil was pushing to get Tuiasosopo to do the female voice he's alleged to have done on many phone conversations with Te'o:
Dr. Phil is going to get the Lennary Kukua voice out of Ronaiah Tuiasosopo if he has to beat it out of him.

— Adrian Carrasquillo (@RealAdrianC) January 31, 2013
Yet another twisted detail, once again tweeted by Buzz Feed Sports:
Tuiasosopo says he resurrected Lennay because he and Te'o hadn't "truly moved on" after Lennay had "died of Leukemia"

— BuzzFeed Sports (@BuzzFeedSports) January 31, 2013
Michael McCann of Sports Illustrated offered his feedback on one portion of the interview:
Tuiasosopo tells Dr. Phil about avoiding "rookie mistakes" when deceiving someone.If he's sued, attorney will cite that line. #dpfeedback

— Michael McCann (@McCannSportsLaw) January 31, 2013
Daily Show writer Travon Free provided his opinion, which was summed up by the words Tuiasosopo used to describe his relationship with Te'o at one stage in the discussion:
"It was much more uncomfortable than I thought it would be" #DPFeedback

— Travon Free (@Travon) January 31, 2013
This article is
What is the duplicate article?
Why is this article offensive?
Where is this article plagiarized from?
Why is this article poorly edited?