Highlighting the Harbaugh Brothers Through the Years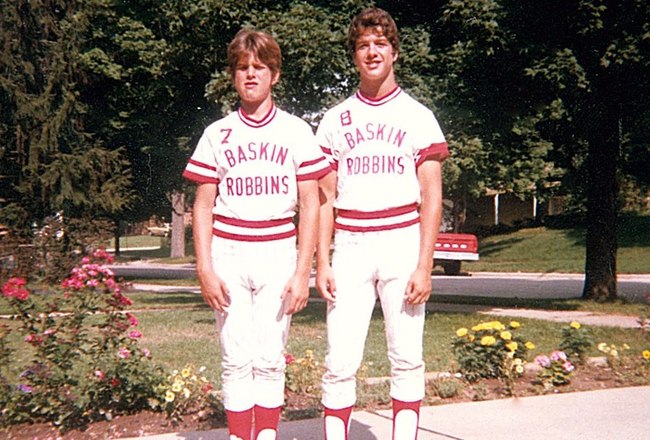 Courtesy: http://imgur.com/1V3ROiI

Harbaugh Brothers as Young Hockey Players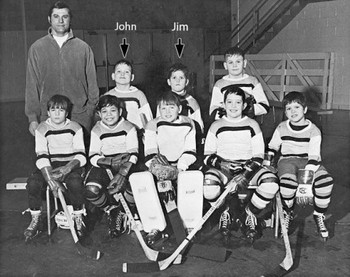 Courtesy: Juan Elway
The Harbaugh brothers were always involved in sports, and here's a picture of the two as youngsters on a youth hockey team.
Quite the familiar game-day scowl from Jim.
Meanwhile, John looks happy, as usual.
Harbaugh Brothers as Youth Football Players
Courtesy: MLive.com
Jim and John made their real athletic mark as football players. Here's a shot of the two on a youth football team in the 1970s.
John is No. 43, and Jim is No. 15.
Harbaugh Brothers as Teammates on Ann Arbor's Pioneer Football Team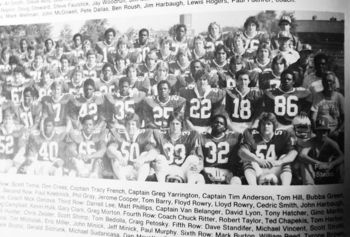 Courtesy: AnnArbor.com
According to this AnnArbor.com article, the 1979 Pioneer football season was a rather forgetful one. The offensively inefficient team went 4-5 after winning a conference title the year before.
However, Jim and John were both members of the team.
(John is pictured in the second row, fourth from the right. Jim is not in this picture, as he began the season as a 10th grader on JV. The article states that "Jim went from junior varsity backup to varsity starter in a matter of a month.")
Jim as High School Basketball Player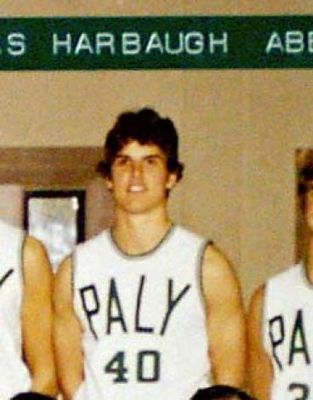 Courtesy: SFGate.com
Here's a shot of Jim as a basketball player for Palo Alto High School in the early 1980s.
Jim attended Palo Alto High School after moving from Ann Arbor, Michigan, when his father took the defensive coordinator job at Stanford.
The future Michigan quarterback graduated from high school in 1982.
John at Miami of Ohio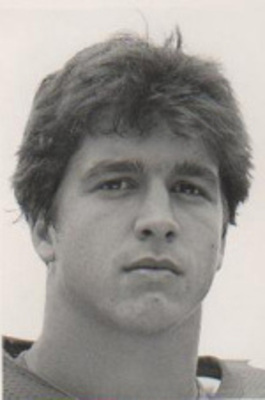 Courtesy: CSTV.com
After graduating from Pioneer High School in Ann Arbor, Michigan, John played defensive back at Miami University (Ohio).
Above is his picture with the RedHawks.
John as Western Michigan Assistant
Courtesy: Washington Post
After his college career ended at Miami of Ohio, John made his coaching debut in 1984 as an assistant for his father at Western Michigan.
He went on to be an assistant at Pittsburgh, Morehead State, Cincinnati and Indiana before moving to the professional ranks in 1998.
Jim at Michigan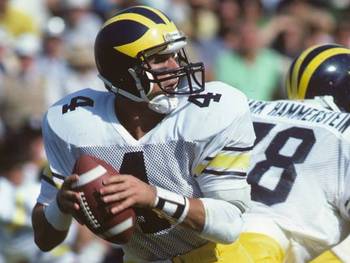 Courtesy: USA Today
Jim was Michigan's full-time, first-string quarterback for two seasons.
In 1986, he led the Wolverines to an 11-2 record and a victory over rival Ohio State in Columbus, which earned the team a berth in the 1987 Rose Bowl.
As a senior, Harbaugh finished third in the Heisman voting.
Jim as Chicago Bears Quarterback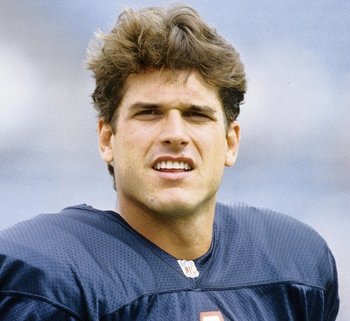 Courtesy: USA Today
Jim was selected No. 26 overall by the Chicago Bears in the 1987 NFL draft after an illustrious collegiate career at Michigan.
He played with the Bears until 1993 and then signed with the Indianapolis Colts in 1994.
His professional playing career ended in 2000 with the San Diego Chargers.
John as Philadelphia Eagles Special Teams Coordinator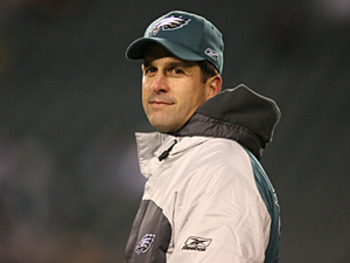 Courtesy: Philaphans.com
Here's John as a member of the Philadelphia Eagles coaching staff.
The elder Harbaugh brother served as Philly's special teams coordinator and defensive backs coach from 1998 through 2007.
Jim as Stanford Head Coach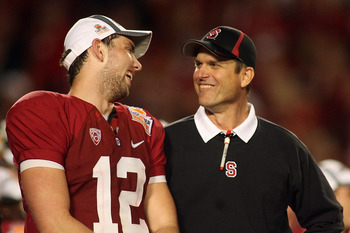 Marc Serota/Getty Images
From 1994 through 2001, Jim was an assistant on Western Kentucky's staff. After a one-year stint as the Oakland Raiders quarterback coach, he got his first head coaching gig with the University of San Diego, a job he held from 2004 through 2006.
Then, it was back to Palo Alto to be the head coach of the Stanford Cardinal.
During Jim's tenure, Stanford experienced a vast turnaround, including a stunning upset victory over Pete Carroll and the mighty USC Trojans, a BCS Bowl win over Frank Beamer and Virginia Tech and the development of future No. 1 overall pick Andrew Luck.
Jim and John as NFL Head Coaches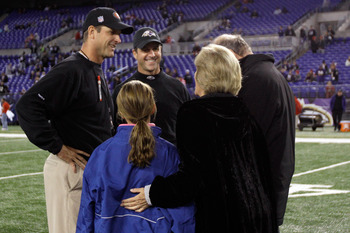 Rob Carr/Getty Images
John was hired as the Baltimore Ravens head coach in 2008 after the team fired Brian Billick. The Ravens have made the playoffs every year since.
After his tremendous success at Stanford, the San Francisco 49ers came calling for Jim, naming him the head coach in 2011.
Keep Reading