3 Reasons to Root for Jose Aldo at UFC 156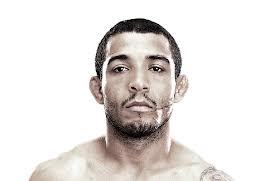 Photo from UFC.com
When you talk about dominant champions in the sport, you think of Anderson Silva, Georges St-Pierre and then Jose Aldo. The featherweight champion won the title from Mike Brown in 2009 when the WEC was still around. The WEC merged with the UFC, and Aldo was declared the UFC featherweight champion.
Aldo has made six defenses of the title, having defeated the likes of Urijah Faber, Kenny Florian and Chad Mendes. On Saturday night, Aldo gets his toughest test to date when he faces off with former UFC lightweight champion Frankie Edgar in the main event of UFC 156.
A lot of fans still don't know a lot about the champion from Brazil. Let's take a look and see why you should be rooting for Jose Aldo on Saturday night.
Begin Slideshow

»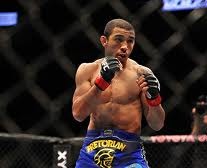 Photo from ESPN.com
Pound-for-pound rankings in MMA are nothing but a myth. These mythical rankings give the fans and the media something to talk about. The top three pound-for-pound fighters in the eyes of many are Anderson Silva, Jon Jones and Georges St-Pierre. No one mentions Aldo in that class.
Since Aldo became champion, he has defended the title six times. Two of those fights have been won by stoppage. In the title defenses that went to decision, Aldo was very dominant and there was no controversy involved.
Aldo hasn't fought since January 2012 due to injuries and other circumstances. If Aldo defeats Edgar on Saturday night, that would make it seven title defenses in a row. If Aldo wins by stoppage and looks extremely dominant, he would vault ahead of St-Pierre and crack the top three in the pound-for-pound rankings.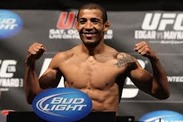 Photo from Mirror.co.uk
Jose Aldo was supposed to face Erik Koch at UFC 149, but Aldo had to bow out of the fight due to injury. The showdown was later rescheduled for UFC 153, but Koch suffered an injury and couldn't fight. The UFC then put Edgar in the fight, but the meeting had to be cancelled after Aldo was involved in a motorcycle accident.
The featherweight division in the UFC is starting to become one of the deepest divisions in the sport. You have the Korean Zombie, Ricardo Lamas, Erik Koch, Chad Mendes, Cub Swanson and Dustin Poirier.
Edgar lost his last two fights to current lightweight champion Benson Henderson. Edgar had announced he was going to featherweight, but with no opponent at that time. When the UFC announced Edgar would be fighting Aldo, people were wondering how Edgar got a title fight after losing two straight bouts.
People feel it isn't fair for Edgar to get the fight on Saturday. Aldo has a chance to show the world that Edgar didn't deserve the opportunity that could have been afforded to another featherweight.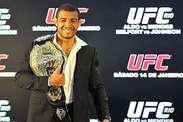 Photo from Sherdog.com
This is a question that has been brought up regarding Aldo in the last couple of years. The champion starts cutting weight from about 170 pounds to get down to 145 pounds. The weight cut had seemed to take its toll when Aldo faced Mark Hominick at UFC 129 in April 2011.
People have felt a move to lightweight is eventually in Aldo's future. While Aldo hasn't stated how much longer he will stay at featherweight, could this be his final fight?
The champion has been wanting big fights, and Edgar is the biggest name to date. If Aldo stops Edgar on Saturday, it would be very hard for Aldo to stay at featherweight.