Prospect Stock Up, Stock Down for College Hoop's Top Shooting Guards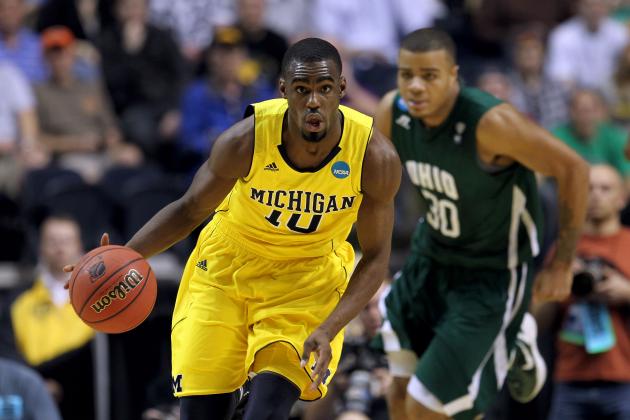 Jamie Squire/Getty Images

It's been an impressive couple of weeks for the top shooting guard prospects in the country. This is a strong position at the college level, and a shallow one in the pros.
Though two of the top prospects in America are shooting guards, both have completely different games and go about getting points in completely different ways.
It's also possible that any one of the next eight prospects gets taken somewhere in the first round.
To clarify, we've declared Marcus Smart and C.J. McCollum point guards, and Jamaal Franklin a small forward, so they won't be on this list.
Begin Slideshow

»
William Mancebo/Getty Images

Stock Report: Steady
After an impressive freshman campaign, Spencer Dinwiddie has been even better as a sophomore averaging 14.5 points on 46.2 percent shooting.
Dinwiddie is slick off the dribble and can finish on the move. He's nearly automatic in the mid-range where that pull-up jumper comes heavily into play.
Dinwiddie's three-ball has been somewhat erratic as of late after starting the year on fire from deep. Without the explosive athleticism that most scoring guards possess, converting from the perimeter with consistency will maximize his effectiveness as a pro.
He's likely to stay another year and work on his game. Expect him to play a larger role on the national scene as a junior.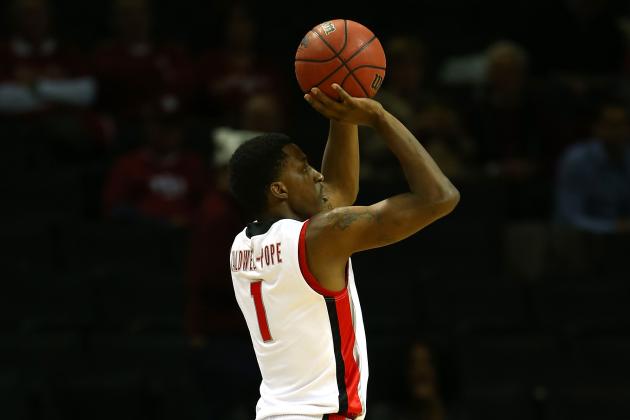 Elsa/Getty Images

Stock Report: Up
Kentavious Caldwell-Pope is really heating up, averaging 20 points while shooting 56 percent from the floor over his past four games.
He's turned down the volume from three-point range a bit, taking better looks at the rim that aren't so far away.
Shot selection has been an issue for Caldwell-Pope since the start of his freshman season. He's much better attacking the rim in line-drives than he is at changing direction, which makes it difficult to create open looks for himself in the half-court.
At 6'6'' with long arms and excellent athleticism, Caldwell-Pope has the ideal build for an NBA shooting guard. With a good-looking stroke from deep and lock-down defensive tools, his purpose at the next level is clearly defined.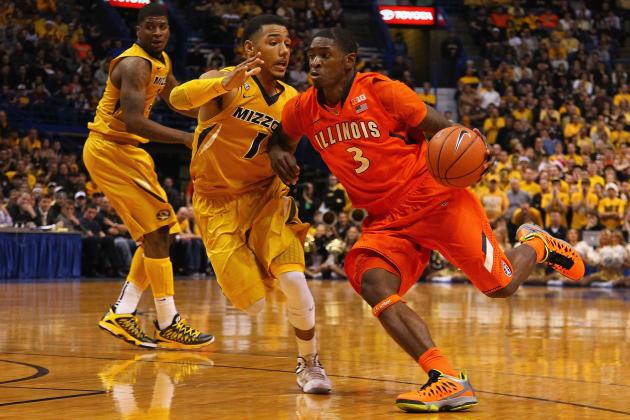 Dilip Vishwanat/Getty Images

Stock Report: Down
Illinois lost six of its last nine games, a result of its leading scorer taking a lot of shots and missing most of them.
In those six losses, Brandon Paul is shooting 36 percent from the floor. His shot selection needs work, as does his long-range accuracy, which has fallen back to Earth after a hot start from deep.
Paul's athleticism and ability to create offense off the dribble give him appeal as a sixth man who can heat up and score in bunches.
He'll need to become a more efficient scorer to keep teams focused on the positives, but Paul has an NBA skill set that's likely to be used one way or the other.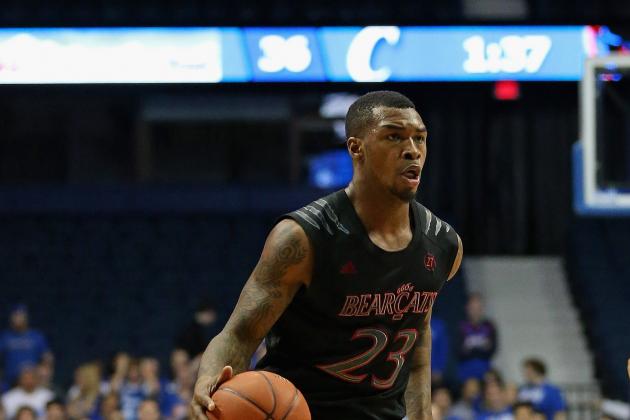 Jonathan Daniel/Getty Images

Stock Report: Up
Sean Kilpatrick went nuts against Marquette, scoring 36 points including the game-winner in overtime. No longer just a jump shooter, Kilpatrick is beating defenders off the dribble and getting to the rack for the finish, which is how he scored points 35 and 36.
He's more than doubled his free-throw attempts per game from a year ago despite playing almost two less minutes per game.
Kilpatrick's rugged frame and tough demeanor should help make for a smooth transition process from one level to the next. He's got the potential to play a two-way role as a scorer and defender off an NBA bench.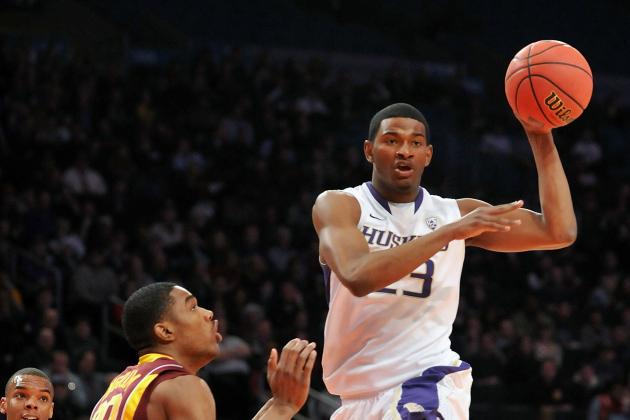 Jason Szenes/Getty Images

Stock Report: Up
C.J. Wilcox has remained under the radar despite a 19-point per game average along with a 41.9 percent three-point stroke.
He's made 16 threes over the last five games, illustrating his potential as a specialist at the next level. Wilcox has NBA shooting guard size at 6'5'' with long arms and fluid athleticism.
He's taken a bigger role in Washington's offense, increasing his shot attempts from 10.9 to 15 a game. Wilcox doesn't have overwhelming upside, but his ability to finish at the rim and light up the perimeter give him appeal as a shot-maker in a specialty role.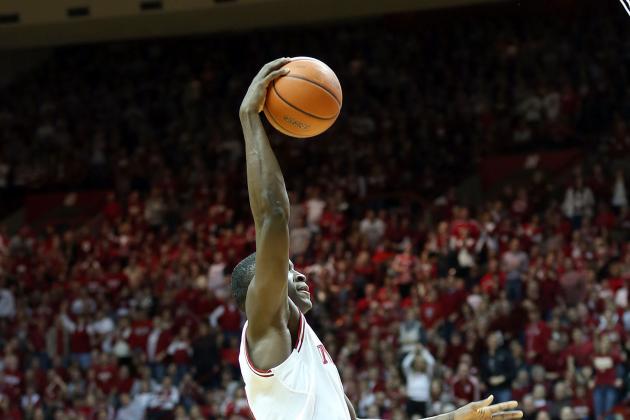 Andy Lyons/Getty Images

Stock Report: Up
Victor Oladipo has been a scoring machine, averaging 19 points over the last three games.This is a guy who's been criticized in the past for lacking offensive tools, yet he's scoring only two less points per game than his teammate and preseason All-American Cody Zeller.
His speed, quickness and aggression levels are off the charts, and it allows him to score a few easy buckets every game.
Oladipo really added to his game by developing a consistent spot-up three-ball. He's made 14 of his last 19 three-point attempts, a statistic that will boggle my mind for the rest of the day.
Playoff teams searching for immediate production, particularly a defensive ball-stopper, will be giving Oladipo a look starting in the mid-to-late first round.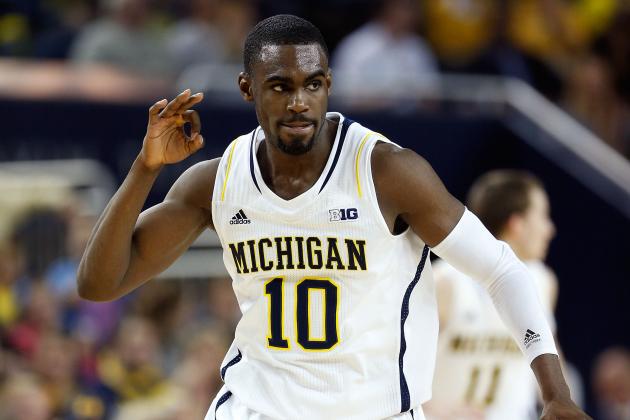 Gregory Shamus/Getty Images

Stock Report: Up
Two of the weaknesses that have kept Tim Hardaway from joining the first round conversation over the years have been his shot selection and perimeter shooting. As a junior, he's made visible improvements in both departments, which can be reflected by his numbers and Michigan's win total.
After shooting around 42 percent from the floor over his first two years, Hardaway is now up to 48 percent this season while decreasing his three-point attempts from 5.5 to 4.8.
Over the last four games, Hardaway is 10-of-16 from downtown, nailing some off the dribble and others off the catch-and-shoot.
His improved accuracy from long-range has turned Hardaway into a more versatile guard who can play with the ball in his hands or without it.
Now that his shot selection has tightened up, he's not shooting Michigan out of games. Hardaway should be able to complement ball-dominant point guards at the next level without needing to get the majority of the offensive touches.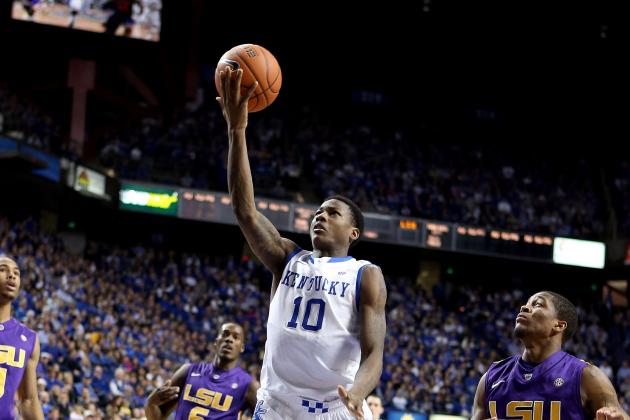 Andy Lyons/Getty Images

Stock Report: Down
Despite making at least a few head-scratching plays every game, Archie Goodwin usually finds a way to cushion the negatives with some positives.
He finished with 24 points, six boards and four assists in a win over Ole Miss, negating some questionable decision-making by routinely attacking the rim with effectiveness.
Goodwin's most attractive strength is his ability to get to the hole and absorb contact. He took 14 free-throws against Ole Miss, which is something that should translate from one level to the next, especially as his body develops and adds muscle over time.
But Goodwin's jump shot has been badly exposed, and so have his facilitating instincts. He's certainly not NBA-ready, but returning isn't an option thanks to Andrew and Aaron Harrison.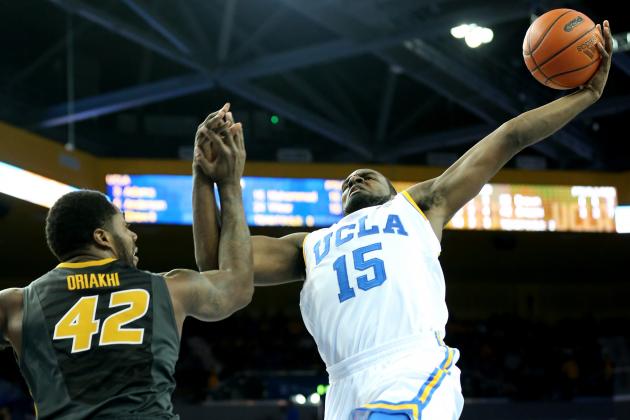 Stephen Dunn/Getty Images

Stock Report: Steady
You've got to give it to Shabazz Muhammad, who continues to score with consistency despite some harsh conditions and a target on his head.
Muhammad played through a stomach virus Wednesday night, but that didn't stop him from scoring 22 points, marking the third consecutive game he's managed to convert on at least seven made field-goal attempts.
What stands out about Muhammad is his ability to score at any angle. Take away his left shoulder and he'll turn over his right, or eliminate a driving lane and he'll pull up from 20.
Originally thought to have been a weakness, Muhammad is converting three-pointers at a 42.6 percent clip. Most of his makes come in spot-up situations, which shows he's comfortable playing off the ball.
He's been great individually, he's just not the sure-thing that Ben McLemore is.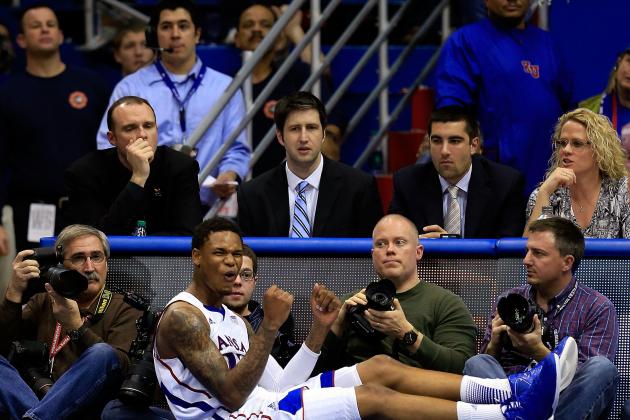 Jamie Squire/Getty Images

Stock Report: Up
Ben McLemore doesn't score in volume the way Shabazz Muhammad does, but the NBA is more familiar with his brand of ball.
Over his last seven games, McLemore is 15-of-27 from behind the arc. He's expanded his game off the dribble in the half-court to the point where he's comfortable shooting on the move, something that's restricted him in the past.
He's been stellar defensively, playing passing lanes, forcing turnovers and converting them into points the other way in transition.
It's safe to say that McLemore doesn't have a glaring weakness, and he'll get looks from every team in the draft whether they have a shooting guard or not. He may not have Muhammad's upside, but McLemore is a sure bet to have a long career as a starting NBA 2-guard.