Manchester United vs. Southampton: 6 Things We Learned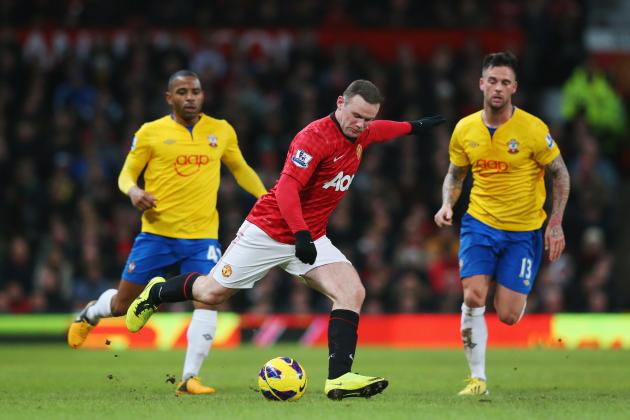 Alex Livesey/Getty Images

Following what was a rather disappointing evening for both teams concerned, it's time to reflect on Manchester United's 2-1 victory over Southampton, considering just what we can take from the narrow home win.
Regardless of the fashion in which his side won, Sir Alex Ferguson agreed in a post-match interview with BBC Sport's Guy Mowbray that "a win's a win" and that seven-point gap at the top of the table is now well and truly re-established.
The Saints will have been upset not to come away from the Theatre of Dreams with little more than a consolation goal, but can be pleased with their performance and hope to learn from the experience for the games to come.
Begin Slideshow

»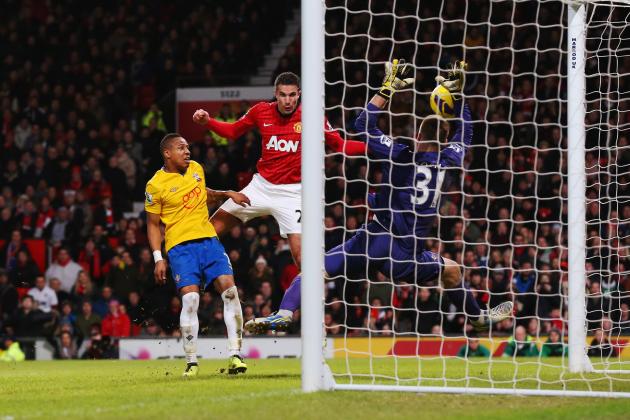 Alex Livesey/Getty Images

Due largely to his incredible success with Manchester United so far this season, the notion has risen that the Red Devils rely too much on their striking talisman and wouldn't be where they are without him.
While that may sound like an insult initially, you can be assured that many around the club and probably Ferguson himself would agree that RVP is largely responsible for the club's current league position, but not solely.
Against Southampton, the hosts showed their mettle in a more squad-worthy display, and it was Wayne Rooney who moved out of his Dutch teammate's shadow to provide a game-winning brace.
Admittedly, it's the games against the likes of Manchester City, Chelsea and other elite sides that have a massive bearing on the season, but these more understated, gritty shows against the Southampton's of the Premier League can often prove equally as important.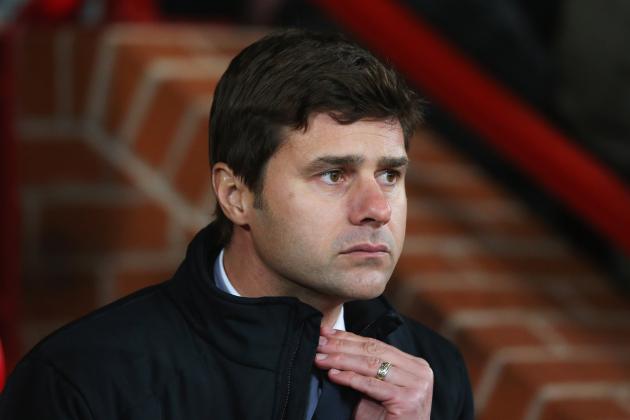 Alex Livesey/Getty Images

Nigel Adkins' sacking at St. Mary's was a sudden and unwelcome change for many of the Southampton fraternity; meaning Mauricio Pochettino's appointment was met with scepticism to say the least.
That said, Saints fans can now open up to the idea of getting behind the Argentine following a string of what have been pretty impressive displays.
For one, the ex-Espanyol boss appears to have shored up one of the division's poorest defences. While that might sound ironic after conceding two goals in a match, considering those goals came against a side averaging 2.67 goals per home game, Pochettino's influence begins to look all the more impressive.
Although he hasn't changed the look of the starting XI much in recent weeks, Pochettino appears to be exerting some solid values amongst his squad, and the trip to Old Trafford was just the latest example of how Southampton are improving under their new manager.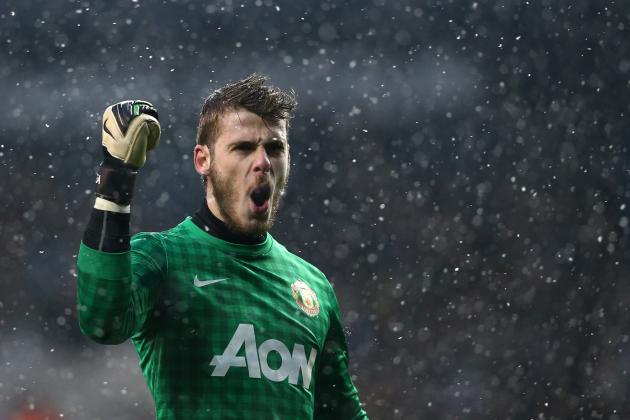 Clive Mason/Getty Images

Having faced criticism for much of his Manchester United career, David de Gea is one of those Manchester United players more frequently under the magnifying glass, scrutinised to the finest detail.
The 2-1 performance against the Saints was far from the Spaniard's best display in England thus far and highlighted some weaknesses that still exist in the youngster's game.
One would argue that Jay Rodriguez' goal could have been prevented were it not for a certain mistake made by De Gea, and Mauricio Pochettino even commented that United's 'keeper was a significant chink in the Red Devil's armour (via the Daily Mail).
While his reflexes and shot-stopping are undoubtedly some of the best in the English top flight, De Gea still lacks when it comes to strength and the aerial side of matters sometimes, a decent proportion of which were highlighted on Wednesday evening.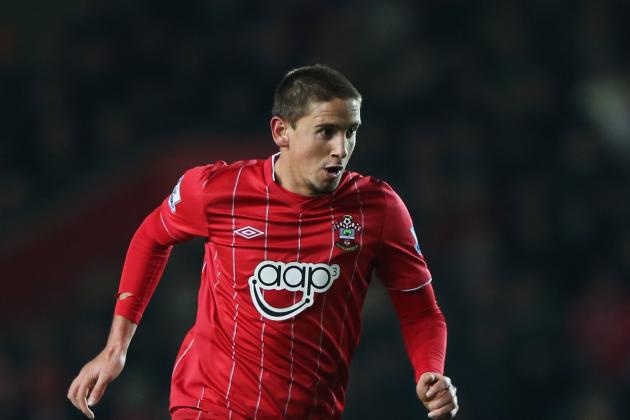 Ian Walton/Getty Images

From one of Manchester United's more recent acquisitions determined to cope in the Premier League to one of Southampton's, Gaston Ramirez is yet to quite live up to the expectations placed upon him at his time of arrival.
The Uruguayan was hailed as the club's record-breaking signing last summer, expected to lead his new side to top-flight survival, replicating the form shown at Bologna.
Unfortunately for the south coast outfit, that hasn't quite been the case, and Ramirez simply let another game pass him by and was ineffectual for a very big portion of the game.
For a club like Southampton, £12 million is an awful lot of money to be spending on just the one player, and things haven't exactly panned out as hoped for Ramirez just yet, as it's games like these where marquee signings are expected to step up and be held accountable.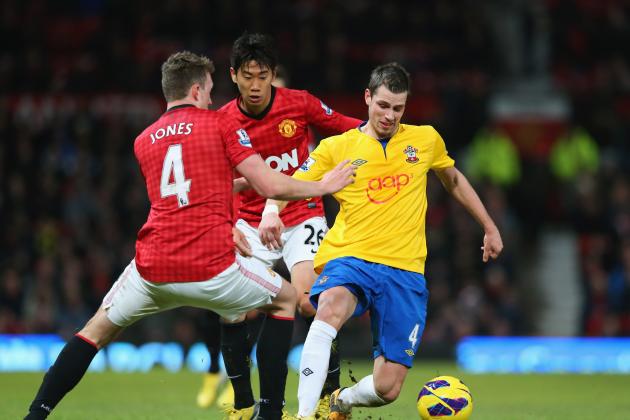 Alex Livesey/Getty Images

With just the 12th-best home defence in the Premier League, it's become quite clear that Manchester United are not the same, impenetrable side when at home that they became famed for in the success of recent years.
With Nemanja Vidic and Rio Ferdinand both on the wrong side of 30 and the full-back areas more offensively inclined than ever, the Theatre of Dreams is seeing more goals than ever, and they're not all ones that the home support will appreciate.
They say that a club's campaign is built on their home form, so it's a good thing that the Red Devils' attack is quite as talented as it is, putting points back within reach of the leaky English giants.
These days, the picture is altogether more different.
Teams like Southampton can look at a visit to Manchester United and believe that the points are there to be had should they perform to their full ability, a notion to have been considered absurd in years gone by.
Whether this trend will continue after Manchester United beef up their defence in the near future, something that's sure to happen in the next year or so, is debatable.
What isn't up for debate, however, is that despite their seven-point gap at the top of the table, anyone is beatable on any given day; Manchester United proving that to be true more than anyone.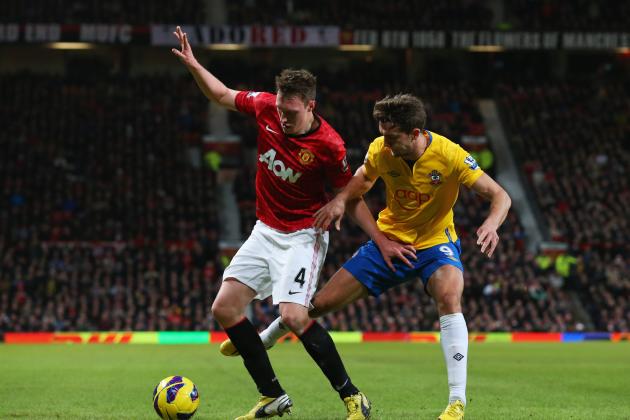 Alex Livesey/Getty Images

Playing his third different position in three games, Manchester United may have just found the heir to the John O'Shea throne in the figure of one Phil Jones.
Although the performance at right-back was far from spectacular, the 20-year-old put in a very capable shift at full-back and provides Manchester United with a utility to turn to in times of need, a vital presence at any club.
While much less effective in the final third than teammate Rafael, Jones was deployed in order to cope with a very specific Southampton threat and can be proud with the job done at that.
Undoubtedly, Jones plays his best football from centre-back and will never be considered the primary choice at wing-back as long as Rafael's at the club, but he is proving to be a mature and valued member of the club despite his age.
Once the likes of Vidic and Ferdinand begin to migrate more towards the bench and squad positions, one can be assured that Jones will see more playing time in the centre of defence, but it's great to know of the player's quality elsewhere.