Boston's Clubhouse Drama Should Take a Back Seat in 2013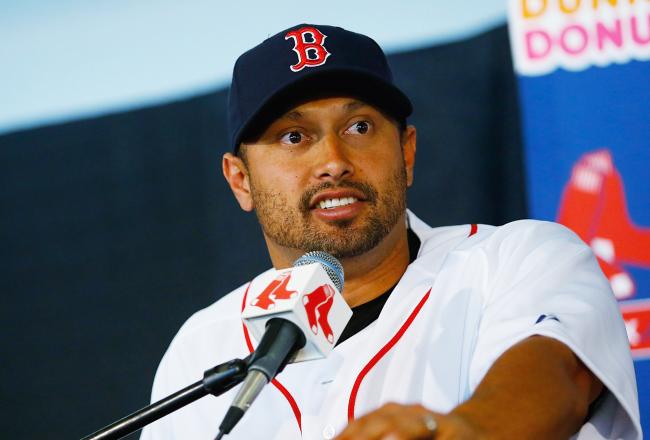 Jared Wickerham/Getty Images
The last year-and-a-half has been quite a whirlwind for Red Sox fans.
After missing the playoffs in 2010 for just the second time in eight years, GM Theo Epstein and the rest of the front office decided to splurge on free agent Carl Crawford and trade acquisition Adrian Gonzalez.
That followed their previous offseason decision to sign John Lackey to an $83 million contract. Their goal was to improve the club, but to also drum up interest in the city after the continued success and growing popularity of the Patriots, Celtics and Bruins.
When the calendar hit September 1, 2011, the Sox stood at 83-52 and seemed destined for home-field advantage throughout the playoffs, despite the fact that Crawford and Lackey had both been wildly under-performing.
But Boston's 7-20 record in September, which ended on that excruciating final day, sent the club into complete chaos. Epstein and Francona left, and the manager who had led the team to two World Series championships—including their first in 86 years—was slandered on his way out the door.
The Boston Globe's hatchet job on Francona and the team, the one that included reports of chicken and beer in the clubhouse, was both unnecessary and often untrue. But the rest of the media surrounding the team followed the Globe and led Boston into a tumultuous offseason.
Somehow, the Sox management team thought that hiring Bobby Valentine—a man who had been away from MLB clubhouses and media for 10 years—could handle the huge storm that was raging.
He could not.
Valentine led Boston to its worst record in 47 years and added fuel to the media firestorm seemingly every step of the way.
His comments two weeks into the season concerning Kevin Youkilis not being "as physically or emotionally into the game as he has in the past" started things off. And by the end of the season, he was batting Scott Podsednik third without looking at the lineup card and deeming Boston's September roster as "the weakest roster we've ever had in September in the history of baseball."
The most unfortunate aspect of his tenure is that Valentine didn't have his players' backs. That's the one area guys like Francona and Joe Torre excelled at the most. In big markets, the manager keeps conflicts in the locker room and lets the media critiques roll off him. Valentine was the opposite, and the team paid a hefty price for his actions.
On top of Bobby V's induced turmoil, the 2012 Sox did not have strong leadership in the clubhouse. Besides David Ortiz—the last remaining member of the 2004 World Series team—there was no one able to settle down the media.
Dustin Pedroia lost respect for Valentine after his Youk comments and later couldn't act as a team voice when he was hurt and struggling. Jacoby Ellsbury is a soft-spoken leader, but he was injured for most of the year. Jon Lester and Clay Buchholz held no sway with the media because of their tarnished chicken and beer reputations and their poor performances on the field.
So it was left to Ortiz to have to say comments such as, "Playing here used to be so much fun, and now every day it's something new not even related to baseball. People need to leave us alone and let us play ball, man." And "I'm just tired of dealing with the drama here."
The sentiment was exactly right. But when it's coming from one player and the manager doesn't have his back, it can be portrayed as lashing out—which some writers called it.
A strong clubhouse wouldn't have let the media vendetta become a problem. Take the 2004 Sox: They laughed off what the media had to say, chalked it up to being dumb and stupid—they were the self-proclaimed "idiots"—and went about their day without letting what Boston sportswriters had to say bother them.
The late 90s and early 00s Yankees did the same, but they went about it in different ways; they kept a business-like approach that separated everything in the locker room from the media. And they were backed by a strong players manager in Torre. They weren't going to let anyone in NYC affect their chances to win back-to-back-to-back titles.
The 2012 Sox were on the wrong side of each of those clubs. They weren't relaxed like the '04 Sox, but couldn't keep everything in-house like those Yankees teams. The result was a pressure-filled environment where one negative story or quote could dismantle a player and eventually the whole team.
Trading for and playing young guys certainly contributed, but there's a reason the Sox went 7-25 to close out the season: They wilted under the ever-increasing media demands.
First-year GM Ben Cherington wisely realized that the team could not go on as it was constructed. He knew there needed to be vocal leaders and clubhouse guys to surround Ortiz. And it seems that, during this offseason, he's found them without sacrificing much in terms of performance.
Sure, Shane Victorino had a down year last year. But FanGraphs rates him as averaging 4.1 WAR from 2008-2012. Place him in Fenway Park, batting in front of Ortiz and Middlebrooks while patrolling the vast area of right field? He should at least be able to match that figure this season.
Victorino has long been lauded as a clubhouse guy. In his introductory press conference as a member of the Red Sox, he matched that sentiment.
"I'm going to be fun. I'm going to be loud. I'm going to talk a lot. You're going to get what you get," he said. "It's going to be me. I'm going to go out there and play 100 percent."
Mike Napoli is also considered a solid clubhouse presence.
ESPN's Gordon Edes wrote that it was John Lackey who led the recruiting for the former Texas Ranger. "He's fun. He's a guy who likes to have a good time, but when it's time to go he's ready to compete. He's not going to be scared about anything."
That's perfect. In the high-pressure environment that is Boston, the Sox need players who aren't scared of anything and won't let the media get to them. Most times, those traits coincide with players who talk a lot and have fun.
Pedro Martinez, Kevin Millar and Manny Ramirez (for a while) all succeeded in Boston because of their personalities. Meanwhile, a hard-nosed grinder like Nomar Garciaparra was eventually shipped out of town because he couldn't handle it.
Does that mean every serious player can't play for the Sox? Of course not. As Bill Simmons often says on his podcast, there are certain kinds of players who can play in Boston and New York and certain guys that can't.
Randy Johnson, one of the best pitchers of all time, couldn't handle the New York media. Same thing for Javier Vazquez. On the Sox side, there's Crawford, Daisuke Matsuzaka and Jose Offerman, who had one good year and then hit .253 with a .357 SLG the rest of the time he was with the Red Sox.
David Ortiz has been holding down the fort long enough as the only player left from the 2004 season. It was time for the Sox to have an infusion of veteran clubhouse presence. Even if the stats don't translate, the culture will. And that's the first step to getting the Sox back to the playoffs.
Stephen Sikora is a junior at Boston College. In addition to being a Red Sox FC, he also writes about BC sports for the school's student newspaper, The Heights.
This article is
What is the duplicate article?
Why is this article offensive?
Where is this article plagiarized from?
Why is this article poorly edited?

Boston Red Sox: Like this team?