Ranking the Golden State Warriors' 5 Must-Watch Games of February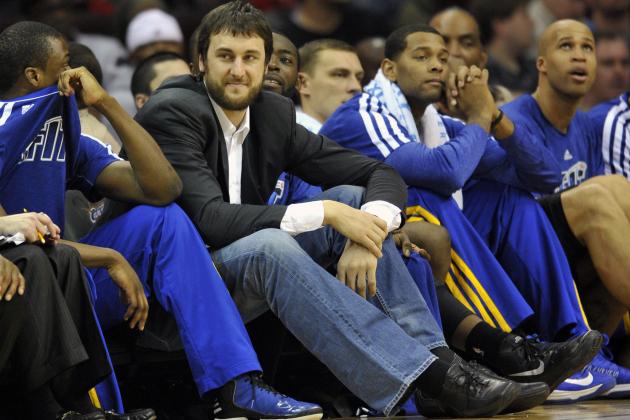 USA TODAY Sports

Every time I load up the standings in the Western Conference on my computer, it's almost become a habit to scroll to the bottom and see how far exactly the Golden State Warriors are from playoff contention. This year has been a little different. Seeing where they rank out West requires less scrolling, and there are actually a lot more teams below them than ahead.

As the All-Star break creeps closer and closer and the Warriors slowly silence their critics one by one, the possibility of this team breaking its six-year playoff drought keeps increasing.

Now that the Warriors have gotten through most of their vaunted January schedule (which wraps up Thursday vs. the Mavericks), let's take a look ahead to February and point out a few games that you need make sure are on your must-watch schedule.
Begin Slideshow

»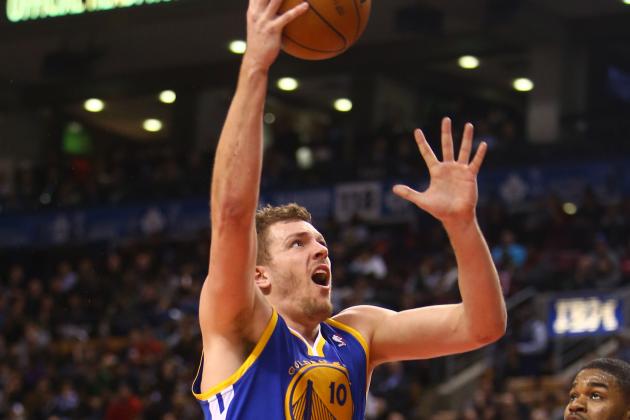 Tom Szczerbowski-USA TODAY Sports

Technically, this game isn't actually on the Warriors' schedule, but there will be a Warrior playing in it. For the first time since 1997, Golden State will have a representative in the All-Star Game, and his name is David Lee.
Obviously, the amount of minutes Lee plays will depend on his effectiveness and how the coach divides the minutes, but in any case, seeing a Warrior as part of the festivities is reason enough to tune in and see him play among the best of the best.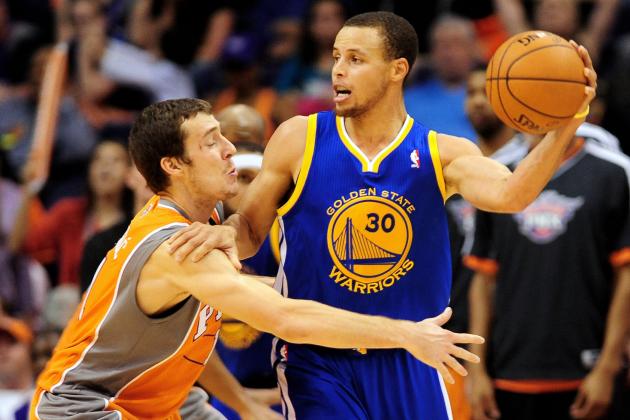 Jennifer Stewart-USA TODAY Sports

Although Andrew Bogut has more or less returned to the Warriors' lineup, there is still somewhat of a limit on how much court time he sees. He has gone on record saying he won't log more than 25 minutes per game and won't play back-to-back games until after the All-Star break.

Well, February 20th just so happens to be the first back-to-back game post All-Star break.

Will Bogut's minutes limit be lifted? How effective will he be in his first back-to-back of the season? Will he even play? All these questions are sure to be answered at home against the Phoenix Suns, and I'm sure that fans can't wait to see what the results are.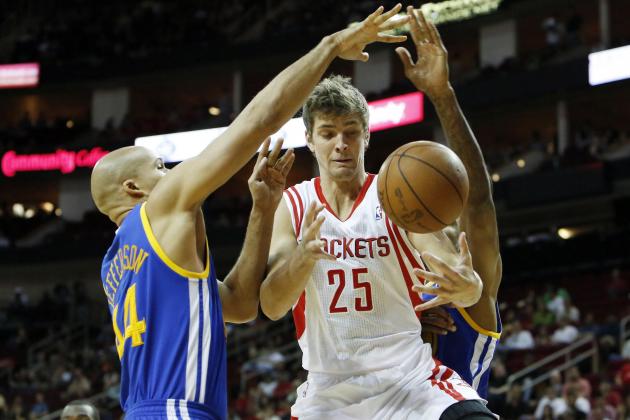 Thomas Campbell-USA TODAY Sports

When the Houston Rockets decided to trade for James Harden before the season started, they automatically joined the I-need-to-buy-League-Pass-to-watch-this-team club.
Harden alone was already one of the biggest rising stars in the league, but pairing him with one of the biggest basketball phenomenons of recent memory in Jeremy Lin (who was, of course, a former Warrior) made this team a must-see.

Standings-wise, if the season ended today, they would be in as the No. 8 seed in the West and therefore a playoff team. If the Warriors are to prove that they are to be taken seriously, they need to beat fringe playoff teams such as the Rockets.

Finally, the backcourt matchup of Curry-Thompson vs. Harden-Lin could make for one of the most entertaining matchups of the NBA season. Imagine how many shots would be attempted by that foursome. There might be a lot of misses, but shots will be taken nonetheless.

Plenty of shots.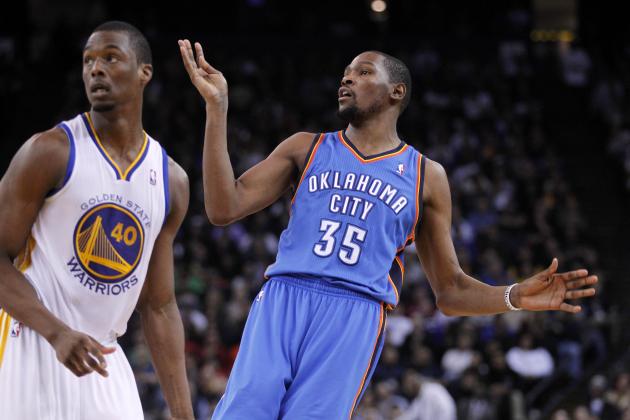 Cary Emondson-USA TODAY Sports

The Warriors have managed to come a long way from their basement-dwelling days, but exactly how far have they come?

Facing off against one of the NBA's elite teams can usually begin to let them know. So far, the Dubs have manage to split the season series with the defending Western Conference champions 1-1, so you can be sure that both teams won't be taking this game lightly.

Superstars Kevin Durant and Russell Westbrook will be looking to avenge the loss they took at the hands of the Warriors on January 23 at Oracle Arena, while Golden State will be aiming to prove once again that they can hang with the big boys of the West.

No matter what the outcome of this one, it'll sure to be a fun one to watch.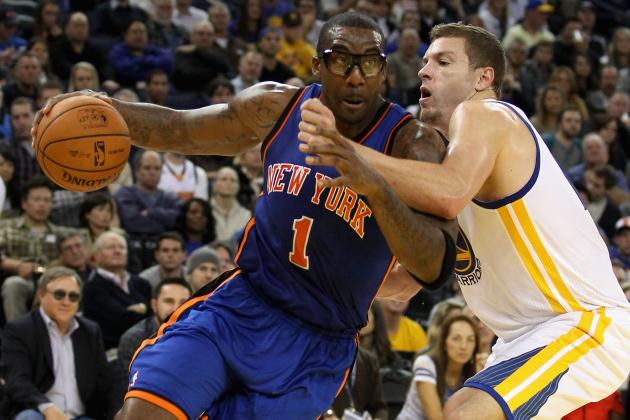 Ezra Shaw/Getty Images

Carmelo Anthony. Amar'e Stoudemire. Iman Shumpert's flat top.

If those aren't enough reasons to get you to watch the Warriors take on the New York Knicks on national TV at Madison Square Garden, then nothing will.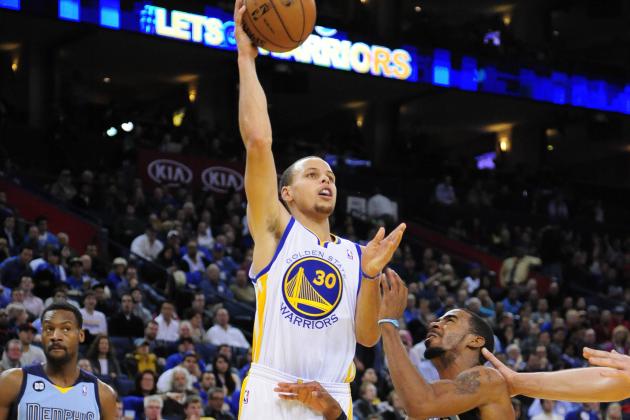 Kyle Terada-USA TODAY Sports

The new-look Memphis Grizzlies will have already played four games since shipping Rudy Gay off to Toronto but without a doubt, a buzz will still be around them as they face the Dubs.

The Grizzlies have owned the Warriors in both matchups thus far, and with good reason. Their massive frontline of Marc Gasol and Zach Randolph has caused nothing but problems for the undersized Golden State frontcourt.
Add in the fact that Rudy Gay loved playing the Warriors and had some of his best performances against them, and you can see why Memphis has not been a friendly matchup.

With Andrew Bogut back and Gay now north of the border, the Warriors will get a chance to see how they stack up against the finalized version of the Grizzlies.
Again, going off the potential playoff standings, Memphis (currently the fourth seed) and Golden State (currently the fifth seed) could possibly be a potential first-round matchup, which makes this game a possible preview of April basketball.