The Big 10 is coming off one of the worst seasons in conference history. Off the field was almost as bad as on the field. Ohio State and Penn State, two of the premier programs in the conference, were on probation entering the year, so there was already a black cloud surrounding the conference.
Once the games began, things did not get much better. The season opened with Michigan being manhandled by Alabama and ended with a 7-5 Wisconsin team winning the conference, but losing the Rose Bowl to Stanford.
The lone bright spot was Ohio State's performance. Although the Buckeyes were competing against subpar opponents, they managed to go 12-0 and, if they were not on probation, could have gone to the national championship.
Will 2013 be better? Well, it would be hard for it to be worse.
Here are four reasons why 2013 will be a better football season for the Big Ten.
Braxton Miller
The Buckeyes will be near the top of many polls entering the year and will be the preseason favorite to win the Big Ten. Braxton Miller's phenomenal sophomore campaign has a lot to do with those high expectations in Columbus entering 2013.
Last year, the dual-threat quarterback tallied 3,310 total yards and accounted for 28 touchdowns. And even more is expected from him in his junior season.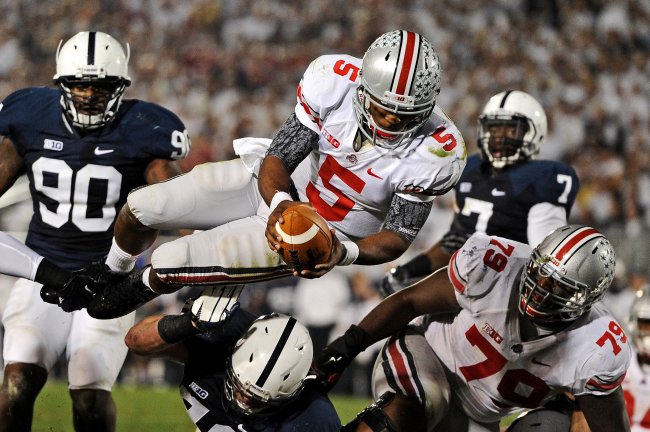 Patrick Smith/Getty Images
Miller also has the benefit of playing under Urban Meyer. Meyer has had great success mentoring dual-threat quarterbacks in the past (Alex Smith and Tim Tebow) and, if last season is any indication, Miller is on his way to being another one of Meyer's prized pupils.
With a very manageable schedule, Ohio State is one of the early favorites to contest next year's national championship.
If they are going to pull it off, however, they are going to have to be impressive throughout because many critics still believe in the Big Ten's inferiority, and who could blame them? The conference has only won one national championship in the BCS era, so it has a lot to prove in 2013.
Devin Gardner and Michigan's Improved Passing Game
In 2011, Denard Robinson had one of the best seasons in Michigan football history. He put up staggering numbers on the ground and led the Wolverines to a dramatic Sugar Bowl win over Virginia Tech, but things went downhill in 2012. Robinson's inept passing was finally exposed, and coach Brady Hoke made the switch to Gardner in the middle of the year.
In his third year at the helm in Ann Arbor, Hoke will finally be able to implement the offense he wants to run. He accommodated Robinson's athletic ability and used a spread offense during his first two years, but plans on changing that strategy in 2013.
Will a Big Ten team win a BCS bowl game next season?
This year, look for Hoke to implement a more pro-style offense and look for the Wolverines to have more success through the air, which will lead to more success in the win column.
Taylor Martinez
Another prominent dual-threat quarterback, Martinez has had an up-and-down career at Nebraska. The Cornhuskers finished the year with two emphatic losses to Wisconsin and Georgia, but those losses did not fall on the shoulders of Martinez.
The Cornhuskers defense was brutal at the end of the season. They gave up 115 points in those two final losses.
Martinez is primed to have a great senior year. His passing was greatly improved last year (he had 10 more touchdowns passing 2012 than he did in 2011) and his progress as a quarterback should continue this year.
Until their collapse at the end of the season, Nebraska was the class of the Big Ten and, if Martinez can continue his maturation as a passer and they can shore up their defense, the Cornhuskers will be contenders for a BCS bowl berth.
Michigan State's Resurgence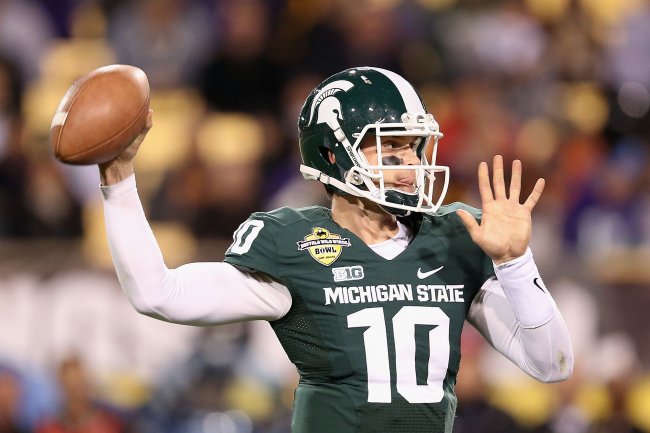 Christian Petersen/Getty Images
Since Mark Dantonio arrived in East Lansing, the Spartans have been in the thick of the Big Ten title chase in most years. Last year, however, was one of the exceptions.
Dantonio has built a program based off of physicality and toughness on both sides of the ball as well as a flair for the dramatic (i.e. against Notre Dame in 2010 and against Wisconsin in 2011).
Although their final record was 7-6 and they finished fourth in the Legends Division, the Spartans' play on the field was much better than their record indicated. Four of Michigan State's five losses came by fewer than four points.
State struggled in close games, which is an indication of youth at the quarterback position. Last year was Andrew Maxwell's first season as the starter and he steadily improved as the season wore on.
If Maxwell can continue to progress in 2013 and if the Spartans' stingy defense lives up to expectations, State could find itself contending for a Rose Bowl appearance come season's end.