Florida Football: 5 Offensive Playmakers Who Need to Step Up in 2013
Kevin C. Cox/Getty Images
Mike Gillislee was Florida's most consistent weapon on offense last season.
After struggling for two seasons amidst the transition from the spread to a more conventional scheme, Florida's offense showed vast improvement last year.
The main Gator weapon was running back Mike Gillislee. He seemingly came out of nowhere to rush for 1,152 yards and score 11 touchdowns. His combination of speed and toughness made him the right piece for head coach Will Muschamp's run-heavy offensive philosophy.
Unfortunately for the Gator faithful, he is now headed for the NFL draft. That means the team will not only have to find a way to replace his production but also develop a more effective passing attack.
In order for Florida to compete for the SEC title and be in the BCS conversation, players that had minimal roles last season need to make a bigger impact. This is especially true at both the wide receiver and tight end positions, as no returning Gator had more than 383 receiving yards last season.
At the same time, other players who saw extensive game action last season also need to take their game to another level.
As it stands now, here are the five offensive playmakers who need to step up their game for the 2013 season.
Begin Slideshow

»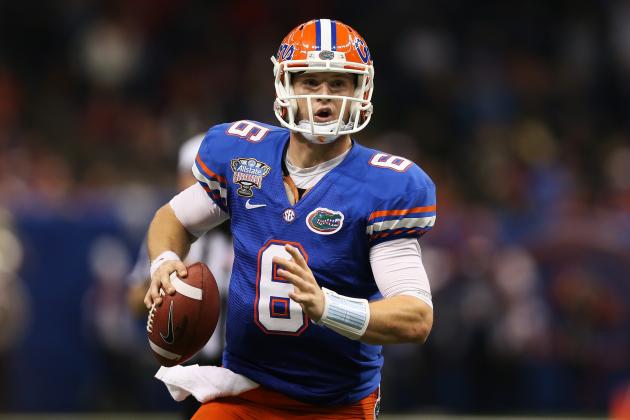 Matthew Stockman/Getty Images
Driskel will need to improve his decision-making in order for the Gators to build off last season.
I think most would agree that Florida needs Jeff Driskel to improve if the team wants to fight for another BCS berth. While his production last year was satisfactory, similar numbers this season could spell doom for the Gators.
Basically, all Driskel was asked to do last season was manage the game and limit turnovers. When he did that, the Gators were able to pull out close wins. When he failed to do that against Georgia and Louisville, the team lost its two biggest games of the year.
One of Driskel's biggest problems was accuracy. Although a 63.7 percent completion percentage is very respectable, Driskel missed a lot of open receivers down the field. This led to stalled drives that killed the flow of the offense.
His other major issue was pocket presence. Driskel took way too many sacks last season because he held onto the football too long. He had a tendency to focus in on one receiver and fail to recognize his other reads. There were also a few occasions where he scrambled to buy extra time to throw and still could not find an open receiver. This forced him to run to the sidelines for minimal gains.
If Driskel can improve in these two areas, he will be a valuable weapon for this offense. He is one of the most athletically gifted quarterbacks in the SEC. If he can truly become a dual threat and develop his passing game, Florida's offense will be highly explosive.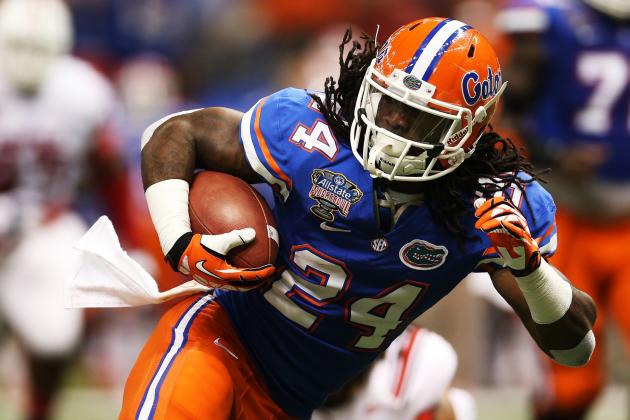 Matthew Stockman/Getty Images
Matt Jones will likely be the feature back for the Gators.
With Mike Gillislee out of the picture, it looks as though Matt Jones will ascend to the top of the Gator depth chart. If Florida wants to repeat its success from last season, Jones will have to play a major offensive role.
After a very slow start in 2012, Jones began to break out near the end of the regular season. Over the course of the team's final three games, he rushed for 162 yards and scored two touchdowns. His increased production made it clear that he had the battle to be the next featured back in hand.
As big an asset as Gillislee was for the Gators, Jones has the tools to be an even greater one. First off, he is bigger than Gillislee. At 6'2" and almost 230 pounds, Jones is hard to bring down and hits the line with great force. In addition, he possesses breakaway speed that he can unleash in the open field.
Even though ESPN 5-star recruit Kelvin Taylor will likely get his fair share of carries, the majority of the workload should be given to Jones. If he can step up and take charge of the backfield, the Gator rushing attack will not skip a beat in 2013.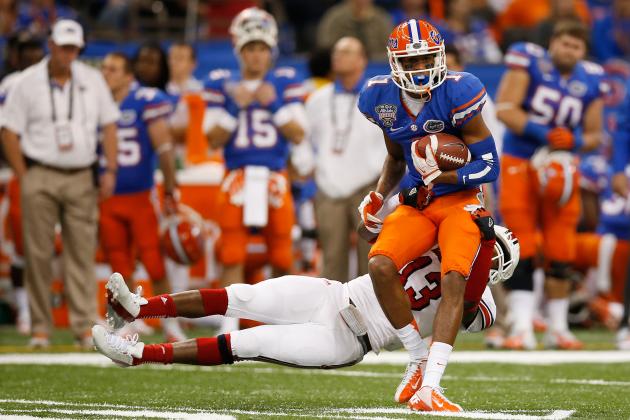 Chris Graythen/Getty Images
Quinton Dunbar is the closest thing the Gators have to a go-to wide receiver.
It's never a good sign when your leading receiver from last season had only 559 yards. That was the case with Florida tight end Jordan Reed. Now that Reed is not returning for his senior season, the Gators will need to rely more on Quinton Dunbar, their second-leading receiver from 2012.
If his past statistical progression is an indicator of how effective he will be this season, Dunbar is ready to break out in a big way. Last year, he doubled his 2011 touchdown total and nearly tripled his number of pass catches. He saved his most productive game for the bright lights of the Sugar Bowl, as he caught a season-high five passes for 77 yards.
Dunbar is mainly a possession receiver and is not likely to streak downfield for a deep bomb. However, he has deceptive quickness and solid route-running skills. His skill set complements that of Jeff Driskel, who relies on short-to-intermediate passes that move the chains.
Dunbar is not the ultimate answer to the Gators' wide receiver conundrum. Still, he is currently the most reliable option on the roster. He does not need to explode for 1,000 yards or reach double-digit touchdown numbers. However, he does need to pick up the slack. I think around 650 yards is a very reachable number, and it will immensely help the Gator pass attack.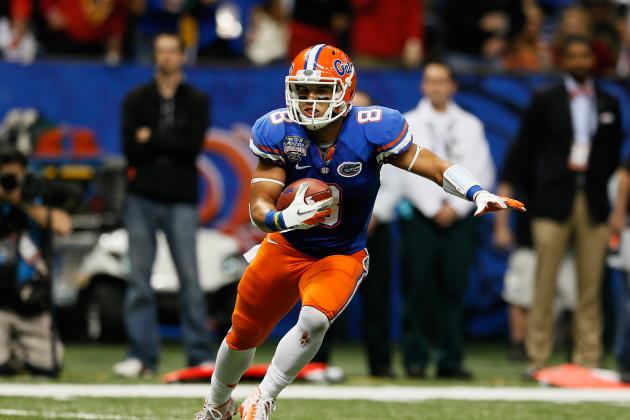 Kevin C. Cox/Getty Images
Burton has struggled since his promising first season in Gainesville.
After finding the end zone on a dozen occasions during his freshman season, Trey Burton was expected to become an invaluable weapon for Florida's offense. However, he has come nowhere close to matching those totals since that point. As he enters his last season in Gainesville, the team would receive a huge boost if Burton can rekindle his freshman magic.
Burton showed he can still be an explosive player in the Gators' comeback victory against Tennessee. He scampered for an 80-yard touchdown that turned the entire game around. His longest pass reception of the season also came in that game.
A great deal of his effectiveness in 2010 stemmed from the fact that his skills lent themselves to a spread offense. Therefore, the transition to a more pro-style system did not do Burton any favors. Still, he should be making larger contributions to this team. His speed and shiftiness are comparable to that of some of the best tailbacks in college football. Along with his pass-catching ability, these make him a matchup nightmare for opposing defenses.
The Gators need Burton to step up and be a team leader during his senior season. If he can once again produce with regularity, he will help the team on the scoreboard and in the locker room.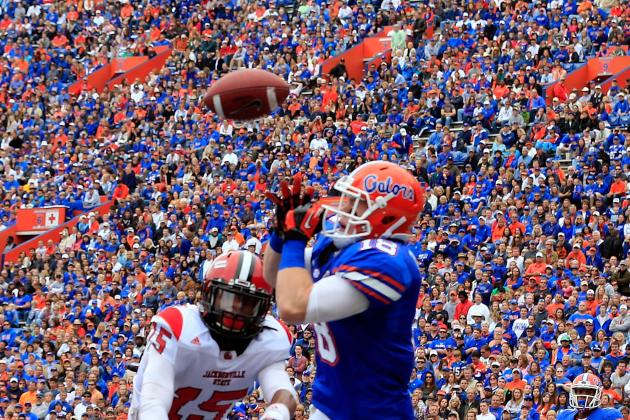 Sam Greenwood/Getty Images
With Jordan Reed's departure, Taylor is the one most likely to fill the void at tight end.
To say the tight end position is a big question mark for the Gators entering next season is a vast understatement. Right now, the battle to be the primary tight end is between Clay Burton, Tevin Westbrook and Kent Taylor. The player most likely to have a significant impact on offense is Taylor.
A concussion set Taylor back at the beginning of last season, and he did not make much of an impact as a result. However, his size and athleticism make him one of the most intriguing players on Florida's offense. As ESPN GatorNation's Michael DiRocco points out, Taylor is the closest thing to former standout Aaron Hernandez the Gators have had since Hernandez last wore a Florida uniform.
Jeff Driskel would benefit immensely from having an athlete like Taylor play at his full potential. He would not only be a big target for Driskel to hit, but he can also draw defenders in coverage, thus leaving other receivers open.
Taylor's lone touchdown came at the end of the Sugar Bowl when the Gators were already bound for the loss column. Therefore, we've yet to see if he can make produce on a weekly basis against tough competition. Luckily for Gator fans, his skill set implies that he can become a valuable asset even as early as this season.