4 Takeaways from the Indiana Hoosiers' 97-60 Win vs. the Purdue Boilermakers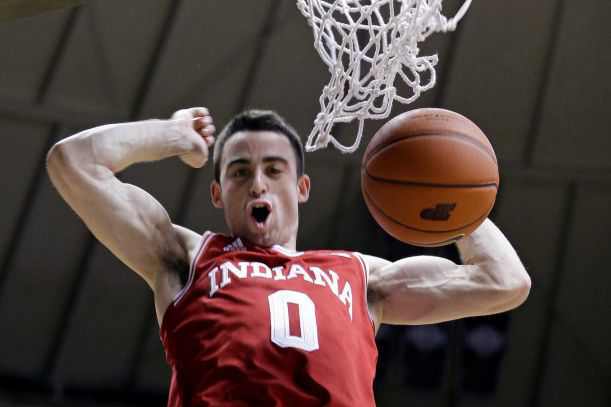 Will Sheehey slams one home in IU's 97-60 rout of Purdue at Mackey Arena on Wednesday (photo credit:http://www.newstimes.com).
The Indiana Hoosiers made their biggest statement ever against the rival Purdue Boilermakers at Mackey Arena on January 30, prevailing 97-60.
The huge win was third-ranked Indiana's most lopsided victory in West Lafayette, IN in the 199-game series between the two schools.
In an article he wrote moments after the game, Bob Kravitz of the Indianapolis Star also confirms two facts:
This was Purdue's worst-ever home loss dating back to their days at Lambert Fieldhouse.
The 97 points scored by the Hoosiers match the biggest total ever allowed by a Matt Painter-coached squad.
With the victory, IU bolstered its record to 19-2 which includes a 7-1 record in Big Ten Conference play. The Hoosiers have won four in a row since losing to the Wisconsin Badgers 64-59 at home on January 15. They also remain undefeated on the road with a 6-0 mark, notching their fifth straight away victory versus a Big Ten Conference opponent.
Furthermore, this win sets the stage for an expected epic battle against Trey Burke, Tim Hardaway, Jr. and No.1-ranked Michigan in Bloomington, IN on February 2.
Let's look back at some key takeaways from IU's blowout win against Purdue.
Begin Slideshow

»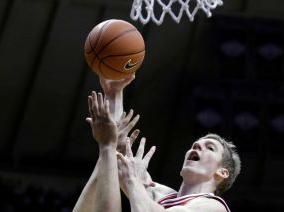 After struggling in the previous two games, Cody Zeller came back with a vengeance against Purdue (photo credit:http://www.ctpost.com).
Even on those rare occasions when Cody Zeller is off, the Hoosiers still manage to win.
However, when Cody Zeller is on, chances are Indiana will win big.
Coming into the Purdue game, the prized sophomore forward managed just a combined 11 points on 2-of-11 shooting against Penn State and Michigan State. Great players find ways and means to shake off a slump, and Zeller did just that against the Boilermakers—19 points, 11 rebounds (seven offensive), two assists and two steals.
A career 74.5 percent free throw shooter, Zeller made all seven of his free throws against the Boilermakers.
In an interview with Michael Marot of the Associated Press he spoke about the big victory:
"It is kind of neat because IU has had so many great teams over the years and to be the biggest win, it's always nice to be part of history."
If he continues to carry the Hoosiers the way he has, they have a big chance against Michigan on Saturday.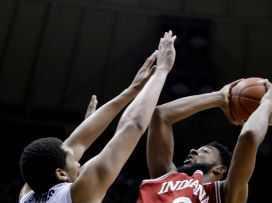 Senior forward Chrstian Watfod contributed 17 points to the Hoosiers' high octane offense (photo credit:http://www.ctpost.com).
As mentioned earlier, IU's 97 points matched the highest ever allowed by a Matt Painter-coached team.
This was a night when the Hoosiers stepped on the gas offensively with five players scoring in double figures as opposed to Purdue with only two. IU buried 12 threes on 25 attempts for a remarkable 48 percent. Senior Christian Watford shot 4-of-5 from downtown.
Freshman Yogi Ferrell had three trifectas—draining two in succession with 10:54 to play to stretch IU's advantage to 25 at 67-42.
When Victor Oladipo scored in the ensuing possession, the Hoosiers were on a 9-of-10 tear at that point. All five starters—Watford, Ferrell, Zeller, Jordan Hulls and Oladipo—scored in double figures. For the game, Indiana shot 49 percent from the field while limiting Purdue to only 40 percent.
For good measure, IU was also 19-of-20 from the stripe.
Through January 27, the Hoosiers are ranked second in the nation in scoring offense at 83.3 points per game. Clearly, if IU steps it up offensively, it is very difficult to beat.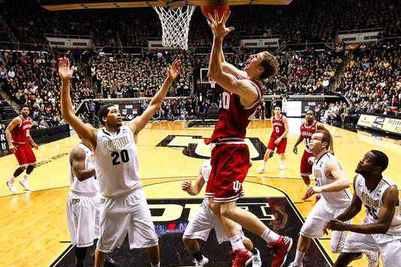 Cody Zeller snagged 11 rebounds in the blowout victory at Purdue (photo credit:http://www.usatoday.com).
Not only is Indiana ranked second in the nation in scoring, it is also ranked third in the country in rebounding margin.
As of January 27, 2013, only Colorado State and Maryland rank better in this department. IU averages 40.4 rebounds per game—out-rebounding the opposition by an average of 10.3.
In the Purdue game, IU snagged only 34 boards but managed to out-rebound its opponent by 11. The key here is the Hoosiers' ability to beat the opponent to the ball time and again—this team simply has a nose for the ball. This is really one of the reasons why they have won 19 of their first 21 games.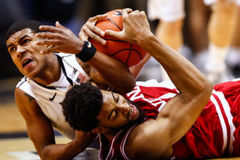 Christian Watford and the Hoosiers forced the Boilermakers into committing 18 turnovers (photo credit:http://www.theindychannel.com).
Tom Crean's crew prides itself in being a selfless unit and well-oiled machine that always seeks to make the extra pass, finding the open man for the higher percentage shot.
With 21 assists, the Hoosiers nearly doubled up the Boilermakers who managed only 11. Junior Will Sheehey, who bore the brunt of the Purdue crowd's ire when he flexed his arm muscles after a three-point play in the second half, led the way with seven.
Victor Oladipo and Cody Zeller found themselves to be on the receiving end of several nifty passes from their teammates during the game, winding up on the highlight reels with slams to finish off the plays.
IU also forced Purdue into committing 18 turnovers. During the first three minutes of the second half, Purdue tried to force the issue inside on several occasions. Oladipo and Ferrell each had a steal during that stretch. Indiana finished the game with 10 steals.
Not only did the Hoosiers force their opponent to make a ton of mistakes, they also managed to minimize theirs—they only had eight turnovers.
To sum it all up, IU did just about everything right in its biggest conquest of Purdue at Mackey Arena. To win on the road in such a fashion could very well be a good sign of Indiana reclaiming the number one seed once again.
Right now, it's only the Michigan Wolverines who are standing in the way.