Giving a Pass/Fail Grade to All 30 MLB GMs Based on Offseason Needs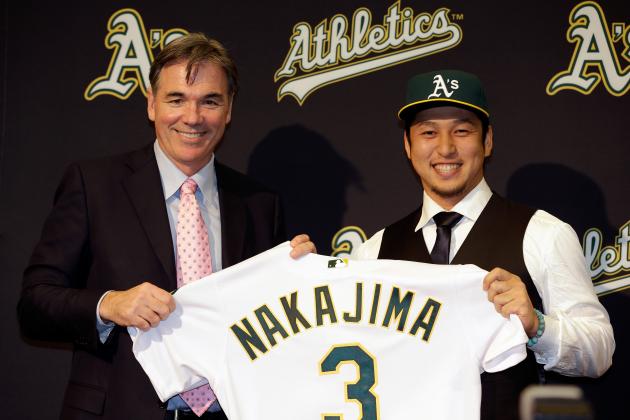 Ezra Shaw/Getty Images

The MLB offseason is an unpredictable flurry of free-agent signings and blockbuster trades. And while it is nearly impossible to predict who will wind up where, it is much easier to pin point exactly what teams need to address when the season comes to a close.
Whether it is adding a starter to what was a weak pitching staff, shoring up an area that was a black hole offensively or replacing a key departed free agent, teams have clear cut areas of need each offseason.
Grading on a pass/fail basis, here is my take on how each MLB general manager did in addressing his team's offseason needs.
Begin Slideshow

»
Tom Szczerbowski/Getty Images

Baltimore Orioles: Pass
The Orioles had no glaring areas of need entering the offseason. Bringing back Nate McLouth to play left field and signing Jair Jurrjens to compete for a roster spot were solid moves.
Second base may be the biggest question mark, with Brian Roberts' health always in question, and the team claimed Alexi Casilla off waivers as an insurance policy there.
Boston Red Sox: Pass
One could say "fail" here and point to the Red Sox's decision to spend on veterans rather than rebuilding as failing to satisfy their need for a long-term overhaul.
However, given the route the team opted to go, it did well filling out its roster, bringing aboard a total of nine veteran players via free agency and trades.
New York Yankees: Fail
With Russell Martin departed in free agency, catching has the potential to be a black hole offensively for the Yankees this coming season, with in-house options Chris Stewart and Francisco Cervelli set to platoon behind the plate.
Ichiro Suzuki was re-signed to replace Nick Swisher, and the need for a right-handed-hitting outfielder was addressed by signing Matt Diaz to a minor league deal, as that could remain an area of need.
Tampa Bay Rays: Pass
The Rays bolstered their roster by adding a number of players on low-cost deals, including 2B Kelly Johnson, 1B James Loney, RP Roberto Hernandez and OF Shelly Duncan. They also traded for Yunel Escobar and re-signed Luke Scott and Kyle Farnsworth.
The marquee deal, though, was the trade of James Shields and Wade Davis for a prospect package headlined by Wil Myers. The slugging outfielder has a chance to fill the Rays' need for another power bat alongside Evan Longoria as early as this coming season.
Toronto Blue Jays: Super pass
The Blue Jays essentially brought aboard half a rosters' worth of players this offseason, adding Jose Reyes, Mark Buehrle, Josh Johnson, Emilio Bonifacio, R.A. Dickey and Josh Thole via trade.
They also signed Melky Cabrera, Maicer Izturis and Mark DeRosa and will benefit greatly from getting Jose Bautista back healthy. They were among the biggest winners of the offseason and are legitimate title contenders entering the season.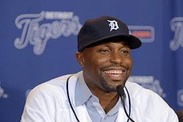 Photo Credit: ESPN
Chicago White Sox: Fail
With A.J. Pierzynski signing with the Rangers, the White Sox have opted to turn things over to Tyler Flowers to be the starting catcher in 2013.
The biggest area of need was third base, with Kevin Youkilis leaving in free agency, but the best the team could do was signing career utility man Jeff Keppinger to a three-year deal to fill the position. The White Sox were also unable to find a taker for Gavin Floyd after actively trying to trade him.
Cleveland Indians: Pass
The Indians were expected to be major sellers this offseason, but instead they wound up buying on the free-agent market. And with the additions of Nick Swisher, Mark Reynolds and Brett Myers, they look to be in a much better position to succeed than they were last season.
They also dealt free-agent-to-be Shin-Soo Choo in a a three-team trade that netted them top pitching prospect Trevor Bauer from the Diamondbacks, improving what was an incredibly weak farm system.
Detroit Tigers: Pass
Right field was a major offensive hole last season for the Tigers, and they quickly filled that void by signing of Torii Hunter to a two-year deal. They then re-signed Anibal Sanchez to a five-year, $80 million deal to fill out the rotation.
The departure of Jose Valverde in free agency leaves a hole in the ninth inning role, but the team has held strong to its decision to fill the void from within. Top prospect Bruce Rondon is the front-runner, but the Tigers have other options in Joaquin Benoit, Octavio Dotel and Al Alburquerque, so not signing someone made sense.
Kansas City Royals: Pass
Though they have a solid core of young position players, the Royals' pitching has failed to develop at the same level, and their rotation has been a major hole the past few seasons.
As a result, the Royals opted to deal a hefty prospect package led by Wil Myers to the Rays for right-handers James Shields and Wade Davis. They also traded for Ervin Santana and re-signed Jeremy Guthrie. Their rotation no longer looks to be a weakness and could wind up a strength if they catch a few breaks.
Minnesota Twins: Fail
The Twins' rotation was abysmal last season beyond Scott Diamond, and the team addressed that to a point this offseason.
Kevin Correia was a solid signing, but injury risks Mike Pelfrey and Rich Harden are far from sure things to contribute. Vance Worley was acquired in a trade with the Phillies, and prospects Trevor May and Alex Meyer were acquired as well. But as a result, the team now has a hole in the outfield with Denard Span and Ben Revere being moved.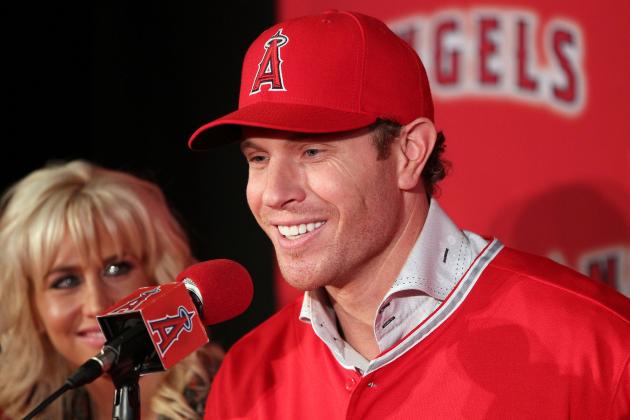 Victor Decolongon/Getty Images

Houston Astros: Pass
While they continue to rebuild, the Astros' offseason activity will remain at a minimum as they look to keep payroll down and give young players a chance to contribute.
They did that, as their offseason signings were all of the low-cost variety, with Carlos Pena, Erik Bedard, Phil Humber, Rick Ankiel and Jose Veras added to fill out the roster.
Los Angeles Angels: Pass
The Angels' biggest issues heading into the offseason were figuring out how to replace three starting pitchers and shoring up the bullpen.
Zack Greinke, Dan Haren and Ervin Santana have been replaced by Tommy Hanson, Jason Vargas and Joe Blanton, while Ryan Madson and Sean Burnett were signed to bolster the bullpen. Oh, and the team signed Josh Hamilton as well—just a cherry on top of its offseason areas of need.
Oakland Athletics: Pass
The A's return essentially the same team that was the surprise AL West champs last season, with the only notable departures being Brandon McCarthy and Jonny Gomes.
Also gone is shortstop Stephen Drew, who was acquired at the deadline, but the team signed Japanese shortstop Hiroyuki Nakajima to fill what was the only real void.
Seattle Mariners: Pass
After finishing last in the American League in runs scored each of the past three seasons, the Mariners clearly needed to upgrade their offense this offseason.
They did that by trading for Kendrys Morales and Michael Morse, along with signing Raul Ibanez and Jason Bay to bargain contracts. Most important of all, they made those improvements without sacrificing any of their top tier prospects.
Texas Rangers: Fail
The Rangers were rebuffed in their efforts to sign Zack Greinke, re-sign Josh Hamilton, trade for James Shields and trade for Justin Upton.
Instead, they'll replace Hamilton, Mike Napoli and Michael Young with A.J. Pierzynski and Lance Berkman and rely on unproven prospects Leonys Martin and Martin Perez as the center fielder and No. 5 starter, respectively.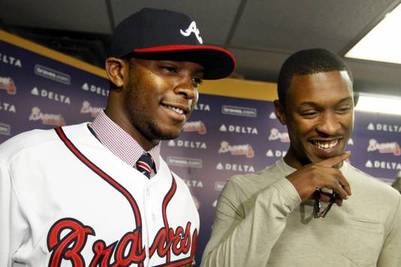 Photo Credit: USA Today
Atlanta Braves: Pass
Up until last week, this would have been a fail, as the Braves had yet to find the left fielder they had desperately needed all offseason. That all changed though when the team landed Justin Upton from the Diamondbacks.
He'll join his brother B.J., who was signed to replace the departed Michael Bourn, and the Braves will enter the season with as complete a roster as any team in baseball.
Miami Marlins: Super fail
A year after spending big in free agency to try to usher in their new stadium with a winner, the Marlins did a complete 180 and gutted their team in a trade with the Blue Jays.
What's left is a team that will have a hard time not losing 100 games this coming season.
And while the Marlins have acquired some solid pieces for the future, the present looks bleak in Miami. Juan Pierre and Placido Polanco will be hitting 1-2 in the lineup—need I say more?
New York Mets: Fail
The Mets are a tough case. While it's certainly been an active offseason in New York, the team has failed to upgrade its abysmal bullpen and has glaring holes in the outfield.
David Wright was extended and R.A. Dickey was traded for a terrific prospect package, so it hasn't been all bad this winter. But as far as filling areas of need, the team still has the same issues it did when the offseason began.
Philadelphia Phillies: Pass
For better or worse, the Phillies filled their roster needs this offseason with a collection of veterans via free agency and trade.
Ben Revere was acquired from the Twins to play center field, Michael Young was acquired from the Rangers to replace Placido Polanco at third base and the duo of Delmon Young and John Lannan was signed to play right field and serve as the No. 5 starter, respectively.
Washington Nationals: Pass
The Nationals finally got their center fielder/leadoff hitter when they sent pitching prospect Alex Meyer to the Twins for Denard Span.
They also signed Dan Haren to fill Edwin Jackson's spot in the rotation, signed Rafael Soriano to close, re-signed Adam LaRoche and subsequently traded Michael Morse.
In a three-team deal, Morse was shipped to Seattle, and top pitching prospect A.J. Cole returned to Washington after he was dealt to the A's last winter in the Gio Gonzalez deal.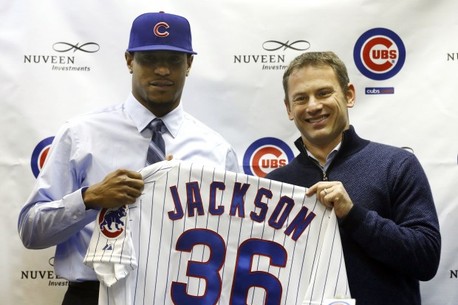 Photo Credit: Northwest Indiana Times
Chicago Cubs: Pass
For a Cubs team very much in the middle of a rebuilding process, the offseason game plan was to add a handful of veterans to fill out the roster on short-term goals, ideally ones who could potentially be flipped for prospects at the deadline.
The Cubs signed a number of guys that fit the bill, with Scott Feldman, Scott Baker and Carlos Villanueva joining the rotation and Nate Schierholtz and Scott Hairston in the outfield. They also signed steady right-hander Edwin Jackson to a four-year deal and Japanese closer Kyuji Fujikawa to a two-year deal.
Cincinnati Reds: Pass
After a rough showing from the top of their order last year, the Reds set out to find a center fielder with solid on-base skills to set the table for their sluggers.
They found their man in Shin-Soo Choo, acquiring him from the Indians. They also re-signed Ryan Ludwick and Jonathan Broxton to fill the two major remaining holes and added Jack Hannahan to fill out the bench.
The Reds really have no clear areas of weakness entering spring training.
Milwaukee Brewers: Fail
With the worst bullpen in baseball last season, the Brewers clearly needed to add some relief pitching this offseason. They did that by signing Mike Gonzalez and Tom Gorzelanny, as well as trading for Burke Badenhop.
However, the team failed to add a veteran starter to the mix in what will be a largely inexperienced rotation behind ace Yovani Gallardo. The Brewers also still have no proven fall-back option if John Axford falters in the closer's role once again.
Pittsburgh Pirates: Pass
The Pirates could have gone one of two ways to fill out their rotation: either turn the job over to an in-house prospect or sign someone. They opted for the second route, signing Francisco Liriano to a two-year deal and re-signing the non-tendered Jake Karstens.
No addition was bigger than Russell Martin behind the plate, though, as he was signed away from the Yankees on a two-year deal. He'll mark a significant offensive upgrade over Rod Barajas and does a great job handling a staff.
St. Louis Cardinals: Pass
The Cardinals' sole need entering the offseason was to add a second left-handed reliever alongside Marc Rzepczynski in the bullpen. They found their man in Randy Choate, signing him to a three-year deal.
They also shipped Skip Schumaker to the Dodgers and signed Ty Wigginton in a move that should give them more pop off the bench.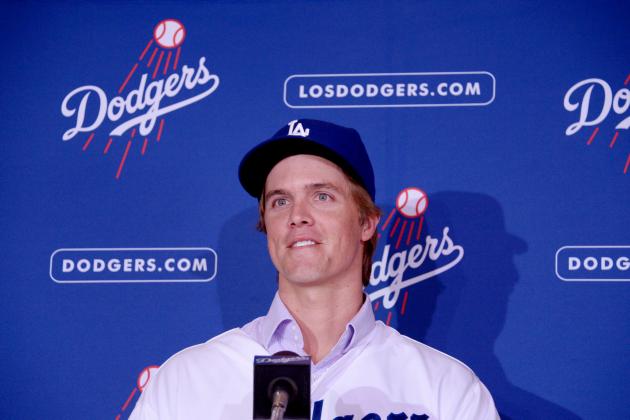 USA TODAY Sports

Arizona Diamondbacks: Pass
The Diamondbacks finally put an end to the Justin Upton saga, trading him to the Braves in a multi-player deal that netted them Martin Prado and Randall Delgado, among others.
They also signed Cody Ross and traded for shortstop Cliff Pennington and Didi Gregorius.
Whether or not the Gregorius trade, which cost the Diamondbacks pitching prospect Trevor Bauer, proves to be a smart one remains to be seen. But it did address their biggest area of need.
Colorado Rockies: Fail
The Rockies had by far the worst starting rotation in baseball last season, and all they have done so far this offseason to address it is re-sign Jeff Francis and bring in Chris Volstad and Miguel Batista on minor league deals.
A number of guys missed time last season, and healthy years from Jorge De La Rosa, Jhoulys Chacin and Juan Nicasio could offset the team's lack of additions to the staff. Still, one has to wonder why the team didn't at least take a flier on a low-cost veteran or two.
Los Angeles Dodgers: Pass
They may have overpaid to get him, but signing Zack Greinke to a six-year, $147 million contract gave the team the front-line starter it needed to slot behind ace Clayton Kershaw in the rotation.
The Dodgers also brought aboard Korean left-hander Hyun-Jin Ryu on a six-year deal to be the No. 4 starter and re-signed Brandon League to serve as closer. They very well may have drastically overpaid for both players, but they did fill areas of need in signing them.
San Diego Padres: Fail
The Padres lacked a reliable third starter behind Edinson Volquez and Clayton Richard last season, and it looks like they'll be lacking one once again. The team added Jason Marquis, Freddy Garcia and Tyson Ross to the staff, but none are sure things to contribute.
Aside from that, the Padres really just needed to be patient, as they have one of the best farm systems in all of baseball and should begin reaping the rewards of that talent soon.
San Francisco Giants: Fail
The Giants' game plan heading into the offseason was to re-sign their key free agents, and they did that by bringing back Marco Scutaro, Angel Pagan and Jeremy Affeldt on multi-year deals.
However, the team failed to add the impact middle-of-the-order bat that it's needed the past few seasons to take pressure off of Buster Posey. Left field seemed like the clear area to upgrade, but instead the Giants opted for a platoon of Gregor Blanco and Andres Torres.
They're still in a great position to win, but the Giants will once again rely heavily on their stellar pitching staff and the bat of Posey to do it.