Clasico Deluxe Edition: 6 Highs and Lows from Madrid vs. Barcelona
Denis Doyle/Getty Images

That is how the game of football was meant to be played.
Real Madrid and Barcelona attacked relentlessly in Wednesday night's clash at the Bernabeu, leaving us barely a moment to breathe as the events unfolded with blistering pace and intensity.
The match may have ended with just a goal apiece, but it was filled with chances, drama and best of all, the highest quality football these two teams have to offer.
Madrid came out the more aggressive side, applying incessant pressure high up the pitch and forcing Barcelona into mistakes from the first minute onward. Though they were incisive in attack and sharp with their passing, they couldn't find a finishing touch to match.
Barcelona—frustrated and unsettled in possession for long stretches—nevertheless responded with their own spells of irresistible attacking play.
Either side could have finished the first leg with several goals, and both will feel unlucky not to come away the winner.
Let's look at the highs and lows from this unforgettable match.
Begin Slideshow

»
Denis Doyle/Getty Images

Madrid made their intentions clear right from the start, with Xabi Alonso hassling Pedro Rodriguez and forcing a nearly costly giveaway in the very first minute.
Rather than sit back—or be forced back by Barcelona possession—Los Blancos held a high line and made Barcelona attempt risky passes from deep in their own half.
Xavi Hernandez and Andres Iniesta both found it difficult to cope with the pressure, each giving the ball away in uncharacteristic fashion. Their rare panicked decision-making betrayed the ultimate success of Madrid's defensive posture and energy.
From Sociedad to Malaga, to Madrid and others this season, teams are having measured success against Barcelona playing with riskier defensive tactics and pressing higher up the pitch.
If nothing else, these tactics make for exciting games and end-to-end action. There seems to be some payoff in the results as well. Will other teams catch on?
Madrid may have pressured well, but you just can't keep Barcelona off the ball for an entire match.
In the end, they had some truly delightful midfield possession and controlled the tempo for most of the second half. This possession in the 64th minute is nicely illustrative of their tightening grip on the match.
A wonderful interplay from Jordi Alba and Iniesta gets it started, and as the ball works its way across the field, the Blaugrana keep it with ease, connecting a dizzying seven consecutive first-touch passes in the process.
It wasn't all tiki-taka through midfield for the Blaugrana. At times, they stormed forward and sliced Madrid to pieces.
Cesc Fabregas played an inventive scoop pass to Lionel Messi in the 80th minute, but Diego Lopez came charging out to unexpectedly nick the ball off the little Argentine.
Jordi Alba slipped in behind a ball-watching Ricardo Carvalho in the 88th minute, and Xavi found him in stride, but his shot was met by a strong hand from Diego Lopez.
Perhaps the pick of the chances came in just the 13th minute against the run of play. Messi made a strong run from his own half and found Iniesta, who settled the ball about 25 yards from goal. With little movement ahead of him, and Fabregas drifting offside, the attack seemed to have stalled, when Jordi Alba cut through the defense like a flash of lightning. Sensing Alba's run from behind, Iniesta delivered a sublime scoop right into his path.
Unfortunately, Alba seemed caught in two minds about whether to square the ball to Xavi or take the chance himself. But from Messi's run, to Iniesta's pass, to Alba's run, a superlative piece of attacking play.
And don't believe anyone who claims Messi had an off day. He was a constant threat, though Madrid limited his scoring chances.
The attacking play was indeed marvelous, but some of the defending is just as worthy of the highlight reels.
Raphael Varane has already won the critics over with his performance, which included a goal-line clearance, last-ditch tackles on Fabregas and Messi and a towering headed equalizer to top it all off.
Gerard Pique had an heroic moment to call his own own after his embarrassing start to the game, tracking Cristiano Ronaldo's far-post run and preventing him from latching onto Mesut Ozil's pinpoint cross in the 66th minute.
But Dani Alves topped them all. From the second minute—when he followed up Ronaldo's free kick to prevent Karim Benzema from snatching the rebound—to the final minute—when his diving header cleared Ozil's corner before it could meet the head of Carvalho,—Alves' defending was Barca's saving grace.
In the 36th minute, he prevented a sure goal when he made his way across the penalty area and slid in front of Benzema to meet Jose Callejon's cross. And the list goes on.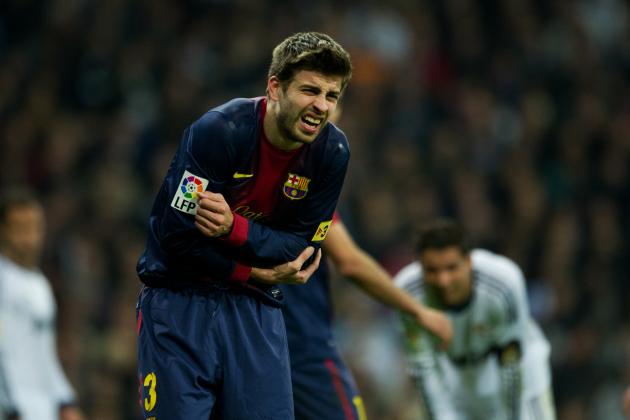 Jasper Juinen/Getty Images

Barcelona committed four fouls. Against their bitter rivals. In the entire match.
Though they were always likely to play a less physically confrontational style than Madrid, to respond to such a beating with so few infringements is extraordinary in its own right.
And only Dani Alves' foul in the 72nd minute could reasonably be qualified as a cheap shot, as he came in unnecessarily late on Ronaldo. Pique missed his first-minute challenge and fully deserved the booking he received, but there was no menace and little contact.
Meanwhile, Carles Puyol and Sergio Busquets quietly and effectively went about their business, and both escaped with a clean slate.
In the end, both sides will be rueing a slate of missed chances.
Ronaldo and Pedro were most culpable after missing a pair of sitters. Ronaldo met Michael Essien's 60th-minute cross off a tricky bounce, but with Jose Manuel Pinto out of the picture only a few yards between his head and the back of the net, he will be supremely disappointed in his effort.
Pedro found himself bearing down on Diego Lopez' goal in the 72nd minute after being played through by Fabregas on the counterattack. For whatever reason, Diego Lopez declined to narrow the angle, and his gamble paid off, as Pedro somehow managed to clip his effort wide of the target from inside the six-yard box.
Barcelona will also feel hard done by a woeful offside decision on 56 minutes that should have left Messi one-on-one with Diego Lopez with even more space than Pedro would have on his later chance.
And who kept La Pulga onside? Yes, Raphael Varane. Perhaps the pundits wouldn't have been so quick to pronounce him man of the match had he let Messi in behind to double their lead.
In the end, the draw is probably a fair result and sets the stage for a cracking return leg at the Camp Nou.