Toronto Blue Jays: 5 Players Who Won't Be Happy with Their 2013 Role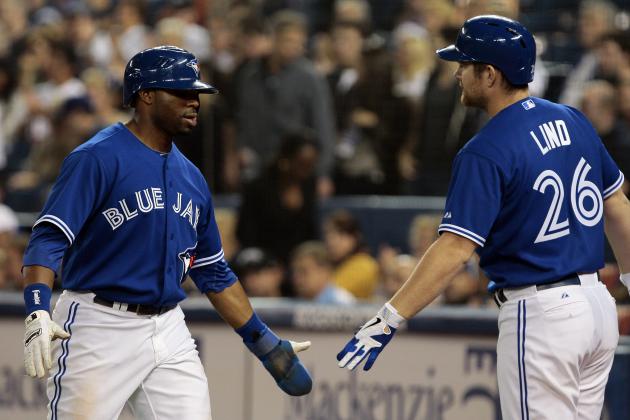 Abelimages/Getty Images

The Toronto Blue Jays made a series of transactions this offseason that completely reshaped their starting lineup. With all the new faces arriving in Toronto, there will surely be a few players extremely excited to start the season with a new team. But collateral damage is inevitable, and there are bound to be some unhappy players as well.
This list is not meant to generalize a player's personal beliefs on becoming a backup, or doing the little things to help a team win games. The unhappy designation is simply a reflection on reduced playing time, or unique situational pressures.
The expectations for the 2013 edition of the Toronto Blue Jays are extremely high and a large part of winning baseball games is the culture in the clubhouse. Tumultuous teams with immense talent have stumbled, while teams with less talent (but players who relish their role) have succeeded.
For the team to be successful, it is likely that these unhappy players will have to find a way to succeed in their new role and not portray themselves as disgruntled. Regardless, here are five Toronto Blue Jays who won't be happy with their role next season.
Begin Slideshow

»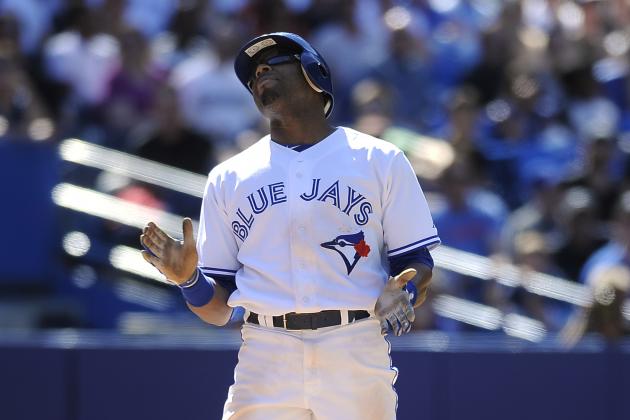 Brad White/Getty Images

The addition of Melky Cabrera this offseason will see Davis relegated to a supporting role this year. Last year, Davis started 114 games, but will see that number drop for the upcoming season.
Davis' main responsibility will be to provide speed on the base paths as a pinch runner late in games. Even as a backup outfielder, Davis will have to compete with newcomer Emilio Bonifacio for playing time.
The depth options that manager John Gibbons has at his disposal will be just as important as the starters over the 162 game season, and Davis figures to be a large part of that.
If Davis can learn to excel in his role and be a leader in the clubhouse, he could be a key piece to the winning equation in Toronto.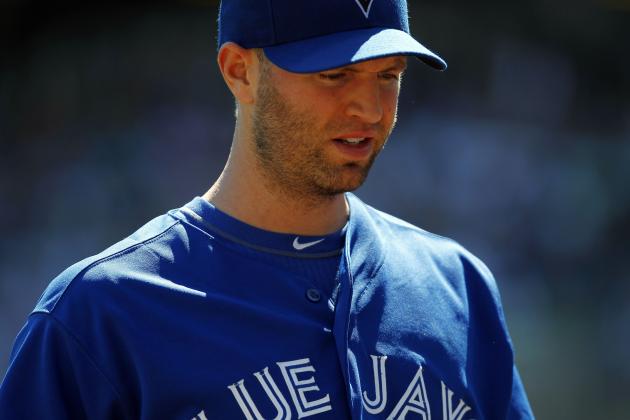 Jeff Zelevansky/Getty Images

J.A. Happ was brought into Toronto midway through last year in an attempt to bring some stability to a young, injury-plagued pitching staff. He started in the bullpen, saw some time as a starter, and after this offseason may ultimately find himself in the minors playing for the Buffalo Bisons.
The decision to trade for Happ was another one of Anthopoulos' now trademark moves designed to acquire an underachieving veteran and turn his career around. It worked with Colby Rasmus, but he did not get the same results out of J.A. Happ.
Happ will most likely start the season in the minors, and I can only imagine he is not terribly thrilled about this development.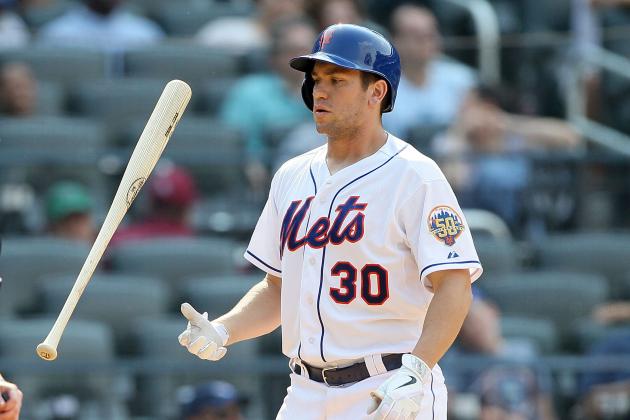 Jim McIsaac/Getty Images

One of the many new faces in the Blue Jays' clubhouse this year, Thole will look to find his niche in Toronto. The Blue Jays already have a fan favorite at the catcher's position in J.P. Arencibia, and likely won't replace him with the 26-year-old Thole.
Thole started 104 games for the New York Mets last year and has experience catching R.A Dickey's knuckleball. That may be a factor that influences his amount of playing time, at the very least getting a chance to catch once every five days when Dickey takes the hill.
Thole has never showed that he has the kind of power that J.P. Arencibia has, and will likely take a backseat this year.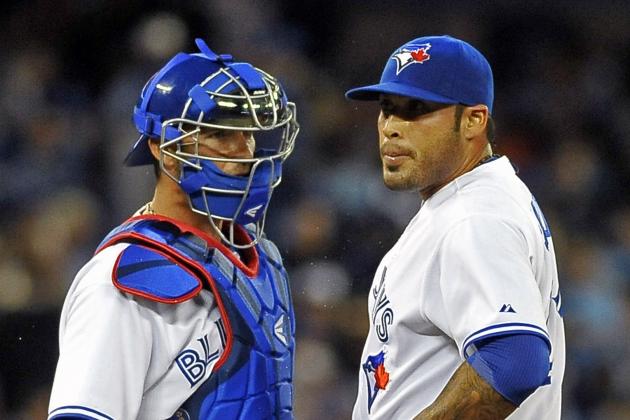 Brad White/Getty Images

Just one year removed from a 30-save performance with the Chicago White Sox, Santos will most likely start the season as the set-up man out of the bullpen.
Casey Janssen's performance last year will, at the very least, earn him the opportunity to start the year with the closer's duties. That will bump Santos into the set-up role, something he has yet to do consistently in his major league career.
If he is able to pitch well, the Blue Jays could have a lethal 1-2 combination at the back end of their bullpen. Although I assume Santos would be much happier in the closer role, the opportunity for him to supplant Janssen is still a distinct possibility.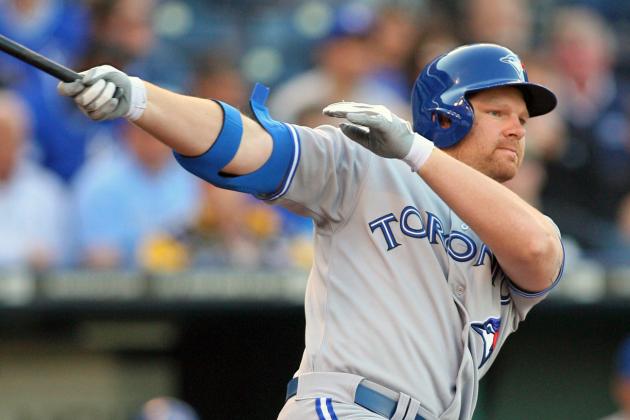 Tim Umphrey/Getty Images

Trying to figure out where Adam Lind fits into the Toronto Blue Jays' lineup is only slightly more confusing than trying to figure out why Lind has struggled so much in the MLB.
Lind has dominated in Triple-A, but has been unable to translate that into major league success. This year may be a make-or-break situation for him.
Although currently slated as the team's starting designated hitter, if he fails to produce this season, his at-bats may be few and far between. His time in Toronto is coming a close if he cannot prove he belongs in the major leagues.
His DH spot could easily be filled by some combination of Melky Cabrera, Edwin Encarnacion, Maicer Izturis and Emilio Bonifacio, without losing much offensive output. He also may be worth something on the trade market, if a team wants to take a chance on him excelling in a new environment.
The pressure of knowing that he is on the clock is a unique situation that may put Lind in an uncomfortable and unhappy position.
Hit me up on twitter to talk baseball or anything else awesome Follow @applebyinc