8 Schools in Desperate Need of a Facilities Upgrade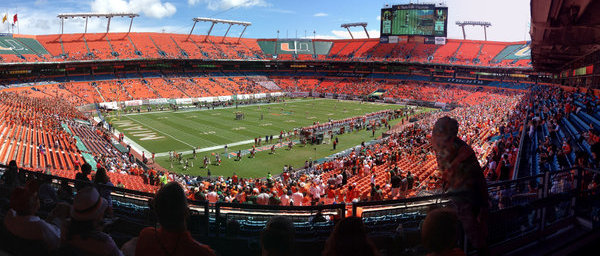 (Photo: AP)
College football recruiting is difficult enough these days. The last thing a head coach needs to contend with is his program's lack of impressive facilities able to entice top-ranked recruits during campus visits.
But there are still programs around the nation—even some major programs—that are woefully behind the competition when it comes to practice facilities, weight rooms and even stadiums.
With so much emphasis on putting together top recruiting classes year in and year out, these programs could do themselves and their coaching staffs a huge favor by making some desperately needed improvements to their football facilities.
Begin Slideshow

»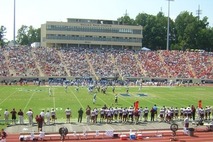 (Photo: Duke University)
You can't really blame Duke for not really paying attention to the football program. Duke is, and will likely always remain a basketball school. But with the Blue Devils finally returning to the ranks of bowl-bound programs, maybe it's time Duke starts to diversify its sports portfolio.
Shockingly, Duke only recently completed a 100-yard indoor practice field for the football team, which replaced a 70-yard outdoor practice field. That's a good start, but it's not nearly enough.
If Duke wants to keep itself from sinking back into the depths of the ACC cellar, it can't stop with a shiny new practice building. Some badly needed stadium upgrades are in order. Maybe a few more bowl trips will convince those basketball boosters to start sharing the wealth.
Then again, maybe not.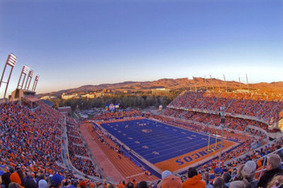 (Photo: AP)
Yes, we all love (or hate) the blue field at Bronco Stadium in Boise, Idaho. And, no, we're not for an instant going to suggest Boise State get rid of its signature "Smurf Turf." We also applaud Boise State for removing the unsightly track around the field.
Unfortunately, the track has been replaced with added bleachers that look like, well, added bleachers. Instead of quick-fix measures designed to boost seating capacity in the short term, we feel that Boise State has attained a level of success and recognition worthy of a major upgrade to the stadium.
If Boise State really wants to be considered amongst the nation's true power programs, the Broncos will need a stadium befitting such recognition.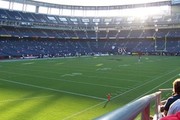 (Photo: AP)
San Diego is a city much like LA these days. Traffic is a nightmare, space is limited and money is incredibly tight. But a program like San Diego State really has no business playing in a venue like Qualcomm Stadium.
The venue seats 70,561 for football games, yet SDSU averages fewer than 40,000 fans per home game (according to 2011 figures—the most recently available numbers—released by the NCAA). Wouldn't an on-campus venue be a better option for the Aztecs?
There's something to be said about an intimate stadium packed to the hilt, especially when you consider that the Aztecs currently play in an expansive, half-empty NFL stadium. And recent successes under Brady Hoke and now Rocky Long have the program on the fast track to major success. A stadium of its very own is the next logical step for this up-and-coming program.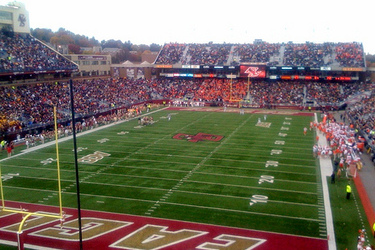 (Photo: Boston College)
Alumni Stadium at Boston College is clearly showing its age. Boston College can now not only claim a woefully under-performing football team, but also one of the worst football stadiums in the ACC.
The Eagles play in front of one of the smallest home crowds in the conference, and that won't change, even with Syracuse and Pittsburgh scheduled to join the conference. Expansion is a must for BC, and a much-needed facelift and renovation of Alumni Stadium during said expansion certainly wouldn't hurt.
(Photo: University of Idaho)
The University of Idaho is home to the smallest venue in the Football Bowl Subdivision. The Kibbie Dome seats just 16,000 fans for football—just 1,000 more than the NCAA-mandated minimum attendance mark of 15,000. It should then come as no surprise that Idaho frequently ranks near the bottom of attendance figures each and every season.
Three wins over the past two seasons doesn't help, either.
Convincing football players to attend college in Moscow, Idaho, probably isn't the easiest task anyway. The climate is similar to its Russian namesake, and the Vandals program isn't known for much beyond being "that other program in Idaho." But even the Coliseum in Rome was built by laying one brick at a time.
If only someone could convince Idaho to lay that first brick.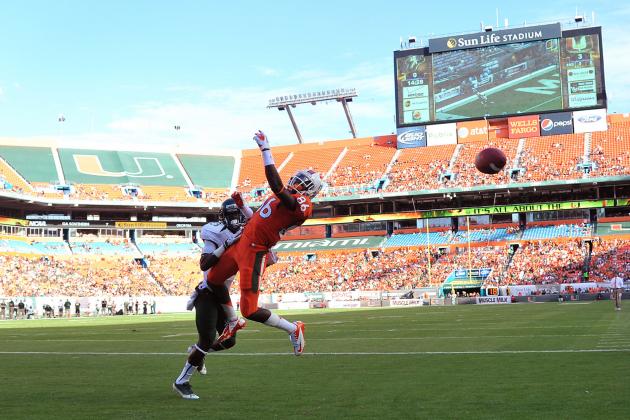 Steve Mitchell-USA TODAY Sports

For a traditional power program like Miami, it's downright mind-blowing that it doesn't have its own football stadium. Seriously, can you imagine LSU playing every game at the Superdome instead of on campus in Baton Rouge? How about Michigan suiting up each Saturday at Ford Field?
While there have been some special moments for the Hurricanes at the old Orange Bowl, the program has been working hard to put its past firmly in the rear-view mirror. Maybe some new, on-campus digs would be the perfect way to get a new era underway for Miami football.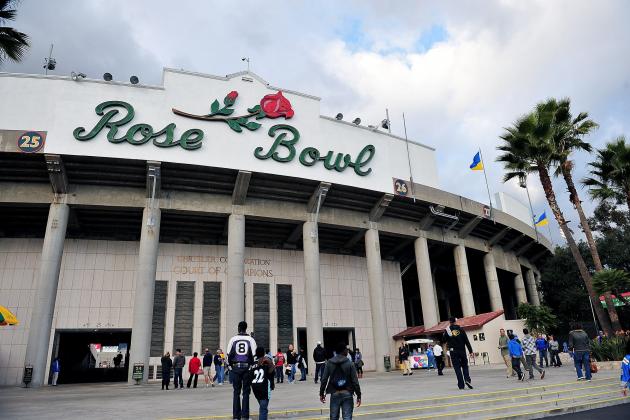 Gary A. Vasquez-USA TODAY Sports

Like Miami, UCLA is one of the nation's top programs without a house of its very own.
The Bruins play their home games in the storied Rose Bowl, but one look at the home crowds and it's easy to see that something is amiss. With so many empty seats, people not familiar with the Los Angeles area might be wondering what's wrong with the program. After all, we're talking about the back-to-back Pac-12 South Division winners, aren't we?
Traffic in LA is notorious, and for good reason. Is it any wonder students aren't thrilled about making the 25-mile trek from campus to the Rose Bowl?
Sure, space is at a premium in LA, but we're betting UCLA could find somewhere to build a stadium befitting its football program.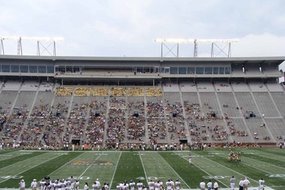 (Photo: AP)
The University of Alabama at Birmingham holds its home football games at historic and legendary Legion Field. This grand old stadium has been host to programs such as the Alabama Crimson Tide, the USFL's Birmingham Stallions, the annual Iron Bowl between Alabama and Auburn and countless postseason bowl games.
But time is taking its toll on the "Old Grey Lady," and the time may be approaching where a decision has to be made. Either the city of Birmingham and UAB need to get together to come up with a surely expensive and massive renovation plan, or it's time to put the old girl down and rebuild the next great stadium.
But maintaining the status quo clearly isn't an option.