How To Bet on the Super Bowl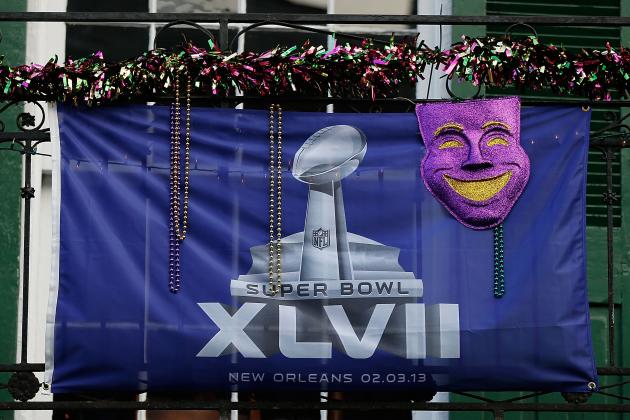 Scott Halleran/Getty Images

Will Beyonce suffer a nip slip during the halftime show?
You can bet on that. Literally. The odds are 20 to 1 in favor of "no" right now, by the way.
Will the Harbaugh brothers snub each other for a handshake after the game? That's also going off at 20 to 1 for "no."
You can bet on pretty much anything in the world of sports, and the Super Bowl is no exception.
Almost $94 million was wagered on Super Bowl XLVI last year, and that figure only accounts for the legal bets reported to the Nevada Gaming Control.
We're not telling you to bet, but if you plan on jumping into the fray for the first time and laying down some hard-earned greenbacks on your "boys," it's time to get acquainted with how sports betting works.
The following is an introduction to betting on the big game, and covers everything from standard bets to the more exotic propositions you'll see being thrown around for Super XLVII.
All odds listed via sportsbook.ag.
Begin Slideshow

»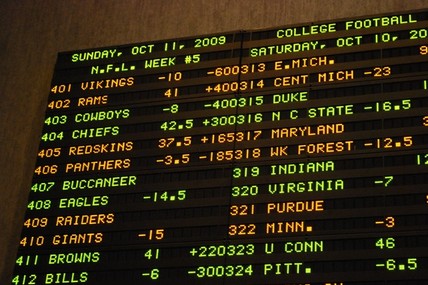 Image via wizardofodds.com
Here are seven main kinds of bets made on football games.
1. Money-line Bets: Playing the pluses and minuses.
2. Super Bowl Squares: buy a square, get lucky.
3. Betting on the Point Spread: covering the spread.
4. Over/Under Bets: betting on total points scored.
5. Parlays: multiple bets bundled into one big one.
6. Teasers: adjusting the points in your favor.
7. Proposition Bets: the exotic bets—the ones that can involve stuff like what color Gatorade is dumped on the winning coach.
Now let's get it into it, starting with...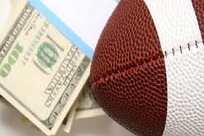 Image via http://justsportsazonline.com
Money-line betting is one of the most basic ways to gamble on the Super Bowl. It is only concerned with straight up winning or losing, not winning by a margin.
The money line for Super Bowl XLVII on sportsbook.ag currently looks like this:
Ravens (Baltimore) +140
49ers (SanFrancisco) -160
The negative number next to the 49ers means that San Francisco is the favored team to win the game, and in order to make $100 betting on them, you'd have to risk $160.
To be clear, that would be $100 on top of the $160 you risked, so you'd end up with $260 in pocket if San Francisco wins.
On the other hand, the Raven's positive number signifies that the sportsbook considers them the underdog in this contest, and bettors would win $140 for every $100 they put on Baltimore to win.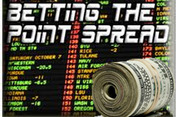 Image via gamblerspalace.com
"Covering the spread" means correctly betting on a team to either win or a lose a game by a certain number of points.
For example, the current point spread on Super Bowl XLVIII has the 49ers at -3.5 and the Ravens at +3.5.
That means in order to win money betting on the 49ers, Colin Kaepernick and the crew will have to beat the Ravens by more than 3.5 points in order to "cover the spread."
On the other hand, betting the points on the Ravens means Ray Lewis and company wouldn't necessarily have to win the game in order for you to win your bet.
If the final score of the Super Bowl is 49ers 24, Ravens 21, a points bet on the Ravens would cover the spread because the team didn't lose by more than 3.5 points (the Ravens final score plus 3.5).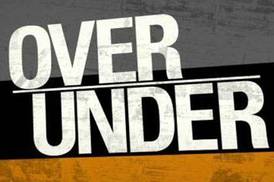 Image via csnne.com
Betting on game totals (a.k.a. the "over/under") of a football game typically involves wagering money on the total points scored by both teams in a game.*
Sportsbooks will typically throw out a number like 46 as the predicted combined total points for a football game like the Super Bowl.
Bettors will then bet on whether the actual total points scored by both teams will be higher (over) or lower (under) than the sportsbook prediction.
So if the sports book sets the over/under at 46 for Super Bowl XLVII, and the actual total scored by the Ravens and 49ers ends up being 44, a bet on the under would win.**
If the actual points scored adds up to be more than 46, however, then the over bets win.
*Over-under bets can also involve wagers on the combined total yards rushing, yards for both teams, combined passing yardage, etc.
**The current over/under for the Super Bowl is 47 points.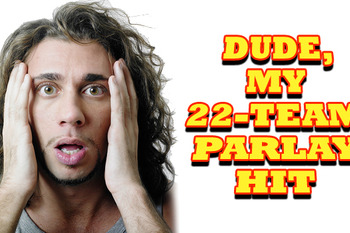 Image via bustedcoverage.com
A parlay bet is essentially a series of bets bundled into one. And they're a great play if you're feeling particularly bold.
Bettors making a parlay bet are wagering on multiple teams, and in order to win a parlay bet, you'd have to win on each of those individual bets.
For example, a three-team parlay bet for this coming Super Bowl could go something like this:
Jack McDerpenstein wants to bet that the 49ers will cover the spread against the Ravens, and also thinks that the Boston Celtics will cover the spread against Memphis Grizzlies on Super Bowl Sunday.
But wait, Jack sees the Heat are also playing the Raptors on Sunday and wants to take Miami to cover the points.
So he bundles them all together into a parlay bet, and if he is right about all of the aforementioned events, he'll receive a high payout.
If he's wrong about one, the parlay loses and he's out whatever money he bet.
The absolute easiest kind of football wagering one can do.
Buying football squares is the cheapest and easiest way you can bet on the big game Sunday, and you probably have been approached by someone you know asking whether you want to buy one.
It's a relatively low-hassle way to put some money on the game, and the video provided here explains how to get in on the action and set up your squares graph.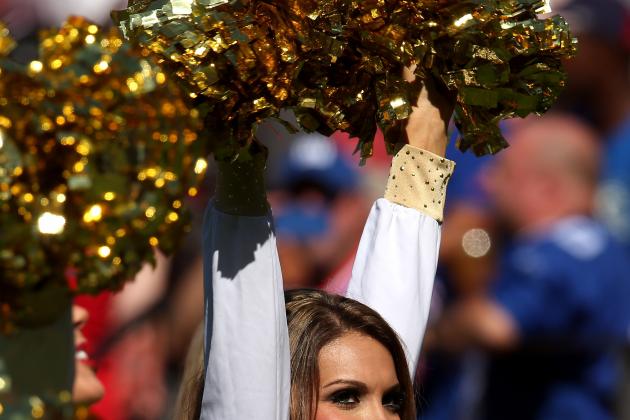 Stephen Dunn/Getty Images
Go ahead. Tease me.
Teasers are a little tricky at first, I know. But they're not too difficult to wrap your head around.
A teaser bet is a wager involving multiple teams and allows bettors to adjust the point spread of games in their favor.
For example, say this time Jack McDerpenstein has a hunch about two different football games—a Patriots vs. Browns game and a Jaguars vs. Texans game.
The Patriots are favored by eight points over the Browns, and the Jaguars are six-point underdogs against the Texans.
Jack wants to bet on both games, and by making a teaser bet he can adjust the point spread in any way by six, 6.5 or seven points.
So he adjusts six points on New England to make the Pats 14-point favorites (-14), and he moves the Jacksonville game six points so the Jags are 12-point underdogs (+12).
Jack will win his teaser bet only if the Patriots beat the Browns by more than 14 points and the Jaguars win or lose to the Texans by fewer than 12 points.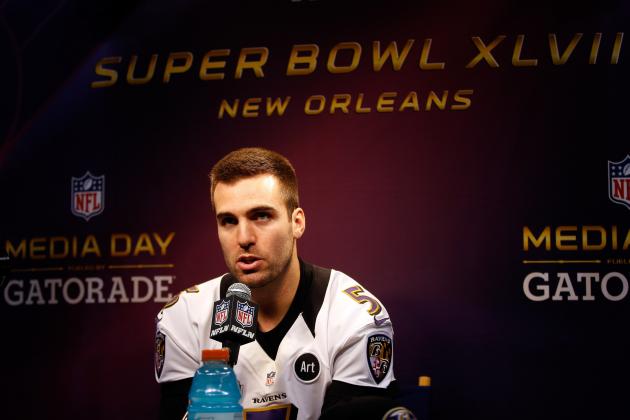 Chris Graythen/Getty Images
Will Joe Flacco rush for 100+ yards? LoLz.
Last, but certainly not least, we have proposition betting.
Proposition betting can involve literally almost anything. Will the first play of the Super Bowl be a run? Will Alex Smith take a snap at center?
And for big games like the Super Bowl, betting sites will create a special list of interestingly named and highly specific proposition bets for gamblers to sink their teeth into.
Click on to see some of the most interesting proposition bets being wagered on Super Bowl XLVII.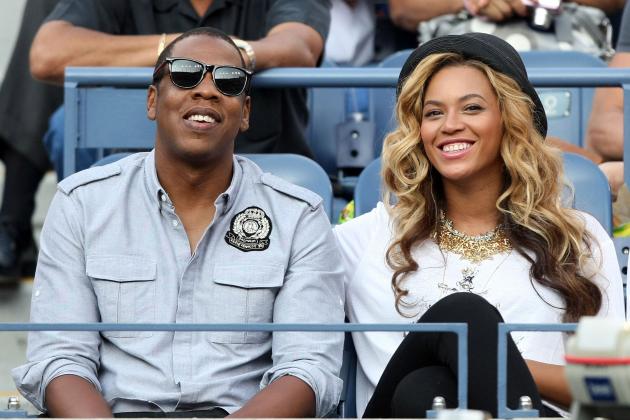 Al Bello/Getty Images

The Bet: Jay-Z performs with Beyonce during the halftime show.
Line: Yes +110, No -200
Getty Images/Getty Images

The Bet: John and Jim Harbaugh fail to shake hands after the game.
Odds: 20 to 1.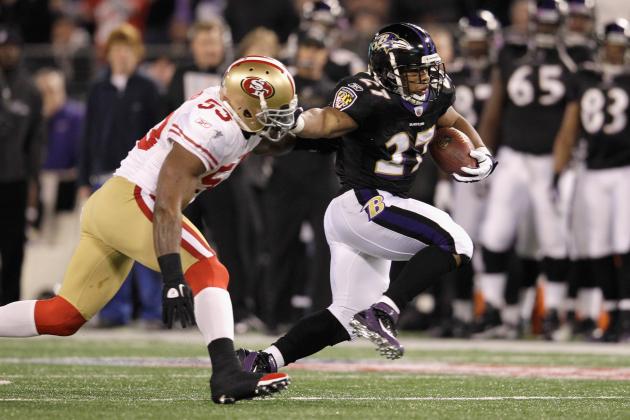 Rob Carr/Getty Images

The Bet: Ray Rice will rush for 30-plus more yards in the second half than he did in the first.
Odds: 5 to 2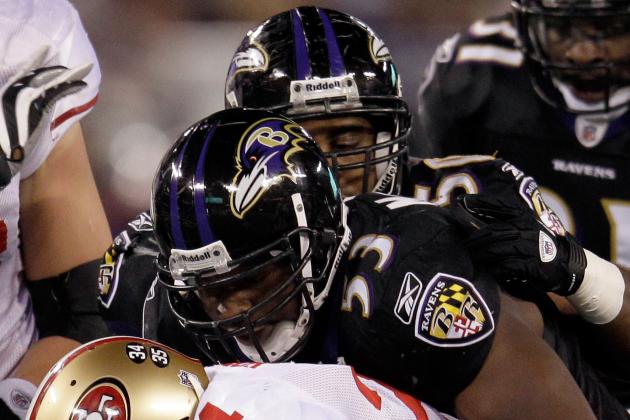 Rob Carr/Getty Images

The Bet: Frank Gore rushes for less than 50 yards or records at least two fumbles.
Odds: 8 to 1.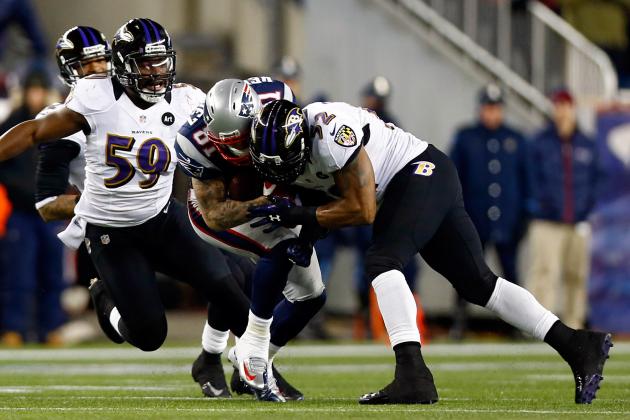 Jared Wickerham/Getty Images

The Bet: A penalty is called during the game for unnecessary roughness involving a helmet-to-helmet hit.
Odds: EVS (Even money—you double your money if it hits)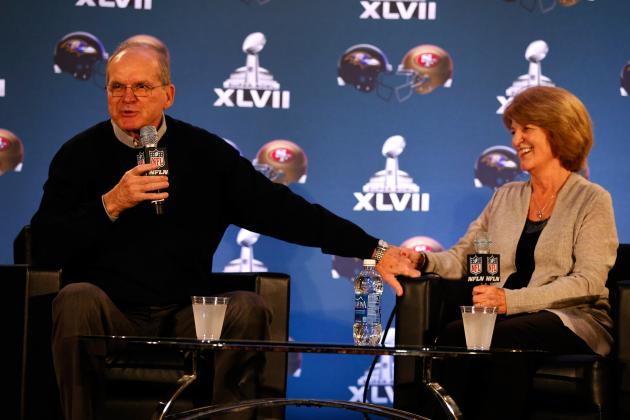 Scott Halleran/Getty Images

The Bet: How many times the word "Harbaugh" will be said during the game.
Over/under: 20.5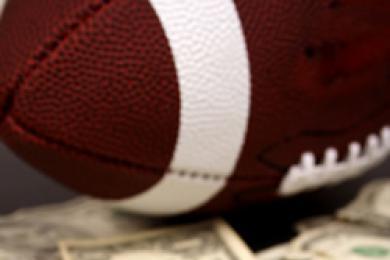 Image via gambling911.com
I hope all of this has been at least a bit helpful for anyone planning to make a wager on Sunday's game.
But before you click on to pursue your fortune, here are a few things you should know.
Overtime Counts
If a game goes into extra time, points scored during OT are calculated into bets involving the final score, such as over/under total points bets.
Always Read the Fine Print
Some bets are discretionary, meaning if you've bet on a wardrobe malfunction to happen to Beyonce, and something does in fact happen, the sportsbook can review the incident and decide whether it was a true "slip" or not.
Stay Legal
Don't gamble if you're underage, and do your research before you sign up at some random web site and start converting your money into points.
That said—party on.