Western Conference Title Odds, Post-Rudy Gay Trade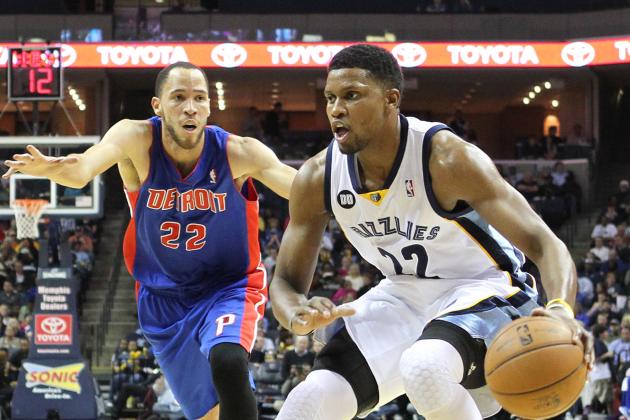 Nelson Chenault-USA TODAY Sports

The race for the Western Conference crown just got mighty interesting, thanks in no small part to former ESPN NBA guru John Hollinger and the Memphis Grizzlies.
As reported by ESPN's Marc Stein, the Grizzlies pulled off what amounted to a three-team trade when they sent Rudy Gay and Hamed Haddadi to the Toronto Raptors for Jose Calderon, Ed Davis and a second-round pick and subsequently flipped Calderon to the Detroit Pistons for Tayshaun Prince and Austin Daye.
It's (obviously) too early to tell how this deal will actually work out for the Grizz. At first glance, though, it looks like a big win for the team in the Music City. In two fell swoops, Memphis has managed to offload long-term salary commitments, take on one player (Prince) whose defense, perimeter shooting and championship experience make him a better fit, at least in theory, for this team; add a young big (Davis) to eventually and potentially replace Zach Randolph; and pick up another youngster (Daye) whose development had stalled in the Motor City.
But what effect will this shakeup have on the bigger picture out West? And what chances of representing the conference in the 2013 NBA Finals does each of the top 10 teams have at this point?
Begin Slideshow

»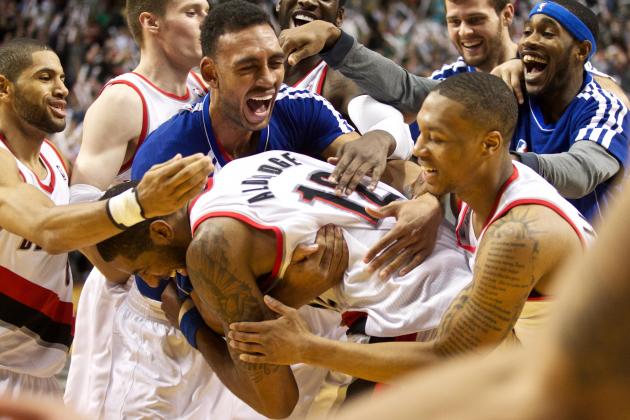 USA TODAY Sports

The Trail Blazers had been slip-sliding away before a recent run of three wins in four games, including a 101-100 win over the Chris Paul-less Los Angeles Clippers.
Portland's most recent triumph? A 20-point comeback win over the visiting Dallas Mavericks, sealed on a pair of clutch jumpers by LaMarcus Aldridge.
The Blazers have already exceeded expectations for the season, thanks in no small part to a solid starting five. Aldridge is headed to his second straight All-Star Game, Damian Lillard is the prohibitive favorite to be named Rookie of the Year, Wesley Matthews is a shooting star, Nicolas Batum is one of the league's foremost "five-by-five" threats and J.J. Hickson has morphed into a double-double machine.
Still, the Blazers are woefully thin, play mediocre defense, don't shoot the ball well and have thrived thus far on a precarious diet of close games (17-10 in those decided by single digits). They're already on the outside of the playoff picture looking in and figure to find themselves firmly in the lottery by season's end.
Western Conference Title Chances: 0.5 Percent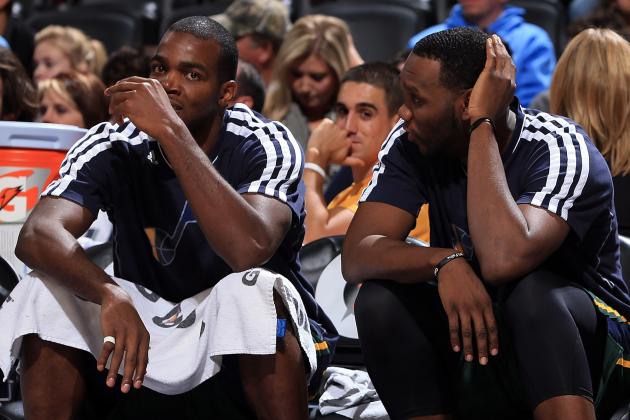 Doug Pensinger/Getty Images

It's tough to tell where the Jazz stand at this point. On the one hand, they're currently 24-21, good enough for seventh place out West. They've won nine of their past 12 games and boast a bulky frontcourt that figures to give some of the conference's smaller, quicker squads fits.
On the other hand, Utah is coming off its worst home loss in franchise history—a 125-80 embarrassment at the hands of the Houston Rockets—and sports a slew of assets (namely Al Jefferson and Paul Millsap) that are ripe for trading. It would certainly behoove Jazz general manager Dennis Lindsey to consider moving one or more of his expiring contracts before the trade deadline in pursuit of a quality young guard to groom. After all, it won't do Utah much good to have powerful bigs like Enes Kanter and Derrick Favors without a point to get them the ball.
So should the Jazz push for a low seed? Or should they wheel and deal while placing their postseason hopes in jeopardy?
Here's a hint: The Jazz have played three Western Conference playoff hopefuls since January 1. They've lost to all three by an average of 27.3 points.
Yikes.
Western Conference Title Chances: 1.5 Percent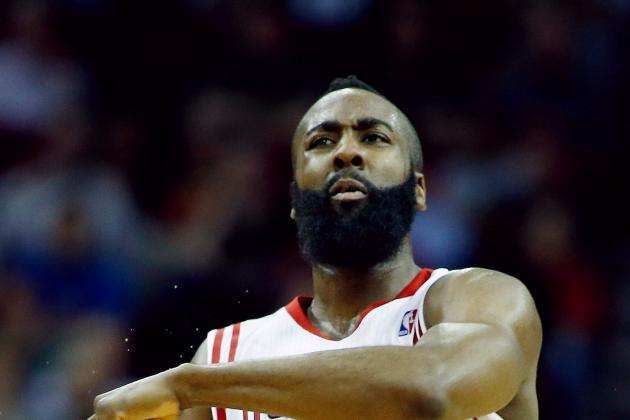 Scott Halleran/Getty Images

The Rockets seem to be hitting their stride again. They've reeled off three wins in a row by an average of 25.3 points per game, including the aforementioned shellacking of the Jazz in Salt Lake City.
February will be no walk in the park for Houston, though. The Rockets have dates lined up against the Warriors (twice), the Heat, the Clippers, the Nets and the Thunder before the next month is done.
Not that those games aren't winnable for this squad. The Rockets have already reeled off wins over the Knicks, the Lakers, the Bulls, the Grizzlies and Brooklyn and have come close against Miami and San Antonio.
Still, it's tough to take the Rockets too seriously given their middling defense (15th in efficiency) and propensity for turnovers (dead last).
Then again, James Harden, Jeremy Lin and company could be a dangerous team down the line, thanks to their lethal blend of three-point shooting, basket attacking and overall fast-paced play.
Western Conference Title Chances: Two Percent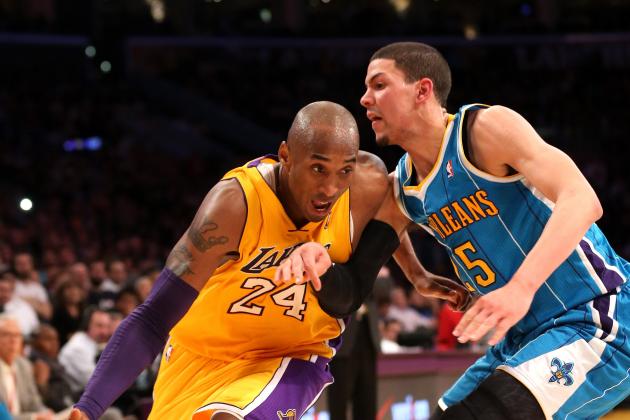 Stephen Dunn/Getty Images

If you took the Rockets' roster, replaced its core players with superstars, added some significant age and subtracted a chunk of their depth, you'd wind up with the Lakers. Which is to say, the Lakers are almost entirely dependent on a fast-paced, ball-moving offense to win games, given their defense's proven inability to do so.
Things seem to be improving in LA, though. They've held their past three opponents under 45 percent shooting from the floor and to an average of 95.3 points per game. Naturally, then, all three have resulted in wins for the Lakers.
On the whole, this star-studded squad finally seems to be finding an identity for itself, albeit an unexpected one. Kobe Bryant is facilitating, Steve Nash is shooting, Dwight Howard is scoring and defending out to the perimeter and Pau Gasol is playing the role of grumpy sixth man. The shift has seemingly led to more passing, more open shots and more energy on the offensive end, which has bled into the Lakers' previously lackluster defensive effort.
Trouble is, even a three-game winning streak leaves the Lakers five games under .500 and four back from a playoff spot with their next seven on the road. However, if the Lakers take advantage of their relatively easy Grammy slate now and sneak into the postseason later, their combination of energy and experience will make them a tough out come playoff time.
Western Conference Title Chances: Four Percent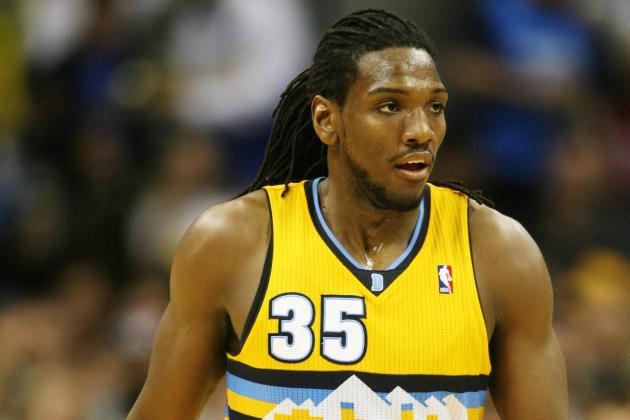 USA TODAY Sports

Home has indeed been sweet for the once-road-weary Nuggets of late. Denver's 18-3 home record is tied with that of the Miami Heat for the second-best in the NBA and has improved considerably in January. The Nuggets have played 11 games at the Pepsi Center so far this month and have won all but two of them.
Overall, Denver has ripped off six wins in a row to settle into a battle for the fifth seed in the West with the Golden State Warriors. They'll stay in the Mile High City through the first week of February before hitting the road for a stretch of seven away dates out of nine.
Luckily for the Nuggets, they've spent their time at home wisely figuring out how to win with this crop of players. Danilo Gallinari's shooting percentages are easy upward, Ty Lawson is slowly re-discovering his pre-extension form, Kenneth Faried is still gobbling up every rebound in sight, and Andre Iguodala is, well, doing a little bit of everything.
As always.
What's most intriguing about Denver, though, is the possibility of a roster retooling of its own. There's been a ton of turnover in that regard over the last two years, which probably hasn't made George Karl all that happy given the lack of continuity.
But Nuggets general manager Masai Ujiri is one of the shrewdest in the business and has plenty of attractive assets and financial flexibility at his disposal to make a landscape-shifting deal in the weeks to come if he sees fit to do so.
Western Conference Title Chances: Five Percent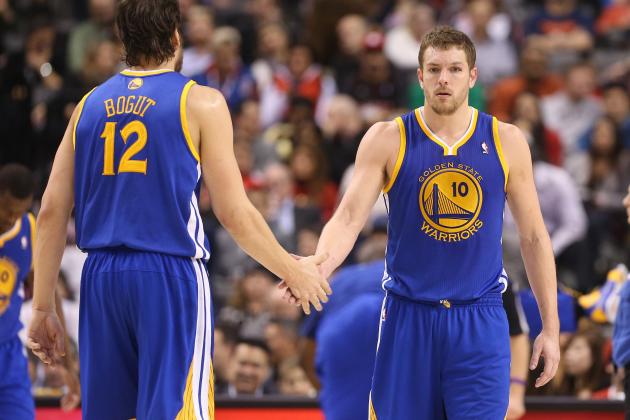 Tom Szczerbowski-USA TODAY Sports

Andrew Bogut's back (sort of), but his unexpected return came during the same game—a 114-102 win over the Toronto Raptors—that saw the Warriors lose Stephen Curry and Harrison Barnes to ankle and knee tweaks, respectively.
Golden State will need its full complement (or something close to it) in order to make some serious noise come playoff time. Klay Thompson, Jarrett Jack and David Lee can surely rack up big numbers, as they did against the Cleveland Cavaliers on January 29, but what happens when the Dubs face stiffer, more defensively-inclined competition?
For now, a playoff berth will do just fine for the Warriors, considering they've secured just one in the past 18 years. As long as the Dubs continue to play solid D (which they have) and knock down nearly 40 percent of their threes (which they are), they'll be a tough team to take on in any context.
But not until Curry and Bogut are healthy at the same time will Golden State truly be able to realize its full potential as a team.
Western Conference Title Chances: 10 Percent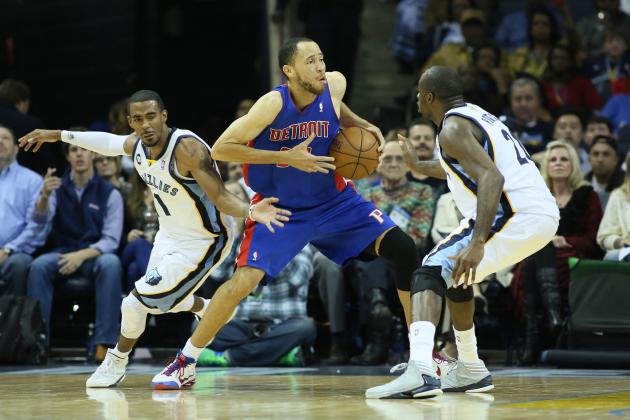 Nelson Chenault-USA TODAY Sports

Swapping out Rudy Gay and Hamed Haddadi for Tayshaun Prince, Ed Davis and Austin Daye should be a significant boost to the Grizzlies' long-term hopes, even if the deal unsettles a tight-knit squad in the interim. Prince can stretch opposing defenses on one end and shut down the best perimeter player on the other end.
Not that he'd have to, what with Tony Allen, an All-Defensive performer in his own right, at shooting guard.
Davis and Daye should help to replenish the depth lost during a recent salary-slicing trade that sent Marreese Speights, Wayne Ellington and Josh Selby to the Cleveland Cavaliers. Davis in particular figures to be a superb replacement for Speights and may well have the talent to replace Zach Randolph down the line.
Perimeter shooting and ball-handling among the reserves both remain serious concerns for Memphis. But this latest coup only reaffirms the Grizzlies' inside-out offensive identity while further shoring up a defense that already ranks second in efficiency.
Western Conference Title Chances: 14 Percent
USA TODAY Sports

DJ Khaled wishes he were the Spurs, because all they do is win. They currently own the best record in the NBA at 36-11 despite playing the fifth-toughest schedule so far and dealing with injuries to Tim Duncan, Manu Ginobili and Kawhi Leonard hither and thither.
At this pace, San Antonio may well finish as the top seed in the West for the third year running...and still not be the odds-on favorite to play in the NBA Finals. This roster is essentially the same one that ran out of steam against the Thunder in last year's Western Conference Finals and has already racked up three losses in four tries against OKC and the Clippers this season.
That being said, there's no use counting out San Antonio. Tim Duncan and Tony Parker are both playing phenomenal ball, and Gregg Popovich has done a marvelous job of grooming and integrating the team's crop of younger, more athletic role players. The Spurs certainly have the requisite talent and experience to make a surprise run to the Finals, and they know better than most how to execute under duress.
Western Conference Title Chances: 16 Percent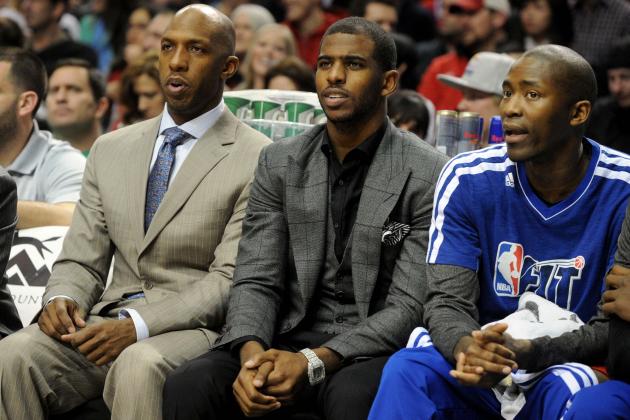 Steve Dykes-USA TODAY Sports

If the playoffs started tomorrow, the Clippers would be in trouble. Chris Paul has been plagued by a bruised knee for much of the month of January, and Chauncey Billups remains sidelined with foot problems.
Luckily for them, the postseason is still more than two-and-a-half months away. In the meantime, injuries have afforded new opportunities to Blake Griffin to expand his game and shoulder more responsibility and to Eric Bledsoe to stretch his legs a bit as a starter.
LA's depth should help to tide the team over until the postseason, at which point it'll be incumbent upon the likes of Paul, Griffin, DeAndre Jordan and Jamal Crawford to truly step up their respective games. This team has tons of potential as is, particularly as one of two (along with the Spurs) to rank among the top five in the NBA in offensive and defensive efficiency.
At this point, the only things holding the Clips back are health and the general lack of deep postseason experience among their principles. But they should have the bodies to overcome those two problems come playoff time.
Western Conference Title Chances: 17 Percent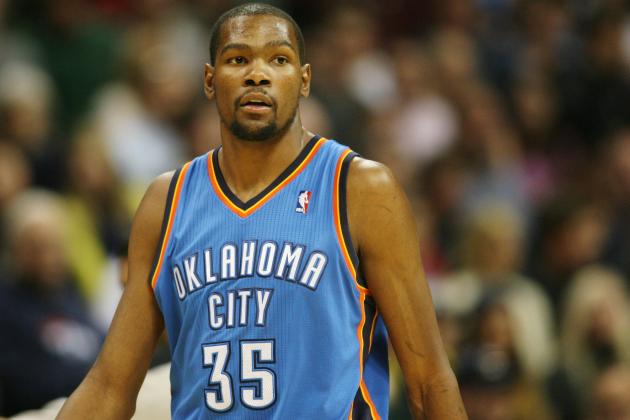 USA TODAY Sports

Their recent 3-3 road trip aside, the Thunder have been arguably the best team in the NBA this season.
Which is remarkable considering that they've run out to a 34-11 record despite sending James Harden packing on the eve of the 2012-13 season.
OKC's continuity has been aided tremendously by Russell Westbrook's return to more point guard-like play, Serge Ibaka's development into a legitimate offensive threat and Kevin Martin's ability to play the role of sharpshooting sixth man so seamlessly.
But the Thunder wouldn't have been able to weather the post-Harden storm quite so unscathed without the improved play of Kevin Durant. He's in the midst of what could go down as one of the greatest offensive performances in NBA history—he's on pace to be the eighth member of the 50-40-90 Club—while developing into a versatile terror on the defensive end.
And he's done it all while playing with an edge that'd seldom been seen from the mostly mild-mannered Durant. He seems to take pride and joy not just in winning, but in dominating the competition and humiliating them in the process.
If 2012 was the Year of LeBron, then 2013 may well be the Year of Durant. He's putting together an MVP-caliber season for a squad that's poised to return to the NBA Finals.
And make its mark while it's there.
Western Conference Title Chances: 30 Percent