Orlando Magic vs. New York Knicks: Live Score, Results and Game Highlights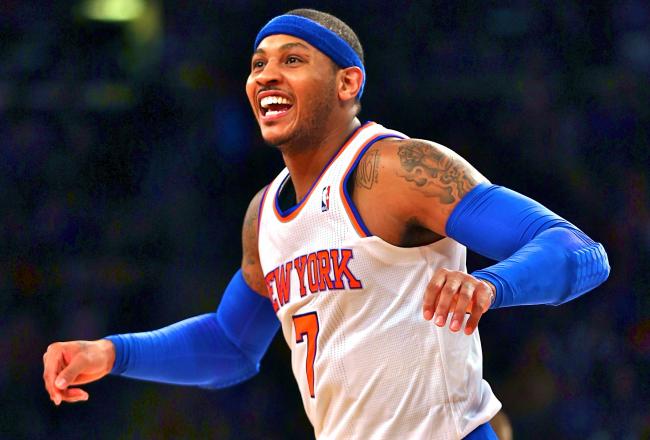 Commentary from the New York Knicks 113-97 victory over the Orlando Magic from Madison Square Garden on Jan. 30.
The Knicks won in decisive fashion largely in part due to the fact that they dominated the interior play. The Knicks out-rebounded the Magic 36-31, and Tyson Chandler had one of his better offensive games of the year against the Magic's Nikola Vucevic.
In-game adjustments by Mike Woodson played a big role, too. J.J. Redick and Jameer Nelson both started the game on fire, but the tandem combined for just seven points in the fourth quarter, after scoring a combined 43 through the first three quarters.
Also, the Magic had no answer for Carmelo Anthony. That's in no way to diminish what Maurice Harkless did. He covered Melo well, but Anthony still had a good game by mortal measures, and set a Knicks record for most 20-plus point games in a row tonight. Anthony passed well out of the double teams, and had five assists.
"It's common sense, when you get double teamed, pass the ball." -Carmelo Anthony
KNICKS 113, MAGIC 97 — FINAL SCORE
Mike Woodson may have pulled Carmelo Anthony and Tyson Chandler from the lineup, but that hasn't signaled the game being over for Jacque Vaughn. He's continuing to foul the Knicks as this game wanes and hasn't pulled his starters from the court.
This next 1:46 is going to take a while to elapse.
KNICKS 107, MAGIC 93 — 1:46 4th, Magic timeout
Maurice Harkless didn't make a big impact in the box score (six points on 1-of-5 shooting), but his defense against Carmelo Anthony was very good tonight. Harkless played 35 minutes and limited the Knicks best player to 20 points on 7-of-18 shooting.
Anthony burnt the Magic for 40 last time the teams met in Orlando, so keeping the powerful combo forward to just 20 is a pretty good step in the right direction for the Magic.
KNICKS 104, MAGIC 93 — 2:42 4th
The Knicks have got 39 points off the bench tonight, which has been a difference maker, as the Magic's second unit has produced 21 points. The Knicks also have six players in double-digit scoring tonight.
KNICKS 104, MAGIC 91 — 2:54 4th
Jacque Vaughn seems to be sticking with his starters for the remainder of this blowout. Kyle O'Quinn checked back in, but at this point the Magic are a bad enough team that there's enough minutes to go around for all prospects anyway, without relying on blowouts to get the end of the bench on the court.
KNICKS 102, MAGIC 87 — 3:32 4th
Nikola Vucevic has shown a few nice moves in the post late in this fourth quarter. He's extremely coordinated with both hands and has very soft touch around the basket. His turnaround hook in the paint gave him 12 points to go with his 11 rebounds.
The problem is, the Magic aren't stopping the Knicks very often, and his offense is just matching Knicks' buckets at this point.
KNICKS 97, MAGIC 84 — 5:12 4th, Knicks Timeout
Jameer Nelson found a way to break the tough Knicks perimeter 'D' and get to the hole. He didn't get a very good look at the layup, but was able to loft it up there for Nikola Vucevic to follow up the miss.
It reminded me of when that No. 12 guy used to clean up Nelson's messes.
It's going to take a lot more of that and some offensive continuity to get back in this game though, and the Knicks are clicking on both ends of the court.
KNICKS 91, MAGIC 80 — 6:21 4th
Now that the Knicks have closed in on J.J. Redick and Jameer Nelson with some tough half court trapping, the Magic are having trouble getting good looks at the basket.
It doesn't help, of course, that they are without the services of Aaron Afflalo and Glen Davis.
KNICKS 88, MAGIC 78 — 7:35 4th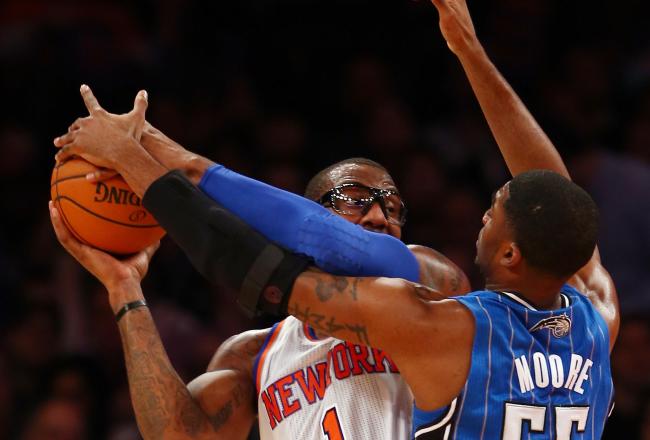 I'm not suggesting Amar'e read my comments about him being washed up, but the way he threw the ball down on Gustavo Ayon, it's not entirely improbable.
Still, it's going to take more than going 6-of-6 from the floor against the Orlando Magic bigs before I can remove the "washed up" label officially.
Scoring 12 points on Nikola Vucevic, Gustavo Ayon and Kyle O'Quinn isn't the kind of accomplishment that earns such a distinction.
I mean, Amar'e once averaged nearly 26 points per game in a season...
KNICKS 81, MAGIC 75 — 10:01 4th
The Knicks outscored the Magic 28-22 in the third quarter, and enter the fourth quarter with a six point lead.
The Magic's backcourt of J.J. Redick and Jameer Nelson have combined for 43 of their 73 points, making Mike Woodson's adjustments pretty pointed: close out on the Magic's shooters and go 'over' all of the pick and rolls.
KNICKS 79, MAGIC 73 — End of 3rd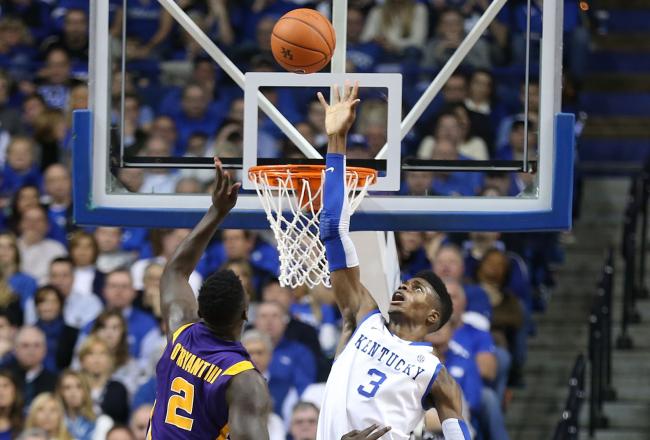 The Knicks are just having their way in the paint.
Nikola Vucevic may be an up and comer, but he's not a basket protector yet.
In a draft class loaded with big men, the Magic will consider Alex Len of Maryland, Nerlens Noel of Kentucky and Cody Zeller of Indiana in the 2013 NBA draft. All three are expected to go in the top-6 of the draft.
KNICKS 77, MAGIC 71 — 1:12 3rd
Amar'e Stoudemire is 5-of-5 from the floor. Even if he doesn't finish high above the rim anymore, he still finishes. While STAT may not be quite the talent he was in Phoenix, he's still a coordinated big body, which is often enough to score in the paint in the NBA—especially against teams like Orlando.
KNICKS 75, MAGIC 68 — 2:23 3rd
Turk's assignment on Amar'e Stoudemire didn't last long. Jacque Vaughn responded to the lineup by inserting Kyle O'Quinn to play alongside Nikola Vucevic. O'Quinn stands a much better chance against Amar'e, or at least what is left of Amar'e.
KNICKS 70, MAGIC 64 — 3:55 3rd
There was a time when I would have absolutely cringed at the idea of Hedo Turkoglu covering Amar'e Stoudemire. At this point in their respective careers, I'm just not sure who has less in the tank.
KNICKS 66, MAGIC 62 — 5:46 3rd
Tyson Chandler is showing he deserved that first career All-Star selection. For as good as Nikola Vucevic has been for the Magic this season, he's getting schooled by the NBA veteran tonight. Chandler has 19 points on 9-of-10 shooting, while Vucevic has struggled, hitting just 1-of-3 from the floor.
KNICKS 66, MAGIC 62 — 5:59 3rd, Magic timeout
Nikola Vucevic picked up a three second in the paint call waiting on a Hedo Turkoglu desperation jumper that never came.
Hedo's never hesitated to launch up ill-fated jumpers at the end of the shot clock, but spotting Vucevic with good position in the paint was too much. Unfortunately, he was there a tad too long.
KNICKS 64, MAGIC 62 — 6:45 3rd
Jameer Nelson is smelling blood from Raymond Felton every time he catches the ball. He penetrated into the paint for another layup at the 10 minute mark of the third quarter, and Nelson's jumper has been on, too. When all things are clicking for Jameer, he's a quality starting point guard.
Even so, expect the Magic to pursue a point guard with one of their four first-round picks in the 2013 NBA draft.
KNICKS 60, MAGIC 59 — 8:36 3rd
Hedo Turkoglu started the second half for the Magic and responded by putting back a short Maurice Harkless jumper. Glen Davis suffered a foot injury in the first half, which is why Turk is seeing the extra minutes.
KNICKS 56, MAGIC 55 — 9:51 3rd
Final play of the half: J.J. Redick isolates 7-footer Tyson Chandler at half court. Redick did not use his (dubious) speed advantage, but instead pulled up for another three which he missed. Again, the Magic's issue of not having guys to isolate in late quarter and end of game situation rears its ugly head.
Truly, having a closer can be up to an eight point swing.
MAGIC 51, KNICKS 51 — Halftime
Heat check for J.J. Redick as he launches a three from about six feet behind the line. First miss of the night.
MAGIC 51, KNICKS 51 — 19.1 seconds in half
J.J. Redick picked up right where he left off with his first shot of the second quarter, a three from the right wing. Redick now has 17 points on flawless 7-of-7 shooting.
For a long time, I've been waiting for Redick to have a "Duke day" type of game and blow up for 40-plus points. Is tonight that night?
MAGIC 50, KNICKS 49 — 1:11 2nd
Jameer Nelson is truly in attack mode. He's actively looking for his shot every time he gets the ball and is flat out feeling it. Nelson is 7-of-11 from the floor for 18 points.
Nelson averages 13.8 points per game over his career against the Knicks.
MAGIC 47, KNICKS 47 — 2:18 2nd
Raymond Felton and Tyson Chandler work a nice pick and roll. Felton fed Chandler the ball on the baseline and he finished strong to tie the game at 45.
Chandler is great not only running the pick and roll on offense, but also one of the best defenders of the famous basketball play. It seems players often excel in defending the moves they best execute themselves.
Chandler has 11 points on 5-of-5 shooting.
KNICKS 45, MAGIC 45 — 3:09 2nd
The Magic's starting backcourt has outscored the Knicks backcourt 26-14. Knicks starting 2-guard Iman Shumpert didn't score his first basket until the five minute mark of the second quarter.
The basket prompted a Magic timeout.
KNICKS 41, MAGIC 41 — 5:15 2nd
The real problem with the 14-30 Orlando Magic is that when their second unit hits the floor, no less than three or four of the five on the court wouldn't even make most other NBA rosters.
Ish Smith and DeQuan Jones are talents that only have a home on a rebuilding team, while E'Twaun Moore is likely a 10th man on a decent team. Hedo, I just touched on. Gustavo Ayon is a serviceable backup who could be a rotation player on most teams.
But when only one of the five guys in your second unit qualifies as the kind of talent to receive burn on a good team, there's going to be problems.
MAGIC 41, KNICKS 39 — 6:24 2nd
This article is
What is the duplicate article?
Why is this article offensive?
Where is this article plagiarized from?
Why is this article poorly edited?