10 College Football Programs That Need an Offseason Makeover
Wesley Hitt/Getty Images

In a world saturated with makeover-focused reality television, what potential redo project could be more critical than renovating a college football team?
We've seen home makeovers, fashion makeovers and even relationship makeovers, so why not apply this same methodology to something far more vital?
The following slideshow takes this approach, selecting 10 college football programs that, each to a different degree, need a renovation crew to come in this offseason and update the operation to get it back on the right track.
Some teams just need a new hairdo or an updated wardrobe, while others must have their wallpaper, flooring, countertops and in some cases interior walls ripped out and replaced to renew a sense of viability.
Whether the goal is simple as turning heads again or as lofty as winning the whole enchilada, each of these squads needs a generous measure of T.L.C.
Begin Slideshow

»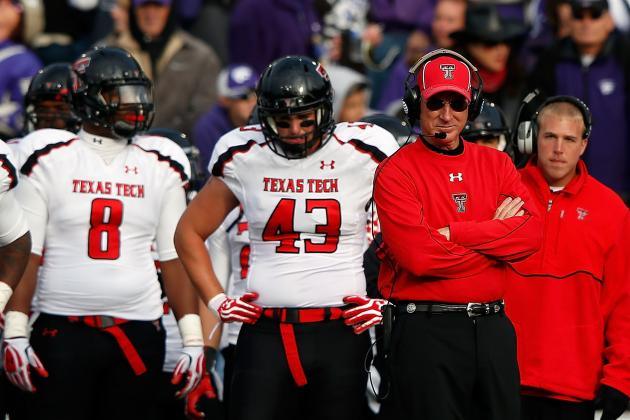 Jamie Squire/Getty Images

Though 2012 stats that include the No. 92-ranked scoring defense in the FBS and a No. 110 national rank in turnover margin indicate that the Red Raiders have lots of on-field makeover opportunities, what Texas Tech needs goes beyond statistical improvements.
What the Red Raiders need this offseason is a renovation of their football team's culture.
The thing that always made Texas Tech a viable football product under Mike Leach was a unique attitude and style of play that meant the Red Raiders were a threat to any team, regardless of the level of talent pumped into the program.
This is something that simply didn't continue in the three-year Tommy Tuberville era.
In fact, recruiting numbers actually rose to all-time highs under Tuberville while win totals and confidence shrank.
Though Tech's 2013 offseason makeover regime under new head man Kliff Kingsbury ought to include a serious rework of defense, special teams and the running game, it could be just as important to revamp the mental approach.
In a Big 12 conference stacked with heavyweights, Kingsbury's ability to address the football culture at Tech may be as important as his choice of a DC.
Texas Tech doesn't have to be gimmicky but since it's not going to recruit like Oklahoma or Texas, it's got to find its edge in other ways.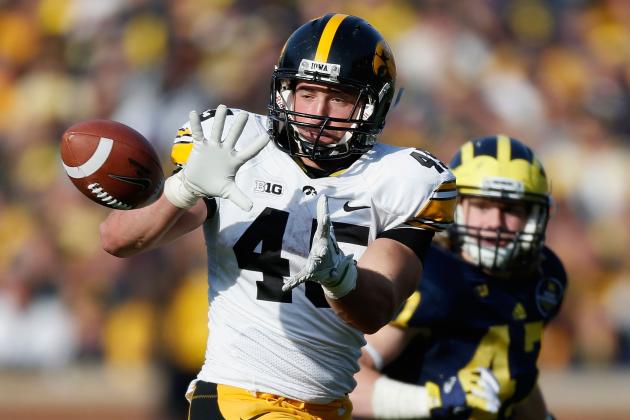 Gregory Shamus/Getty Images

Since winning 11 games in a 2009 season that included an Orange Bowl victory, Iowa's football fortunes have sagged to the tune of capturing eight wins in 2010, seven in 2011 and then posting a mere four victories this past season.
To put this into historical perspective, the Hawkeye's 4-8 record in 2012 marks their worst finish since going 3-9 in Kirk Ferentz's second season on the job back in 2000.
In terms of which specific units need the redo crew this offseason, how about an offense that ranked No. 113 nationally in points scored in 2012?
Sure, Iowa has never been a high-flying team under Ferentz but scoring only 19.3 points per game is unsavory, especially when you've been outscored by your opponents 275 to 232 on the season.
To put a finer point on the issue, the average margin of defeat in the Hawkeye's eight losses in 2012 was 9.5 points—and that figure includes 24- and 25-point losses to Penn State and Michigan.
When you throw those two blowout defeats out of the equation, Iowa's margin of defeat this past season drops to four points.
The Hawkeyes won't have to score 38 points per game to be a viable winner especially given a solid defense, but if they could score even a single touchdown more per game they could be back in the hunt.
In fact, if Iowa could have managed six points more per game in 2012, they would have finished the year 9-3 as opposed to 4-8.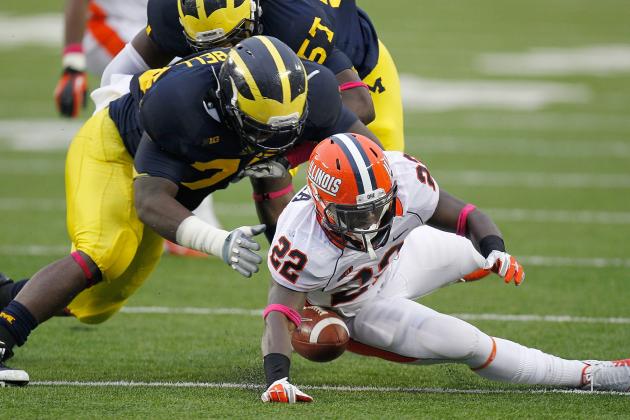 Gregory Shamus/Getty Images

Illinois fans must hope that given a full season on the sidelines and then a full offseason to play home decorator that Tim Beckman can make the Illini football program what it could be.
When Beckman was hired after the 2011 season he came straight off two eight-win campaigns at Toledo that included back-to-back 7-1 records in MAC play.
But all hopes that Beckman could quickly engineer a similar revival at Illinois were summarily thwarted with a 2-10 record and a 0-8 mark vs. Big Ten foes.
The only wins last season came via an unconvincing 24-7 triumph over Western Michigan in the opener and then a 44-0 beatdown vs. FCS Charleston State in Week 3.
And with the No. 122-ranked scoring offense and the No. 95-ranked scoring defense in the FBS, bright spots are hard to come by.
Though some might argue that Illinois' makeover is already well underway, the 2013 offseason renovation project in Champaign is among the most critical in BCS ball.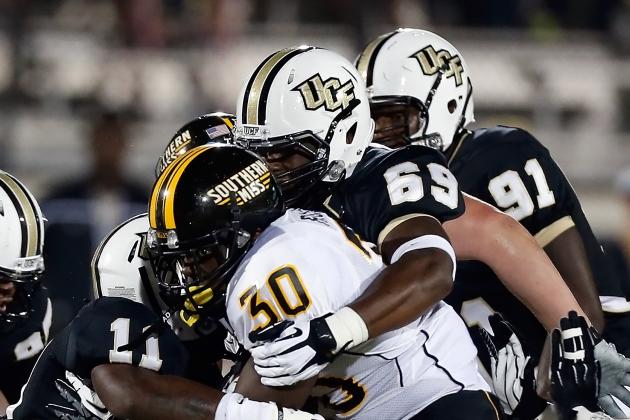 J. Meric/Getty Images

Perhaps the program in the most need of a makeover during the 2013 offseason, Southern Miss rose to the glory of a 12-2 finish and C-USA title in 2011 only to go win-less in 2012.
To put the flip-flop into historical perspective, it was the Golden Eagles' best season in 100 years of playing football followed by their absolute worst.
So, 12-2 to 0-12, what does it mean?
It obviously means a new coach, but where in the world will Todd Monken, the former OC at Oklahoma State and the new head coach at Southern Miss, start in reversing the ill effects of 2012?
The good news is that the skid is absolutely isolated, a point backed up by the fact that the Eagles haven't fallen short of winning six games in a season since going 3-7-1 back in 1993.
This means that Monken and company are dealing with what is a winning program shrouded by one of the worst seasons in the BCS era.
Either way, Southern Miss needs more than Botox but probably less than a full facelift this offseason to get a date with a bowl game again in 2013.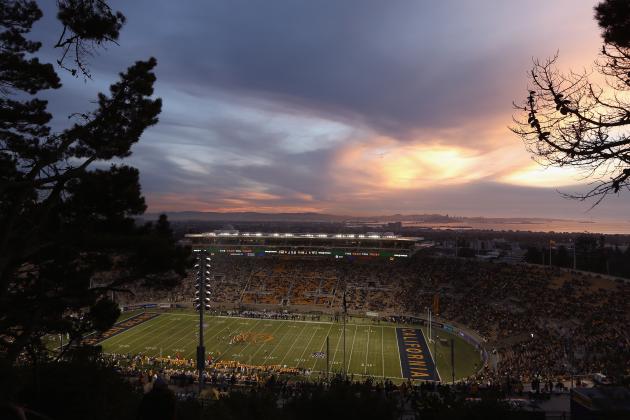 Ezra Shaw/Getty Images

After a successful run from 2002-09 that made Cal look like it might finally become a semi-permanent part of the Pac-12 title conversation, the Golden Bears have posted a 15-22 record since 2009.
The final nail in Jeff Tedford's job stability coffin came this past season when Cal sunk to 3-9 with wins over FCS Southern Utah, Washington State and the surprising blowout win over UCLA.
Tedford's demise led to the hiring of Sonny Dykes, who is directly off a 22-15 run over three seasons at Louisiana Tech.
Though it's fairly obvious that Dykes and company will be charged with revamping a scoring defense that finished the 2012 season ranked No. 98 and a scoring offense that ranked No. 93 nationally, the Golden Bears need more than on-field adjustments.
Similar to the situation that Kliff Kingsbury faces at Texas Tech, Dykes will be charged with changing the football culture at Cal back to an optimistic, "we're going to win" mentality.
The Golden Bears, again like Tech, have a conference home with big hitters (Oregon, Stanford, USC) that makes winning titles and breaking through to the next level considerably more fraught.
The good news for Cal and Dykes is that the Golden Bears recruited far more successfully than Texas Tech and may be in a position to win given the right leadership package.
To illustrate, according to Rivals.com, Cal has pulled in classes ranking No. 11, No. 17 and No. 23 from 2010-12 respectively while its current haul is ranked at No. 22.
What this all means for the Golden Bears in terms of offseason renovations is taking a talented group of athletes and trying to meld them into a winning on-field product.
It's sort of like furniture refinishing and redistribution rather than straight-up furniture replacement.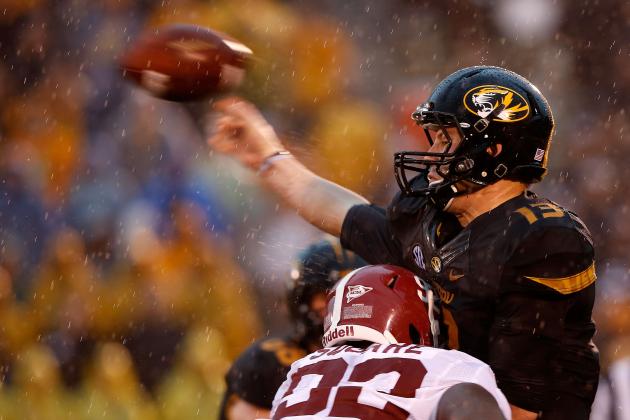 Jamie Squire/Getty Images

While Texas A&M managed its best finish since 1998 in 2012, its first season in the SEC, Missouri sank to its lowest mark since 2002.
And though losses to No. 7 Georgia, No. 7 South Carolina, No. 1 Alabama, No. 7 Florida and No. 9 Texas A&M weren't shocking, defeats vs. Vanderbilt and Syracuse were.
Throw in the fact that the Tigers almost lost to UCF (21-16), Arizona State (24-20) and Tennessee (51-48 in OT,) and you get an even clearer picture.
In terms of what needs addressing in the 2013 offseason, you've got an offense that ranked No. 82 nationally in scoring and a defense that earned a No. 68 mark in points allowed, meaning that there is work to do all over the field.
Perhaps what Mizzou needs to specifically address in the months ahead is creating the sort of swagger that the Aggies put on display this season which made them look like they weren't afraid to play in the SEC.
That's not to say that the Tigers played scared, but they did look like they were in too deep at times in 2012. Moving forward they'll have to be ultra-confident to avoid becoming the new Vanderbilt or Kentucky of the SEC East.
This is especially true since the new Vanderbilt is beginning to look nothing like the old Vanderbilt.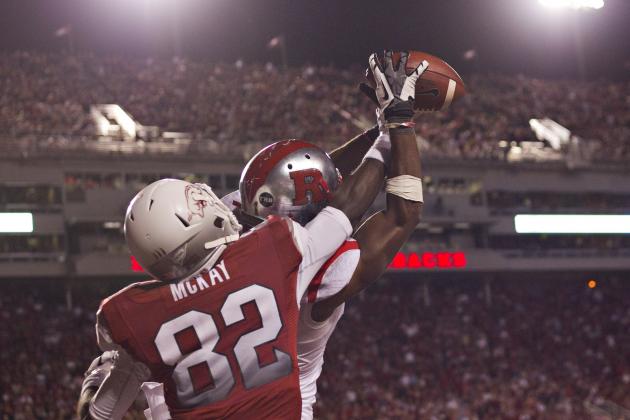 Wesley Hitt/Getty Images

Forgotten somewhere beneath the other layers of drama that have attached themselves to college football in recent months is the bizarre storyline at Arkansas from 2011 to the present.
Yes, the Razorbacks went 11-2 in 2011 under Bobby Petrino and looked set to be national contenders in 2012 until Petrino's non-football shenanigans caught up with him and cost the Hogs a shot at glory.
This kicked off the short-lived and very unsuccessful John L. Smith era at Arkansas that ended with the thud of a 4-8 record, including losses to Louisiana-Monroe, Rutgers and Ole Miss.
You could argue that no team received a more devastating makeover in the 2012 offseason than Arkansas.
If it would have been a facelift or tummy tuck, the Hogs could have had grounds for a malpractice suit.
The 2013 offseason is a prime opportunity, no matter who is coming back and who is not, for Arkansas to get its football express back on track.
This means getting guys to fully digest the fact that this is a winning football program and still has, underneath the layers of an ugly past 12 months, championship potential.
The good news for the Razorbacks is that leading the Extreme Makeover College Football Edition: Arkansas project is former Wisconsin coach Bret Bielema, who just so happens to know a thing or two about winning major games in a big-time conference.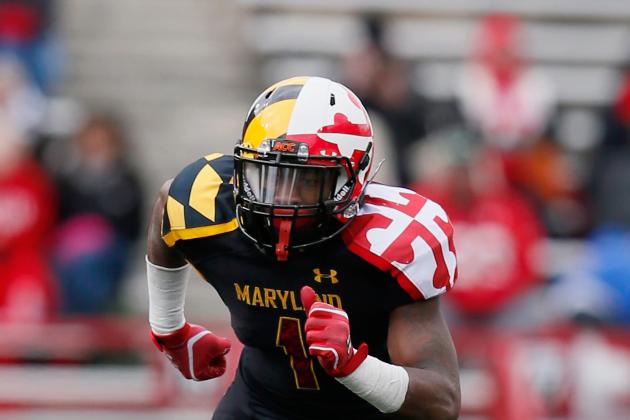 Rob Carr/Getty Images

Really, Maryland is a perfect candidate for this list because it ticks the boxes in two separate but satisfying ways.
First, the Terrapins have yet to post a winning season under coach Randy Edsall in his two seasons at the helm.
Maryland is a mega-disappointing 6-18 under Edsall's guidance, meaning he's got another offseason to try and get the Terps back to bowl-eligibility, a goal that needs to be quantified by remembering that almost 60 percent of FBS teams make a bowl game every season.
Next, the Terrapins still have a certain fashion concern regarding their very interesting uniforms, a matter that arguably is in need of an actual couture makeover.
Yes, it's colorful and sure it's patriotic from a state standpoint but seriously…is it time to call in fashion police on these kits?
With Maryland you've got a program that has skidded historically, even by relative standards, along with a squad that has re-clad themselves questionably.
Throw in the fact that the Big Ten looms on the horizon, and the 2013 offseason makeover project at Maryland may make or break the Randy Edsall era.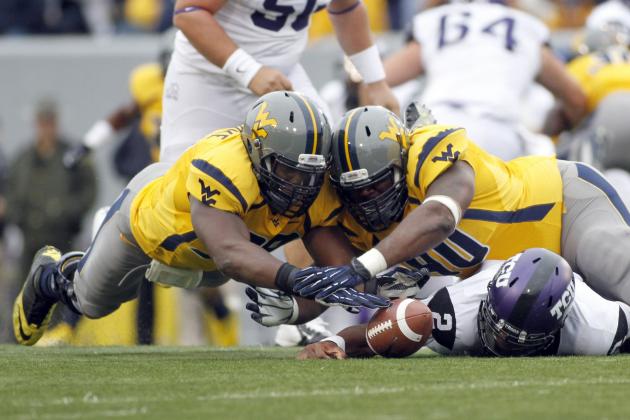 Justin K. Aller/Getty Images

After riding oh so high into the 2012 season off a beatdown of Clemson in the 2011-12 Orange Bowl, West Virginia lived up to its preseason No. 11 AP ranking by mowing down its first five foes in 2012.
But just as triumphantly as last season began for the Mountaineers, it ended tragically with a thud that included five consecutive mid-season losses and a defeat to Syracuse in the Pinstripe Bowl.
And with, according to Phil Steele, a mere nine total starters back in 2013, you have to wonder what's next for West Virginia.
Regardless of scary numbers and recent heartaches, Dana Holgorsen absolutely must convince his football team that they can still win games this offseason.
Maybe West Virginia needs a tent revival meeting more than a makeover in the months ahead but either way if it doesn't happen 2013 could be ugly for what seemed a program marching in the right direction.
And all this becomes even more critical when you realize that the Mountaineers will face Oklahoma, Texas, Oklahoma State, Baylor, Texas Tech, K-State and TCU in 2013.
This is a far throw from a slate that once included Louisville, UConn, South Florida, Rutgers and Cincinnati.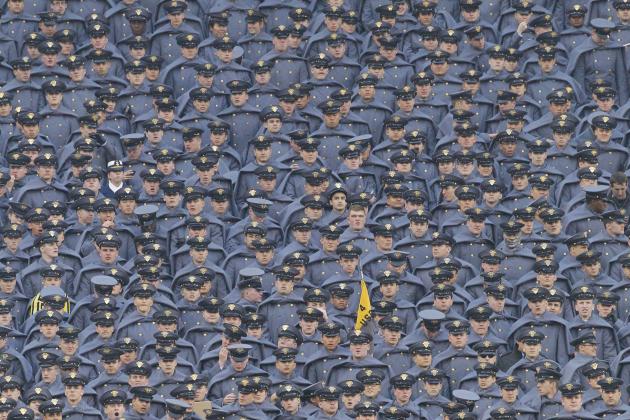 Hunter Martin/Getty Images

The ironic bit about the 2012 Army squad being one win away from its first Commander in Chief's trophy since 1996 is that it only won two games total last season.
Yes, the win over Air Force made the Black Knights eligible to capture the President's prize with a win over Navy in the finale but even a victory there would have pushed Army to a dubious 3-9 record.
Instead, Army fell just three points short to the Midshipmen and finished the season 2-10 with a narrow victory over Boston College to go along with the win against Air Force.
Moving forward, and in terms of renovations from now until August, Army must improve a defense that ranked No. 106 in scoring, and it must finally start to believe it can win ball games.
Army is in a similar situation, in terms of bringing in talent, as Navy and Air Force in that all three are strapped by being academy schools that come with a post-graduate commitment in the military.
But where Navy and Air Force have continued to win (one as an independent and the other as a solid member of the Mountain West conference), Army has continued to struggle mightily in the BCS era.
While it's unrealistic to think that Army would start posting eight- and nine-win seasons, it should be able to ice Navy in a close game and become bowl-eligible with some reasonable frequency.
Army needs to revamp a defense that gave up 35.3 points per game this season, and it needs to believe that it belongs somewhere other than at the bottom of FBS ball.
In terms of which of the 10 makeover projects on our list would be best for college football if achieved, Army would have rank No. 1.