Power Ranking the Pac-12's Best Backfields for the 2013 Season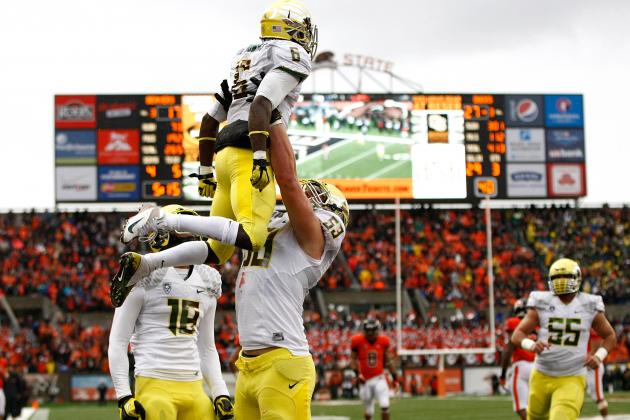 Jonathan Ferrey/Getty Images

The Pac-12 is a conference that is built on offensive success and big plays in the running game. Last season three teams finished in the Top 25 in rushing yards, and a total of seven teams averaged at least 150 yards on the ground a game. Fireworks on the offensive side of the ball are what fans expect from this group of teams, and it is the key to success in this conference.
If you can't have success running the football, there is a good chance you are not a winning football team. The same thing holds true in the Pac-12.
However, with a total of seven teams in this conference losing their workhorse running back from a year ago, the backfield rankings may look a lot different than you had expected. The teams that were near the top in rushing yards may take a backseat to some of the teams that have more depth and experience at the position.
Let's take a look at the teams that are best suited at the running back position in the Pac-12 for the 2013 college football season.
Note: All stats come from cfbstats.com unless otherwise noted. Also, rankings are put together based on a combination of experience, depth and past performance.
Begin Slideshow

»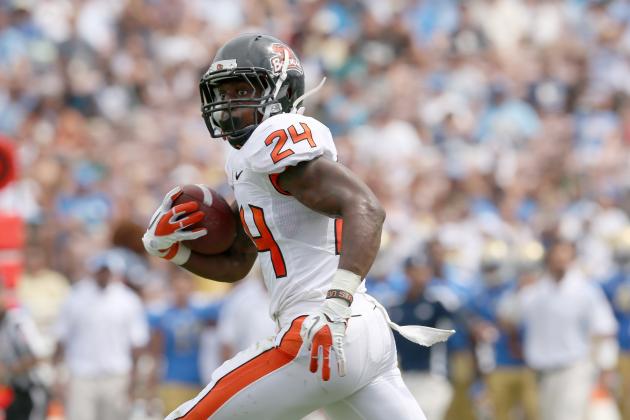 Stephen Dunn/Getty Images

Main Guys That Make up the Backfield: Storm Woods, Terron Ward and Malcolm Agnew
Oregon State finished 10th in the Pac-12 last season in rushing yards. With the guys that are returning next season, those numbers should change and the Beavers should see a lot more success on the ground.
The first guy worth mentioning is Storm Woods. Easily one of the most explosive players in this conference, he led the team last season as a freshman with 940 yards. Not only did he rush for 13 touchdowns, but he was effective as a receiver, hauling in 38 receptions for 313 yards. If you don't know who this kid is by now, make sure you pay attention to him next season.
Terron Ward is a back who should see an increased workload after pounding out 418 yards on a lousy 68 touches. He scored six touchdowns in limited playing time and picked up 19 first downs. Malcolm Agnew also didn't receive many carries (63), but got the most out of his limited playing time, picking up 269 yards.
The Beavers defense received much of the credit last year for the team's accomplishments, but the running game should start to gain some attention with a backfield returning that has a ton of upside.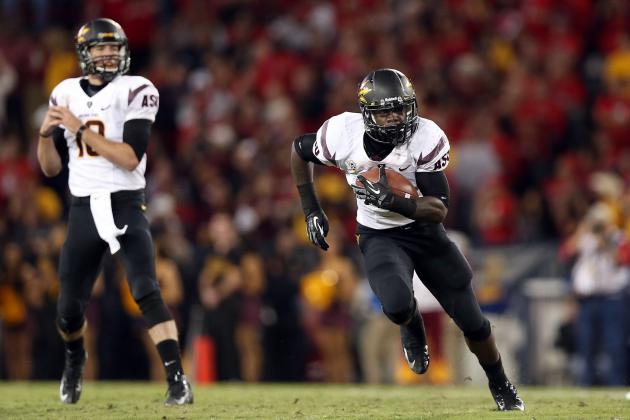 Christian Petersen/Getty Images

Main Guys That Make up the Backfield: Marion Grice, D.J. Foster and Taylor Kelly
Arizona State finished third in the Pac-12 last season with 205 rushing yards a game. It was also good enough to finish 25th in the entire country. The Sun Devils had five players who topped at least 223 yards on the ground last season and four of those players are returning.
Leading the way is senior running back Marion Grice, who had 679 yards and averaged 6.5 yards per touch. Not only did he have 20 runs of more than 10 yards on only 103 carries, but he was effective in catching the ball as well, finishing the year with 41 receptions and eight receiving touchdowns.
With Cameron Marshall graduating, D.J. Foster looks like he is going to be the backup to Grice this season. Foster is a big-play runner, who has the ability to score anytime the football is in his hands. Last season he averaged 4.8 yards a carry and much like Grice, was solid in catching the football, as he hauled in 38 passes.
The Sun Devils also have a dual-threat quarterback in Taylor Kelly who finished third on the team with 520 yards picked up with his legs.
Due to the depth of this backfield and the threat of a running quarterback, Arizona State is a scary team when it comes to the ground game.
Otto Greule Jr/Getty Images

Main Guys That Make up the Backfield: Bishop Sankey, Kendyl Taylor and Erich Wilson II
The thing to like about the running back depth for Washington is that everybody is returning from a year ago. With a young backfield set to take charge, Washington fans can't help but be excited about what the future has to offer.
Bishop Sankey was a surprise last year, rushing for 1,439 yards and finishing fifth in the Pac-12. His 16 rushing touchdowns were good for third in the conference and he had 39 runs for more than 10 yards. He also finished the season with at least 139 rushing yards in four of the last five games.
Kendyl Taylor came to Washington as a utility player who could do a little bit of everything, but he really showed his potential at running back. With only 35 carries his freshman season, he managed to run for 209 yards and break off two runs for more than 20 yards. Erich Wilson II was also effective in limited playing time, picking up eight first downs on 28 carries.
Washington had a brutal offensive line and still managed success on the ground. With four starters up front returning and a young backfield that showed promise a year ago, the Huskies should be in good hands on the ground in 2013.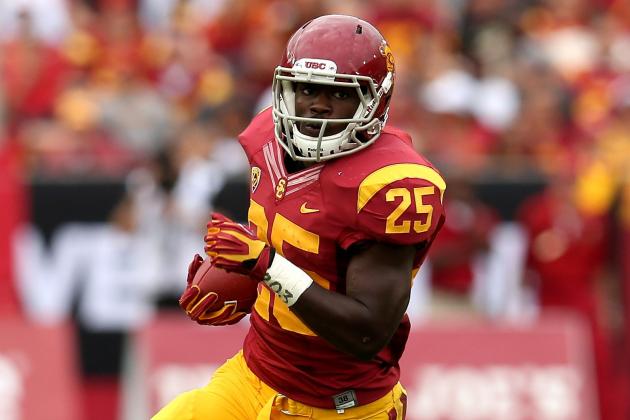 Stephen Dunn/Getty Images

Main Guys That Make up the Backfield: Silas Redd, Tre Madden and D.J. Morgan
Nearly nothing went right for USC last season and the team has a lot of question marks entering the 2013 season. However, running back depth shouldn't be one of the concerns for this football team that is looking to get back on track.
Silas Redd returns for his senior year and despite popular belief, he did have a successful season with the Trojans. He wasn't exactly the same workhorse he was for Penn State, only carrying the ball 167 times, but he averaged five yards a touch and scored nine touchdowns. Redd has shown in the past how much of a bell cow he can be, but there is now depth at the position, which we couldn't say last year.
Tre Madden was supposed to make the difference at running back last season, but he ended up suffering an injury in the spring and missed every game in 2012. Depending on his health entering this year, Madden is the perfect guy you want to split carries with Redd. He is more of the athletic back that can breakdown defenses with his speed, while Redd is your power back that wears defenses down.
D.J. Morgan will continue to be the third wheel. He was effective last season with 201 yards on only 41 touches, as injuries forced him to see limited action.
Running back depth was an issue for the Trojans last year, but as long as everybody stays healthy, this is a position that USC shouldn't have to worry about.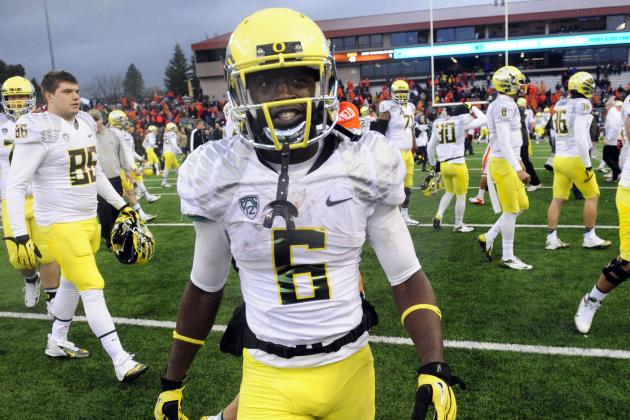 Steve Dykes/Getty Images

Main Guys That Make up the Backfield: De'Anthony Thomas, Byron Marshall and Marcus Mariota
If you throw away Army and Air Force, two offenses that do absolutely nothing but run the football, Oregon had the best rushing offense in the country last season. Averaging 355 yards on the ground, the Ducks were at least 88 rushing yards better than every other team in the Pac-12.
De'Anthony Thomas returns for his third season on the team, as he was better than ever, rushing for 701 yards and scoring 11 touchdowns. While he may not be big enough to receive the bulk of the carries, he is as explosive of a runner as you will find and trying to keep up with his speed is nearly impossible. There isn't another player in all of college football that is a bigger homerun threat than the 'Black Mamba.'
Oregon did watch workhorse Kenjon Barner leave for the NFL, but sophomore Byron Marshall is more than capable of holding down the fort. As a freshman last season, he averaged five yards a carry and picked up 32 first downs on only 87 rushing attempts. With his vision in the open field and acceleration, Marshall can instantly become that 1-2 punch to Thomas like Barner was when LaMichael James left school.
There is dual-threat quarterback Marcus Mariota, who ran for 752 yards and finished 11th in the Pac-12. Then of course you have a 5-star recruit in Thomas Tyner, who fits the Oregon mold of speed, speed and more speed.
Combined, Oregon is an explosive and flashy group that has the best backfield in the Pac-12 by far.