Biggest Snubs and Surprises of 2013 NBA Rising Stars Challenge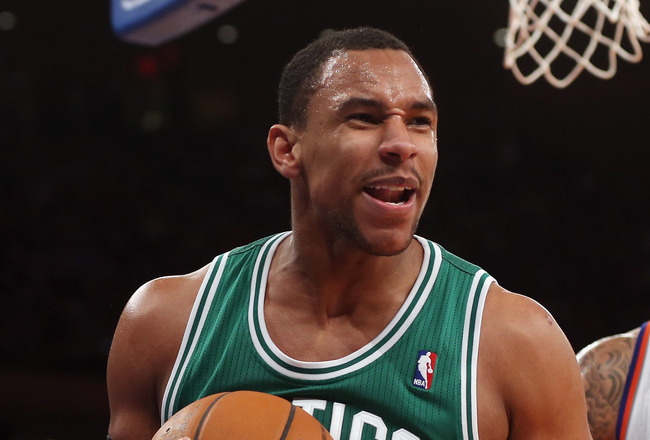 Bruce Bennett/Getty Images
The Friday night of All-Star Weekend has quietly emerged as one of the leading events of the three-day celebration of basketball's biggest stars.
And no, it has nothing to do with the Sprint NBA All-Star Celebrity Game.
The strength of the night (and perhaps the entire weekend) lies in the immensely exciting exhibition known as the BBVA Rising Stars Challenge.
The game features 18 of the sport's youngest stars, with those players drafted onto two teams led by TNT analysts Charles Barkley and Shaquille O'Neal. The draft will take place at 7 p.m. ET on Thursday, Feb. 7, televised exclusively on TNT.
In a new twist, fans will now have the opportunity to vote for the starting lineups for each team once the rosters are set. As USA Today Sports reported on Jan. 30, representing the sophomore class are: Kyrie Irving, Kenneth Faried, Brandon Knight, Kawhi Leonard, Chandler Parsons, Klay Thompson, Tristan Thompson, Nikola Vucevic and Kemba Walker.
The rookie crop includes the following: Anthony Davis, Damian Lillard, Harrison Barnes, Bradley Beal, Andre Drummond, Michael Kidd-Gilchrist, Alexey Shved, Dion Waiters and Tyler Zeller.
There may not be any glaring omissions at first glance, but the announcement was far from drama-free, as there is a host of snubs and surprises.
Teams Shaq and Chuck Plan Their Drafts
Arguably the most intriguing aspect of the game was introduced just last year. Instead of splitting the teams by the rookie-sophomore distinction, the selections will (again) be drafted fantasy-style by TNT's Charles Barkley and Shaquille O'Neal.

Last season, Team Chuck defeated Team Shaq, 146-133, behind 34 points from game MVP Kyrie Irving.
Snub: Ricky Rubio, Minnesota Timberwolves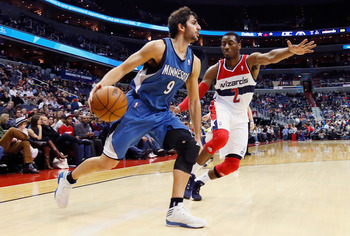 Rob Carr/Getty Images
Look, we all know why Ricky Rubio wasn't selected for this game.
He started the year rehabbing a torn ACL, and he's continued showing the effects of that injury through some unsightly numbers (none more striking than his 25.7 field-goal percentage).
Still, he's one of the first players that comes to mind when thinking of the current sophomore crop. He entered the league to incredible fanfare and could have been well on his way to realizing his potential if not for that devastating injury.
And his style of play is suited perfectly for this type of environment. No matter how Charles Barkley and Shaquille O'Neal formulate their rosters, neither club will lack athletic finishers. Those finishers will still impress the Houston crowd, but there has to be some letdown given the fact that Rubio won't be the one kick-starting those highlight reels.
Injury and all, he would've been no worse than the second-biggest draw of the night, trailing only first-time All-Star Kyrie Irving. The NBA rarely shies away from proudly displaying individual superstars, but that's what it appears to have done by leaving Rubio out of the mix.
Surprise: Still No NBA Love for the Sacramento Kings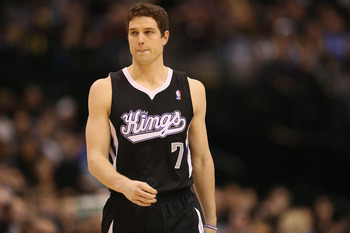 Ronald Martinez/Getty Images
Tumultuous seems too tame of a word to describe the 2012-13 seasons for Sacramento fans.
The team's on-again, off-again sale to a group hoping to uproot the franchise from its NoCal home is part of that story.
So here was the league's chance to give some slight relief to this reeling fanbase. Not only does the team employ a bevvy of young players, but it also houses a number of arguably deserving candidates: sophomores Isaiah Thomas and Jimmer Fredette and rookie Thomas Robinson.
Granted, Robinson hasn't acclimated to the NBA game as quickly as some of his peers (4.9 points and 4.7 rebounds in 16 minutes per game), and Fredette brings more style than substance (7.7 points on 41.6-percent shooting from the field). But Thomas (11.3 points and 3.2 assists per game) has good-enough numbers to warrant consideration.
Then again, this is what the league does, right?
A few Rising Stars snubs barely register a blip on the Sacramento transgressions radar.
Snub: Jimmy Butler, Chicago Bulls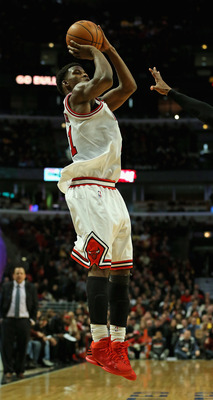 Jonathan Daniel/Getty Images
Opportunity likely spelled the demise of "Jimmy Buckets."
Simply put, there isn't much of it to be found behind Luol Deng and his 39.6 minutes per game.
But it's hard to overlook what Jimmy Butler has accomplished in his limited chances.
His per-game numbers don't jump of the page, but when shortened to per-36-minute averages, they're certainly respectable (11.6 points, 5.9 rebounds and one steal per game). Throw in the fact that he's shooting a hair under 50 percent from the field without a strong perimeter game (24.1 three-point percentage) and his argument grows.
His 15.3 player efficiency rating not only ranks higher than the league-average 15.0 mark, but actually outranks that of his teammate and All-Star Game participant Deng (15.2).
He plays for a major-market franchise, and his case is only bolstered by the team's success (27-17). A two-way player and athletic specimen, not many players with his resume will be stuck watching the All-Star Weekend festivities from home.
Surprise: How Poorly GMs Mismanaged the 2011 Draft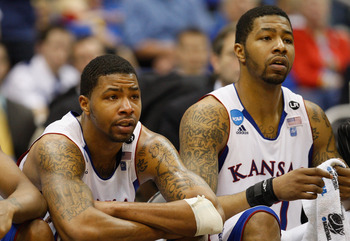 Ronald Martinez/Getty Images
The 2011 NBA draft class hasn't shown the historic ineptitude that scouts feared it might, but that hasn't been a saving grace for the clubs that held top selections in that draft.
Of the Top 10 selections that season, only Kyrie Irving (first), Tristan Thompson (fourth), Brandon Knight (eighth) and Kemba Walker (ninth) will be participating in this contest. Stretch that sample out across the 14 lottery selections, and only Klay Thompson gets added to the discussion.
And it's not as if those 14 players are hidden behind quality players in front of them. Of the 12 teams with lottery selections that year, only four (Golden State Warriors, Utah Jazz, Milwaukee Bucks and Houston Rockets) hold realistic playoff hopes this season.
The top selections may look better over time (once players like Jonas Valanciunas and Enes Kanter see more action), but two of the Top Six picks (Derrick Williams, second; Jan Vesely, sixth) might not stick around long enough to see that through.
Snub: Terrence Ross, Toronto Raptors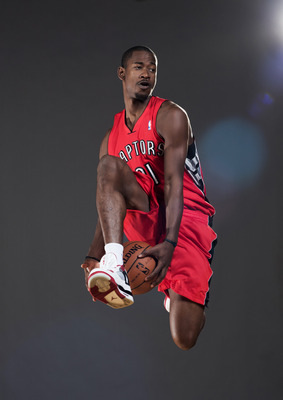 Nick Laham/Getty Images
If the Toronto Raptors have any say in the matter, Terrence Ross will already be in Houston for All-Star Weekend as a participant in the Sprite Slam Dunk Contest.
Given his growing library of aerial footage, it might not be a tough sell for the franchise.
But those thunderous throwdowns are only part of the argument for his inclusion in this game.
The rookie has 14 double-digit efforts on the season, thanks to an offensive arsenal that includes both perimeter proficiency (34.1 three-point percentage) and, of course, those scintillating slams.
His suffocating defense should not go unnoticed, as he knows how to maximize his 6'6" frame to frustrate his man and close off passing lanes (1.3 steals per 36 minutes).
Fans might not tune in to the festivities for playoff-caliber defensive performances, but they certainly appreciate athleticism and anywhere-in-the-gym range. And Ross has both in spades.
Surprise: How Well Teams Handled the 2012 Draft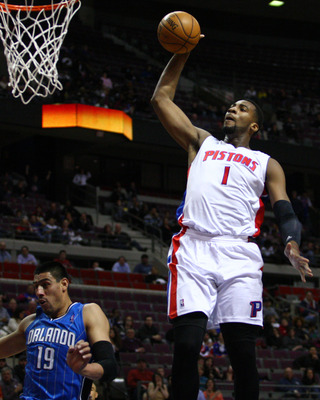 USA TODAY Sports
The 2012 draft class was said to have its biggest strength in numbers.
It was a much kinder way for analysts to question the star potential of the players leading this rookie class.
While they haven't been proved wrong in terms of the group's quantity, they appear to have overlooked the quality bursting at the seams of its leaders.
Anthony Davis and Damian Lillard have numerous All-Star appearances in their future. Michael Kidd-Gilchrist, Bradley Beal, Dion Waiters, Harrison Barnes and Andre Drummond may very well follow in their footsteps.
Of the players selected with the Top 10 picks in this draft, only three (Robinson, fifth; Ross, eighth; Austin Rivers, 10th) were not chosen for this game.
As exciting as this group of players has been to watch from a fan's perspective, it's been just as relieving for the front offices responsible for selecting them.
Snub: Jared Sullinger, Boston Celtics
Bruce Bennett/Getty Images
Jared Sullinger is the opposite of the three aforementioned snubs. He's performed well enough for an appearance in this game in spite of the fact that his bruising, physical play doesn't fit the profile of the league's All-Star exhibitions.
What makes this even tougher to overlook is the fact that he's held a convincing edge over one of the game's participants, Tyler Zeller.
Major market. Productive. Had the most convincing argument against one of the players selected (Zeller).
While Zeller has better scoring (8.3 to 6.1 points per game) and rebounding (6.2 to 6.0) averages, he's also been afforded nearly eight more minutes of action per game. Once those numbers are stretched out to a per-36-minute basis, it's Sullinger holding the scoring (11.0 to 10.6) and rebounding (10.7 to 7.9) advantages.
Sullinger has also been the far more efficient player of the two, holding sizable leads in both field-goal percentage (49.3 to 41.4) and player efficiency rating (13.7 to 10.8).
Considering Sullinger plays in a larger market for a superior team (Boston is 21-23, Cleveland is 13-33), this will be the one decision that leaves fans and analysts alike scratching their heads.
Keep Reading