UFC 156: 5 Questions We Have About Jose Aldo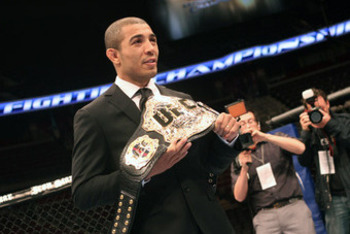 Jose Aldo is undeniably one of the greatest fighters on the planet.
While approaching his superfight with Frankie Edgar at UFC 156 this Saturday night, Aldo sports a 21-1 MMA record and five straight featherweight title defenses.
But this is a superfight, folks. And even with a resume as strong as Aldo's, he has reason to worry.
Edgar is no joke. He was an undersized champion at lightweight, and he hasn't been dominated since he suffered the first loss of his MMA career against Gray Maynard in 2008.
So what does Edgar offer that will keep Aldo up late at night? What questions do fans have for Aldo as he preps to defend his title for a sixth time?
Is He Fully Healthy?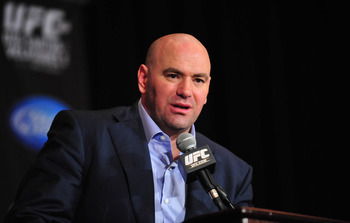 Gary A. Vasquez-USA TODAY Sports
It's ironic that Harley Davidson is one of the UFC's biggest sponsors.
Because in 2012, a motorcycle gave UFC president Dana White an inexhaustible headache.
After Aldo was slated to defend his featherweight title against Edgar at UFC 153, he was forced to withdraw after he injured his foot in a motorcycle accident.
So now, the question entering his bout against Edgar revolves around whether or not Aldo's healthy. Another question to consider is if he'll suffer from ring rust or not. Aldo's last fight was over a year ago against Chad Mendes at UFC 142.
If he isn't healthy or suffers from ring rust, we could very easily see the title switch hands Saturday night. Keep an eye on this variable in the fight.
Can He Stop Frankie Edgar from Taking Him Down?
Frankie Edgar was one of the best wrestlers at 155 pounds. Imagine how dominant he'll be at 145.
It's safe to say Aldo has his work cut out for him, but hey, he's faced great wrestlers before.
Fighting Chad Mendes at UFC 142 should benefit Aldo going into this bout. Mendes may be the most impressive wrestler in the featherweight division. Mendes' wrestling accolades consist of a 30-1 wrestling record at Cal Poly, with his one loss coming in the finals of the 2008 NCAA championship.
Against Aldo last January, Mendes was unable to get Aldo to the ground and keep him there. That's how good Aldo's takedown defense is.
But Edgar is quicker than Mendes. He has smoother transitions, and he very well might be able to put Aldo on his back with a power double. Can Aldo keep his distance and keep it a striking match?
Will He Go for the Finish or Be Complacent?
In the WEC, Aldo was a finisher. There was never any doubt about it.
Of Aldo's eight fights in the organization, he held seven KO or TKO victories. And they were as flashy as Beyonce's Obama earrings.
But something happened when he switched to the UFC. All of a sudden, Aldo's thrilling finishes started to disappear. Of Aldo's three UFC fights, two of them went to decision. And in those decision victories, Aldo became complacent in the fourth and fifth rounds against Kenny Florian and Mark Hominick.
Don't get it twisted—both victories were dominant ones, but it's almost as if he was satisfied with a decision victory. Will he have that same mentality against Edgar?
Will Aldo come out and perform a spectacular knockout victory like he did against Mendes in the first round with a knee or will he fail to engage?
How Will He Counter Frankie Edgar's Movement?
Frankie Edgar frustrates opponents with his lateral movement.
He's always mixing his foot movement up to try and confuse his opponent. He's creating these angles for two reasons.
He does this so his next strike or next takedown attempt becomes less predictable and essentially makes him harder to hit.
But like his training partner, Anderson Silva, Aldo is a high-class striker with knockout ability. Like Silva, he analyzes his opponent and figures out a way to land critical strikes and end fights.
Will Edgar's style of fighting confuse and frustrate Aldo, or will Aldo find holes to land power shots like Gray Maynard did in the second and third fight of his trilogy with Edgar?
Can Aldo Measure Up to Edgar's Heart?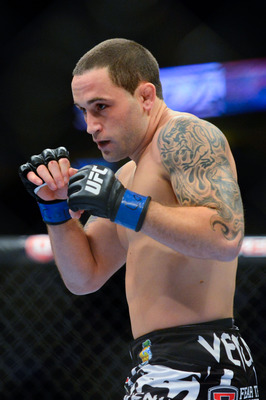 Ron Chenoy-USA TODAY Sports
You can't measure a fighter's heart.
In dealing with competitors inside the Octagon, skill is important. Cardio is a must. However, heart is something that just can't be taught or learned. You either have it or you don't, and Frankie Edgar does.
Edgar has been battered in his fights with Maynard and Benson Henderson, and fans have witnessed him come back in those fights to either win or make it close.
A fighter who constantly shows resolve and grits his teeth in the face of extreme adversity is, perhaps, the most frightful image for any opponent. Can Aldo match Edgar's heart? Can he dig down deep in the late rounds to grind out a victory?
We know Edgar can. And if Aldo's gold belt around his waist suggests anything, it's that he has the heart of a champion. He may very well have to show it Saturday night.
Keep Reading